I've long looked at, and toyed with, buying a Trayvax wallet. It wasn't until after I started to carry some cash, that I decided to get a different wallet to try. With that I ordered the Trayvax Ascent wallet and have been testing it for a little over a month now.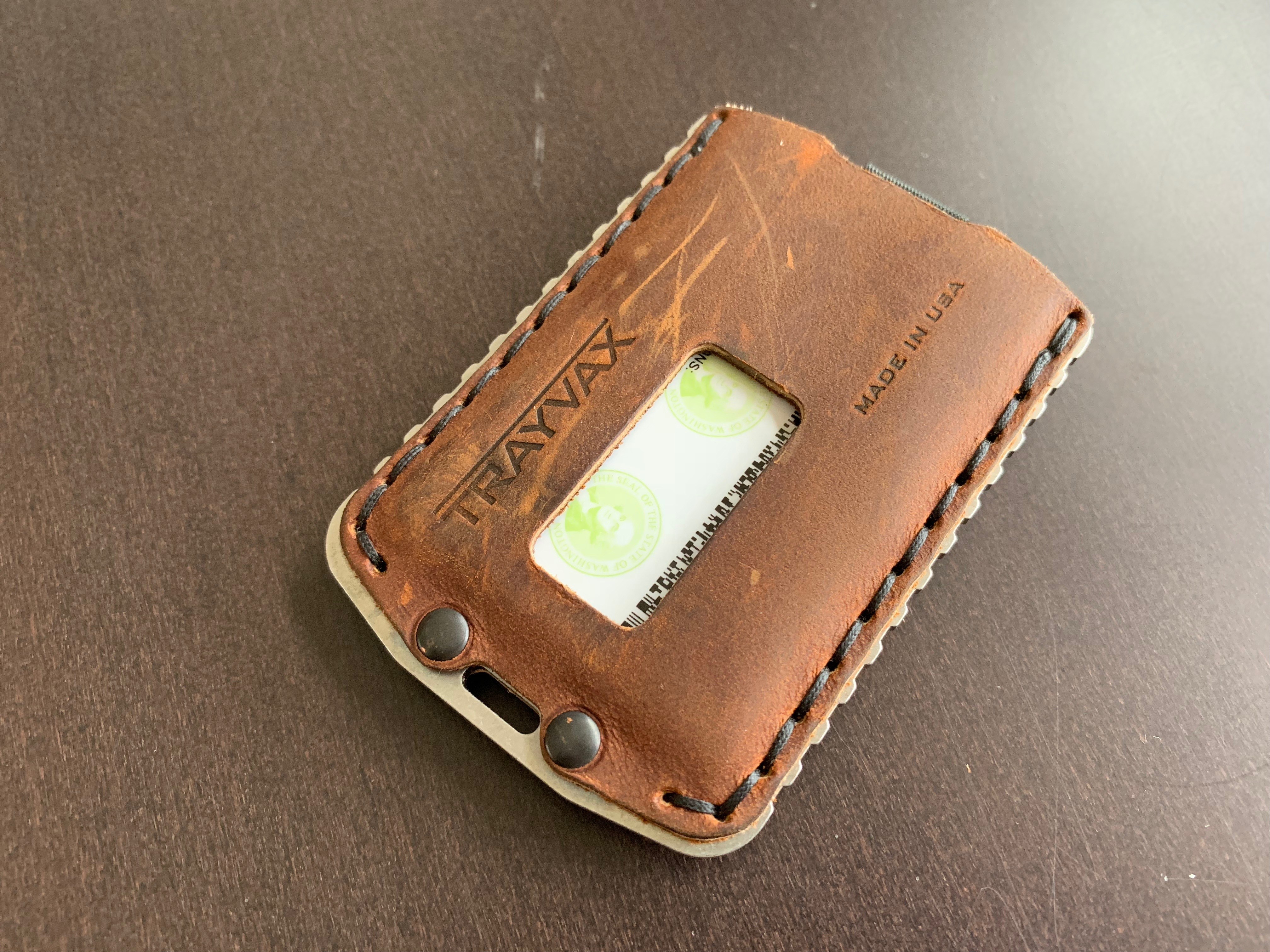 Materials
The wallet has two main materials: leather, and stainless steel. The center of the wallet is a chunk of stainless steel, with leather riveted And stitched to either side creating the pockets. A simple nylon strap is in place to help eject cards in the back slot.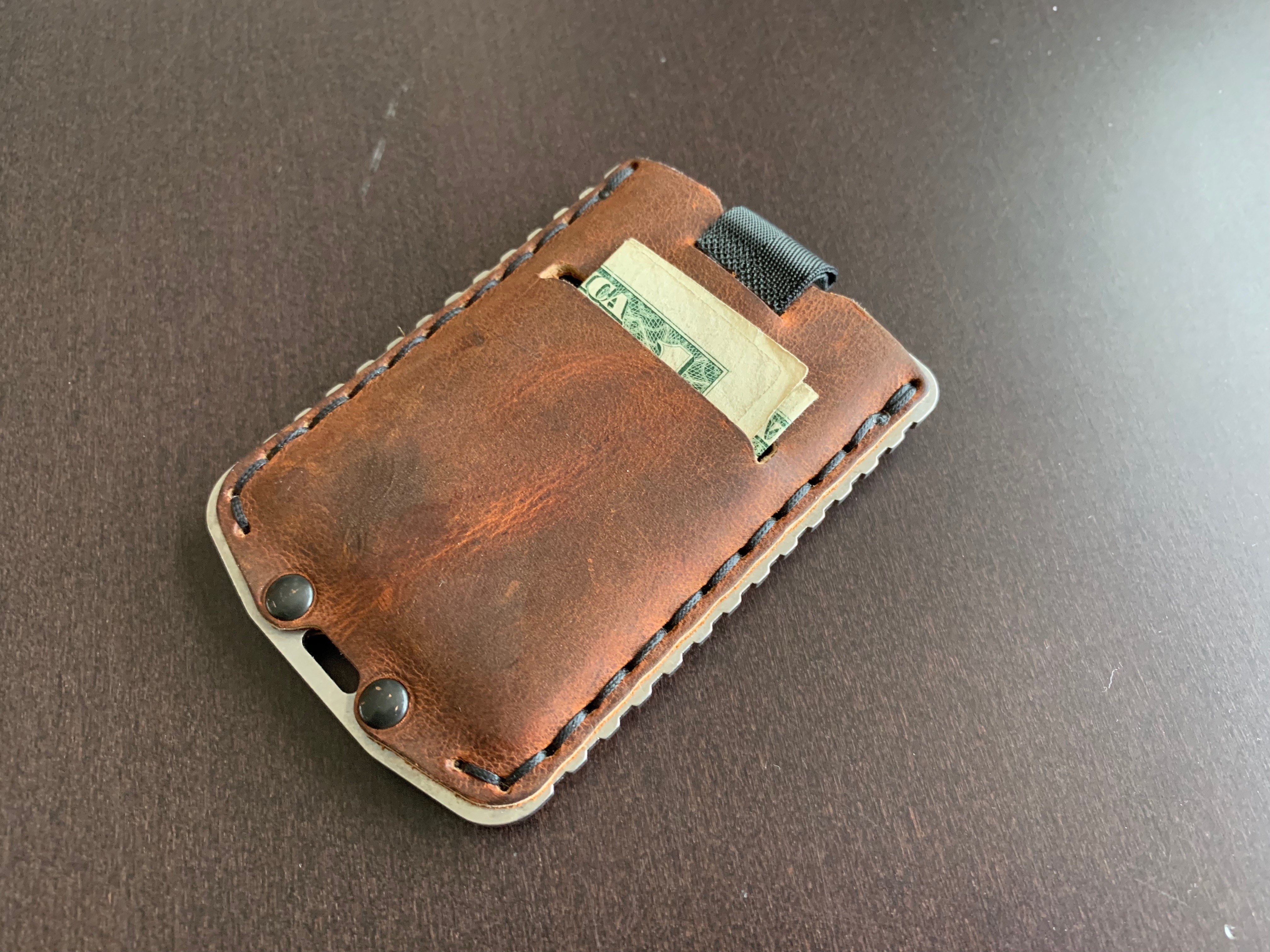 It is simple, but the materials look stellar. The leather shows patina and wear in the right spots, while the stainless keeps everything sturdy. Typically I love a much more minimal wallet, so it is rather surprising to me how much I do like this wallet. It's overbuilt, but in all the right ways.
The leather feels amazing, there's something about leather wallets that no matter how hard I try, I am drawn to them. The patina, hand feel, and general looks make leather a staple of wallets for a reason.
Size
My biggest concern with this wallet was the overall size of it. I was worried about how thick it may be. Here's a picture of it with my normal amount of stuff loaded into the wallet:
It's not nearly as thin as some of the pure cloth based pouch style wallets I have been using, however it is still a pretty svelte wallet. None of the dimension or pictures really matter much — what actually matters is how it feels in your pockets.
Generally, even with my phone also in the same pocket, it feels fine. Noticeably thicker than my other wallets, but the leather allows it to form better so it doesn't look like a stack of credit cards in my pocket. Overall I would say the size is neither a problem, nor a benefit of this wallet for someone minimalist like me. For those who are used to larger wallets, this is going to feel quite small — particularly so for a wallet with leather on it. It's large, but it carries rather smaller than expected.
Use
I had two primary issues I wanted to solve with this wallet:
I wanted to start carrying at least one dollar bill in case, so that I have cash. The other wallets I have tried don't accomplish this too well.
I should easily be able to pull out my most commonly used card, without looking, struggling, or really thinking about it.
The Ascent does both of those to perfection. You can carry a few bills in a dedicated compartment which is easy to get to, and very secure. You can place quick access cards in the view window slot, and easily and quickly slide out the top most — something I have never had issue with, and works better than most other wallets.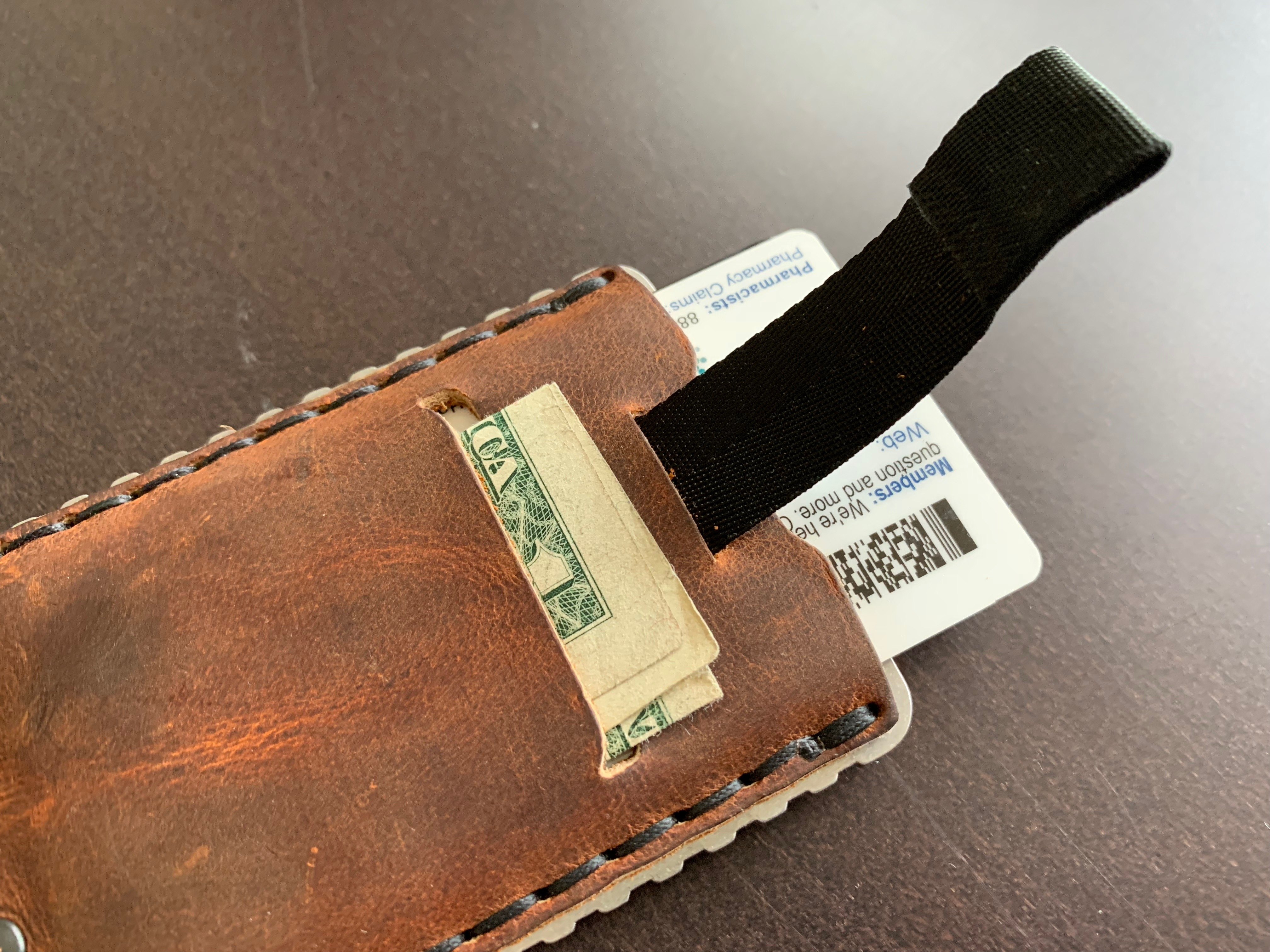 Functionally, I've found this wallet to be perfect. The cards accessed with the pull strap are ones I rarely need, but they stay in the wallet out of the way, and very secure. What I need to get quick access to is secure and accessible.
There is, however, one serious issue with this wallet. The stainless steel frame is a potential hazard for my iPhone. I have always carried my wallet with my phone, I am not about to change that. Putting metal next to a phone seems like a recipe for disaster.
However, in my pocket it's not an issue. The leather keeps the metal far away from my iPhone. It did still ding my iPhone, because I dropped my iPhone into my pocket when I needed my hands in a hurry, and the top of my iPhone slammed down on the top edge of the metal. Metal on metal, the iPhone lost. It's not a big deal, minor nick, but you do need to consider that as it bummed me out.
Overall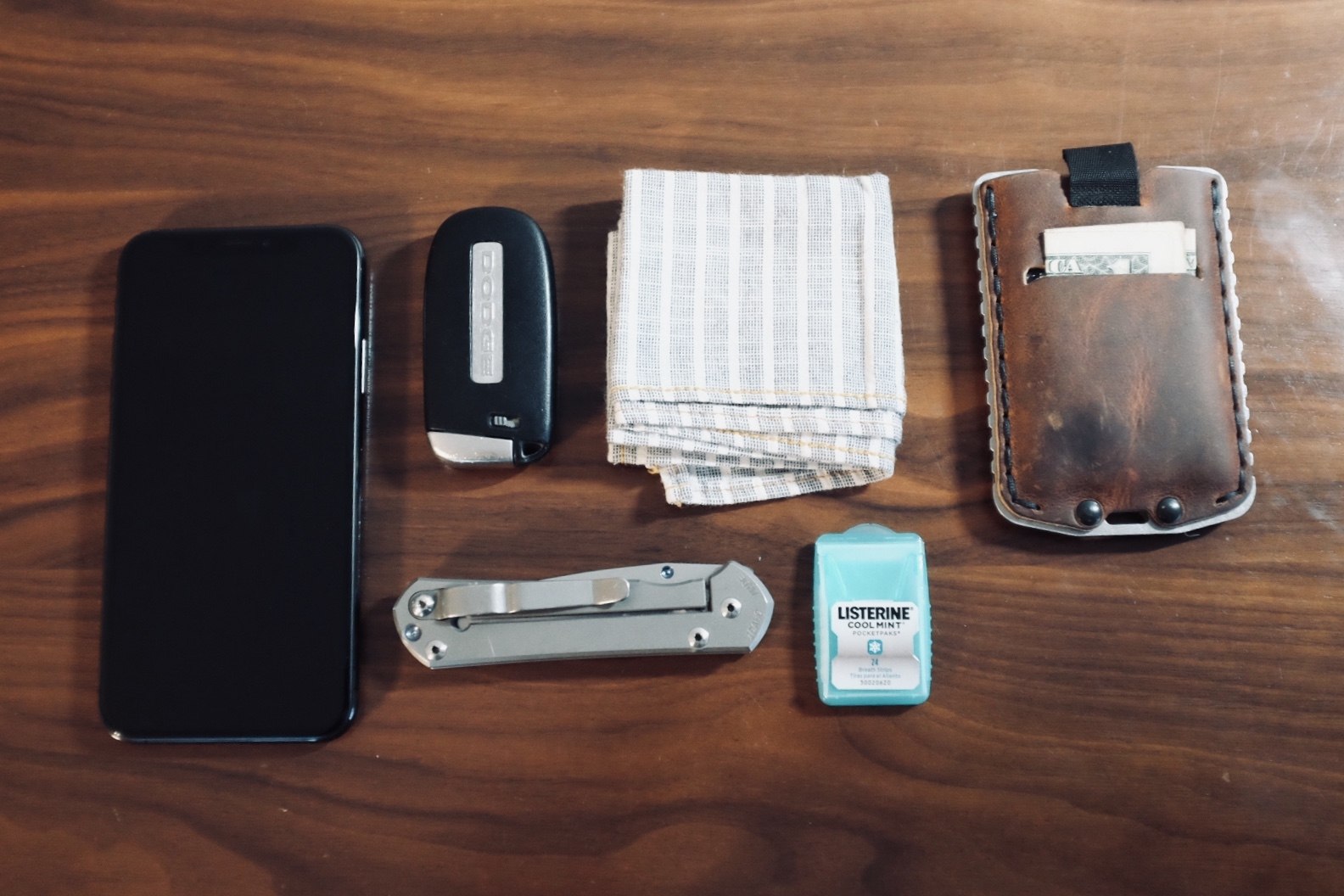 Even with the potential hazards to my iPhone, I am going to keep using this wallet. I absolutely love the looks of it, I love the feel of it (and the weight), and functionally it is a breath of fresh air for me. I'll just need to be careful when I put things in my pocket, which really only adds an extra moment to the process.
At about $60, it's not a cheap wallet, but well worth it given the quality build and materials used.