I've spent a long time now optimizing and finding the most ideal items for me to carry everyday. There's a huge community around this topic, but no one seems to cover two things I faced:
My life is always changes, and thus so are my needs.
I didn't want an abundance of crap in my house.
To that end I have tried to be overly realistic about what I actually need and to build out my kit around that. Here's what I have settled on: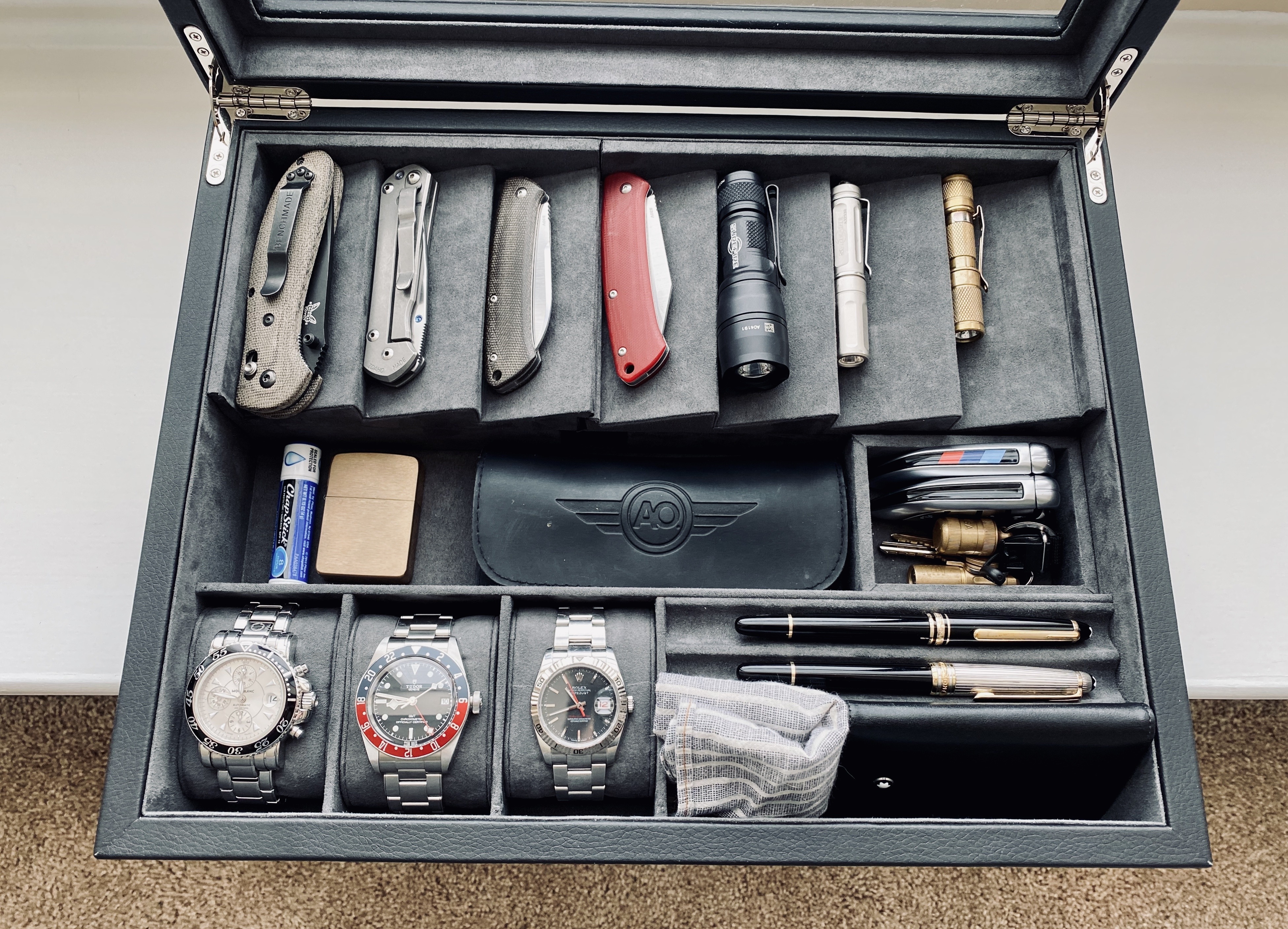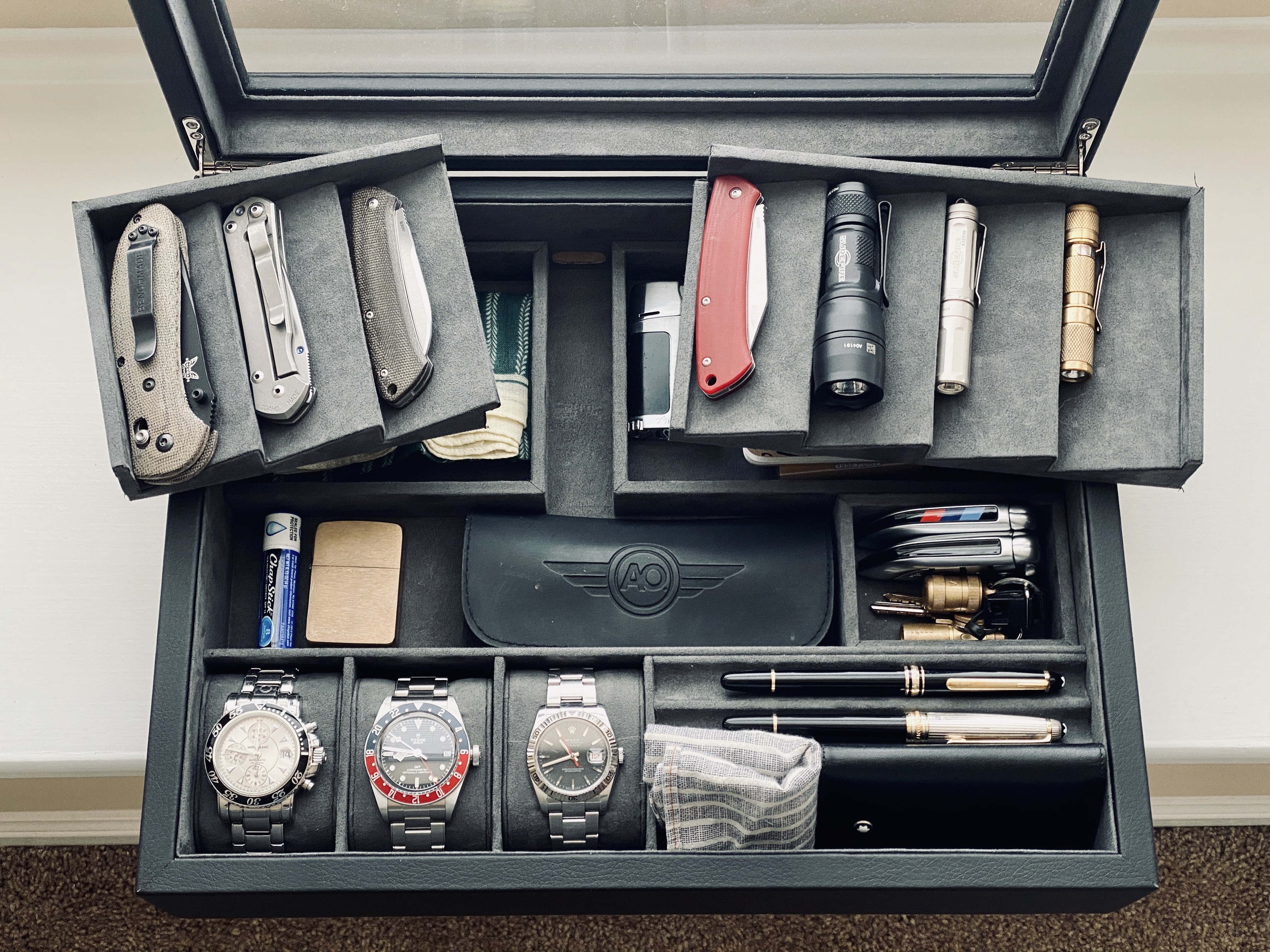 I'll go through every item in there in a moment, and why, but first: the case is the Cache EDC Valet from Drop.com since you were probably wondering and I highly recommend it.
Knives
Knives have been a huge endeavor with the widest range of options. It's my third most used EDC item and I put a lot of focus on finding the perfect options. I thought the collection could be completed with one knife, then I thought I needed to spend more money, but the truth is money was never the issue — I was focusing on the wrong type of blade. Here's where I am: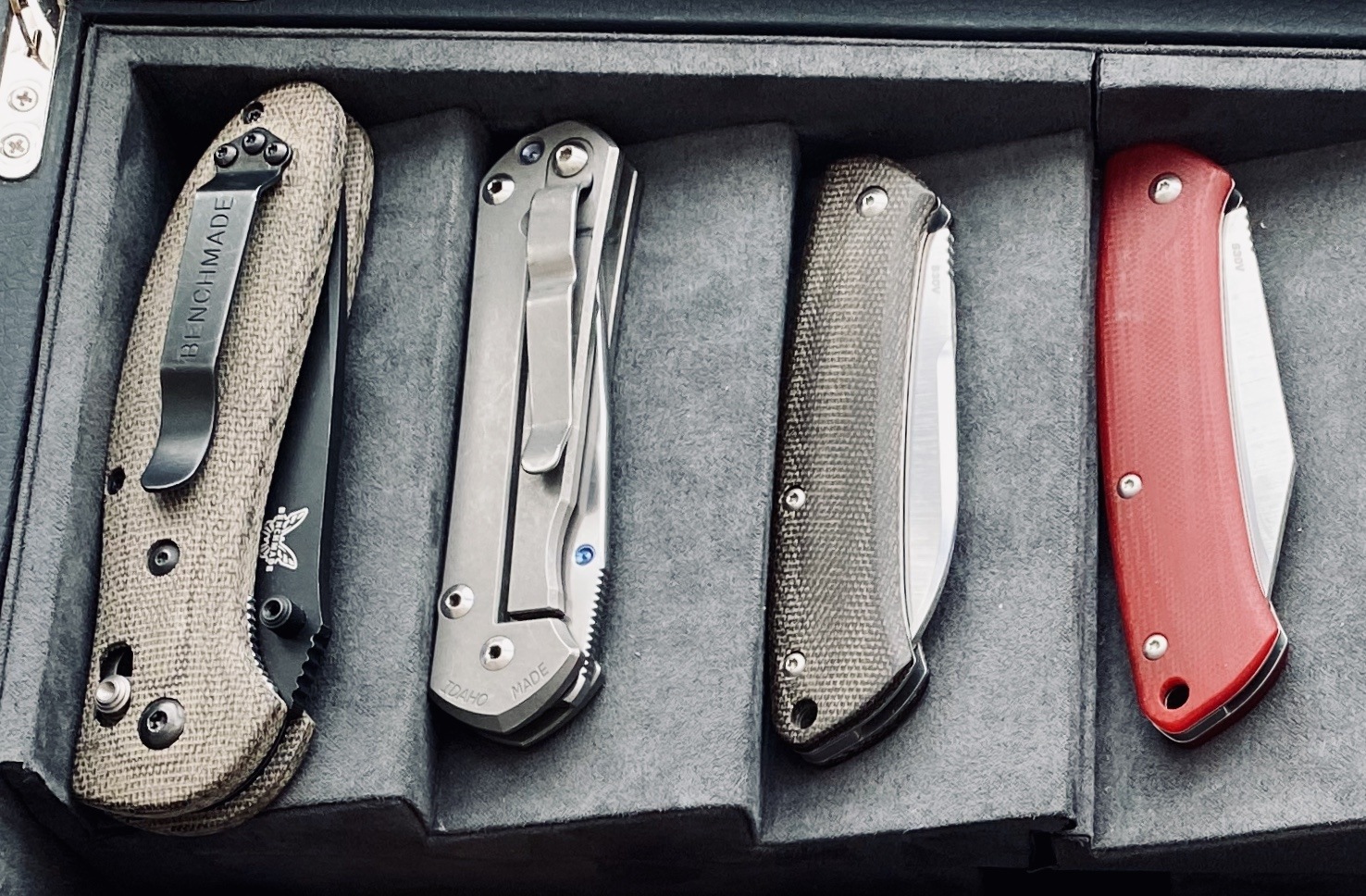 From left to right:
What I found was that a slipjoint is all you need and while there are fancier slipjoint knives out there, I cannot see why you would need them. Benchmade has made a couple masterful versions here and you cannot be the price/quality aspect of those two.
Watches
Oh my, is it just me or has it seemed like the last couple of years I have really been on a watch frenzy. I thought I knew what I wanted it, and it wasn't until I actually put my hands on many watches that I found out what I really needed. A watch is my most used item.
Here's where I am: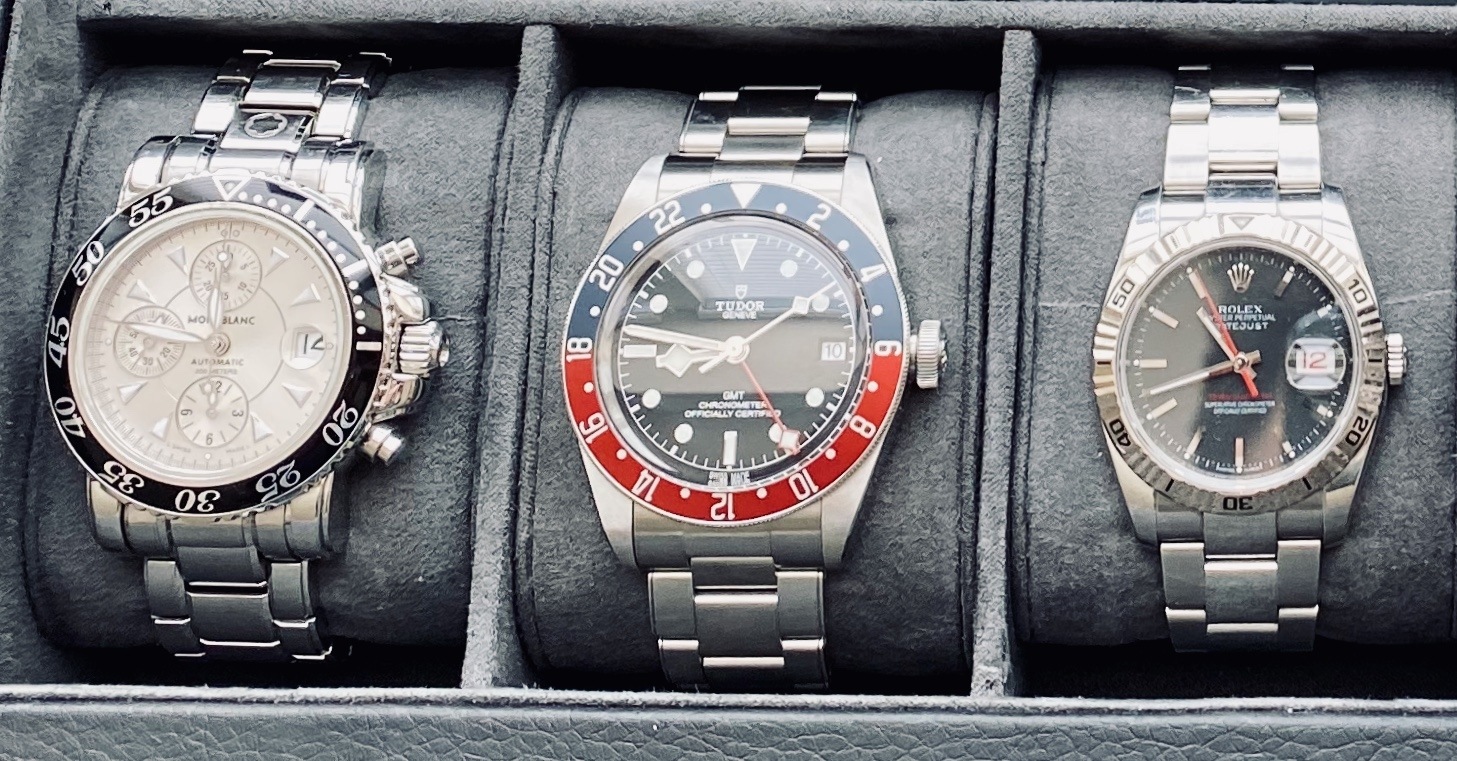 Left to right:
My singular advice is to forget about dive watches. Yes people love them, and no one knows why we are all drawn to them, but they are not useful. Get a GMT, a true GMT with a jumping hour hand, and experience a truly useful watch. Also, your watch needs to have a date display on it, lesson learned there for me.
Lights
I love flashlights, and I love the idea of carrying them everyday. I never really did until winter rolled in, because there was just so much daylight to be had in Washington during the summers. But in the winter I would keep one in my jacket pockets so I had it. Then I read something interesting about the 9/11 attacks on the World Trade Center towers, where they said that many of the people there wished they were better prepared, and that a flashlight would have simply made a world of difference.
I now work in a tall building, and I realized that walking down the stairs if the power was out, would be very disconcerting without a flashlight. Even though we all have lights on our phones, I now carry a flashlight everyday. I have settled on keeping just three in my everyday rotation: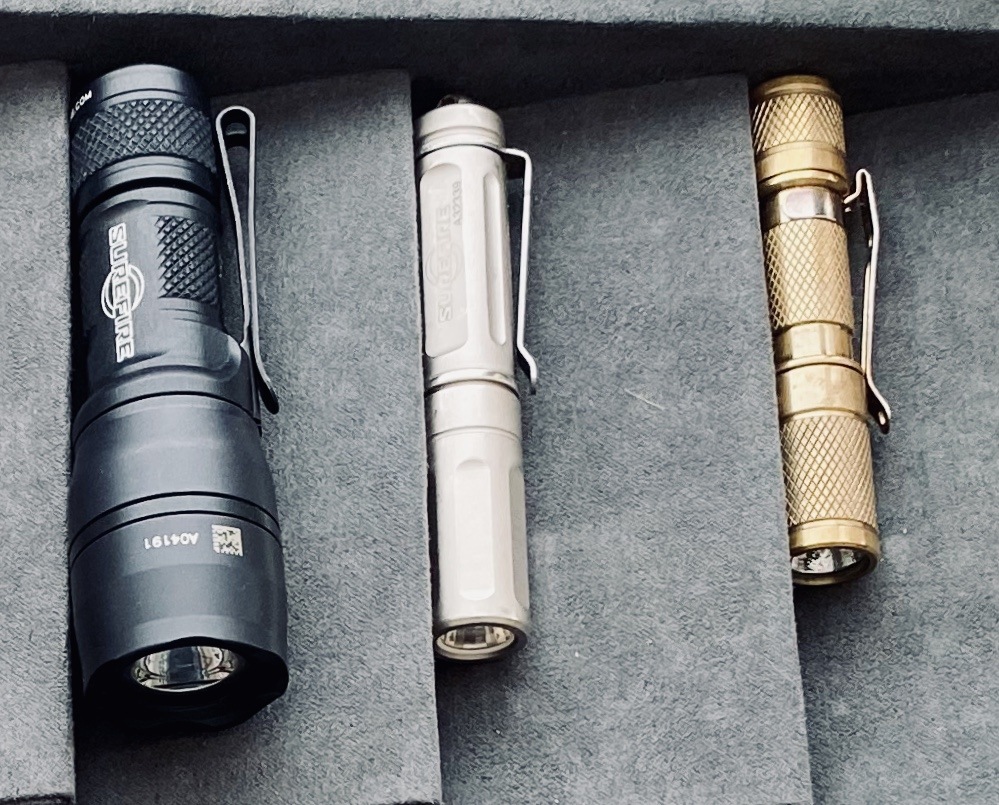 Left to right:
I think the Titan Plus could be your only flashlight, from emergencies, everyday, to even camping — you would be hard pressed to need more than it for most of life. So if you can only have one, or if I could only have one, the Titan would be my pick. Luckily, my case has room for all three.
Wallet
I have written a ton about wallets over the years, and I will properly review what I am using soon. But I now have a Mont Blanc wallet, as you can tell I am a fan of the brand. But the reason I use it is different entirely, and for another time. For now, that's what you see in the case and I like it a lot.
Other
Here's what else you are seeing:
---
I recently purged a ton of gear to reach this point, and it feels great. I love every single item in this box, and feel no itch to upgrade or change any of it. I didn't think I would get to that point.
Note: This site makes use of affiliate links, which may earn the site money when you buy using those links.