I need another bag like a need a hole in the head — at least according to my wife. I have (off the top of my head) over 20 different bags at my house: from huge duffle bags to an iPad man-purse. My wife, well, isn't too happy whenever I get a new bag.
For the most part I am an over one shoulder bag type of guy. Since my freshman year in high school I have been using a messenger style bag of some sort — that was 1998.
I have tried just about every messenger bag out there:
Leather
Flapped
Zippered
Nylon
Waterproof
Vertical
Large
Small
Huge
No strap
Sling strap with odd strap that comes back around the other way.
Lots of pockets
One pocket
Yeah I've been there, done that. Since '98 there has probably only been a handful of times I can remember switching back to a backpack for everyday carrying — usually precipitated by some self-imposed need to carry more stuff — all switches were short lived.
For me the messenger style bag is the pinnacle of style. Backpacks are for kids and hiking — neither of which fit my daily routine. The other problem is that I am six feet, three inches tall so any normal sized backpack is either going to:
Not fit me.
Look ridiculously small on my back.
So I need a slightly larger bag than most and that's not really a good thing. When Micheal Lopp recently wrote about his switch to a backpack I was immediately sold and purchased his exact setup:
What sold me was not his get through lines fast sell, but the practicality of a backpack and the ability to remain mobile with one. The entire post just struck a chord with me.
Could I have one bag that suddenly works for just about every situation that I am likely to encounter?
If I can, then that is what I want. ((God knows it would make my wife happy.))
This is part one and this is going to be a long series and most of you are not a big enough bag nerds to care — but those that are should get something out of this. ((I hope.))
In part one we are dealing with using a backpack from day to day (home to work to home) type situations and how it stacks up against messenger bags that I have used.
The Idea
Before I go any further I want to talk about my reasoning for why I am ready to go back to a backpack, or why I think I am.
I am married and generally don't give a shit anymore what people think of the way I look. The only exceptions are my Wife's opinion and my opinion (not necessarily in that order). So the idea that only kids wear backpacks is quickly fading on me.
I love hiking and wouldn't dream of carrying anything other than a backpack while hiking. They stay put and distribute weight well ((Not so of any messenger bag I have tried.)) and I think it would be nice to bring that comfort to my daily routine.
I have had stuff fall out of my Ristretto while on a plane and in my car — that is starting to get really annoying.
I want to get rid of most of my bags and just have one bag. ((Ideally one, realistically I know that isn't likely to happen for me.)) The idea of not having the mental clutter of extra bags stored somewhere in my home is incredibly appealing to me.
Lopp is right about never really having your body totally free when you are using a messenger bag — you are always striving for balance on the strap. I want very much to feel that freedom again.
So there you have it.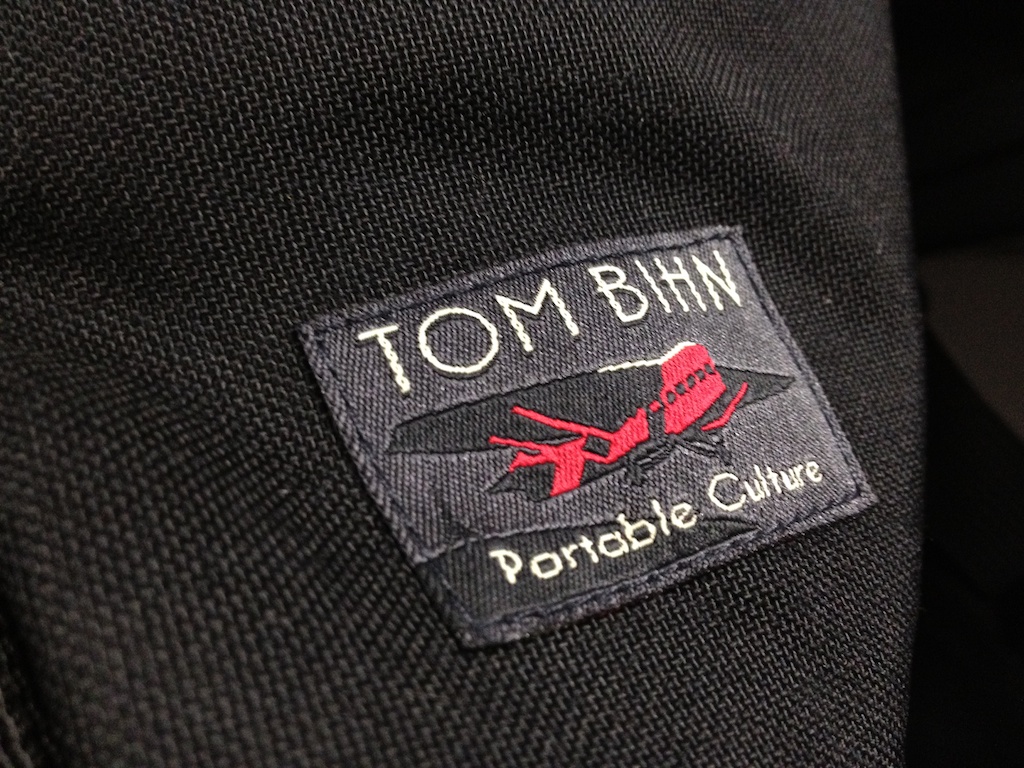 So why the Tom Bihn and not something awesome like the Goruck GR1? Some reasons:
The Bihn is cheaper.
Tom Bihn is local.
I have not had a bag as well designed (ergonomically) as the Ristretto and that's just a small vertical messenger with a handful of pockets — imagine what they can do with a backpack.
I have a really good daypack for hiking — I just need a city bag and the Bihn seems more tailored for that use.
The Smart Alec seems more versatile in the ways that you can arrange it — including having no laptop pouch at all.
I went with the Tom Bihn because Tom Bihn has proven to me that their bags are great.
Gearing Up
The first thing I had to decide was the layout for the bag. This would serve as the layout for the bag across all types of uses so I spent time thinking about this. The right side pocket of the bag (my right when I am wearing the bag) contains:
Keys
Notebooks
Business Cards
Pens
Because of my profession I have to deal with a lot of keys on a regular basis (our key cabinet at the office holds 160 keys and on any given day my already large (20+ keys) key ring needs to be supplemented with these keys, so I needed an area that I could toss loose keys in. This works perfectly. I did notice that the strap Tom Bihn provides is not long enough to reach from its location to a door if needed (this is how I stow my home and office keys). Luckily, Tom Bihn makes a double length strap that I picked up.
The pocket on the opposite side carries a little accessory bag from Tom Bihn that holds my daily essentials, which include:
Mophie Juicepack Reserve
Dock connector cable
Mini USB cable
Micro USB cable
Camera Connection Kit
Square Card Reader
SD Card
Thumb Drives
Two Credit Cards
The pocket also holds a pack of playing cards ((A great idea I stole from Micheal Lopp. I have a deck of the Helviticards that I keep in there.) and my current favorite hard candy. ((Lifesavers right now, I bought a mass amount from Amazon a while back and — well — I still have a few cases.))
I like keeping all those little bits inside an internal bag because I never have to wonder if I lost a thumb drive or if it just went in another pocket. I also carry a few more things than I did with a messenger bag because:
I have the room.
I do not notice the weight.
Internally there is a lower center pocket that I haven't found a use for just yet. It's an odd pocket in an odd location.
In the top internal pocket I stow:
Headphones
Micro fiber cleaning cloth
I like Lopp's idea of leaving half of this pocket open (it's divided) for stashing a wallet/passport/watch and things of that nature while you are traveling — especially when going through security checks.
The Brain Cell locks (rather cleverly) into the backpack and secures shut with velcro on the top. I really don't like the use of velcro here, but the security it offers is almost worth the tradeoff of the noise it produces. I have been thinking about this quite a bit since getting the bag and while I am getting more and more used to the velcro I am beginning to think about stitching in a button and clasp to shut the Brain Cell with — but I will give it a bit more time before making that move.
The Brain Cell offers a mesh pocket that is rather small and flat on the front of it. In there I stash small bits of paper like receipts and permits (usually elevator permits that I always forget to change out). I particularly like this pocket because it holds paper things flat and keeps them from getting "lost".
Aside from what was mentioned the only items that I add before leaving the house are my MacBook Air and my iPad 2. ((Typically I do not carry a charger with me for my devices unless it is an overnight trip because I have one at my office and one at home — if you don't have two like this I feel bad for you.))
In the morning when I gear up to leave I only need to toss in my MacBook Air, iPad 2, and headphones. That's not much different from the messenger bag life style. What I have noticed is that I am still not used to zipping up a bag.
Overall there isn't much of a difference here when I get ready to leave. My bigger fear initially was that I would end up throwing too many things in the bag that just sat in there loosely or out of place. This has actually not been as problematic as it was with the messenger bag because everything secures in its place — allowing you to immediately see what doesn't belong.
Car Toss
The car toss is my morning ritual where I put my bag in the backseat of the car (fancy, I know). With all messenger bags I typically slide the bag in the footwell behind the driver's seat. The Smart Alec doesn't fit there (remember I am a tall guy so my seat is all the way back). Instead I toss the bag on top of the seat behind the driver's seat.
I really mean toss here too. The protection afforded by the Brain Cell gives me no worries about the gear inside of it (I can fit my Air and iPad in the Brain Cell).
This is a huge difference from my messenger bag, becausee:
The padding was a lot thinner in the Ristretto, so I took greater care when placing it down somewhere. I was always aware with other bags that my gear could still be damaged if not properly handled.
The Ristretto was prone to having things fall out or move about the bag if not carefully rested — this is not so with the Smart Alec as everything just stays put.
I would much prefer this bag to slide behind my seat to conceal it a bit more, but I haven't had a problem with the Smart Alec sliding about the rear seats.
Heading Home
About 40% of the time I loose track of the time near the end of my work day. Because of that I will often glance up at the clock and realize it is past time to go home ((If I leave too late I am in for a traffic headache)) and I tend to rush my packing to get out of the office.
My messenger bags were perfect for speed packing and so far the backpack has proven it is even better — much to my surprise.
One thing that I never even realized was a problem for me was the tucking of the padded flap on the Ristretto to secure my MacBook Air. The Smart Alec with Brain Cell requires you to close a velcro flap and zip the bag and it would seem like that backpack is causing more work while adding time, but in my usage the backpack is actually much easier and faster to pack up.
I think the reason behind this is that the motion for tucking is much more cumbersome than pressing down on a velcro flap. I also always made sure the tuck was all the way in and smoothly done.
I also tend to have things I need to bring home from work — a chore to do when your bag is nearly full already as with the Ristretto — are easily swallowed up in the depths of the Smart Alec.
The best part for me though: being able to check on apps while walking to my car. Before it wasn't possible because I would be using one hand for the door and balancing the bag with the other hand/arm — yet I never noticed that I was doing this. Freeing up that arm has allowed me to sync up Twitter and the like with where they were on my MacBook Air before I left my desk.
One day I left my office with the side pocket unzipped that had pens and notebooks in it. To my surprise everything was still in its place when I got to the car. This alone made me feel a lot more secure with the backpack than my messenger bags.
Thoughts and Observations
I've only had the bag for about a week now and have been very self conscious about the fact that I am carrying a backpack, yet no one else seems to notice or care. I've asked my wife a few times if it looks too dorky — let's just say she doesn't think it looks any worse than any other bag I use.
The backpack is much larger than I am used to. Even when mostly empty I find that it doesn't tuck away as discretely as my messenger bags have in the past.
I have never had a bag that I felt so confident in the security and protection of the things inside of the bag.
The zippers still feel a bit stiff to me. This is exaggerated by the waterproof coating on them and I tend to find that these types of coatings ease up over time. I am hoping that zipping the bag doesn't require me to also hold the bag after a bit more use.
The Snake Charmer bag is much larger than expected, but should be perfect for longer trips.
Initially I bought a medium sized push for my daily essentials, but quickly realized that was much too large — I scaled back to the small.
While the elastic cord across the front may look like a silly bit of design it is actually functional. More than just being able to strap a jacket in it ((Which works really well.)) — tightening the strap will cinch up the backpack to shrink the size a bit when it is empty. This is a great little touch.
When wearing a rain jacket or synthetic down jacket the straps tend to slip around much more than I would like. However when wearing a softer texture like a sweater or shirt the straps have just the right amount of friction to them — not too "grabby". It's an interesting trade-off that non-rain-all-the-time folks will likely not notice.
The backpack is much lighter than I would have guessed. Many of the highly padded backpacks that I have used are too structure and heavy to be great — not the case at all with the Smart Alec as it has a nice lightweight to it.
Consensus on Daily Use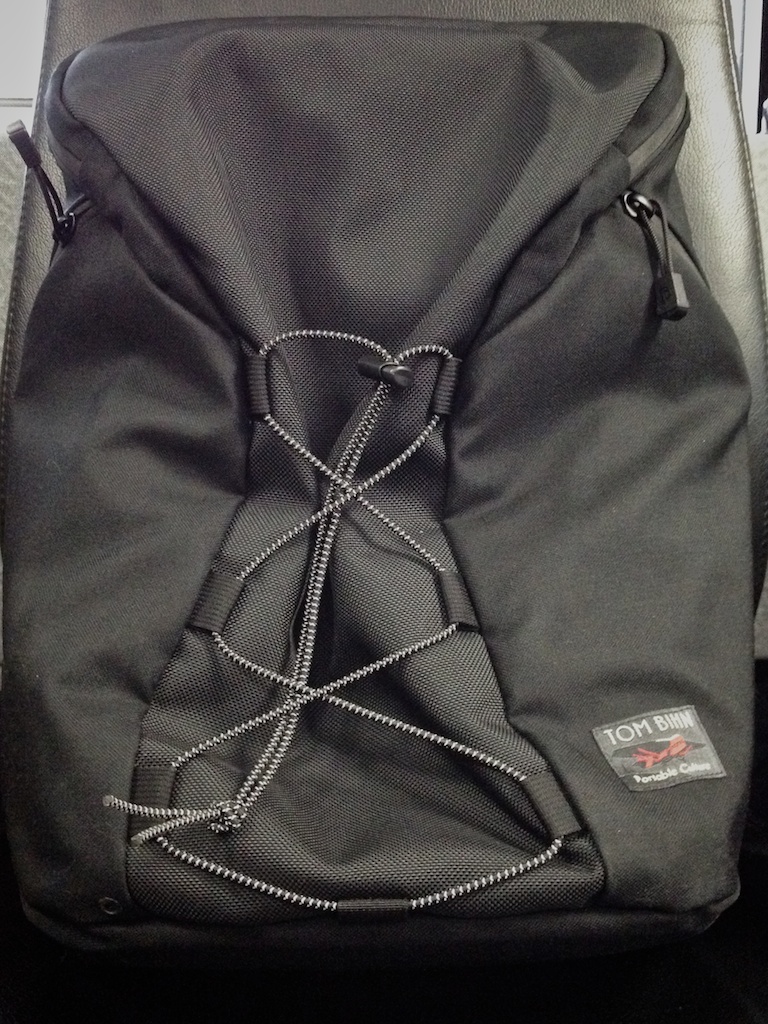 This backpack is probably the largest bag that I have carried on a regular basis in my life, yet it doesn't feel like the biggest bag I have ever carried. The second strap (as opposed to the one strap on messenger bags) adds a lot of psychological weight to the bag and a makes the bag a bit more cumbersome to put on — something that I feel is offset by the usefulness of that second strap.
Once on this is the best bag I have ever carried on a regular basis.
Everything about the bag seems to have been designed by someone who uses backpacks. It doesn't look professional, yet after using it I can't help but feel bad for those hapless businessmen lugging around briefcases and messengers at the expense of their backs and balance.
On an average work week I bring my lunch two days. Those two days always necessitated an additional lunch bag with my Ristretto. With the Smart Alec I don't even notice the extra items that I carry into the office. Same goes for those odd days that I need to bring more than one small thing home.
The size of the Smart Alec is quite obviously overkill for my day to day routine — yet I don't notice that it is.
It's a bag in waiting.
Deceptively bigger than you would expect — while feeling smaller than it truly is.
I'd feel uncomfortable carrying my Ristretto through Pike Place Market when I am showing guests around Seattle: it was too small to be helpful and far too open to ever feel secure in such a crowd. With the Smart Alec though it's a no brainer: throw it on my back and go. What could be simpler?
I really like this bag. So much so that I have put up for sale almost every other bag that I own — the Ristretto is next (and I love that bag).
Thus far the Smart Alec has done the one thing that I truly hoped it would do: eliminate my need for any other bag.
Next Up:
In part two I will be covering using the bag for a weekend getaway and just how much you can stuff in it. Look for that some time after Christmas.