In part one I talked about my day-to-day usage of the Tom Binh Smart Alec and how it felt to switch from a messenger bag to a backpack. In part II I am going to talk about using the Smart Alec as my only bag for a short weekend away.
But first some follow-up on part one:
I still very much like using a backpack over a messenger/should bag.
My only remaining frustration is the friction that is involved in putting on the second strap. Whether the bag gets caught by literal friction of the strap against my clothing, or is hung up on my watch face — I have yet to find it easy to don both straps. I don't know if this is my inexperience here or if I am just doing it wrong, but it is annoying the crap out of me.
I have started advocating to people I know that carry heavy shoulder bags that they should switch to backpacks. I didn't see that coming.
I am really loving the modular-ness of having smaller bags inside my Smart Alec to quickly add and remove a mass of things.
I have also posted some photos of the bag on my back, since many of you have asked for that.
Background on Travel
Before I dive into using this bag as a weekender I think it is important to give you an idea of the type of weekend I am talking about and my general travel style (as we all travel differently). For starters the trip I am basing this one on is one that I do 6-10 times a year.
It is a trip down to Portland, OR to visit with my wife's family. We stay with in-laws and not in a hotel. I have done this trip well over 60 times in the last 4 years. ((No I am not bad at math, I do the trip 6-10 times a year now. In previous years I was doing this trip every other week.)) That's to say this is a trip I am very familiar with and thus know exactly what I will need every time.
With each passing year I also pare down what I need to bring with me as I travel. I don't need a ton of clothes — I know what I can wear a couple of times and what I will need for different activities. I travel light — not as light as others — but I travel lighter than most.
Lastly, and perhaps most importantly, I travel light because I don't care if I have to go buy something I have at home to better enjoy my trip — I just care about traveling light. That is if I didn't pack clothes to go do activity X, I would just go buy the clothes to do activity X while away and not worry about having failed to pack something.
I also stopped packing in rolling suitcases quite a while ago. I much prefer the MLC from Patagonia. It holds more, holds it better, and stows away in overhead bins much easier than other bags.
The Trip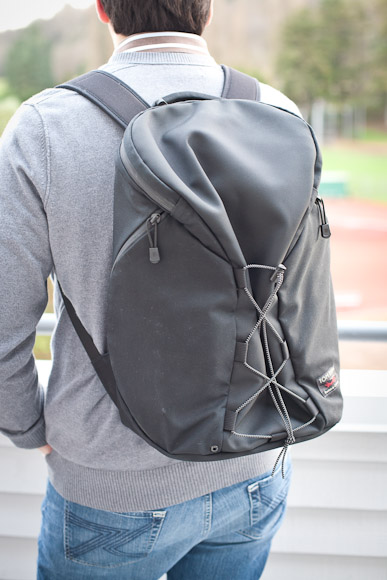 I was bound and determined to pack everything for a three day and two night trip away in just the Smart Alec. I honestly had no idea if everything I needed/wanted to bring would fit in the bag, but I laid it all out without concern for what would and wouldn't fit. It all fit with room to spare, here's what I packed (in full):
One button down oxford shirt.
One thin sweater.
Four pairs of socks.
Two pairs of boxers.
Two undershirts.
One pair of jeans.
Toothpaste (full size tube).
Toothbrush.
Hair goop.
Deodorant (full size).
Allergy medicine.
Nasal spray (prescription).
Electric razor.
Finger nail clippers.
Comb.
Origami keyboard case and stand (with keyboard).
iPad 2.
Surefire 6PX Pro (why not?).
Glif+.
Joby Gorillapod Zoom.
iPad VGA adapter.
HDMI Cable.
Belkin 3-Port Surge.
iPad Charger.
iPhone Charger.
iPad HDMI Adapter.
4 AA Batteries.
USB to Micro USB 6".
Flask w/ Chivas Regal 12yo.
All the goodies listed in part 1.
ESEE 4 Knife ((I actually didn't realize this was at the bottom of the bag until I started writing this list. It has been at the bottom for a while I gather since I tossed it in there for a potential review after getting it.))
All of that fit in the Smart Alec with room to spare. I did remove the Brain Cell since my MacBook Air wasn't accompanying me on this trip to gain some extra space. (The clothing was strategically placed to pad my iPad 2.) That is pretty surprising to me, but it was only the beginning of my surprises.
What surprised me the most was just how much I loved the modular nature of my packing with the Smart Alec. Two small bags for my toiletries (one is TSA approved for liquids, too small for everything) one Snake Charmer for all my electronic goodies and my small pouch for the often used accessories. It was truly great to just pull out a little bag of items when I needed to get something instead of digging through large pockets filled with these items.
With all this in the bag it carried surprisingly well and allowed me to keep both hands free to carry gifts and my wife's rolling luggage when we arrived places.
Smart Alec vs. MLC
As I mentioned above my go to bag for weekend to week long trips is the Patagonia MLC. It's large, comes with a shoulder strap and backpack straps. I always thought it was a pretty nice and compact bag to carry, but I usually also carried a messenger bag in addition to it.
Do you know how difficult it is to carry a messenger bag and a suitcase type bag when each just have one strap to go across your body?
It's very difficult and certainly not comfortable.
The most striking difference between these two bags though is how I had to fold my clothes. In order to maximize space I had to fold my clothes into much smaller bits in order to pack them in the Smart Alec well. This isn't a problem for underwear, jeans, t-shirts and the like — but it is a problem if you have something you want to keep wrinkle free.
In the winter this is less of a problem since most of my shirts go under sweaters, but I can imagine this becoming quite frustrating in the summer months when button down shirts aren't hidden under the warmth of a sweater. I am not sure of what the solution here is, perhaps some type of packing cube thing.
Beyond that I can see this bag being a far better bag for weekend trips than the MLC — it is just far more compact and controllable.
I felt quite nimble.
Weekender Bag Verdict
As you can tell by now I am smitten with this bag. I think it makes for a great weekend bag just given the surprising amount of stuff that it can hold. The bonus to using this bag as your day to day bag and as a weekend getaway bag is that you need not transfer around a bunch of little times as you would if you were using two different bags.
That in itself makes this a great choice.
I had enough room left over that I felt as though I could have packed tighter and squeezed in the Brain Cell with my MacBook Air, or just tossed my Canon 5D on top of everything else that I packed — that's a nice option to have.
I never once was uncomfortable carrying all the weight in the bag and was glad on 4-5 occasions to have both hands totally free. I highly recommend this bag for day to day usage and weekend getaway usage.
Next Up:
In part three of this series I will be looking at using this bag as part of a larger kit for traveling to a conference. Look for that after Macworld.