When I first installed iOS 6 as a beta, one thing that immediately struck me was Apple's own weather app. I've long hated the app as it always didn't do quite enough and at the same time looked cheesy. Then Apple added the local weather portion, that grabs your current location and shows you the weather data for where you are right now — that made the app a little better. So too came the hourly forecasts, and better still the app became.
But I've always been searching for something even better — something that looked great and worked great.
So when I popped open Weather in iOS 6 I was surprised to find a really good looking app. It's still the cards, but the graphics, the sheen, the polish all looked very nice for a change. Nothing else change, but it now looked like a sheet of glass instead of a plastic bubble.
Still, the app wasn't quite perfect and so I kept my folder of 5-6 weather apps on my iPhone.
Then I opened the Weather app on my iPhone 5 and everything changed. For the taller screen Apple made the app look like this: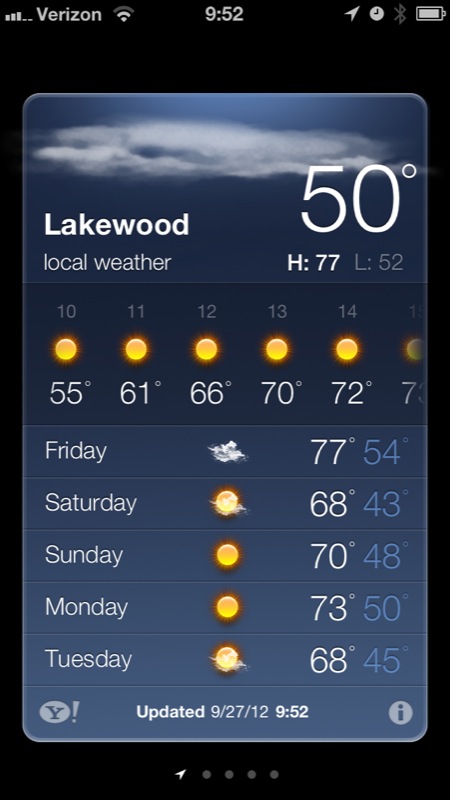 The change is subtle, making the hourly forecast a horizontally scrolling list, available right away without having to tap anything. This is simply fantastic.
I feel like I must be losing "it" because the Apple Weather app is now on my home screen right next to Dark Sky and I've deleted all the other weather apps I have been hanging on to. Apple's made something really great here and no one seems to be talking about it.
The Weather app gives me everything that I need at a glance, without extra taps needed, without extra swipes need, all wrapped in a lovely looking package.
As I said, it's on my homescreen now.
VoiceOver
Something new I've started doing is testing whether apps support VoiceOver, and I am going to shame those that don't. Apple's Weather app supports it really well, of course — no worries here.
Try It
I doubt I would be using the built-in Weather app if I still was on my 4S, but on the iPhone 5 I strongly recommend that you give Apple's offering another go — its gotten very good.