I'm a huge productivity nerd, wait, make that recovering productivity nerd — which means I am actually productive. (Doing work instead of fiddling with things heralded to make you more productive.)
I got sidetracked there, sorry.
I've used OmniFocus since it came out and kGTD before that. I also used Things for quite a while and I've had flings with other to-do systems in the meantime. I helped Kyle craft Begin into the simple to-do app it is today. New to-do list apps are familiar to me, I just tend to actively ignore them.
Then Michael Lopp posted this:
Over the course of the weekend, I moved everything I'm tracking into Asana. I've been using Asana on and off for a year. It's added a little more friction and a little more religion to my task tracking process, but it's also done something Things hasn't done in years – it's new bevy of functionality has me asking one of my favorite engineering questions, "How can I do this better?"
There were some back and forth debates around Lopp's post. I chimed in, saying I was going to look at other to-do options:
My goal isn't to try and leave OmniFocus, but to make sure OF still is the best solution for me. OF has gotten so ugly on the Mac and iPad I almost refuse to use it in those places. Which means I am essentially using the iPhone app, and even the new iPhone app isn't the best looking app.
I started with Asana and then tried almost every other multi-platform, modern, to-do list out there. Something full featured, something that can replace most of the functionality of OmniFocus, while also adding to it. In short: I was looking for an OmniFocus-like app that could also work with teams.
I didn't find one.
What I found is Flow, a tool I hadn't used in since it launched. Flow is primarily focused on team task management but I have been testing it as a standalone, single person, tool. While parts of the app are silly for a single user, it's still useable as a personal tool, which means it passed my first test.
Flow costs real money: An annual subscription instead of an upfront purchase, which I think is the main reason it has survived. Flow's revenue depends on the company's ability to keep the product moving forwards.
The good news about Flow is that their most important app — the iPhone app — is the best of the lot. The iPad app is pretty good, but doesn't support landscape orientation (odd). The Mac app is just a menubar quick entry app, which is quite nice because I can map it to a keyboard shortcut (like OmniFocus), but annoying that I have to run the Flow web app in a Fluid instance if I want a persistent view of my tasks. Overall the apps are solid.
Flow is now mature and, with its team tools, feels like it's trying hard to be anything but OmniFocus…
On OmniFocus
In testing, using, and helping to develop Begin I realized the shortcomings of OmniFocus. It's a fantastic tool, but it's long in the tooth. It needs more than a UI overhaul and I'm not confident that there is enough value in waiting for that. If OmniFocus is overhauled it will be top-notch once again.
But why should I wait?
The value I get using a better product while I wait for OmniFocus to be updated will far exceed the cost of shifting between tools if OmniFocus is ever improved. Not to mention that OmniFocus will seemingly never be multi-platform — it will always be within the realm of Apple.
I love Apple but I loathe the idea of my important to-do lists being tied only to Apple products. Especially when it comes to teamwork — you just can't force everyone to use Apple products (as much as I would love that) so multi-platform becomes a must have. ((Fair to say that Flow is a Mac tool with a web component, but that web component is all you really need these days to make something multi-platform.))
The Flow
I'm looking forward to rolling out Flow to all the people I work with as I think that will be the moment when it leap frogs OmniFocus in a big way.
Flow has more structure than OmniFocus and, more importantly, a lot fewer GTD-styled features. While I've never been a strict GTD follower, I do appreciate many aspects of the system. It took quite a while to get comfortable in Flow given the change from a GTD focused system to a task/list focused system. Gone are contexts, projects, start dates, time estimates, etc. You have to make peace with the idea that you get your task, assign it to a list and set a due date. Basic to-do stuff, but it can feel shocking when you come from OmniFocus.
Quick Reasons That I Really Like Flow
Topping the list are features for teams. The lack of team functionality in full-featured to-do list apps is akin to the lack of cloud synchronization in to-do list apps just a couple of years ago.
Team management is a must have feature for almost everyone working today.
Beyond team functionality, here are two little things I love:
While OmniFocus supports notes on each task, I much prefer the comments field in Flow. I can use it as a running note log for myself on each non-team task. Say I have a task to call a person, but they don't answer. The task is still important, so I reschedule it for tomorrow, but I still leave a note showing that I left a message. It becomes a quick activity log to tell me when I called, and how many times I called before I reached the person. Flow also shows a little log of who changed the due date, giving you a good idea of how badly you are delaying doing something.
Lists and Workspaces. OmniFocus uses Contexts, Projects, Groups, and Single Action Buckets. Ugh. Flow simplifies that to Workspaces and Lists. Changing workspaces changes everything, it's like switching databases, and is a really great way to separate personal and professional to-do management within one app. Within each workspace you can have tons of separate lists for further to-do breakdowns. (You can view your tasks from different workspaces in one place too.) I've long abandoned using projects and contexts in OmniFocus, so lists are really all I need as a way to track things and I'm finding the simplicity of moving away from OmniFocus freeing.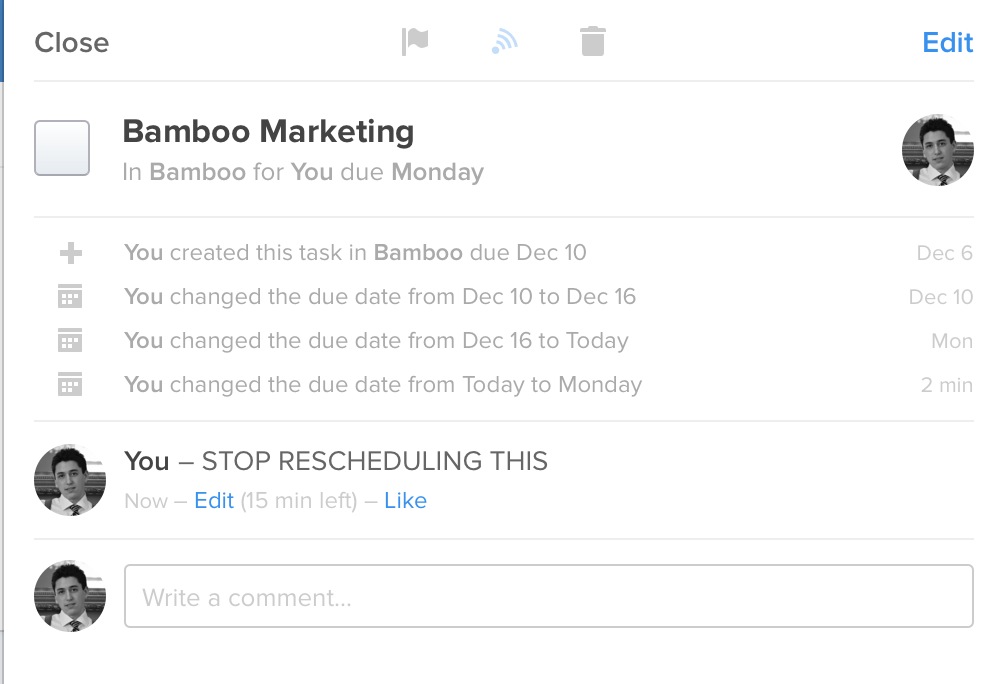 Overall I like Flow. My one complaint is that I truly do miss start dates. Due dates are great, but start dates are the way I love to work.
For now, Flow is making me happier.
Note
I'm not prepared to do a full review of Flow just yet, I've only been using it for a few weeks. I am prepared to switch completely and start rolling it out to my office. I'll report back after using it full-time for a while.