(Confusing version numbers, I know.)
The best writing app for the Mac has been updated today and adds some very neat stuff. This isn't a full review of the app, as I have one here, this is what's new (and great) about the latest version — also what's still missing.
Goals
A lot of writers set goals — where they want to write X words each day. Or perhaps you know you can only write something so long before you get in trouble. If that's you, then you can rest easy as Ulysses will now easily track that in the sidebar of the app. Better still, it is out of view when you type, so as not to get annoying, but right there when you aren't writing.
It's not something I'd ever use, but I can see the value for many people. I tested it out since I received an early copy of the app to test, and it's implemented really well.
Multiple Tags
People love tags, now you can love them more. Again, another thing I don't use right now, but something that is clearly becoming more and more popular with Mac users since the addition of file level tagging in Mavericks.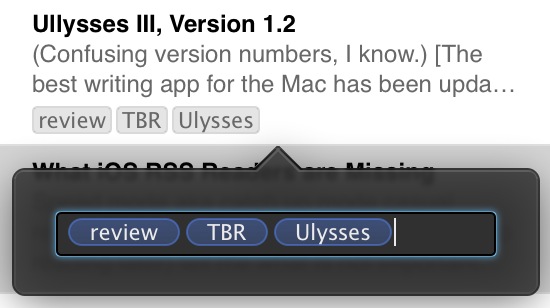 Right now I organize with the groups in Ulysses, but I could really see this being handy as you can effective have the same sheet in multiple groups. I am still trying to plan out how to best utilize this, but I suspect that I will have it down in a few days.
Theme Exchange
It's likely this will be excellent. ((Alas it was not open for me to check out.)) I love the stock themes in Ulysses.
I always love seeing what designer types can pull off with themes of their own.
The Soulmen also have a theme exchange for the export themes. Perhaps you don't use these much, but they are an highly effective tool for getting your text properly formatted and off to someone else. I've taken to using them almost entirely for my personal document creation instead of Pages.
Writing Themes
They've also made it easier to create your own writing color themes, but as far as I know there is not an exchange for these yet.
Missing
Per Group Themes: I wish I could set a display theme for each group, so that as I moved from group to group there was a visual change to the text. That distinction would be really nice.
It's still not obvious how you make your own theme. You can edit certain things in the preference dialog, but to really tweak the background you are going to have to right click the theme and click 'edit'. I am not sure why it is setup this way, it seems very backwards to me.
Publishing to WordPress: please?
Huge update to one of my favorite Mac apps (and one of my most used Mac apps) and I would highly recommend this app to anyone who writes anything.