Some weeks back now, Tom Bihn asked if I would like to try out some of their new gear. I looked over the list and was immediately drawn to two items: Aeronaut 30, and the Travel Laundry Stuff Sack. Both seem to fill real needs in my travel bag setup (well, not if you ask my wife).
I'm quite accustomed to traveling with shoulder style bags, as I long ago switched from rolling suitcases to backpacks and a Patagonia MLC. But there is a gap to bridge between these two bag sets that I carry, and I think Tom Bihn is offering a nice bag for that bridge.
How I Travel
I am not, by any means, a minimalist traveler. I take a pair of underwear for each day, and typically only reuse/wear pants during my trips. I try not to pack the entire house, and I try to not pack anything which I don't need — but I don't want to be struggling to make my items work or to be washing clothes each night in a sink.
More importantly is the type of travel I do: which is simply not much extended traveling. Usually I will travel for 2-3 nights and that's about it for the trip.
Most travel bags are made for week-long journeys.
The biggest difference is that I can get away with a lot less clothes on shorter trips, as I can be far more certain of the weather and events I will attend. I typically need to only travel with one pair of shoes, which makes all the difference in the world when it comes to sizing a bag.
An Aside About My Current Setup
I currently travel using one of two bags:
Typically, if it is a short trip, I go with the GORUCK —l and for longer trips I stick with the MLC. However both have some serious limitations.
GORUCK GR1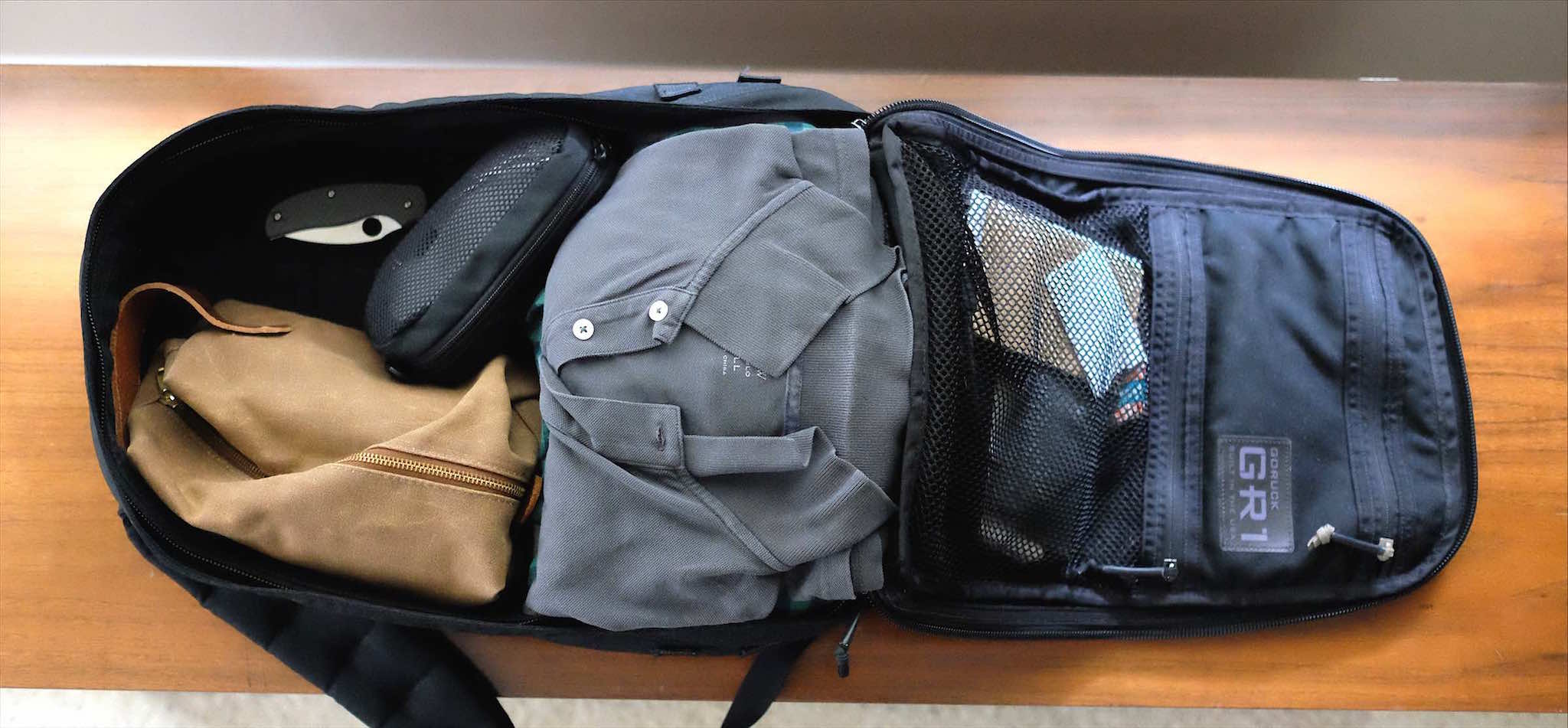 The GR1 is a damn near perfect bag for two nights or less for me. I can typically fit in everything as long as my electronics kit is minimized to an iPad and some chargers, and my X-E2 with one lens. Oh, and just one pair of shoes, on my feet. Anything more than that and it isn't fitting.
However, I cannot pack for more than two nights, and even that is pushing it a bit if the weather is colder.
Patagonia MLC
The MLC can hold my gear for even the longest of trips, and it does so well. Where the MLC fails me is for shorter trips, or lighter packed trips. Anything less than 4 nights, and the amount of stuff I pack doesn't come close to filling the MLC.
Which you would think isn't a problem, but it really is. Because of the design of the MLC, packing less than 80% full causes all your clothes to accumulate at one edge of the bag in a big wrinkled wad.
---
This drives me nuts. So when I need to pack for a longer trip (like 2-3 nights) I typically pack the MLC with a jacket and extra pair of shoes. Neither of which I typically need, but it's the only way to keep my stuff wrinkle-free (or as wrinkle free as one can when packing). Or I use a duffel and my GR1 — but then I have two bags.
The Aeronaut 30
The Aeronaut 30 is only 4 liters larger than the GR1, but those four liters make a world of difference. In fact, the Aeronaut 30 is the perfect travel bag for me, because it is the perfect size for the length of trips I normally take: 2-3 nights.
I absolutely love the Aeronaut 30 and in my testing I found that it was well made, and well considered.
Compared to the GR1
On paper the size difference between the two seems minimal, just 4 liters or so. However, in use and in person, the size difference in notable.
Both bags are solid, though in typical Tom Bihn fashion the finish of the Aeronaut is much more polished looking than that of the GR1. More business travel, than outdoorsy looking.
All of that aside, I've found the Aeronaut far preferable to the GR1 when packing clothes even for short trips. Add in the Daylight Backpack, and I am not sure my GR1 is going to see much action on two-night trips any longer.
The key reason for this is my personal 20% travel rule. That is: I like to keep 20% of my bag free, and available, when I travel. This way if the clothes I wore to leave for the trip with are bulkier I still have room. If I acquire any new items to take back, I still have room. But most importantly if I feel like not neatly organizing my bag on the return home, I still have room.
With the GR1 a two-night stay put the pack at 95% capacity.
This preference is to be expected, as the GR1 isn't really about traveling like this (though the GR2 is). It was rather unexpected that I would have such a strong preference for the Aeronaut on short trips, but I really do.
Compared to the MLC
The difference between the Aeronaut and the MLC is night and day. My chief complaint with the MLC is that my stuff doesn't stay organized at all. In all honesty it would be hard for the Aeronaut to not be organized. Especially if you use packing cubes with it.
In addition to the organization of the bag, the Aeronaut is far more comfortable to carry — no matter which carry method you choose. (Both bags offer a handle, shoulder strap, and backpack straps.)
The only area the MLC wins is packing for 5+ days, but the Aeronaut can hold a lot of stuff, it's just a better 3-4 day bag. Tom Bihn makes a larger Aeronaut for longer trips.
Overall, Aeronaut 30
Overall I find the Aeronaut 30 to be a must have bag for almost anyone. Most of my trips are a 2-3 night jaunts and this bag really is perfect for that. I love it.
The Laundry Stuff Sack
This was the most intriguing item that was sent over to me, and well worth talking about. It's a basic stuff sack, except that you can put items in either side of it and the divider between the two sides can move to take over either side completely. The draw strings are black and red, depending the the end so you know which side is which.
The purpose is to keep your laundry tidy. That is you start with clean laundry and you slowly move your dirty laundry to the other side of the bag, thus keeping things tidy, but separate.
Essentially this is for packing your socks and underwear. And for that it works great, as those are always the two items — which when dirty — I always try to put away from my clean clothes in any luggage.
With this stuff sack it is easy to do, and quite perfect. I highly recommend getting this item. Or even two.
The Daylight Backpack
Here we go with another backpack.
Great: a small backpack with sub par straps and it folds up. So what?
Well, Tom Bihn sent it anyways and so now I must write about it — because I was pretty wrong on my snap decision about this backpack — it's actually quite clever.
You see it solves a very common problem for me: I am heading out on a trip and my gear is too big for a backpack so I pack in the Aeronaut. But I really want to have a backpack with me so that I can use something when I get to my destination for day trips, or for a diaper bag.
And you know what I am about to say: this little packable backpack is perfect for this job. It fits my makeshift diaper bag really well and is just fine for carrying around.
I actually prefer this bag over my GR1 for a small diaper bag — it works that well. This is a bag I will take on every trip because it takes up almost no room and is very handy.
Oh and those straps that I thought to be sub par? It turns out the bag is so darn small that the straps are perfectly fine. Oops.
There Goes Your Budget
Ok, so three really great bags from Tom Bihn and I wish I could say they aren't all awesome because I would love to save you money. If you travel more than a few times a year, all of these will be must haves.
Me? I'm getting that little backpack right away.