On Monday there is an Apple event scheduled, and it's likely to center around the Apple Watch — this post is not about the Apple Watch — there are two far more interesting rumors about the event for me: the 12″ Retina MacBook Air, and the iPad Pro. Both have had their share of rumors of late and both are things that I really want.
While I want a watch, I actually need a computer.
My 15″ Retina MacBook Pro is having "issues" of late, and while it is still serviceable, I've been thinking a lot about what to get next — as you've likely seen on these pages before. I've decided I want something small and portable, so what does that look like?
What do I get?
I have no clue. But I had this thought: if there was an iPad Pro, that's likely all I need, right? And then my stomach twisted into knots: what if Apple releases both products (something I doubt) and I have to choose. ((Check your privilege at the door.)) Because in that scenario I bet I would just go with the Mac, as that's the easier and more comfortable decision, but then what is all this stuff I spout about loving the iPad worth if i don't choose the iPad in the end?
I like to say that I can do all my work from the iPad if I want, but could I really? I would have to test that. So I setup a rule for myself before starting: this test of working only from an iPad can in no way interfere with my ability to do my work. So minor hiccups are fine, but if it becomes even a slight issue, I am dumping it and going right back to my Mac. Beyond that my goal was to not open my Mac.
And I mostly achieved that, save a few necessary times when I did have to use my Mac. What follows is my expanded thoughts based on journal entries I made throughout the week of using my iPad.
The long and the short of it is this: working from my iPad was easier than I thought, and a lot better than I had hoped, but what I buy next will depend on what is actually released. If the price of an iPad Pro is too close to a 12″ Retina Air, then the Mac wins, unless of course there is some killer iPad Pro only feature. Ugh, it's just not a clear cut decision without knowing what the options actually are.
Day Zero-Zero
(Friday, 27 February 2015)
I'm sitting here fairly unsure of how to go about next week. I suspect that Apple is close to announcing new MacBook Airs or (I hope) a larger screen iPad. And I really need a new computer. Truly. So what the hell do I do?
If one comes and not the other, or both, I'll have to face a tough decision. So I know I need to test the theory that I can work from my iPad full time. And I mean actually do it.
So I picked next week as the week I will attempt it. All week. Starting Monday. Holy shit. iPad only.
I really hope this works.
Day Zero
(Saturday, 28 February 2015)
After sleeping on it for a night, I dug out a USB hub to use with my iPad setup. The goal being not having to kill batteries in my mechanical keyboard Bluetooth adapter all day (it doesn't last long and charges slowly). This way I get a good keyboard to use all day.
I also want to test out all the different keyboard options I have for my iPad, as I don't know what will be best for extended usage.
Day One
(Monday, 2 March 2015)
A small thing came up before I got started today: I need to run a conference call, and we have a new employee starting that I will be working with to get going. To do this all from just my iPad seemed like it was asking for pain, and I almost gave up before I started, but given the timing of the Apple event I decided I had to at least try.
Today's Setup
I am running with the iPad in the Compass stand, at a sitting desk with my CODE Keyboard connected via USB, through a USB hub.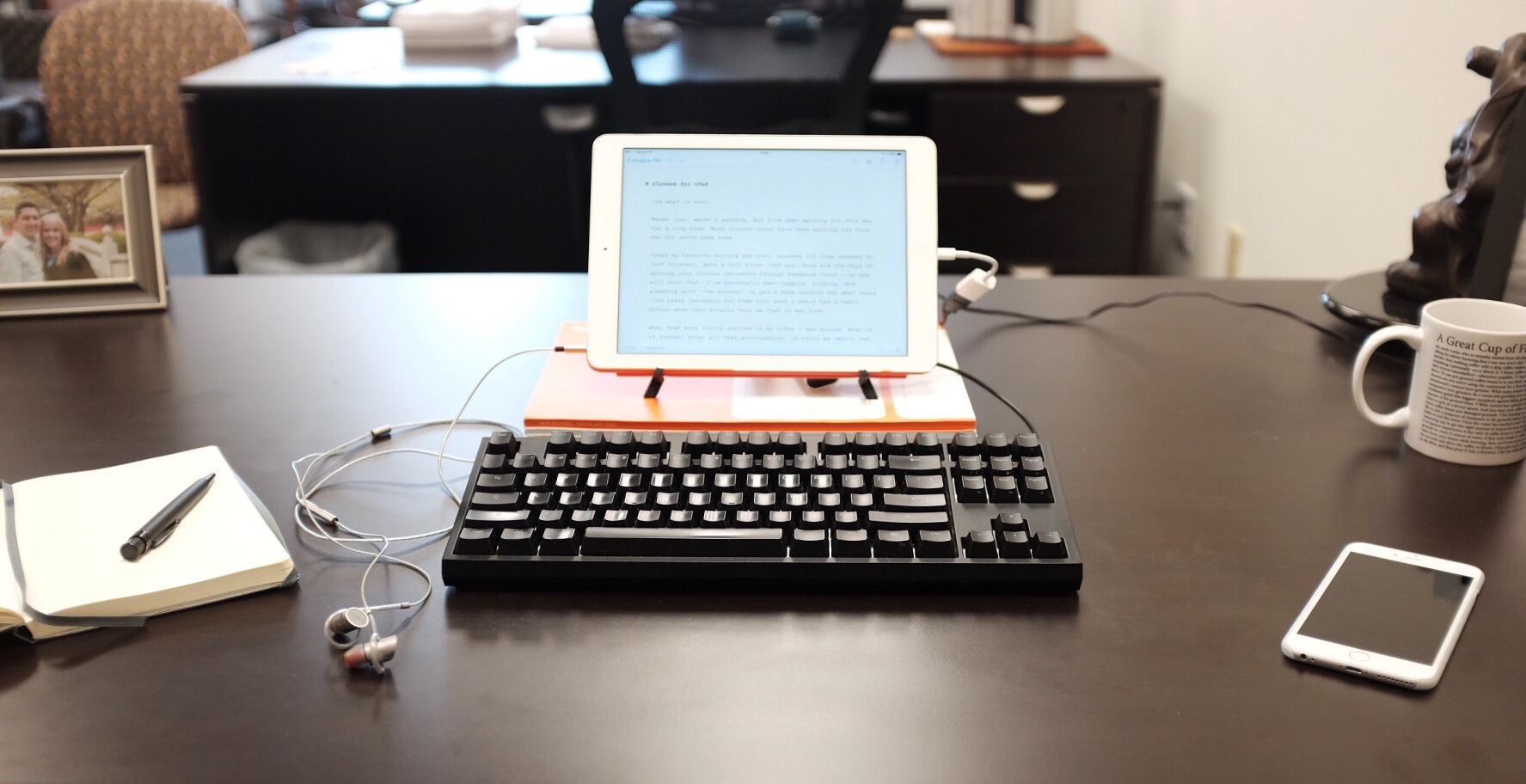 The Day's Thoughts
The iPad ultimately sits too low in the Compass stand. Not only is this irksome from a neck perspective, but the CODE blocks a bit of the bottom of the screen. My solution was to stack some large notepads under the stand and get the height up. This worked well, but looked shitty.
Speaking of which, there were wires everywhere — drove me nuts.
Later in the Day
God I am loving this so far. I feel really focused and engaged in everything I am doing. Zero distractions when I am working in an app and that is really awesome.
I had this moment, where I sat back, and thought: Why am I doing this, this is no more compact than my MacBook Pro sitting on the desk. Oh yeah, in case there is a larger iPad coming out. No wait, actually because iOS is a far better OS — this isn't so much about the device as it is the software.
Self doubting was the theme for the day, and realizing that this is a rather dumb pursuit that only I find necessary.
Random Notes From the Day
Using a USB hub works just fine.
Lack of a Home button on the keyboard is annoying.
I love iOS.
Slack needs a share URL extension in Safari (I made a Workflow)
GoToMeeting and Skype work well in the background (Thank God)
Slack doesn't play well with hardware keyboards.
Skype video didn't work on the group call.
Saving a video from a purchase link: not to easy. Need Workflow for it. (Ultimately used the save to Dropbox feature on purchasing site.)
End of work day battery life: 34%
First Day Verdict
I am fucking loving this, and I feel completely stupid saying that.
I felt just as productive for the day, and don't feel like I missed a beat. I felt more focused on everything I did as well. Both of these things surprised the hell out of me, I was expecting a far bigger fight. I felt like I cheated all day.
Day Two
(Tuesday, 7 March 2015)
Today I was very excited to start my day with just the iPad.
Today's Setup
Logitech K480 Keyboard with the iPad Air in the same Compass stand configuration as the day before. Just minus the wires.
Day's Thoughts
Only the second day in and I cheated. At first it was to just install a BitTorrent Sync update on my MacBook Pro, it seemed silly to VNC into my Mac when it is sitting right next to me. So I didn't, I used it to update that software.
Not a single issue encountered from using the iPad for the day.
I also stopped at the Apple Store to have them look at the mute switch on my iPad, it's very easily engaged and driving me nuts. This led to my second cheating for the day: they replaced my iPad on the spot and while it restored I used my Mac so that I could keep on working.
Random Notes From The Day
I should make a better iPad stand, ok now I am getting obsessive.
End of work day battery life: N/A (changed iPads midday)
Second Day Verdict
Having to go back to my Mac for the late afternoon was a shock to me. I just felt overwhelmed using it. Not less focused, not less productive, just overwhelmed by the sheer complexity of the systems that Apple, and I, have setup in the name of productivity on my Mac.
I can't wait for my iPad to restore.
Day Three
(Wednesday, 3 March 2015)
My new iPad is still restoring some iCloud things, which is maddening to start the day off with. It feels warm and is clearly working on a lot of things.
Today's Setup
I am back at home, standing. So the HoverBar is holding my iPad on high and the Logitech K480 is powering my keystrokes for the day.
Day's Thoughts
Thinking that I actually need two iPads. I know, I know. I would have liked to run this exepriment and said at the end of it "I put my Mac away on 2/28 and didn't touch it again." Oh well, yesterday screwed that up.
Random Thoughts from the Day
Biggest issue thus far: Skype is very limited on iOS. I cannot start a multi-person call. WTF. Fucking Skype.
Oh all my fonts are nuked on iPad so I need to go ahead and add those back in, which requires my Mac to get me the files (I VNC into my Mac server for this).
End of work day battery life: 20%
Third Day Verdict
That Skype bug bit me in the ass all day, but I've found a way to work around it: iPhone Skype app seems to allow it. So dumb. Skype. So Dumb. The iPhone Skype app is actually far better. Ugh.
I'm loving this otherwise. Maybe I should switch to FaceTime for calls.
Day Four
(Thursday, 5 March 2015)
To the library and Starbucks for work today, typically I would use my laptop even in this type of environment. Should be an interesting change.
Today's Setup
Belkin Air Keyboard, just the integrated stand on that keyboard today.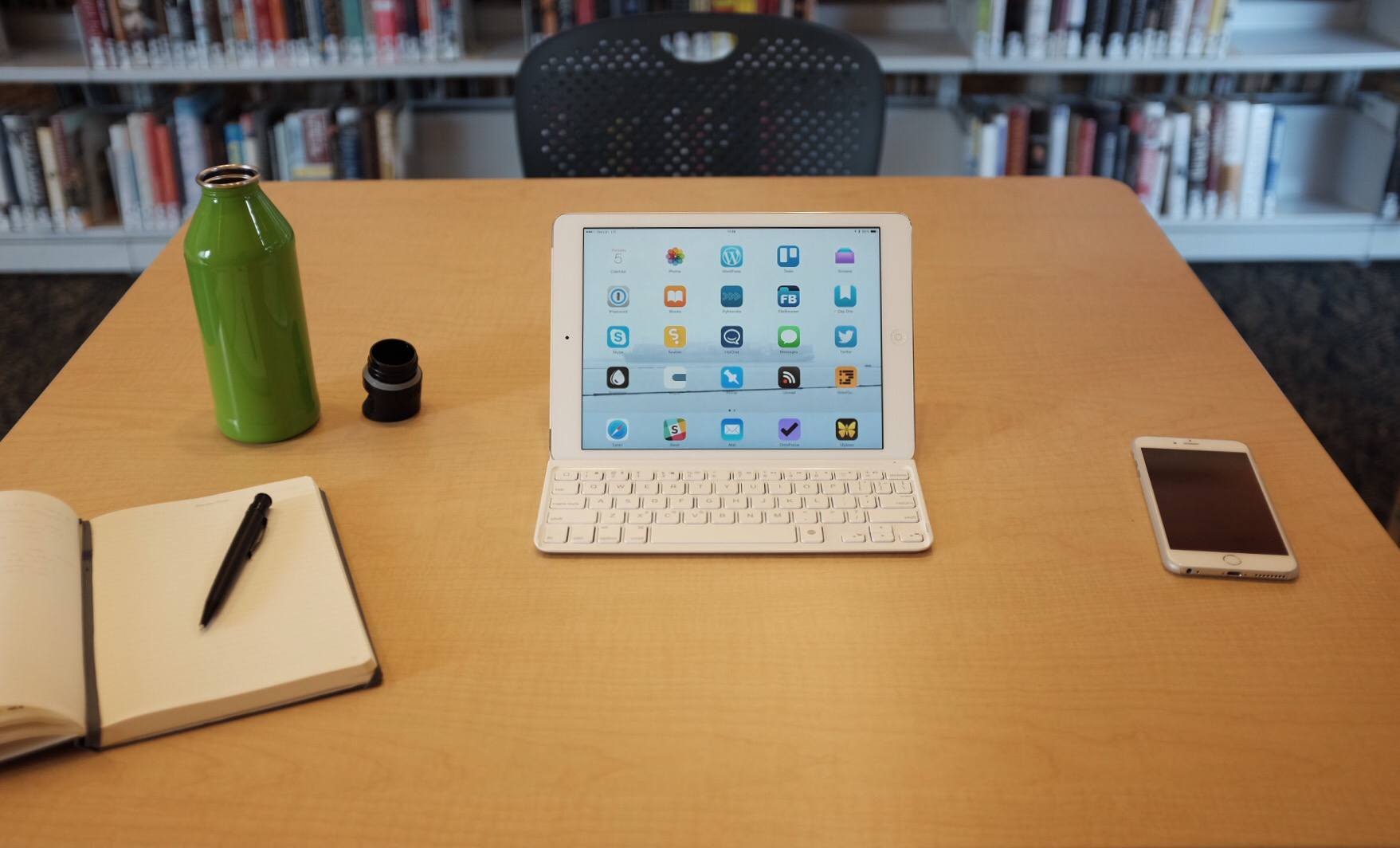 Day's Thoughts
First day I felt comfortable not toting my MacBook Pro as a backup — holy shit my bag is light. The Belkin keyboard isn't that great, but the compact size and foot print are what makes it so compelling.
I love having built-in LTE on my main device. Maybe the Retina Air will get that and totally screw with my notions of what to buy.
Random Thoughts for the Day
Uploading text snippet files to Slack, or seeing formatted text in Slack, is just not possible. God that's annoying.
End of work day battery life: 52%
Fourth Day Verdict
I need two devices when iPad only, not a Mac, but my iPhone — perhaps even just an iPad mini to do some second screen type stuff for scenarios that I encounter. I'd really like to side by side apps occasionally, but remain unconvinced this could work well.
No clue why I ended the day with so much battery life, especially given the robust usage of LTE — I think I used my iPhone for a lot of stuff today (Skype calls) and that spared my iPad some work. iPhone battery was really low at the end of the day.
Day Five
(Friday, 6 March 2015)
I started the day pretty excited, after having serious doubts last night. The "why the hell am I doing this doubts" — sleep has cured this.
Today's Setup
HoverBar again, with the KBC Poker II attached at first via bluetooth adapter, then via USB after that battery died.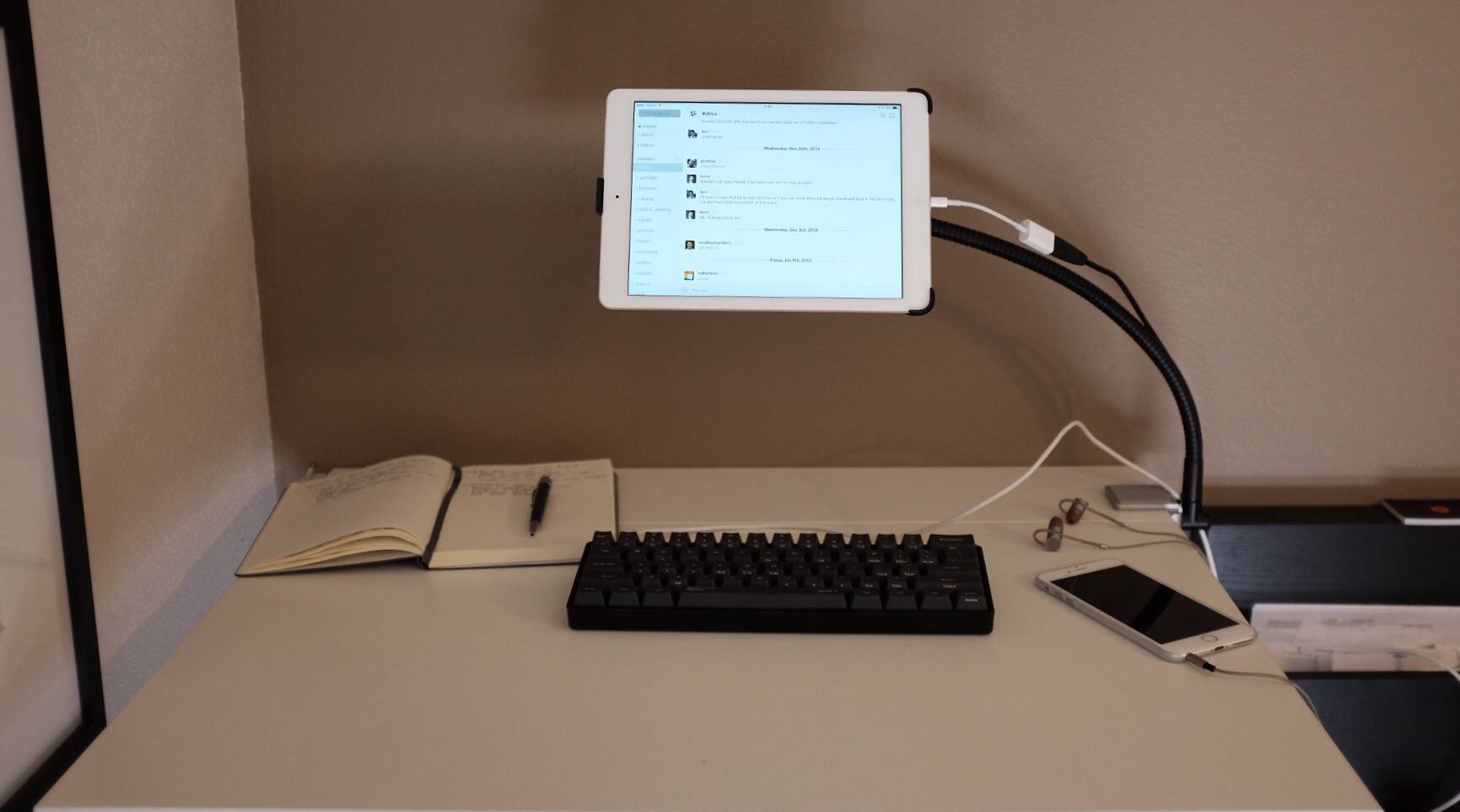 Day's Thoughts
I've switched to using my iPhone as the audio device, meaning all calls (even Skype and GoToMeeting) are routed through my iPhone. This is much better.
The amount of bounce in the HoverBar, both when I type and touch the device, is one of those things that will slowly drive me nuts.
Random Thoughts for the Day
Apps in general need to support more keyboard shortcuts.
Gah, harder to add custom emoji to Slack.
Writing with a keyboard that doesn't have home button, or dedicated arrows keys, is a real pain.
Hard wiring a keyboard is great, but ugly.
End of work day battery life: 35%
Fifth Day Verdict
I've enjoyed my week with the iPad and finally felt like I was fully in the groove come today. Things flowed well and I felt back at max productivity.
Closing Thoughts
Over the course of the week I've gotten all my normal work done and then some. I've been pissed at shortcomings in apps, and questioned why the fuck I am doing this.
It's been a week of ups and downs, but the entire time I've enjoyed the raw feeling of this setup. I've been excited to use it everyday and I cannot say that about my normal setup. Some of this is easily attributed to the newness and excitement of the experiment, but some is genuine love for this form factor.
Overall, I found things not to be as efficient, as it took lots of taps and tries to do some things (which is why I started using my iPhone more). I found that while efficiency is delayed, the deliberateness with which I worked seemed higher. When I responded to email that's all I did because that's all I could do. Twitter, Slack, HipChat, none of them were distracting while I did other things because I couldn't see them while I did the other things.
If an iPad Pro comes out I would have no hesitation buying it, but if it's a similar price to a retina MacBook Air, I'd choose the latter. The only caveat to that is if the iPad pro had expanded features (more than screen size) over a standard iPad. That said, I won't hesitate to use my iPad more for work from here on out.
The iPad wasn't a panacea for me, but it is more than capable as my only work machine. I expected to have a more firm stance, but both a Mac or iPad have compelling reasons to use them.