When I first got a Mac, one of the first pieces of software that I fell in love with was NetNewsWire — it was a revolution in how to keep up with news. It was quite something, and so it took a lot for me to move away from it. But years of stagnation meant I had to try other services. For quite sometime that was Fever, a self-hosted RSS reader, but that too started to get long in the tooth. A while back I went through the plethora of great RSS services before deciding on FeedWrangler + Reeder + Unread.
While FeedWrangler isn't the prettiest offering, it is the fastest, and it is damn reliable.
On September 3rd, Black Pixel announced that NetNewsWire 4 was out. I didn't even bother to try it before buying the iPhone and Mac version and making the switch over to it.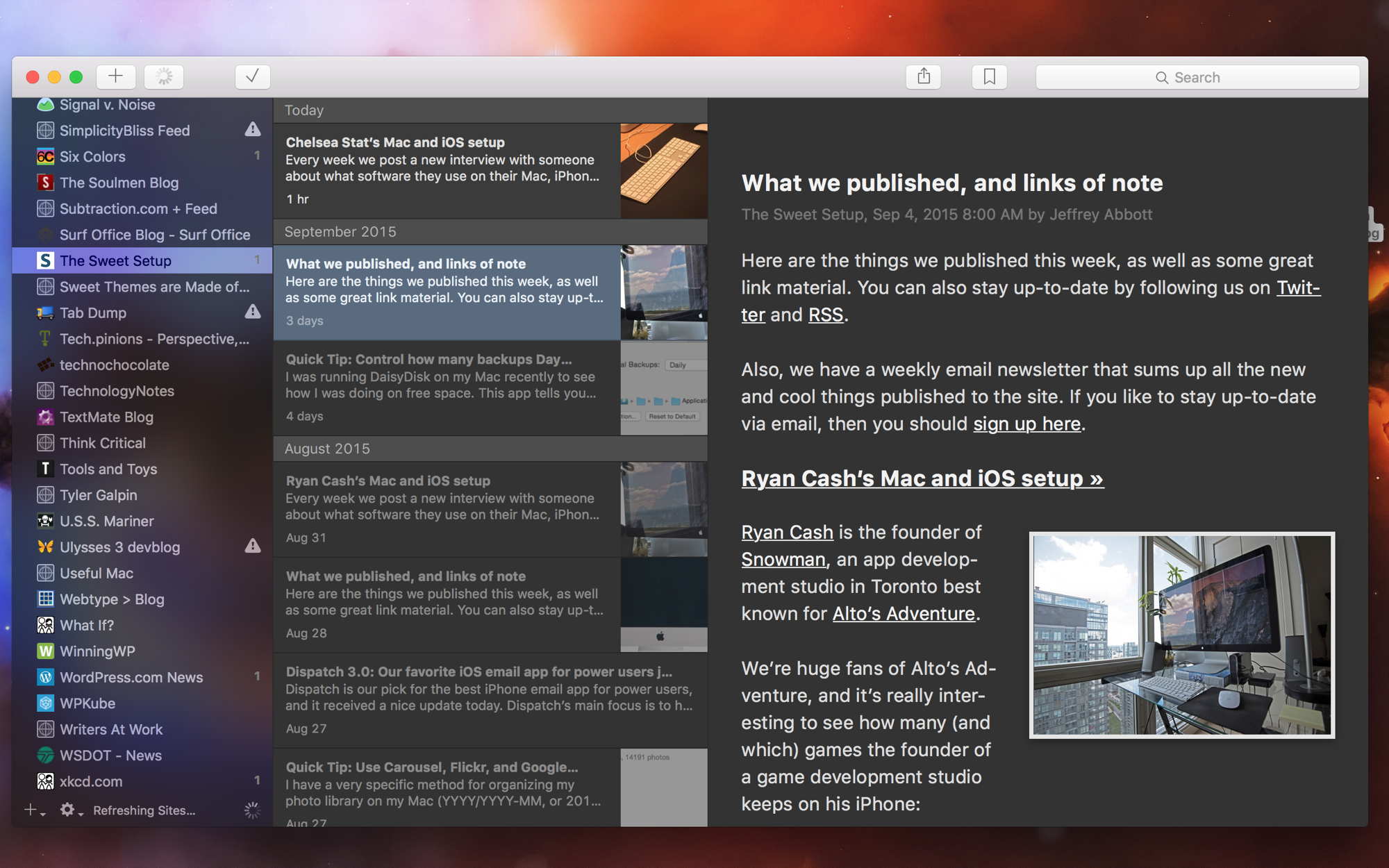 (For comparison, here's what Reeder 3 beta looks like.)
And then on September 6th I got fed up and switched back to FeedWrangler. This is a story of why.
Server vs. Client
The biggest difference with NetNewsWire and most RSS services is that your Mac or iPhone is the device polling the RSS feeds for updates. Whereas with services like FeedWrangler a server sitting in the proverbial cloud is polling those services. This means that hitting refresh in NetNewsWire can take minutes as it has to check each feed for an update — whereas hitting refresh in with FeedWrangler will take seconds as it just has check with one server for updates because the FeedWrangler servers have already polled the RSS feeds. This is a dramatic difference in functionality. (The NetNewsWires cloud sync is just to sync subscriptions, bookmarks, and read states.)
And thus, it feels like stepping back a decade when using NetNewsWire. All of a sudden not all of your feeds are updating at once (sometimes they time out), and you are constantly waiting on the refresh to happen — basically shit is getting screwed up all the time. I had several instances where all the feeds would update and forget read states, showing over 3,000 unread items — other times no new items would show up despite FeedWranlger showing new items.
Besides the fact that the refresh was an order of magnitude slower, it was also highly unreliable. I can deal with slower, but reliability is an absolute must.
And that reason alone was enough for me to dump NetNewsWire, because while the rest of things I will mention are annoying, they are not deal breakers. Unreliable RSS refresh, however, is a deal breaker since it is the primary function of RSS software.
Integration
For an RSS reader released in 2015, NetNewsWire is woefully behind with service integrations. Not only does it not offer any syncing options for RSS services, but the integrated read later services are severely limited. Just Instapaper is integrated — no Pinboard, Pocket — or really any options that one would expect these days.
It also does not use the iOS standard share sheet, so the options are even more limited. An odd choice for a new app in a highly competitive market, and seemingly easier route to take than the custom share sheet with custom integrations.
Throwback
One of the oddest experiences about using NetNewsWires is that it feels like a throwback to when NetNewsWire was the leading Mac RSS app — perhaps the only app you would consider. That's to say that it feels like NetNewsWire has done little to modernize itself — besides the updated UI chrome.
It's clear that a lot of work has been done, but it is also obvious that NewNewsWire is no where near where it needs to be to compete in the market. I am hopeful that this latest version builds a solid foundation for the app moving forward — and shipping it is a big step in the right direction.
Unique Offerrings
There's a couple things I used to use all the time in NetNewsWire. The first was updated items. Say a sentence was added, or an updated paragraph appended, NetNewsWire would know that and show you the RSS item as unread again, highlighting the changed section. It was fantastic, especially with people prone to updating the articles without mentioning it has been updated.
Sadly, that feature is gone.
Another feature I used to use was the stale RSS tool, which would tell you if an RSS feed was stale, dead, or otherwise. While NetNewsWire still has this to an extent, it is no longer as robust as it once was.
(Note: I am going off of memory for both of these. For a more complete look at what NetNewsWire used to be, check out Shawn's review.)
Nostalgia
I purchased NetNewsWire despite not needing or wanting a new RSS reader, but because it was once a great product and I hope it will be great again one day. It doesn't have far to go, it looks very nice now, but for it isn't a productive or functional tool for me with this initial 4.0 release.
I only check RSS feeds 3-4 times a day (morning, afternoon, and 1-2 times in the evening), but even still it is much too cumbersome for me to use NetNewsWire. A fact that actually saddens me.
NetNewsWire used to be the power user's RSS software, but this new version has me confounded as to who it is for. I hope frequent updates slowly makes it the glorious tool that lives in my memory.
You can snag a free trail here.