A while back I mentioned that I had switched to the CGP Grey method of organizing my main home screen on both my iPhone and iPad. This method is simple:
One page of apps only
At least one row of apps empty
Three icons in the dock
I was highly skeptical that this method would work, but as it turns out this method is supremely good — as long as you are ok with using Spotlight search. I've only used this setup on iOS 9, so I can't speak to how it works on iOS 8, but I can say that there is no going back at this point.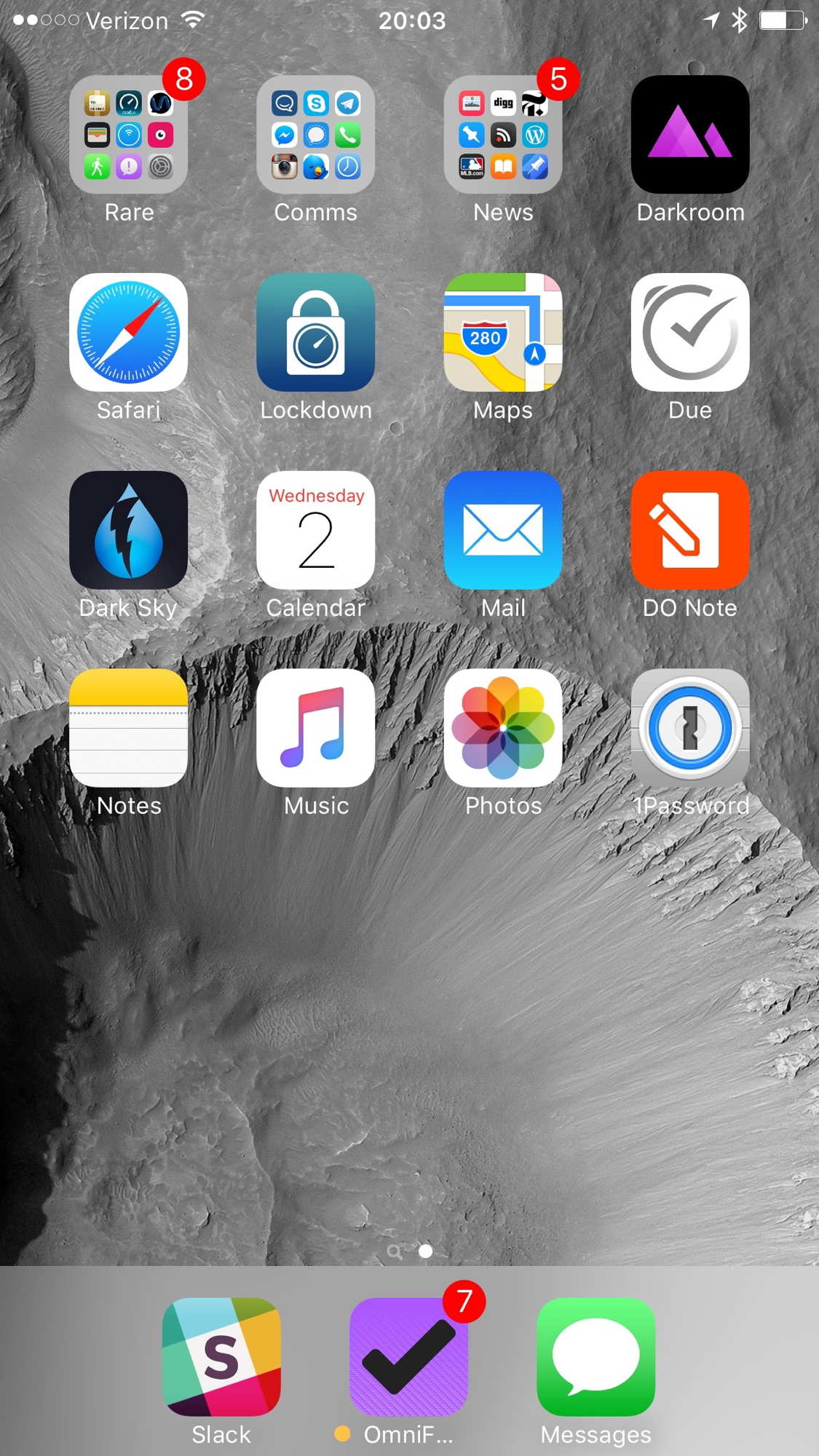 My iPhone just feels cleaner and faster now. It doesn't feel like a pool icons any longer.
Less Overhead
The most immediate change that you notice: there is a lot less mental overhead involved in using your phone. If you take a look at my current home screen you can see that I have only 16 visible app icons, and 3 folders for 19 icons total. It used to be that the first page and dock were full of individual icons, and the second page was entirely folders.
The difference between the two systems: the new system has far less visual clutter. And less visual clutter means less mental overhead — in other words I don't have to think too much about where something might be. If it's not one of those 16 icons, which are quickly and easily scanned and learned, then I know it is in a folder.
My folders are so deep that there is little point in opening them, just search for the app instead. Where my use model was: scroll and tap around until you find your icon. It has now changed to: do you see it on the screen? If no, search. There's less searching and trying to find, there's less trying to remember what is where, and in which folder, and a lot less friction.
As I said: less mental overhead. It's like always putting your car keys in the same spot when you get home, versus — well — not putting them in the same spot. It used to be annoying and distracting finding apps, but now it feels logical and right.
Faster
All of this leads to a faster experience as search is pretty easy. For example one app I use a lot, but that is not on my home screen, is the alarm app for my home. I used to stumble around folders trying to find it, but now I just swipe left, or tug the screen down, and search alarm and there it is.
We are talking about shaving off seconds, but given how much I use my iPhone, those seconds really add up over time. And it is a noticeable speed up over digging around your phone to find an app, but it does take time to get used to it. It took me about a week to not feel completely lost on my iPhone, but after that, searching became second nature — just like using an app launcher on your Mac becomes second nature.
If nothing else, I recommend you just start using Spotlight on iOS more — it's quite fast.
Badge Notifications Suck
The biggest drawback I have found thus far, is that this system doesn't work well if you like badge notifications. My folders perpetually have tons of badges on them, and unless I go spelunking into them, I have no clue what app is causing them. It's best to just turn off badges for any app inside a folder.
That's unfortunate as I have come to liking badge notifications once again. Hopefully, I will find a better way of handling this, but for now only visible apps should have badges with a system like this.
The Folders
As you can see I have three folders on my phone: Rare, Comms, and News. The way these folders came about is fairly simple: not everything fit in the rare folder (i.e. I hit the limit for pages).
I could have done just one other folder, but this allowed me to use badges for the two other areas of interest. So I can see if I have any unread messages in Comms based just on badges, and ditto any news items waiting in the news folder. It's a way to work around the fact that badges are useless in just a catch all folder, so I sorted by category and it works reasonably well but could stand improvement.
I am still very much playing with these folders as just a week ago there was more folders.
Going Forward
I wish Apple allowed unlimited apps in a folder, and I wish Apple showed badged apps in Notification Center — having said that, this is clearly a much cleaner, prettier, and faster way to organize and access apps on your iPhone.
Search is fast and easy enough that I have zero frustration with it. ((Well that's not true. For some reason searching "Keynote" on my iPad returns zero results, despite Keynote actually being installed.))