Since I became a rather loud MacBook only user, I've been seeing people asking on Twitter, and asking me directly, which shoulder bag is the best for a MacBook. I really didn't have any good answers because I rarely use shoulder bags, and because I didn't have any small enough not to be silly for the MacBook.
There's a lot of good looking options out there, but I wanted to be able to test something affordable for a change. So I reached out to Tom Bihn and asked if I could stop by to test out a few different bags, and possibly swipe one for a while to test out.
Tom Bihn handed me a horizontal Cache for the MacBook and a Daylight Briefcase to test out. Of the bags they showed me, the Daylight Briefcase was the smallest of the group, and I have a fascination with the Daylight series as it can be so easily packed into other bags without taking up a ton of room.
Looks
This is a really basic looking bag. As with the Daylight Backpack, it is a floppy mess with nothing in it. It doesn't look well structured either, which you are likely to either love or hate. It really depends on what you like in bags, as the Daylight Briefcase looks very unstructured.
Personally I don't find the bag better looking than its backpack sibling. It's not bad looking, but overall the looks don't excite me. I'm not trying to hedge this — I just want to be clear that this isn't a bad looking bag, it's just very basic (by design). I knew that going into it and at first it was not exciting, but the more I use the bag the more the looks grew on me.
Function
My chief complaint with the Daylight Backpack was that it needed an extra pocket or two. The Briefcase gives you a bunch of pockets, and it is glorious. There are four pockets accessible from the outside and one pouch inside the main compartment.
The front of the bag has two pockets, one running the length of the bag, and the other a vertical pocket. Both of these are great pockets and really make the bag for me. The larger of the two is divided in half and consequently, holds pens and Field Notes really well. The front slanted pocket is small, but deep. I really love holding my business cards and headphones in this pocket as I can slide the cards further in and keep the headphones right at the edge for fast access to both, without them becoming intertwined. These pockets are both really well positioned, and sized, for fast access to essentials.
The pocket on the rear of the bag is the typical pocket you find on the rear of a briefcase: long and open. I could see using this when traveling to stash papers which I come across, but that's about what it is limited too for me. Anything you stuff in this pocket is going to be felt, and seen, against your body because of how thin the fabric is on the back panel. Best to leave it for flat things only.
Which brings us to the main compartment. The Daylight Briefcase is designed in such a way, you have to put in a padded laptop sleeve if you want one — and primarily designed to work with Tom Bihn's Cache series of sleeves. It is designed to use the rail system Tom Bihn has for sliding out the Cache when going through security at the airport. In addition, there's a large full width pouch in this main compartment which works really well for dropping things like an Apple Pencil into. It would also make for a nice condensation barrier for beverages when traveling. It shouldn't be considered as a structured area, it is quite floppy — nice for dropping in things, but not good for organizing things.
Carry
Part way through testing this bag, I stopped using it with the MacBook and switched over to using it with the iPad Pro. So I am breaking this part into two sections, as a way to address using the bag with both devices.
There's two things about the bag I am not fond of right off the bat:
The shoulder strap isn't anything special. Tom Bihn calls it their basic shoulder strap and freely admits you can upgrade it to the Absolute Shoulder strap (which is very nice), or any others they sell. They offered to send me a different strap, but I have a couple on other bags already and declined. I also wanted to test this with the basic strap because it's the only compact strap you could use when packing the Daylight Briefcase, so you have to use it. In use I have zero issues with the strap. You aren't likely to load this brief with enough weight for the strap to matter. My main issue is how cheap the little plastic should gripper looks on the strap. I might just remove that part to find a bit more aesthetic happiness.
The handles on the bag are problematic for me. It's not the looks, but there is something with either the sizing, or the shape of them that doesn't feel good in my hand. My hand feels far too cramped holding the bag by the handles, and yet it fits fine in them. I am not sure what I going on, but I really don't care for them.
Outside of those two complaints, I don't have many other general complaints about the bag.
MacBook
My daily kit for carrying the MacBook is pretty small, and thus a bag like this works perfectly for that kit. Not to mention the MacBook is still smaller than this bag. A lot of times I don't realize how small the MacBook is, until I go to place it in a bag and see it swimming around in laptop cavities.
I certainly prefer my Bullet Ruck to the Daylight Briefcase as a daily bag, but I greatly prefer the Daylight Briefcase to the Daylight Backpack as a MacBook bag. The briefcase offers better storage and better looks than it's backpack sibling.
iPad Pro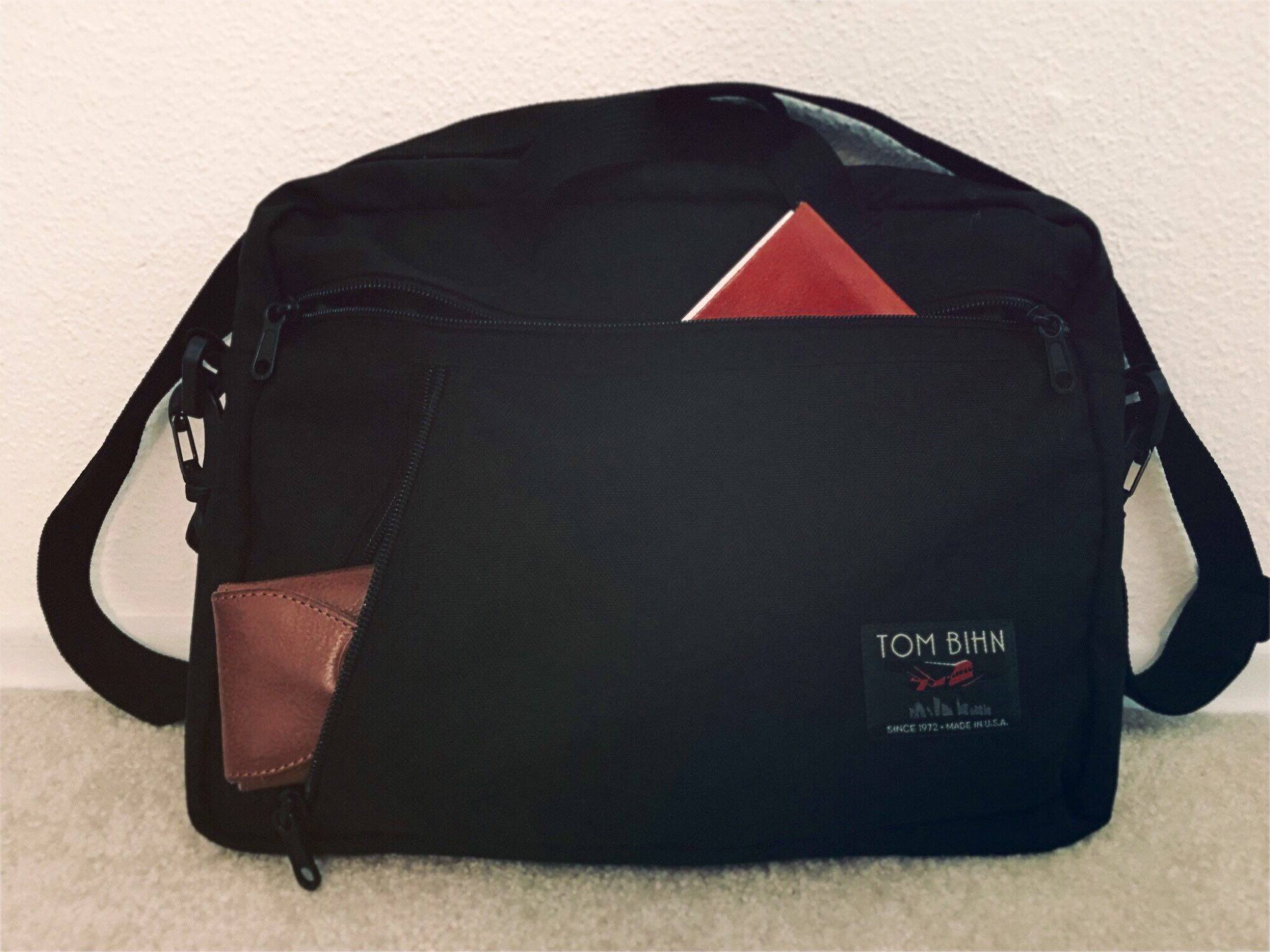 Far and away, I have been using this bag for the iPad Pro the most. It is the smallest bag I have which also holds the iPad Pro, and while some people may wonder why you need a bag for the iPad Pro — I am just a bag person. I could carry the iPad by hand, but then I would cut my hand availability by 50% — no thanks.
My kit for the iPad Pro in the Daylight Briefcase is small:
iPad Pro w/ Smart Keyboard
Apple Pencil
Lightning cable
Business Cards
Headphones (Apple earbuds)
2 Field Notes in DDC Stuff Sheath
Pen
Tissues
Mints
Gum
Hand sanitizer ('tis the season)
I don't even carry a battery backup, as both my devices have far and away enough battery life for any full day of work. The entire lot fits comfortably in this bag, and leaves room for a few other items. Unfortunately you won't be jamming a sweater or light jacket in this setup, but that's the trade off for a bag you can literally pack in your carry on in roughly the space of a t-shirt.
The iPad Pro just barely fits in the bag, and because of that you have to make sure to fully unzip the bag I order to get the iPad Pro out. It also likes to stick a little in the Cache sleeve, so removing it is a two handed affair. It's not annoying enough to where I am bothered, but I will say it is annoying enough that I do notice it when I am trying to quickly get my gear out.
The plus to this is knowing you have just about the smallest bag you could get for your iPad Pro.
Stowing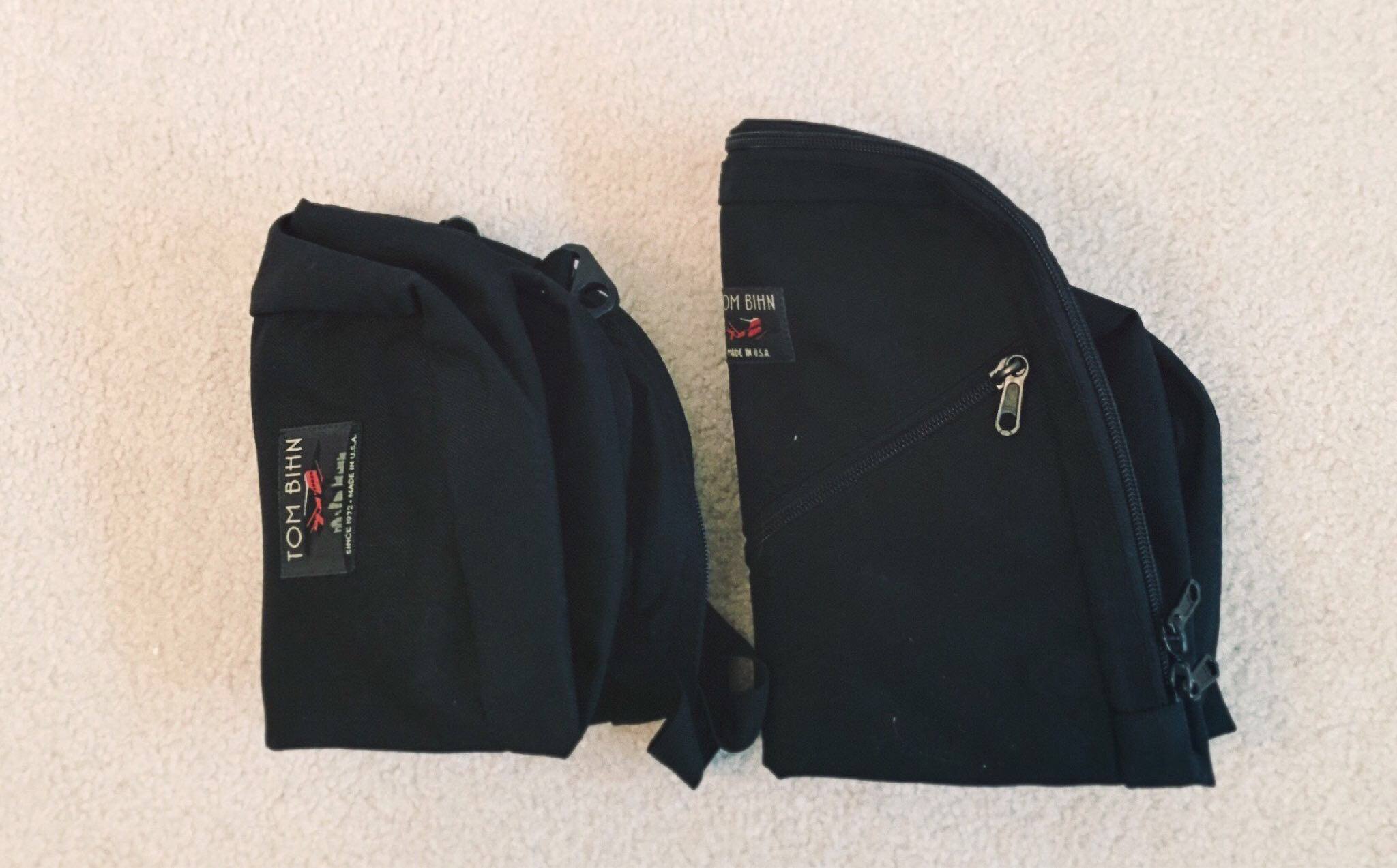 Briefcase on the left, backpack on right.

One of the reasons I like Tom Bihn's daylight series so much, is because I can pack the bags down into another bag when I travel, without losing a ton of space in my main travel bag. When I initially held the bag, I was very worried it would not pack down well give how much more fabric is a part of the design.
Those fears were put to rest when I did fold it up. It folds down nicely, but still takes up more room than the Daylight Backpack. Even so, I prefer the Daylight Briefcase as it is overall a nicer bag to carry than the backpack. It does, however, take up more space and is less versatile — certainly something which would be good to carry for business travel, but less useful if needing a general purpose bag. Either way, it's a solid choice if you often find yourself wanting to pack a small bag when you arrive at your destination, but only want to travel with one bag in the airport.
Final Thoughts
I wasn't sure how much I would like this bag, but it has really grown on me. It's made well, priced right, and about as versatile as you could ask a shoulder bag to be. Tom Bihn is right in calling it a briefcase, as it aligns more towards that than a messenger styled bag. You aren't going to be shoving non-gear related items in the bag — even finding a spot for a can of soda was very difficult for me.
That said, it's a great option for people who travel with just one larger bag. And for those asking about MacBook bags, it's also a very good small shoulder bag — it works really well for the iPad Pro as well. With the Cache system you can also be sure the bag will adapt to a lot of different computing devices. It's very nice to have one bag where I can just swap out a sleeve and am able to easily carry my MacBook or iPad Pro. And also know that when I get a new set of devices, all I need to do is buy new sleeves to keep on using the same bag.
You can buy it from Tom Bihn.