I recieved a pre-production version of the Aer Travel Pack to review and check out while the Kickstarter campaign is going. This is my first interaction with Aer bags, despite long looking at their interesting Duffel pack, and my first impressions of the brand are very good.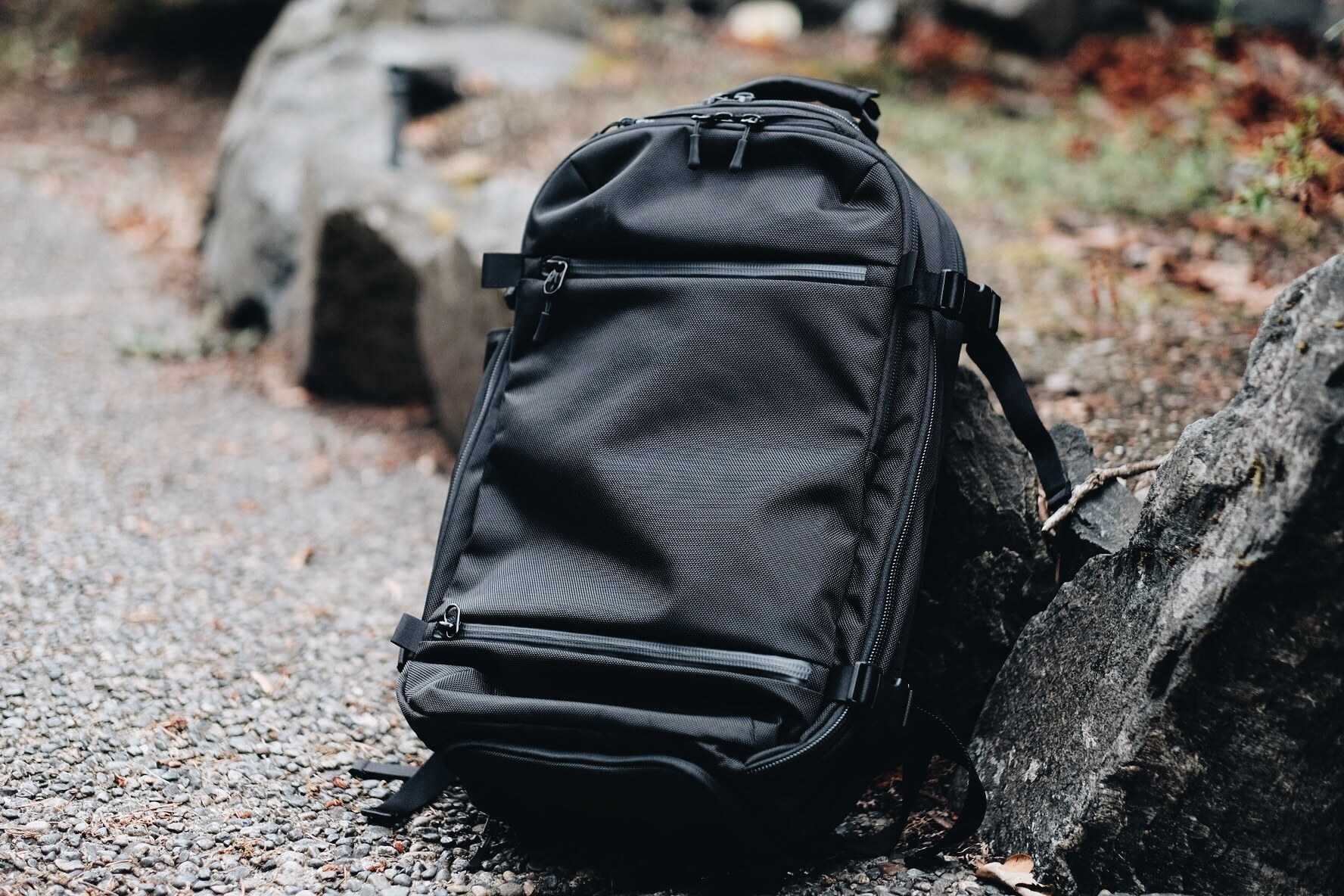 (Note: All images are courtesy of Erin Brooks. You should really have her shoot all your review images.)
When I unwrapped the Aer Travel Pack I was struck with how good it looks. The black nylon with the sealed horizontal zippers look sharp. This doesn't look like a cheap bag, and yet it is reasonably priced. There's an obvious comparison to be made to this bag and the Minaal 2.0 — though I have yet to try any Minaal bags — but I will say based on what I understand of the Minaal and having used this Aer — they are different bags.
With a GORUCK rucksack you are making a statement, and those who know bags, know that you also know your shit when you have one on your back. You are also saying that you care more about function over aesthetics. You may like the look of GORUCK bags, but anyone would be hard pressed to say they are pretty. At the opposite end of this spectrum you have Hard Graft bags which are gorgeous, and no where near as functional as a GORUCK. You're not slinging that Hard Graft through mud, just as you are not going to try and sneak a GR1 in a snooty board room.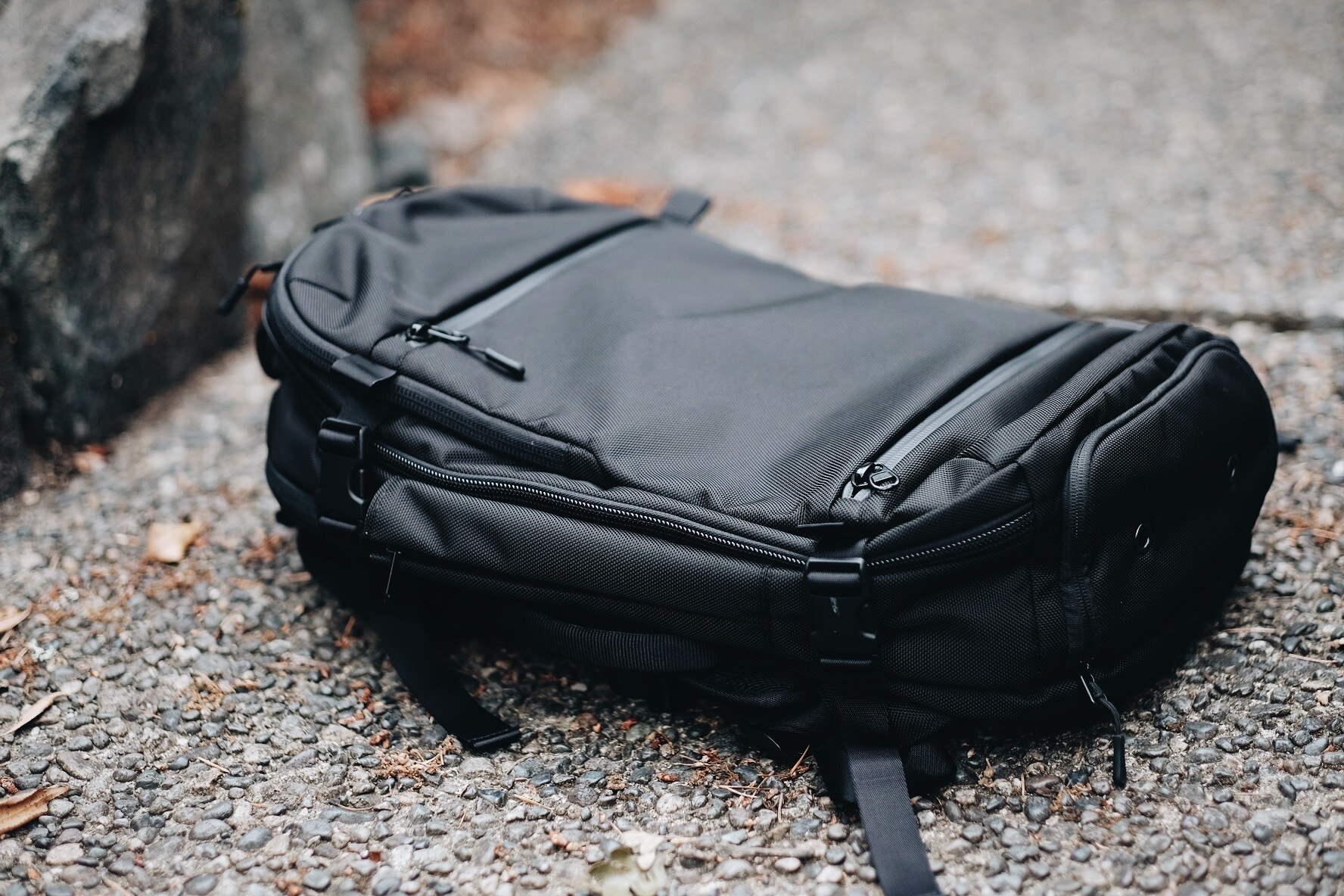 So where does this Aer bag sit on the spectrum of style and utility? I'd say it is somewhere in the middle. It lacks the versatility and utility of a GORUCK, but is certainly better looking. Yet it isn't as sexy as a Hard Graft bag, but still much more functional.
The Travel Pack is designed to be the only bag you need for travel. It's 34L and is sized very closely to the GR2. It has a lot of internal organization and plenty of space for clothing. The bag itself is said to be able to go from a large travel pack, to an amply sized day pack.
How it packs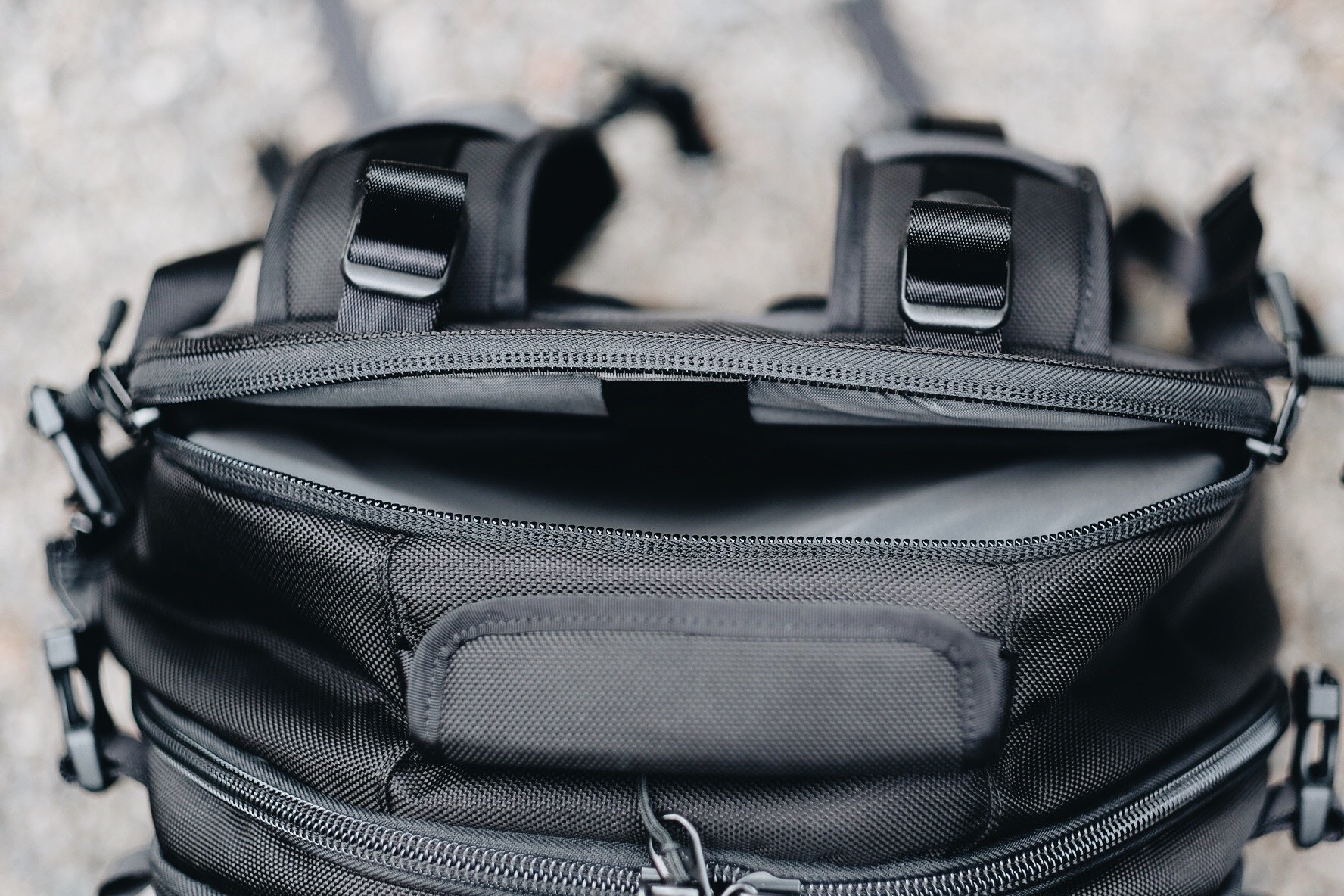 There's three main compartments on the bag: laptop, main, and accessory pocket. Additionally there's a few extra pockets accessible from outside the bag for smaller goods, and one dedicated for shoes. With any new bag it can be a challenge to figure out how to pack the bag to optimize it.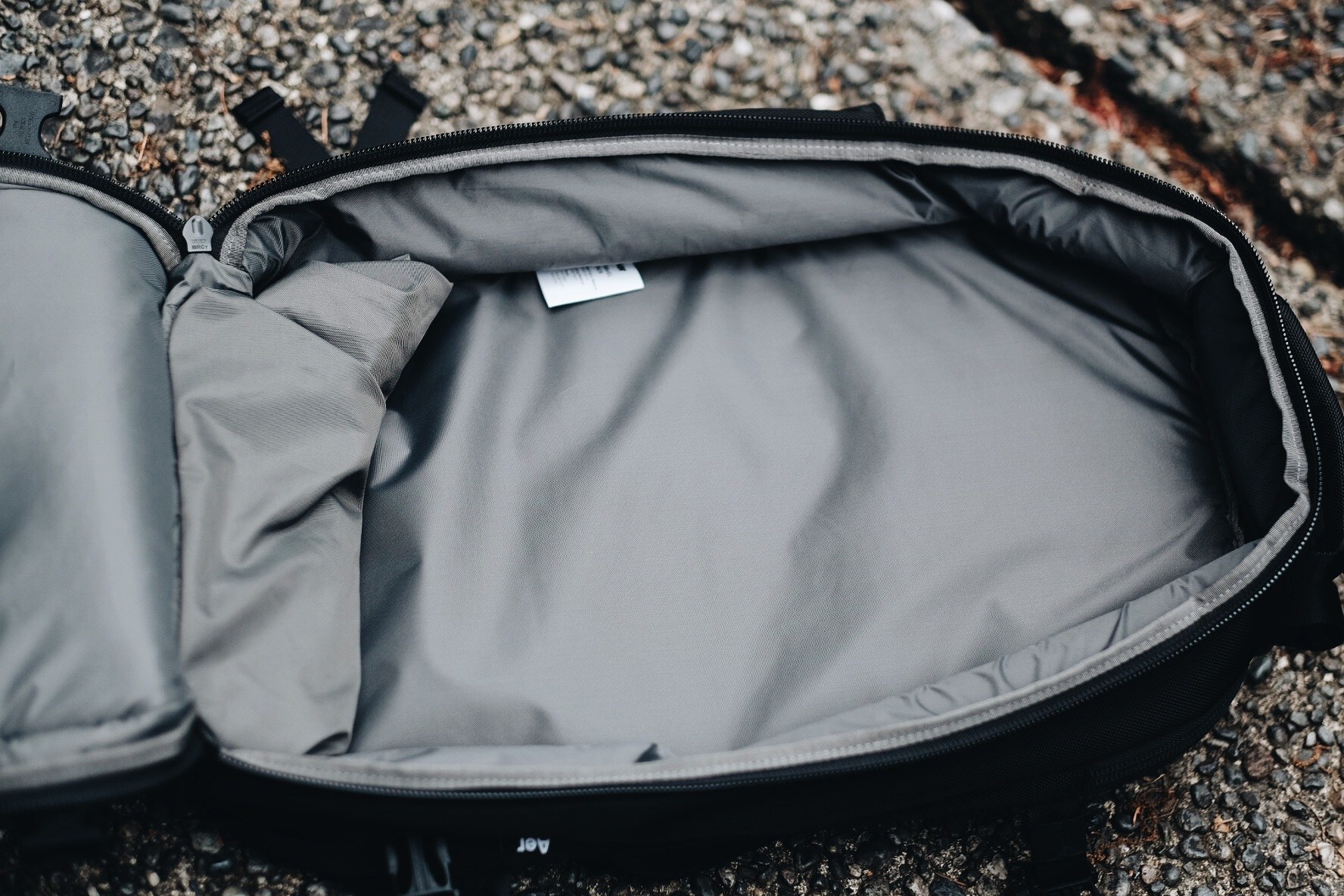 The oddest part of this bag is that the main compartment is padded. I really don't get this, and it adds a lot of bulk to the bag. The bag has four compression straps and doesn't compress nearly as well as it should if the main compartment weren't padded along the sides.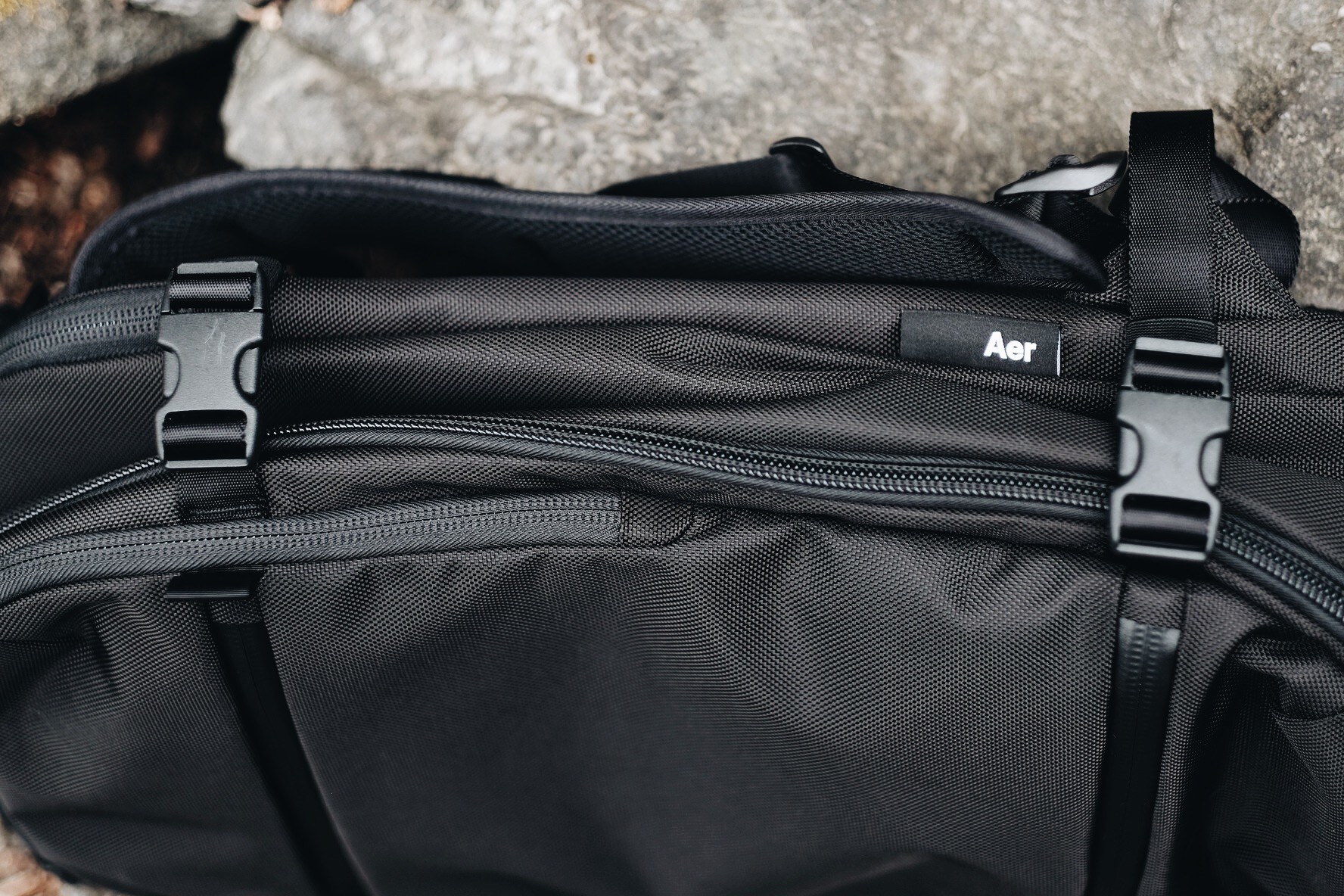 Because of this, I found it necessary to pack with a packing cube in order to keep the bag from looking overly bulky. However, the bag held everything I needed with room to spare. The many pockets found in the front compartment proved to be excellent for keeping everything sorted and at hand. There is a lightly padded pocket with a Velcro flap which perfectly housed my X100T, much to my delight, negating the need for me to pack any additional protection for the camera.
Aside from the padded compartment walls, the shoe storage pouch utilizes the bags space of the main compartment. This is fairly typical, but since I don't normally pack shoes, this became a bit of an OCD nuisance for me in the bag.
Even still, I had more than 40% of the bag to spare once I packed it full, and I even compressed the straps as far as they would allow for. I have very little doubt that anyone will have trouble packing in this bag. It packed more like my 40L GR2, than it did a 34L bag — which is always a nice bonus.
Comfort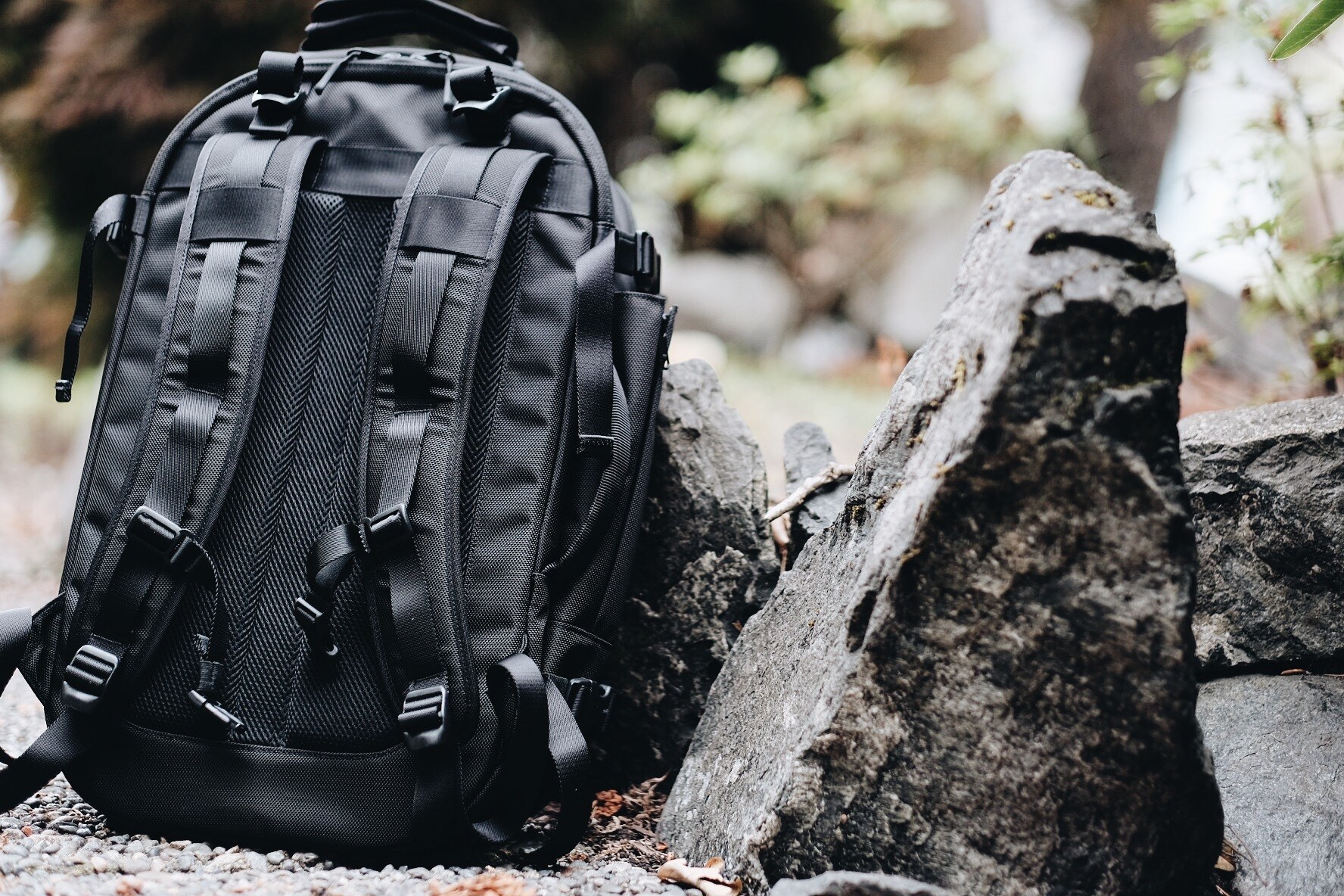 The straps on the bag are wide, thin, and adorned to look more like hiking backpack straps. They are well made and sturdy. There is an internal frame along the back of the bag to keep your gear from poking into your bag, and it has ample padding cladded in vented mesh. Amazingly, my back never got warm carry this pack. I also never felt it uncomfortable against my back — no matter what random thing I wedged into the bag at the last minute.
The straps were more of a mixed bag for me. I'm a large guy with broad shoulders, and the chest strap was essentially non-functional for me. It just could not be comfortably secured across my chest. Luckily, it wasn't needed at all. Likewise, the cinch straps at the top to pull the bag load in closer, seemed superfluous to me.
However, those two complaints do not make for an uncomfortable bag. Even with the extra giveaway items I was carrying the bag, snacks, camera, and drinks — it wasn't uncomfortable at all. I wouldn't say that I didn't feel the weight, or fidget at times, but no more so than with any other bag. For all intents and purposes it is a very comfortable bag to haul around the airport.
Function
More than anything else in this review, this is the crucial make or break part for me: does the bag function well when you are traveling? This is what I care about, any other wins in any other aspect of the bag, is just gravy.
I define functioning well as: holds what I need it to, the things I want to get to are easily accessed, causes no grief in TSA lines and overhead bins, and weathers the abuse of travel well. It's amazingly harder than you might think for a bag to do well in these categories.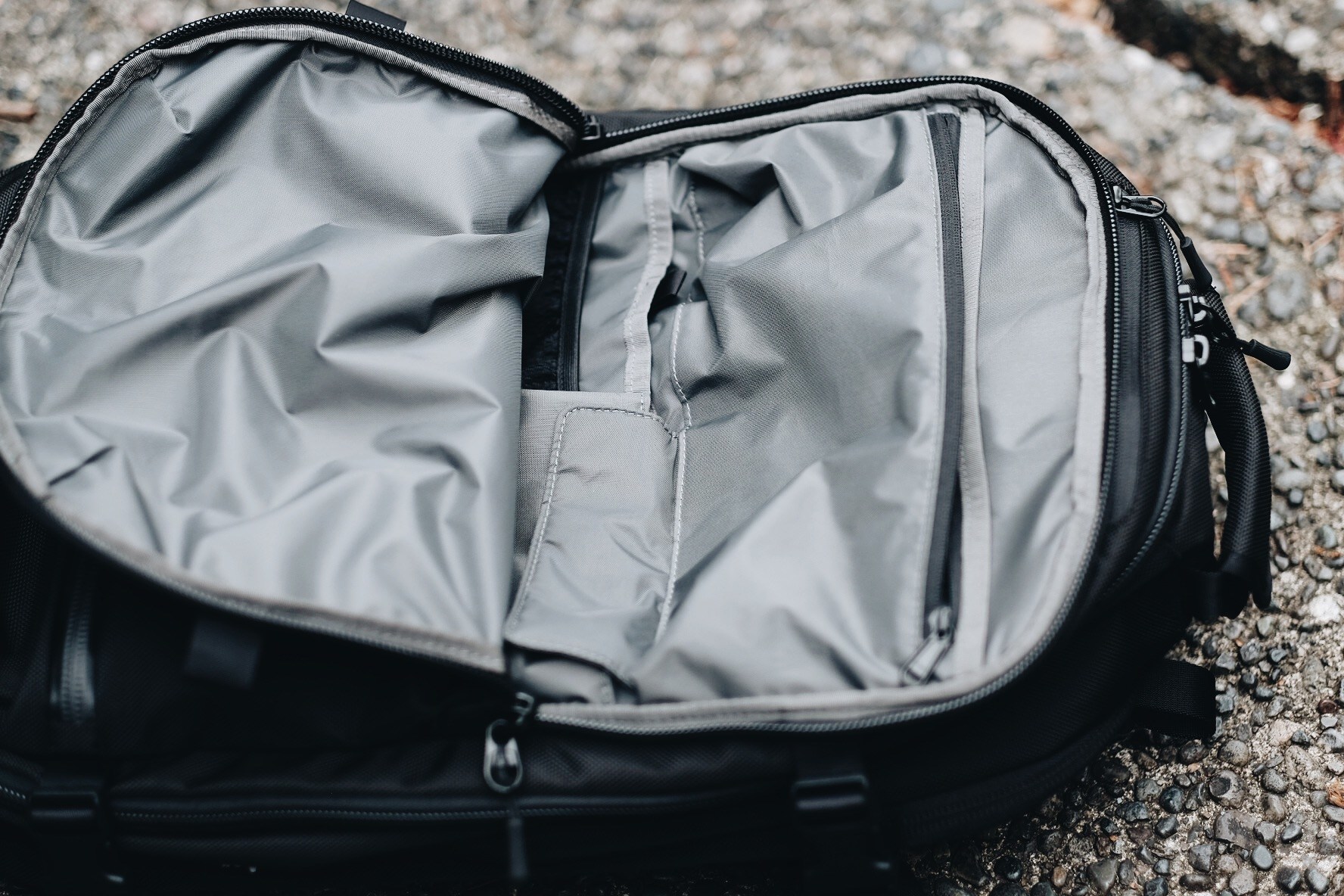 The Aer ticks all those boxes for me. I was able to get at smaller items far easily than I ever am with the GR2, and I generally knew where everything was. The only functional complaint I can lodge is that the silicone case on my iPad Pro gets stuck on the neoprene sleeve of the laptop holder and makes for a challenge on getting it in and out — however I also have to comment that this is a regular problem for me in most bags I use.
As a Daypack
I didn't even try. The idea is that the bag, when compressed down, is small enough to take around town when you are traveling. But I just don't see that being the case. You cannot change the footprint size of the bag, and that size is big.
Even though I am a big guy, and I was attending an overly nerdy conference, there was no way I could carry around this bag without being self conscious. There are people who will have no problem with this, and it will carry smaller than a GR2, but it's just not something I am willing to do. Instead I packed my faithful Tom Bihn Daylight Briefcase.
Overall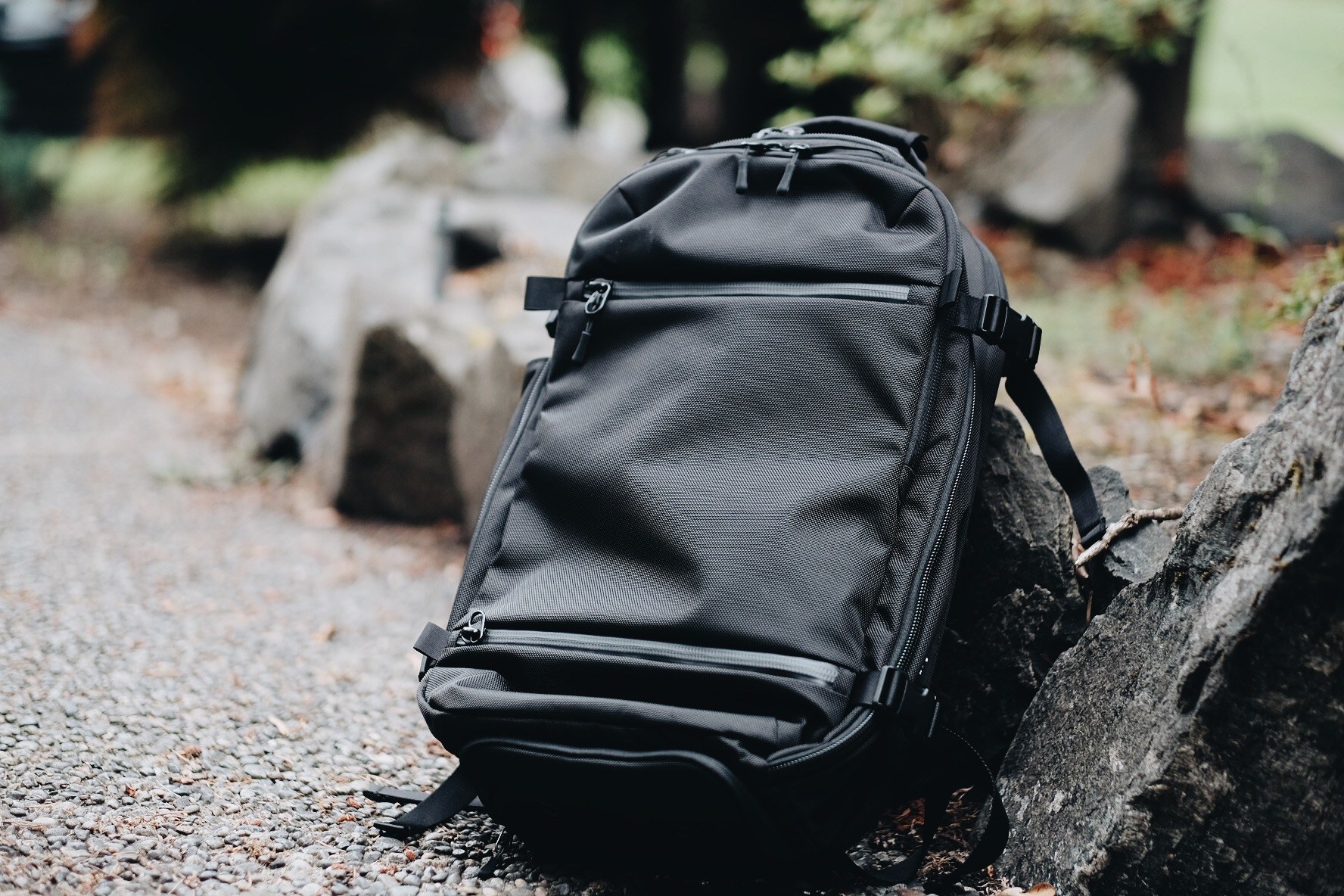 Aer pegs the retail price of this bag at $220 and that seems like a a steal to me. For what you get from this bag, $220 is a no-brainer. But it puts me in a conundrum — one that many people have been asking me about — which do I think is the best?
I don't have a good answer to that. My heart still leans towards the GR2, but the Aer is a really strong challenger. I think, with some small modifications to the bag here at Brooks Review HQ, I could make the Aer edge out the GR2 for certain travel situations.
Or, to put it more simply, pick the one that you like the looks of better, or whose prices more readily suits your wallet. If you want the best, that honor stays with the GR2, but the Aer isn't far behind.
Modifications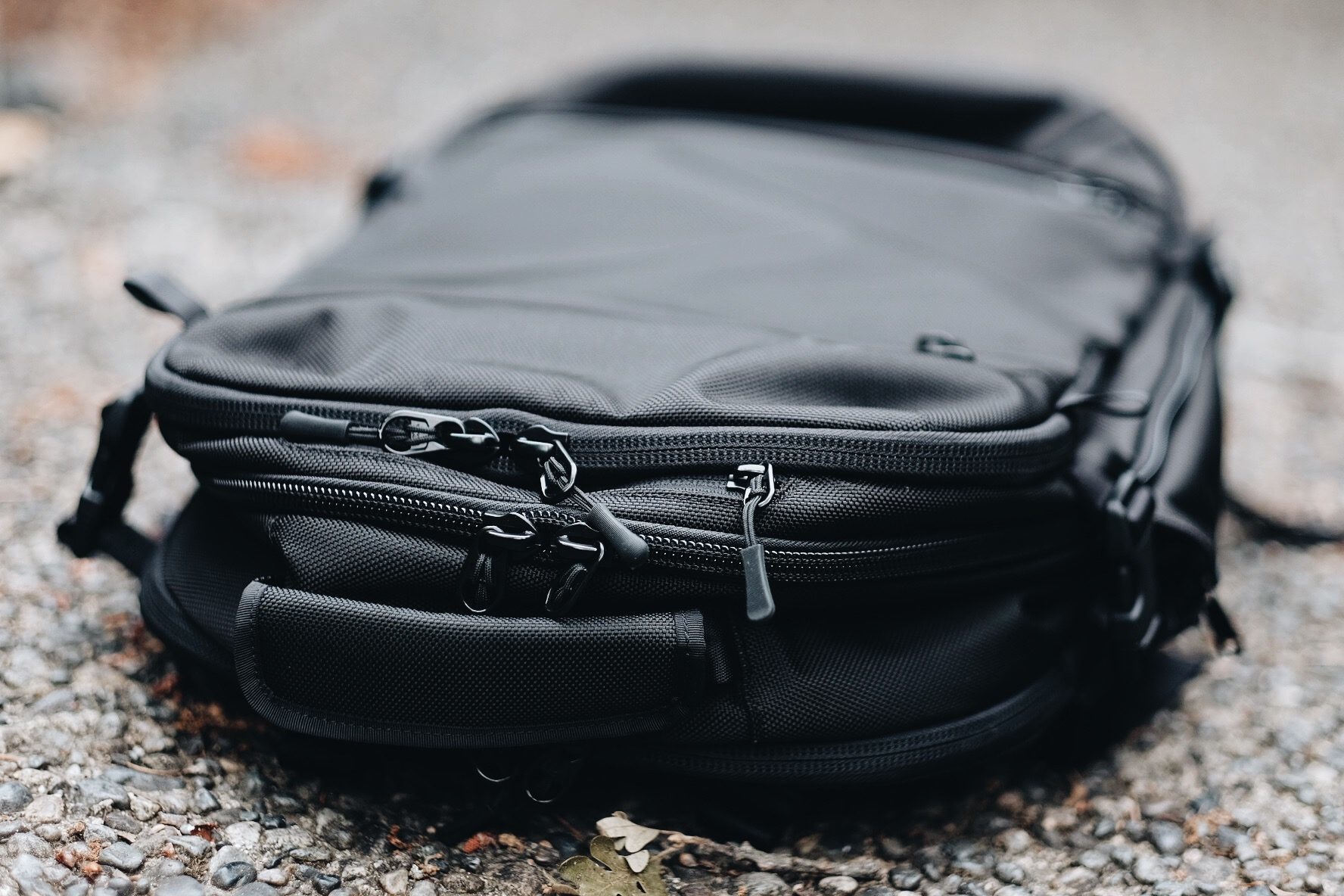 There's some modifications that really should be made to this bag:
The zippers (and there are a lot of them) all have the metal pulls with a corded/rubber pull attached. I would get rid of the metal pulls. The more used zippers would get the paracord/GORUCK treatment, while the less used would get the smaller rubber/cord pull the bag comes with.
The top handle has a padded wrapping on it, and that adds a bit of bulk to the top of the bag. I would remove that, it appears to just be stitched on.
Likewise, I would remove the chest straps.
With those small modifications this bag would look cleaner and function a lot better for me.