When I last wrote about sit-stand electric desks, I took a look at the Jarvis desk — at the time one of the cheapest desks you could get, while still getting a very quality product. I left that desk behind when I changed careers, and went without an electric desk for quite some time.
In the intervening time period there has been no shortage of new options that came to the market — all of which seem to be competing on one thing: price.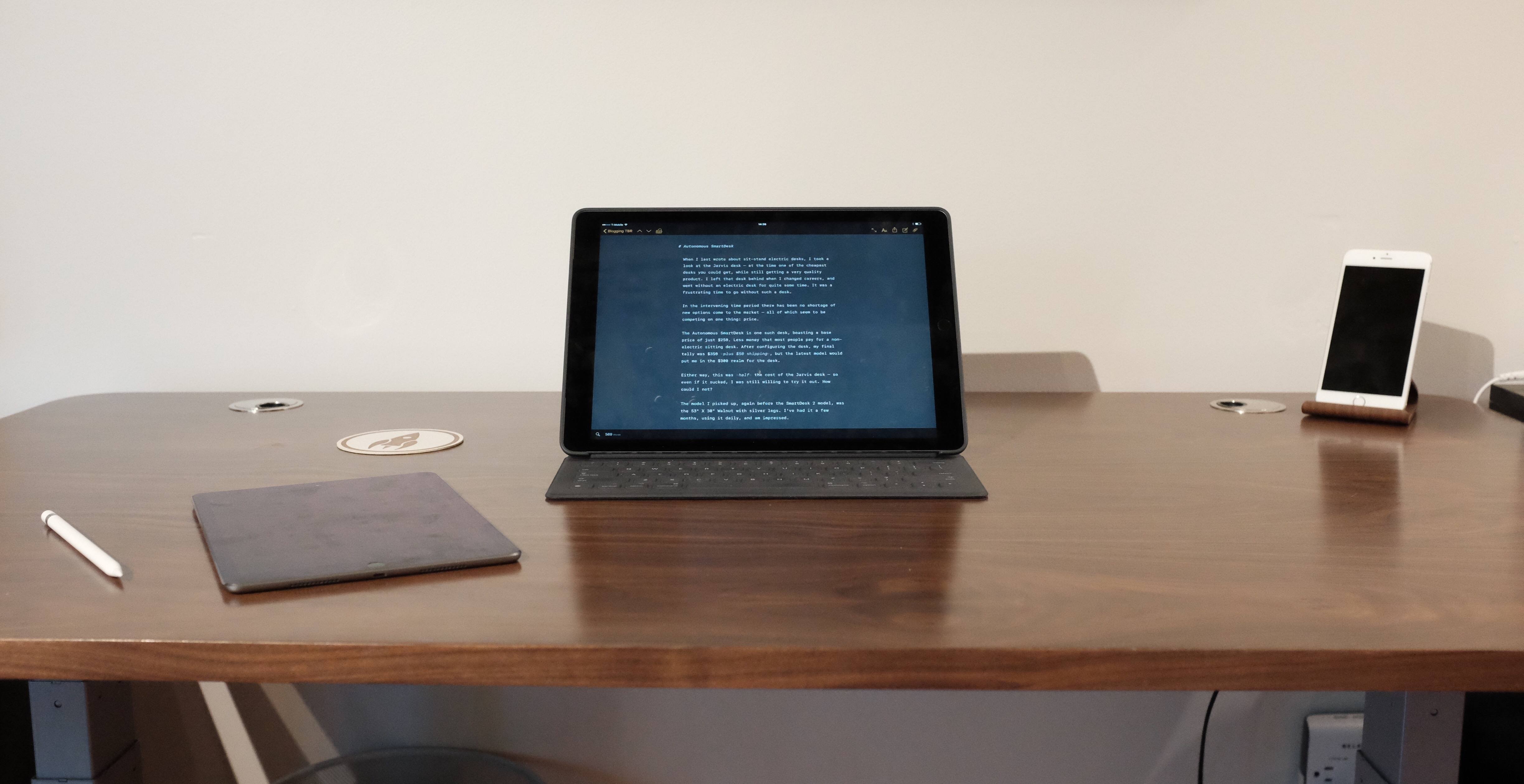 The Autonomous SmartDesk is one such desk, boasting a base price of just $250. Less money that most people pay for a non-electric sitting desk. After configuring the desk, my final tally was $350 plus $50 shipping, but the latest model (released after I purchased mine) would put me in the $300 realm for the desk.
Either way, this was half the cost of the Jarvis desk — so even if it sucked, I was still willing to try it out. How could I not?
The model I picked up, again before the SmartDesk 2 model, was the 53″ X 30″ Walnut with silver legs. I've had it a few months, using it daily, and am impressed.
There's not a whole lot to say about these desks: it goes up and down and it doesn't fall down. Pretty simple.
Well, there might be a bit more to it.
Speed: I have no idea how to tell if this is fast or not, so let me state that I have never found it annoying to wait for it to reach height, nor have I found it surprisingly fast.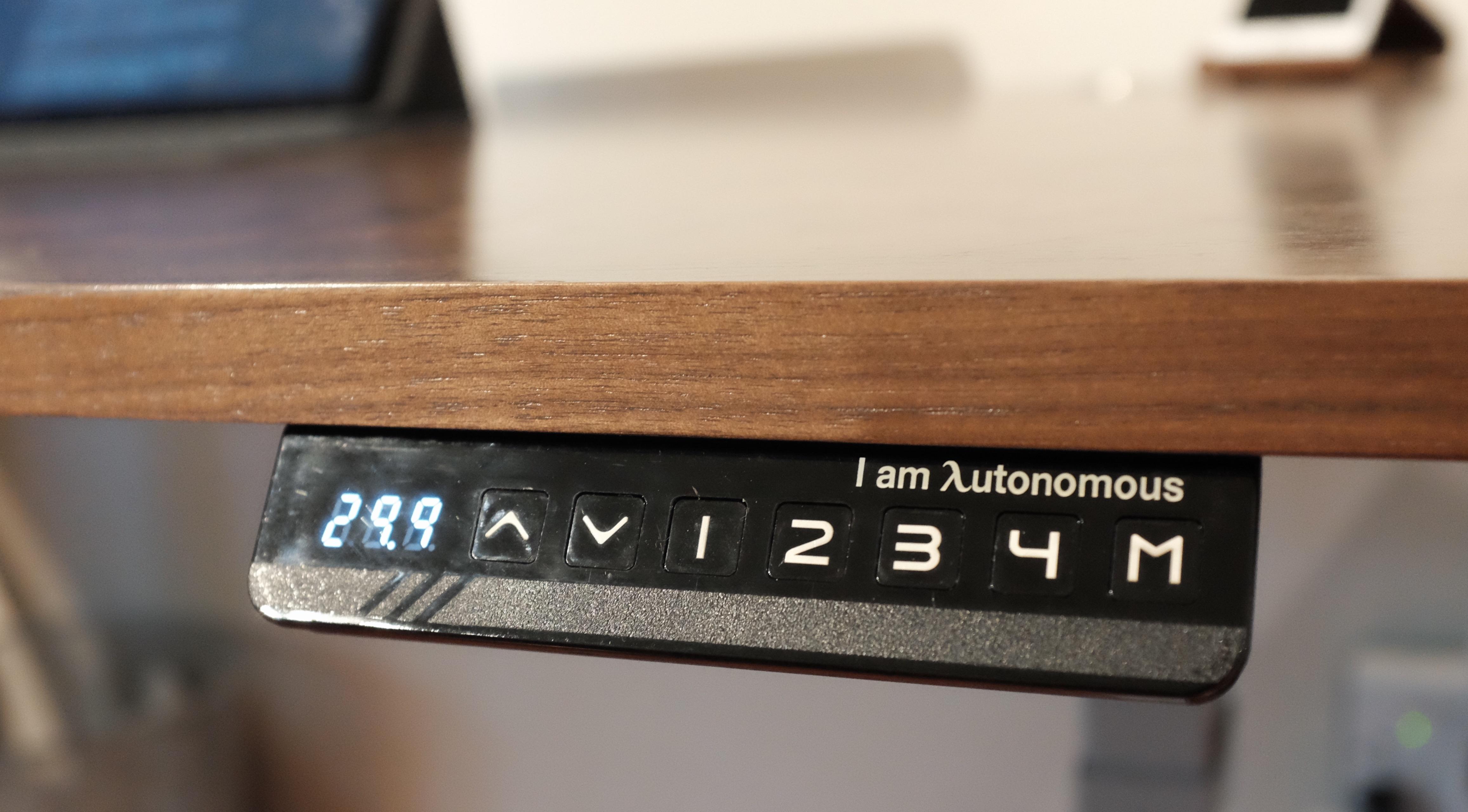 Memory: for memory positions. Four of them. They all work.
Stability: when at sitting height it is rock solid, at standing height for me it can have a bit of side to side wobble. Just using the desk, that is typically no more than 1/4″ either way — not enough to actually bother me. It still feels stable.
I do, as always, have a couple of issues with the desk:
The memory controller has an illuminated display for the desk height. This is pointless. Not only is it always on, and fairly bright, but honestly: adjust the desk to a comfortable height, not to a specific numerical height. Dumb.
The chrome grommets that came with the desk suck. The inserts tend to pop out every time a cord is pulled on, driving me crazy. I fixed it by duct taping them on the underside, but I should have never had to do this.
While I like the walnut finish of the desk quite a lot, the edges are already beginning to show wear. It's not enough to be noticed most of the time, but I suspect the edges might look rough after another year of use.
Final Tally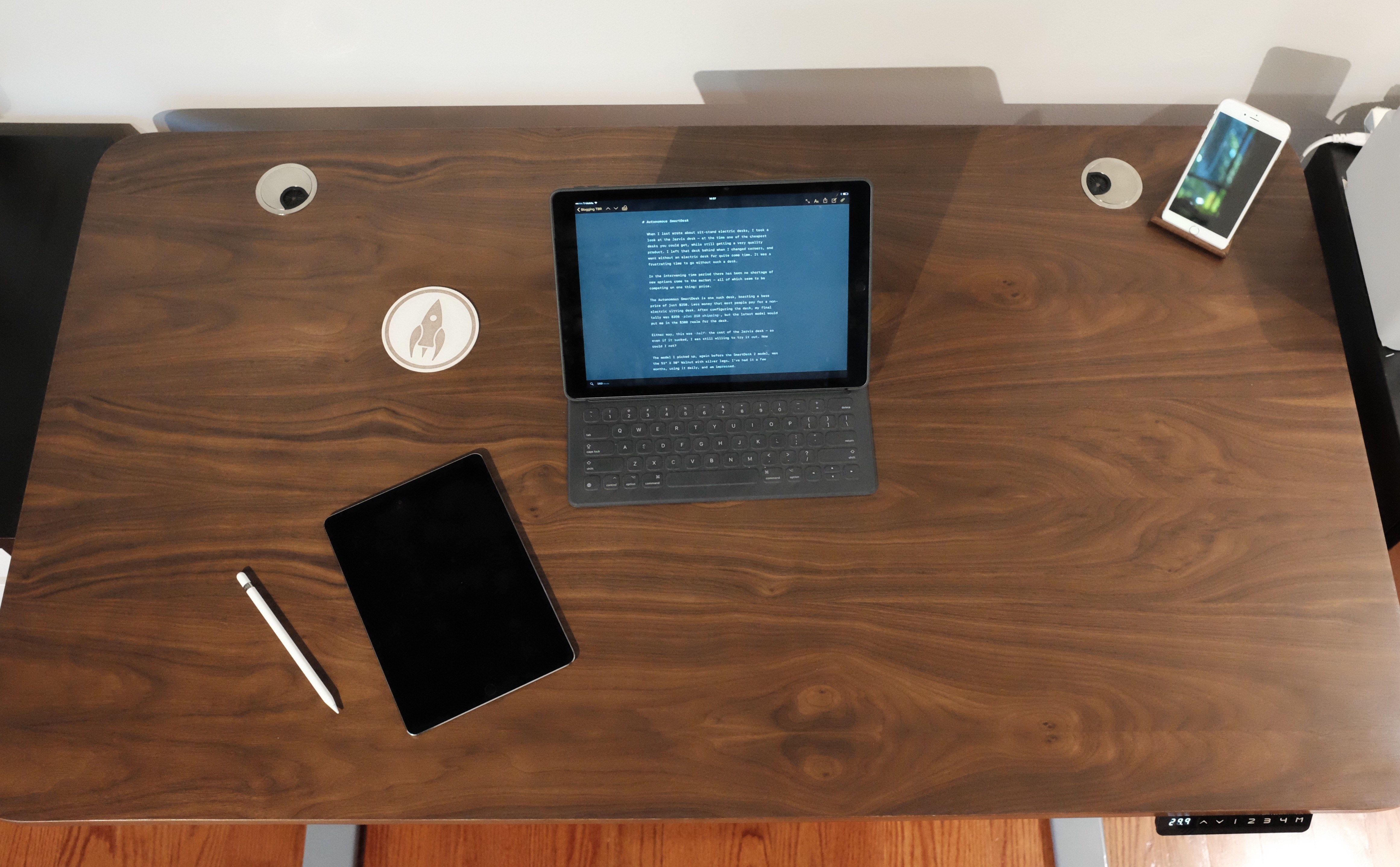 The thing about the SmartDesk is that it cannot be judged on normal criteria, because it is simply so much cheaper than any other option you could buy — you have to take that into account. And when you take that into account, this desk is a no-brainer.
Yeah, the quality of the top might leave something to be desired in another year, but it's just a flat piece of wood and easy to replace if you want to (that was my plan all along). The parts that count, the stability, memory, and legs — they are all great.
So yes, I recommend this desk — amazing value.