Editor's note: This product was provided to me at no cost for review purposes.
Nock is best known as a company serious about their writing implements — so serious that they create niche carrying cases for writing implements, as well as high quality notebooks. It's been a while since I wrote about them last, and part of this needs to be addressed up front, because Nock is almost the antithesis of my approach to working.
I work hard to digitize my life onto my iPads, and Nock works to maintain the tradition of handwritten excellence. Two approaches to the same problems. The last time around I hacked a Nock case to hold my wires and stuff, but now Nock is taking aim at something I know all too much about: bags.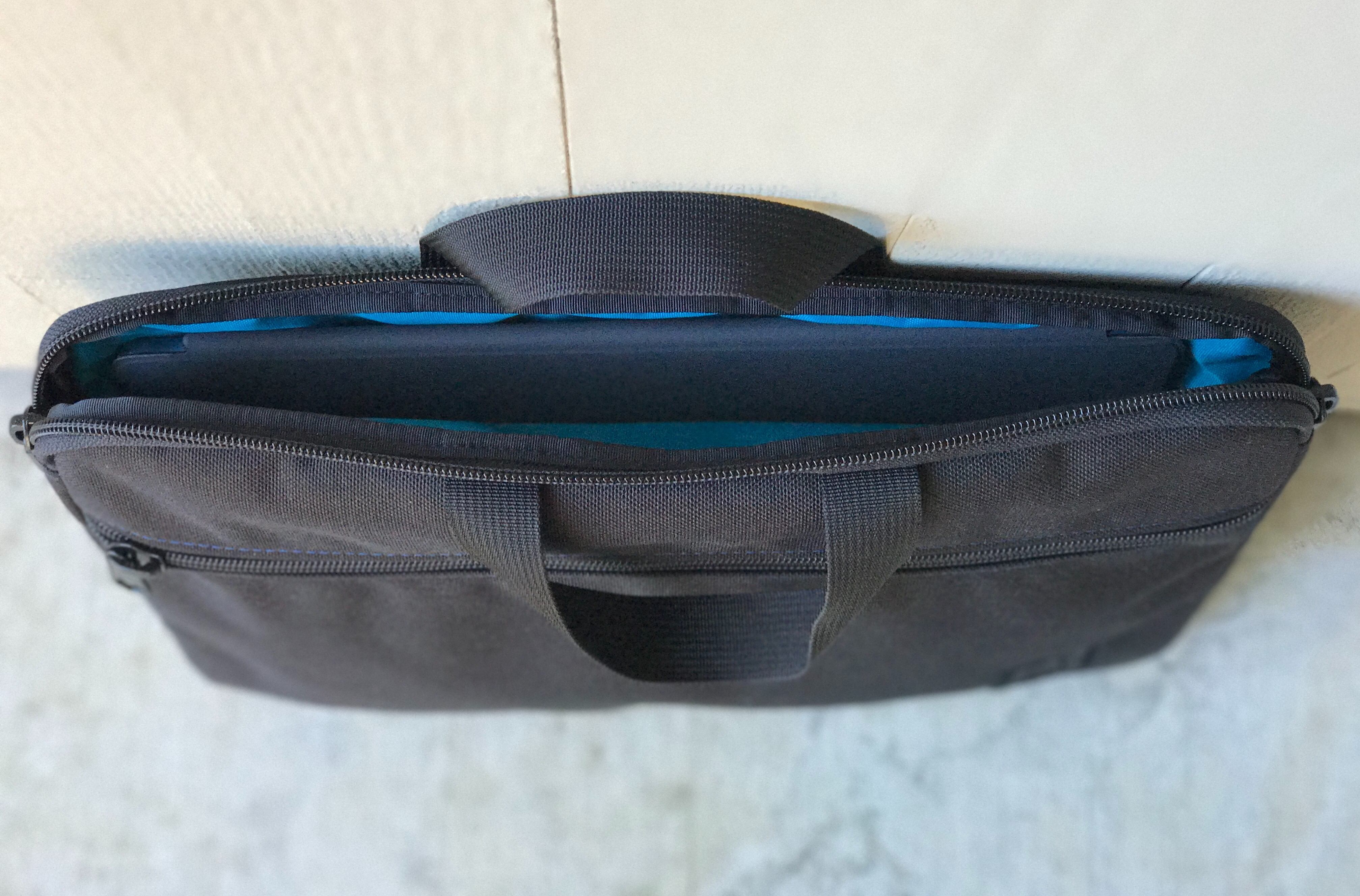 The Lanier is a new briefcase (currently on Kickstarter) which seems marketed towards those who need something light and sleek to carry their writing tools with. It fits perfectly with the other wares Nock makes, but it also fits a 12.9″ iPad Pro like a fucking glove.
I've had my hands on this bag for just about 24 hours now, so I will stay away from definitive conclusions and just walk you through some stuff on the bag.
Size
Nock made the Lanier to fit around A4 sized notebooks, and I have no doubt that is the case, but I don't have any near me to confirm. What I can say is that it is really thin and fits my larger iPad Pro extremely well — with, or without the Silicone case and Smart Keyboard Cover — the iPad Pro slides in and out better than any other case I have used.
The front pouch can hold quite a bit, but the little A5 pouch included with the bag is a fantastic bit of organizational kit. I think this bit might end up being in huge demand.
All in all this is smaller than a Daylight Briefcase from Tom Bihn but only insofar as it is really thin.
Load Out
It cannot hold everything I normally keep in my backpack — well it might, but not comfortably — so I slimmed down my loadout to just:
iPad Pro 12.9″
Smart Keyboard Cover
Headphones
Three pens (normally I carry one, but you can't test a Nock product with just one pen)
Two notebooks
Breath mints
Business Cards
I'm not sure I would want to carry much more as that kit feels very comfortable in the bag.
Impressions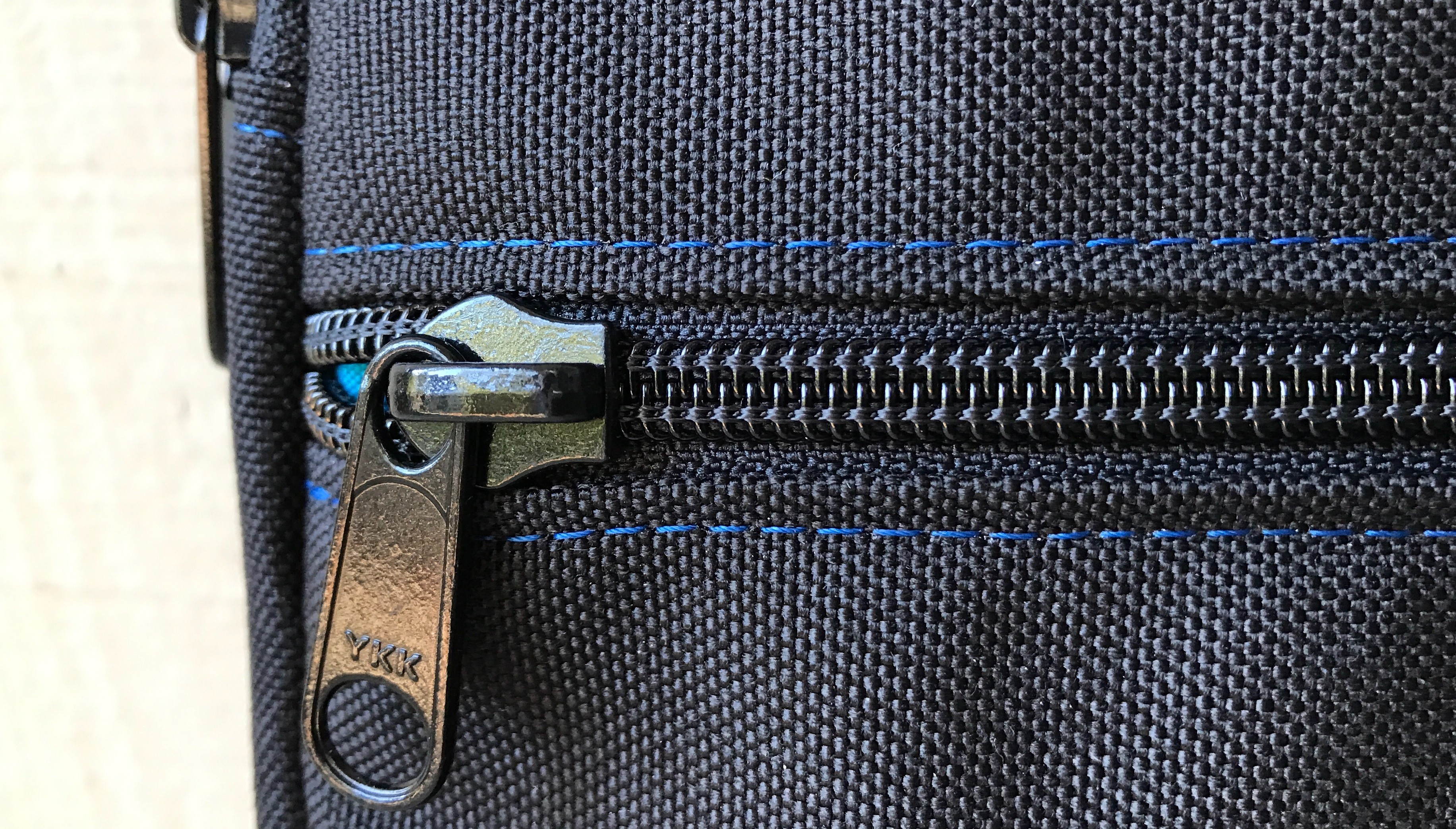 I really like the way this bag looks, the nylon is broken up by understated blue stitching on the model I have, and when you open the bag any notion that this is a boring bag is thrown out the window as the blue interior glows. This is a really cool bag for really slimmed down kits.
The 1000D Cordura does have a flaw: it picks up lint and pet hair like crazy, but it does easily brush off. So if you live in a house with cats, be aware of this.
There is no way to carry this bag other than with the handles. No shoulder straps, or anything of that nature. I think that says a lot about the intentions of this bag — it is made to purposefully not carry everything. And yet there's something about a true briefcase like this — a notion that people who carry a bag which is generally more restrictive, have somehow figured something out in their life that most of us have not. There's no slot for a water bottle, because you are not a person how must bring his own water, you are a person who can find his own water when he needs it. There's little room for "but I might need this" things, because you are a person who knows just what they need. You carry this bag with purpose in the same, but opposite, way a person carries a 75liter hiking backpack everywhere they go — both make a statement.
It's been 24 hours, but I quite like this bag. It presents an entirely different feeling than using a backpack, and forces my kit to be ever smaller. I could work all day with just my iPad Pro, Smart Keyboard Cover, and headphones — and it would all fit in the Lanier without seeming like the bag is overkill to carry just that small bit.
I can't wait to get more use out of this bag.