When writing about the Pok3r, I left out a rather embarrassing thought I had running around my head which goes something like this: I should really find another keyboard, even smaller, that I can take with me on trips. Insane, I know, but they do make them. They are called 40% keyboards (or 45% or a variety of other names, which makes them hard to find) and they are kind of insane themselves.
They do not have a number row for starters, and they cram all sorts of other things away in modifier keys, but since they are all custom, you never know what is where until you memorize it all. Or you can reprogram the entire board, which means you learn your layout and not someone else's.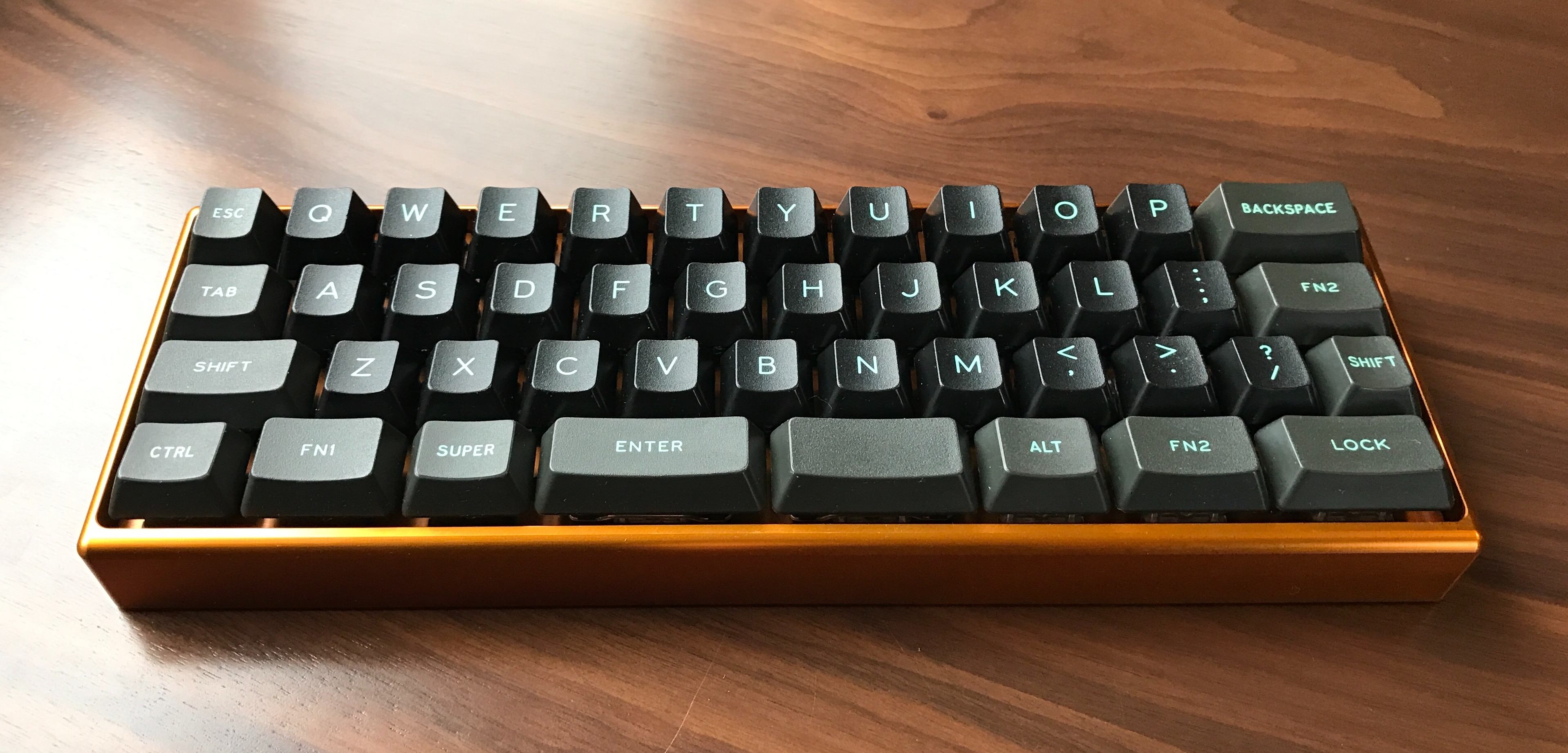 I know this, because thats what I am typing this with. And you may notice I am missing some apostrophes and I'm not using my normal em dashes: thats because I have no clue where those keys are. This is a truly baffling and maddening keyboard.
This quirky little keyboard is small, but stout. Well built and heavy, with a split spacebar, the right half being a spacebar and the left the enter key. I question how far down the rabbit hole I have gone now that I re-read that last sentence — it also took me several keystrokes to find that last hyphen. (FN2+D, for future reference.)
Ok, enough snark about me being unable to find keys on this thing, instead I want to talk about whether or not it can fulfill its purpose as a travel mechanical keyboard.
Weight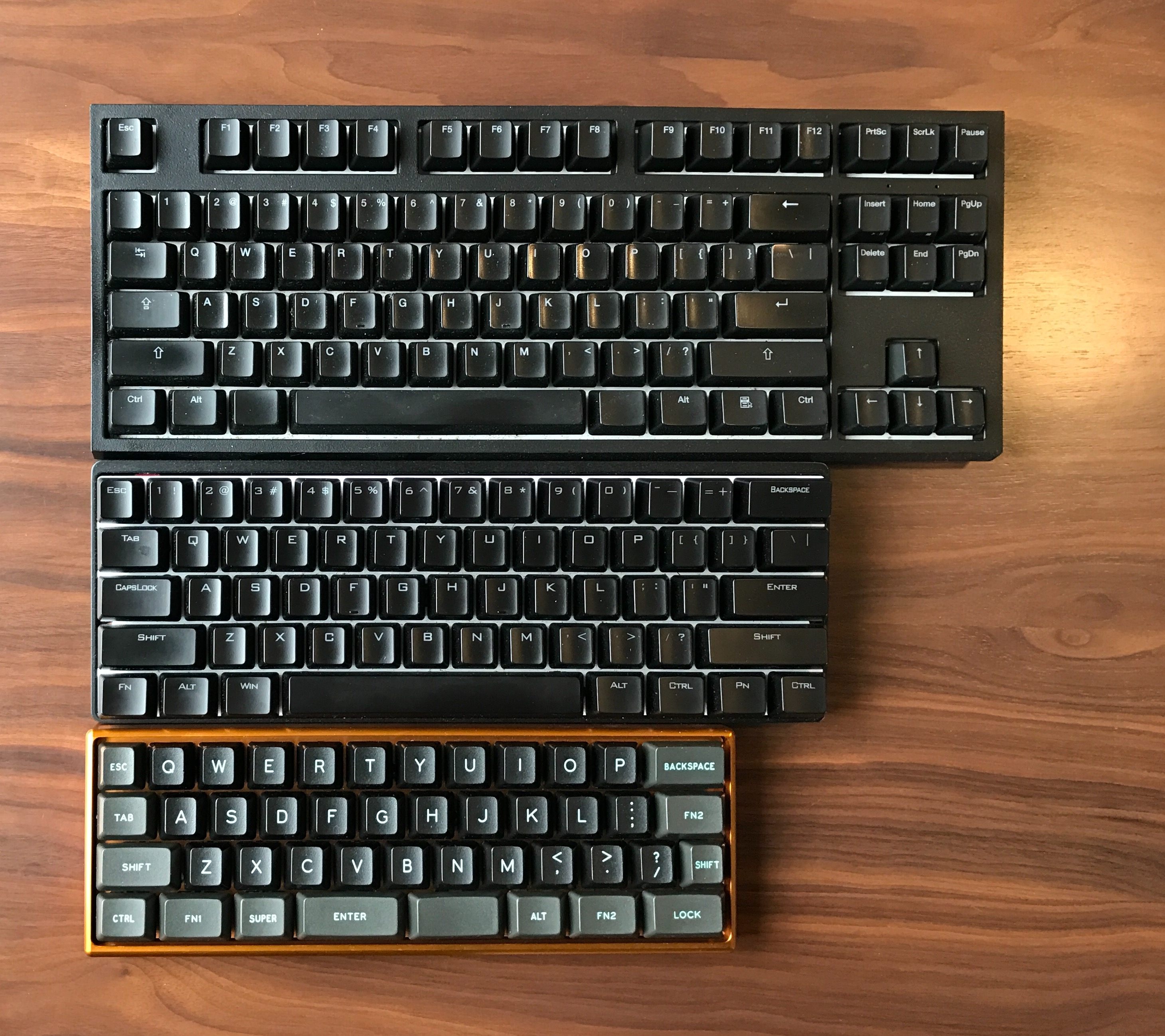 (Frop Top: CODE tenkeyless, Pok3r, MiniVan.)
A typical mechanical keyboard is rather heavy, which lends to the solid feel of the typing. The MiniVan, with aluminum case, is much lighter than the Pok3r, not that it is light by any means. All told it is as if you are carrying a second iPad Pro with you. So while it is lighter, it is most certainly not light.
Noise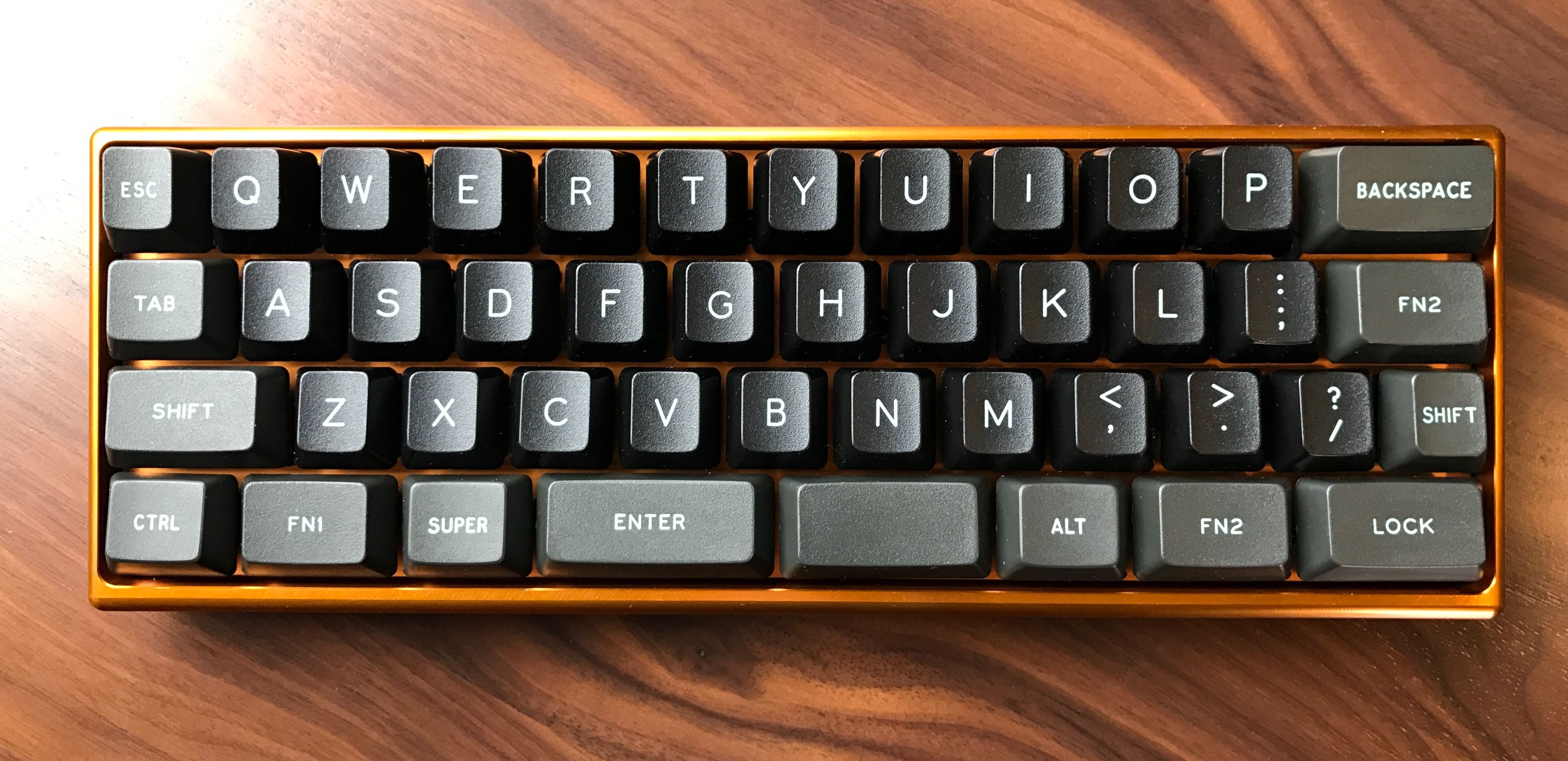 Mechanical keyboards are loud, so this isn't the keyboard you are going to take with you to Starbucks, not only will people look at you because you brought an iPad and mechanical keyboard, but also because it is loud.
Even with Cherry MX Clear switches this is loud (technically my board has a mix of switches, but the main keys use clears). I added rubber O-rings to the switches, which dampens the noise on the downward press (and shortens the key travel) but it barely does anything to reduce the sound as the lift off sound from the keys is still loud as fuck.
Basically it's still loud. And those o-rings really screw with the feel of the keys themselves.
Packability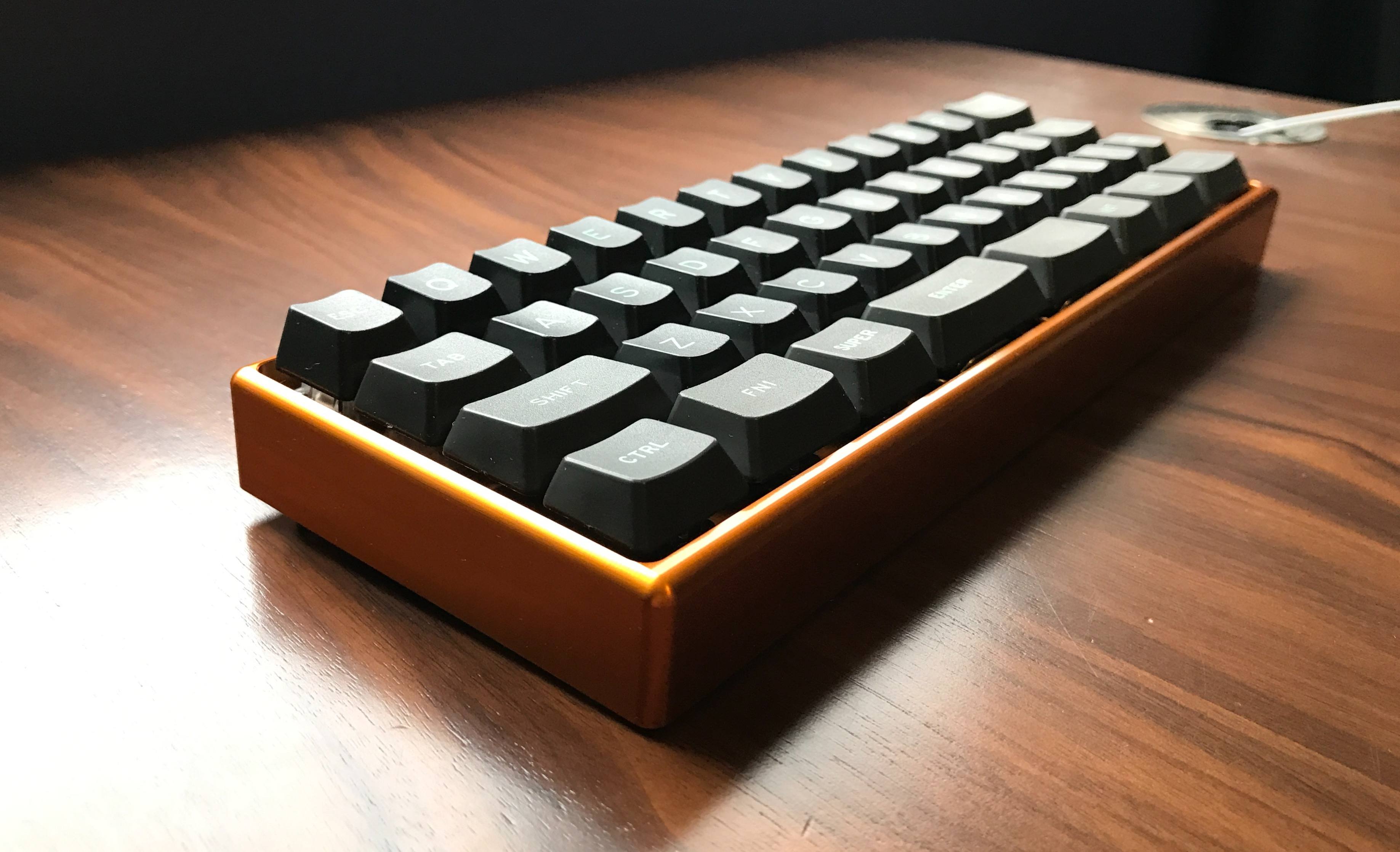 There's plenty of cases out there you can buy to carry mechanical keyboards with you, and that's likely what you would want to do should you carry this on a plane. With a detachable cord, I'd have very little concern of the keyboard breaking and larger concern with it breaking my iPad screen. But I will say this in no uncertain terms: a Smart Keyboard with something like the Canopy case, would be a much better travel setup and weigh a lot less. It's just that it wouldn't be a mechanical keyboard and that does matter.
Yes or No?
Meh. I certainly don't think that this was worth the money for what I was looking to do. I will still find use for it when we take a family trip in the car to spend time together, it will make for a fine writing addition — much better than the Smart Keyboard cover when I am writing long form.
When I do get around to it, I'll be removing those o-rings as they do nothing but degrade from the typing quality. I will not, however, be taking this on any kind of trip where I will be flying, which was my initial hope — as insane as many might find that. I would very much like to reprogram the keyboard, but I honestly have no idea how to do that on a Mac as it might be the most vague thing I've encountered.
And the split spacebar thing — it's a lot easier to get used to than you might imagine it would be. I kind of like it. I will note that Vortex is coming out with a much cheaper 40% keyboard and I might opt for that if I were still in the market.
Find out more about the MiniVan here, most people buy them on Massdrop.