A couple of months ago I picked up a Filson Original Briefcase in otter green — this is a classic briefcase which has been around seemingly forever (along with Filson). My goal was to find a bag which would carry my iPad and a few other things around town — something not a backpack and something not overly techy/tactical/modern.
I have tons of bags, but they are all of the same breed and almost entirely backpacks at this point. And while I like the Tom Bihn Daylight Briefcase a lot, it didn't feel right to me. Fantastic bag, but an ill fit for me and my personality on a daily basis.
The Filson takes this to almost the other extreme. With leather straps, handles, and zipper pulls — heavy weight Twill instead of Dyneema or Cordura. It is unlike any other bag I have owned before.
First, for a briefcase, it is rather large. As in I could almost just do an overnight in this bag alone —but then again I pack really light. Since picking up the bag I have used it as my only bag to carry my iPad(s) in and I have to say: it's one of the few bags I own which I yearn to use it more.
The leather is stiff and heavy, but it gives you a sense that if you just use the bag a little bit more it will mold more to you, it will become a part of you. The one zipper on the bag is overkill in size, but perfection in feel. The leather zipper pulls are equally large and over bearing, and yet they feel sublime to use.
There's no padding, only the thickness of the bag itself and the heavy twill is is made from(Filson does make padded versions). The bag has no affordance for what is held in a modern briefcase because it simply hails from a time when you carried paper, pens, and business cards.
Updated note: Filson changed the bag a little, and no longer has the small admin section on the inside of the bag.
---
The bag you carry makes a statement about who you are. Whether you are at Starbucks or an airport gate, your bags will speak volumes about you. There's the guy with the Targus laptop backpack — he's someone who uses what comes with things, probably still has the stickers on his Windows laptop. The GORUCK traveler says "I don't fuck around". The TUMI hoard in the corner want you to know they are traveling for business. The woman with the worn leather shoulder bag and nothing else tells you she travels more than you, and long ago found her perfect bag — lucky her. The man with the over flowing Samsonite suitcase, shoulder bag with cords dangling out and gifts in a bag tell you that you should pray you are not seated next to him. The person at Starbucks with the 30L hiking backpack, who pulls out their whole life — they can't let go.
Picking the right bag is equal parts about the utility of the bag and about what the bag says about you. I've travelled with sleek bags through airports, TUMI rollers, and GORUCK GRs, and each time I only felt comfortable with a GORUCK on my back — because I truly do not fuck around when I travel.
But when I go to Starbucks, or a client meeting, or anything else which calls for a bag for non-travel the GORUCK feels out of place, good but not ideal. Perfect utilitarian tool, but less representative of me in those situations. And so for those who have followed this blog for long can probably pick up on, I've spent quite a lot of time looking for a good bag for this.
To me, that's what the Filson Original Briefcase is.
---
Is it built to last a lifetime, yes. You need only touch it once to know that, brand reputation notwithstanding. Does it hold everything I need or want it to? Of course, it's big.
But more than any of the utility, it feels right.
It's hard to describe that, but I think each person finds things in their life which may not, on paper or anywhere else, seem to be the ideal — but they feel right. Is a GORUCK GR1/2 the perfect travel bag on paper? Not really, it's too fucking heavy — there are lighter bags which are also made for this kind of travel — and yet, after thousands and thousands of dollars spent, GORUCK.
This is the case with Filson too.
Let's get all the negatives out of the way:
It's heavy
It's expensive
It has no padding
It needs to be broken in
There's no affordance for electronics
All of that is perfectly true. Now let me tell you why I think it is the perfect shoulder bag despite all of that — or rather, because of that.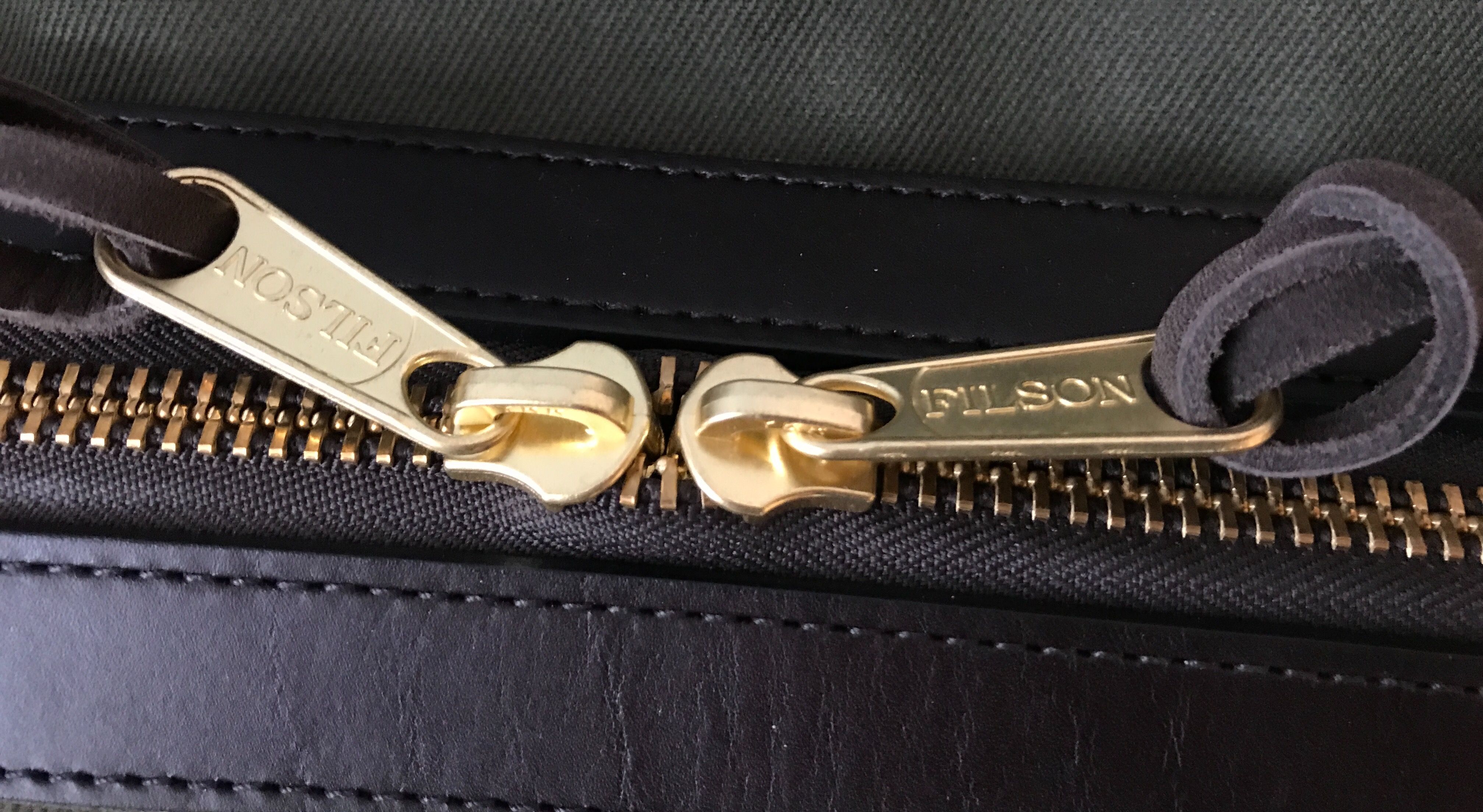 Each time I pick this bag up, our pull the strap over my shoulder it molds to my body just a touch more. It becomes my bag. Here's a picture of what my bag looks like right now: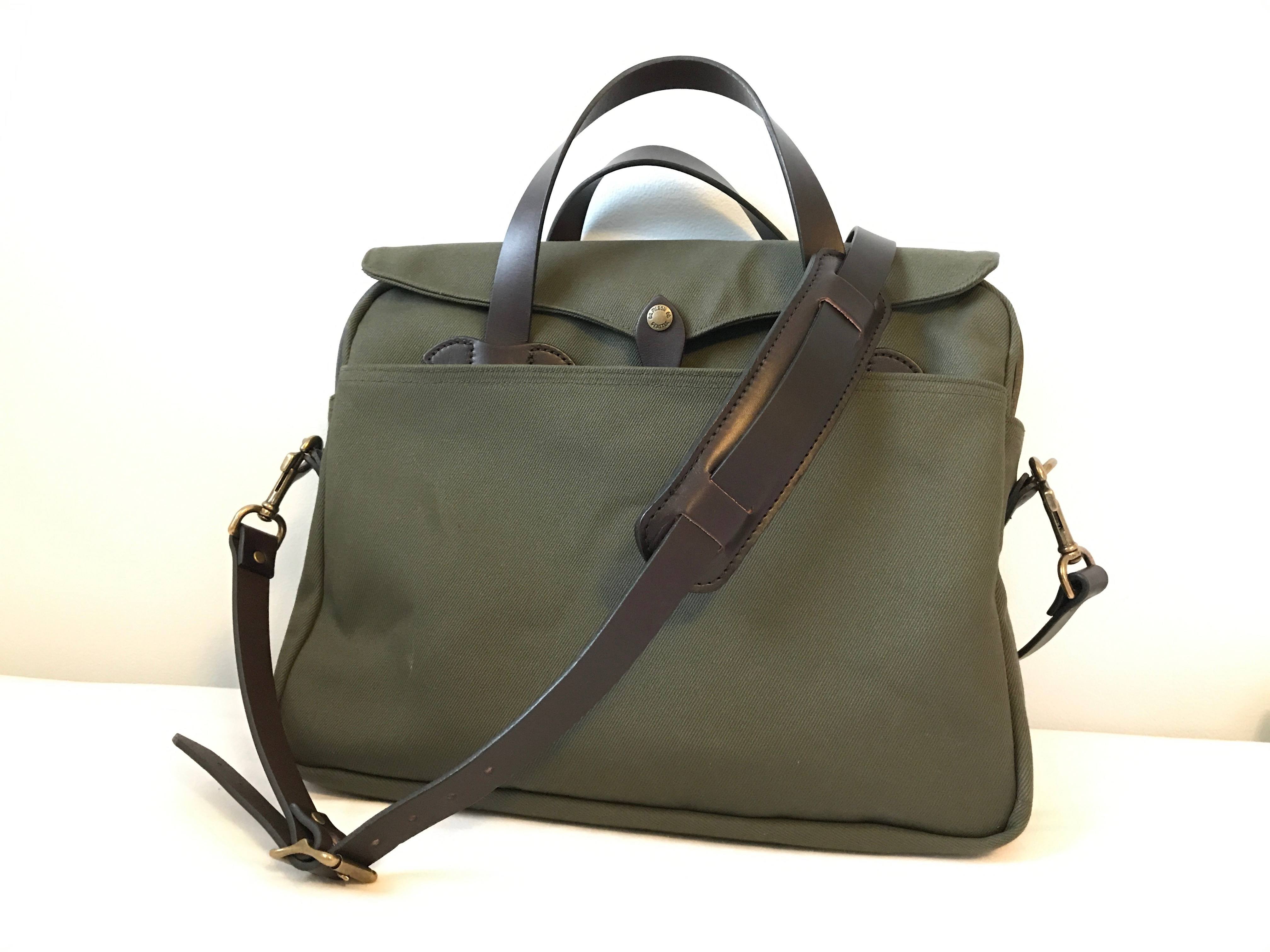 Here's a picture of what someone else's looks like after what I can only assume is years of use:
It may not make sense to you why that patina is so alluring for me, but that patina tells the story of not only that bag, but the person carrying it. It's my beat up leather bag that says "I've found that perfect bag for me" and as the bag wears it is like a notch in the belt telling everyone else how long ago it was that I found this perfection.
And yet the bag is more than this.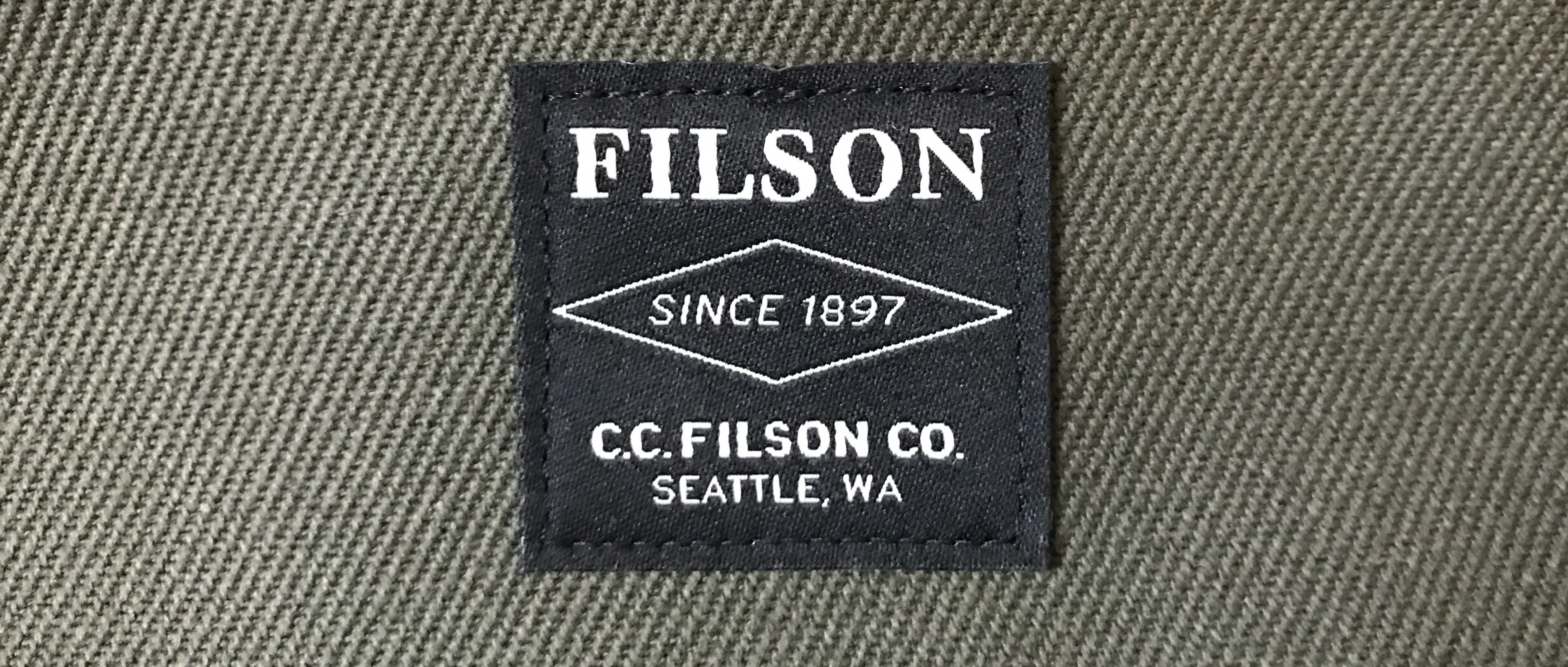 It's more than being able to last a lifetime, or tell a story through patina. This bag, like a GORUCK, doesn't fuck around. It just does it in a different manner.
Whereas a GORUCK shows this through the overbuilt-war zone-tested roots, a Filson takes the opposite approach: time. This briefcase wasn't tested on a battle field it's been test through decades of people using them in a variety of conditions. And it hasn't changed.
It would have been easy for Filson to add padded laptop compartments or iPhone pockets, or any of the numerous things you see in modern briefcases, but they didn't. Sure they created new bags for those, but they kept this bag, as it was, and in doing so they made a statement: perfection was reached here.
Truth be told, it won't be long before padding starts being removed from bags. Devices are not nearly as fragile as they once were, nor as fragile as we often think they are. Think of the unpadded abuse you put your iPhone through — now remember that many see iPads as just big iPhones. So I don't use a sleeve or padding when I put my iPad in the Filson, because all I need is enough protection to keep things from dents and dings — anything else and I should be looking to carry something different: like a Zero Halliburton.
And who actually puts their phone in a briefcase pocket instead of their pants pocket? I've never understood that, pure marketing driven design.
There's nothing much else to say: it's a briefcase with handles, a strap, and pockets. It can hold things.
But none of that matters, because you can't understand it until you touch it, until you actually see for yourself how it holds those things.
But not my bag, because this bag is my bag.
You can snag one from Filson, here.
---
Side Note on Colors
There are currently five color choices for this bag, before getting one I took a trip to the flagship store in Seattle to view the colors in person. I was fairly certain I would buy the Navy bag not the otter green, but it didn't pop as well as the green does. And the classic tan is fantastic looking, but felt like more of a statement than what I wanted.
Ultimately, though, the only color I did not care for in person was the all black. The colors as shown on the website are very true hue, but they are brighter than they seem in person.