Editor's note: Arcido provided me with this bag at no charge the purposes of this review.
Some time ago I was contact by Arcido, I have reviewed a travel bag of theirs previously and left it with rather mixed feelings. A good bag? Yes. A great bag? Not for most people. I don't have that bag anymore, but my recollection of it is threefold: it was heavy, it was large, and the material was awesome.
I remember wishing it was lighter, and it was smaller. So Arcido reached out to me and asked me to check out their new bag, the Faroe. They told me they listened to what people were saying, and created this bag with much of that feedback in mind.
I posted a video of the bag for members (it's here if you are a member), and what still strikes me about the Faroe is how little it weighs.
With the Faroe, Arcido has created a smaller, but still large, bag that weighs basically nothing. For people who like to travel with as few items as possible, this bag will be overkill — but for the more typical one bag traveler, this has the makings of a cult classic.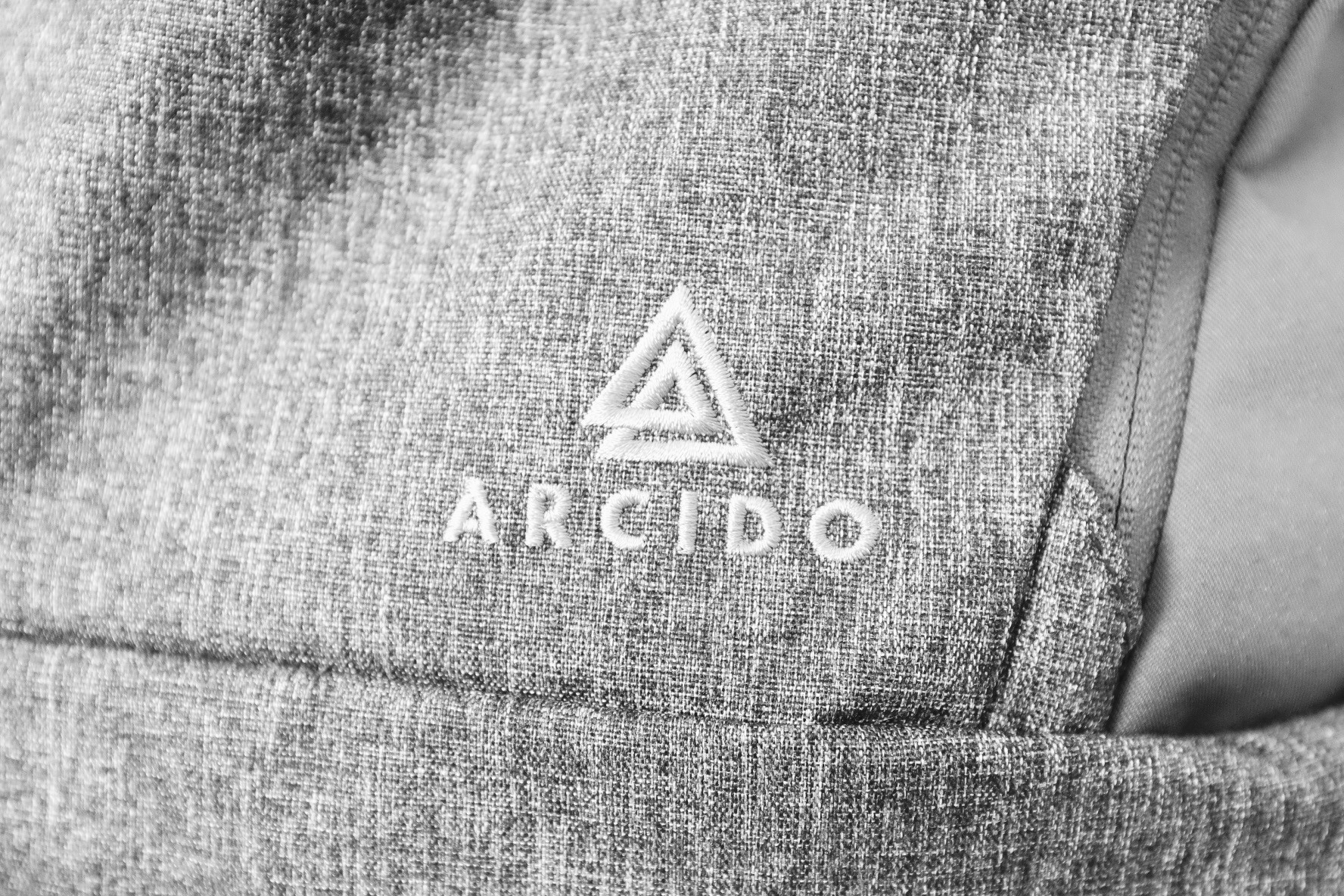 They took almost everything which was stunning about the first bag, and got rid of all the shit I wouldn't want in the bag. Then they sent it to me, and I have to tell you, I won't hesitate to recommend this bag to a single person.
Let's get a few things about this bag out of the way right now, specifically what it is not:
It's not a built for war GORUCK
It's not needlessly heavy.
It's not small, and it's not big.
It's not expensive either.
Oh yeah, you didn't see that last point coming did you? You can pick up the Faroe on Amazon for an astounding $99. I honestly don't understand how it is this inexpensive, because just by handling or using the bag you would not expect that.
Let's dive into it a little more.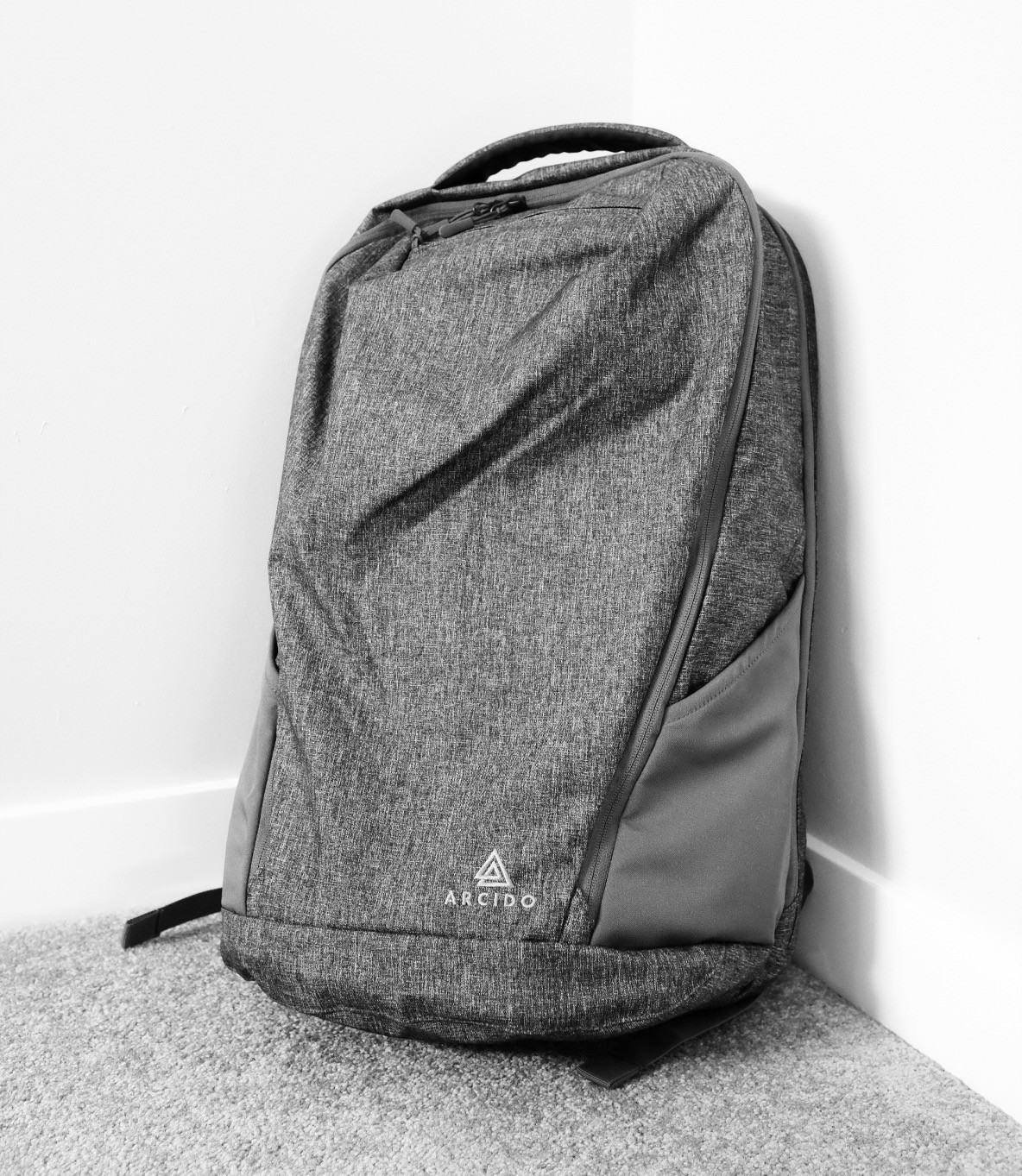 Size
At 35L, this is a well sized bag for a lot of people. I think people fall into three categories naturally when they travel: packs everything, packs pretty light, and could go a few days with just the clothes on their back. This bag hits that middle group — the ones who naturally pack light, but don't go all nuts with fancy clothing and such.
For those, like me, who pack extremely light, this bag will be a large one. In the photos I took for this review, I had enough clothing in the bag for a week solid, and it was still about 55% empty. For most of the rest of the population, I bet this bag comes in near the perfect size. 35L is basically what you want to aim for when you are doing the one bag stuff. Otherwise, just check the bag.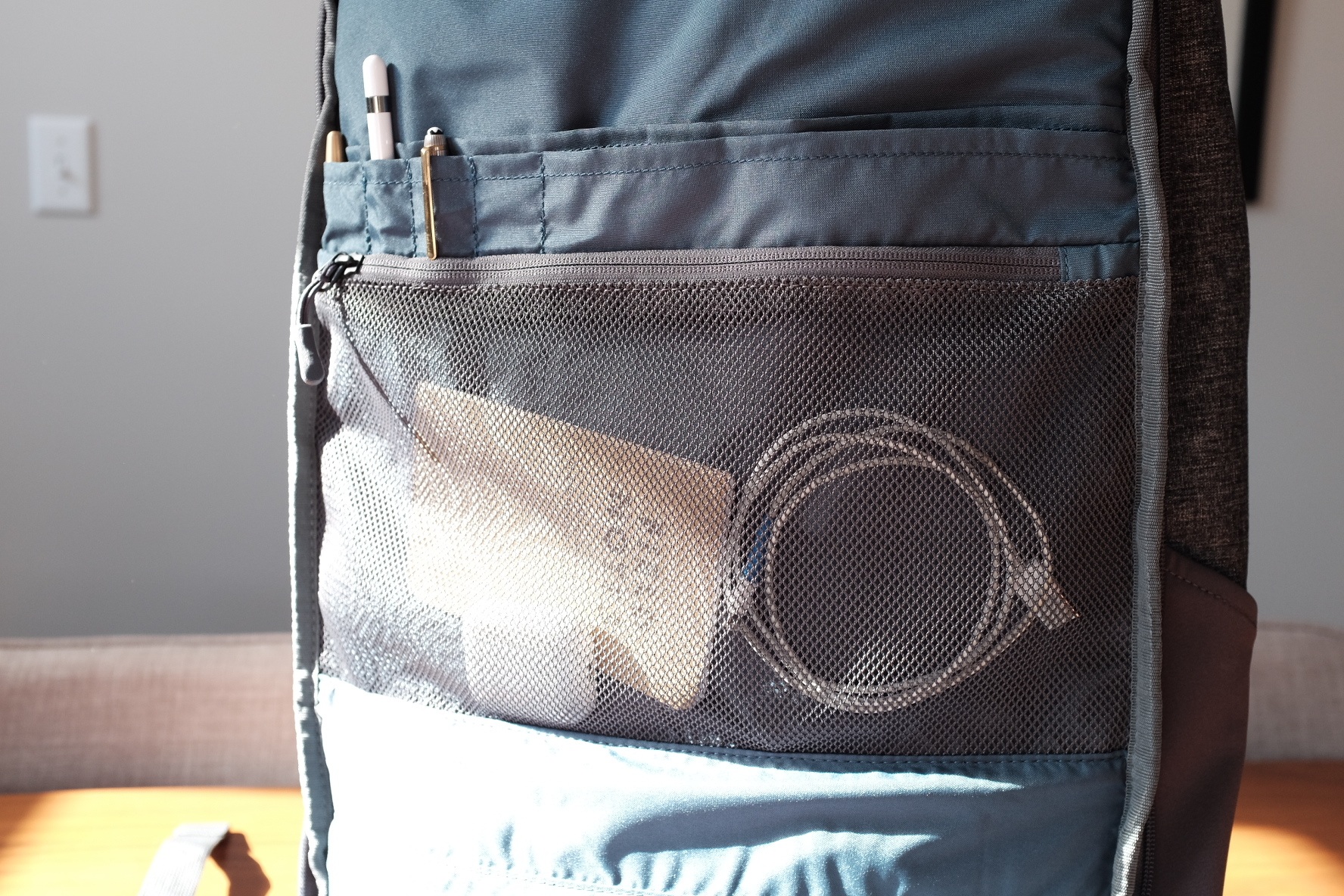 There's a lot of admin space, so although the bag looks sparse on organization, I found it to have more than ample organization. Not as sparse as a GORUCK, or Outlier, bag — but fewer organizational strictness than something from Incase.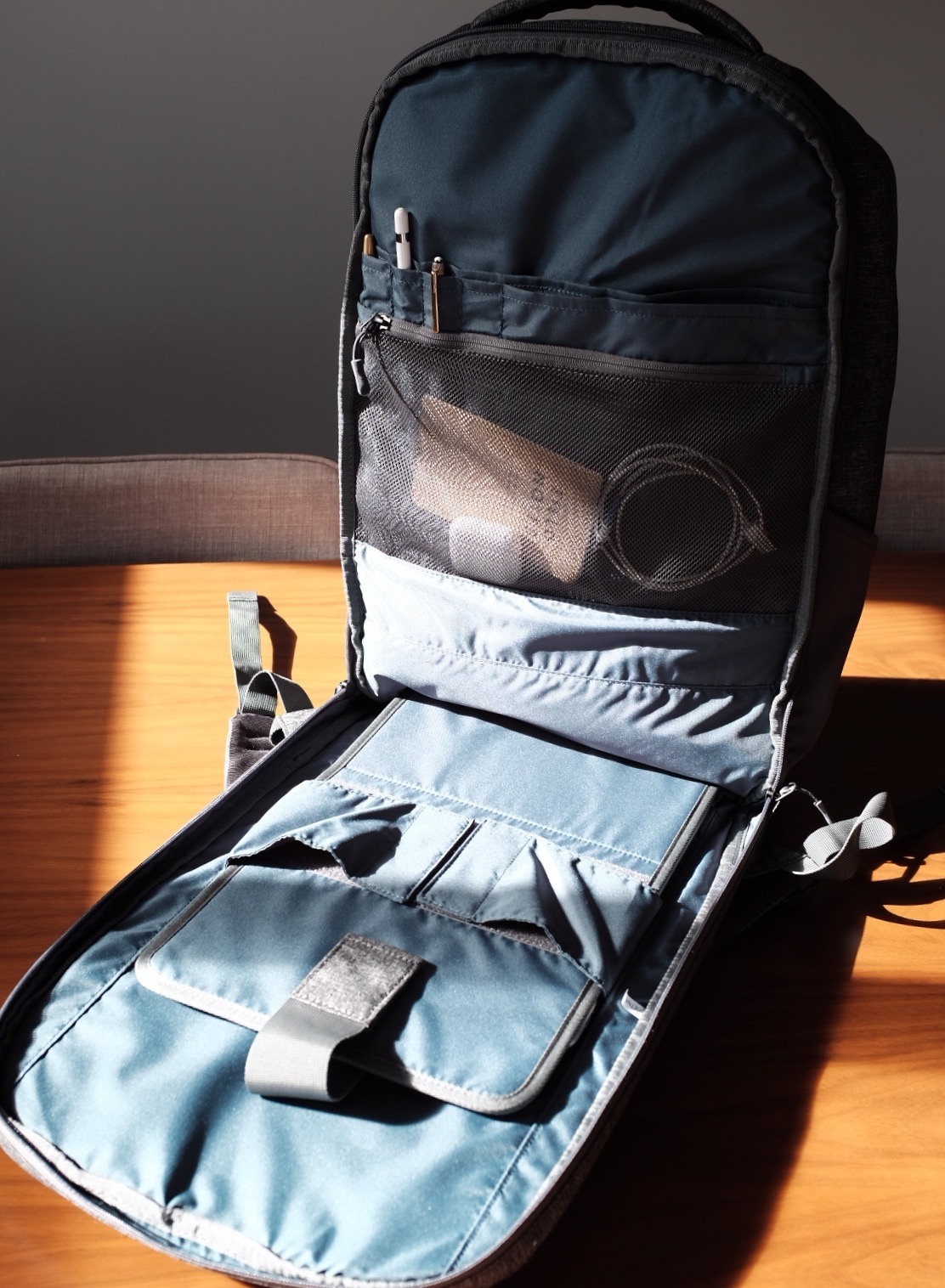 The Faroe is pretty svelte in most of its dimensions, except height. The height is quite tall, so for shorter people this bag might look quite large. More practically, it won't be a bag you want to put at your feet when you fly. It will stick out too far, and likely won't generally be acceptable to be stored in this area — United might get really pissed off, for example.
This is fairly common with 30L+ sized bags — even the GR1 is too long to really be "ok" in the foot area (I still use it there). I mention this because there's a gap with travel. On the one hand, yes it is very nice not to check a bag and just walk out of the airport. On the other hand overhead space is at a premium on airlines these days and it can be a battle. When you travel with a backpack, you typically want to avoid checking it at the gate at all costs.
Which for me, and many others, the ultimate is to have your travel kit small enough to fit at your feet. This way, you don't have to worry about anything, you will always have that space. But, something like the Faroe, if not over packed, should fit in a lot of comically small spaces in overhead bins. It's almost fun to Tetris in your bag after some jackass with too large a bag thinks he filled up the bin. Sucker.
Weight
Next to nothing is the line here, and I know I keep saying this, but it's astounding how little this bag weighs. I think the only lighter bag I have had is the Outlier Quadzip, and it was three times the price and 10 liters smaller. So yeah.
If you work hard to buy and pack light, and then you stuff it in your bag and you are wondering what the fuck is going on — becuase now it feels really heavy again, it's likely that your bag is just heavy. This is a major issue with the GORUCK bags, and if that stuff drives you nuts, but you don't want to spend hundred and hundreds of dollars, then you have two options: this bag, or an actual backpacking backpack. Wait, no, backpacking backpacks cost more.
So you have this bag, basically. And I think that's a good thing, because this is a lot better bag than some twice the price.
Features
On the surface the bag is rather simplistic: one large main compartment and two smaller stash pockets. But the core feature of this bag lies in the larger laptop compartment near your back. This pocket features admin organizers for pens and cables, and Arcido's unique laptop sleeve.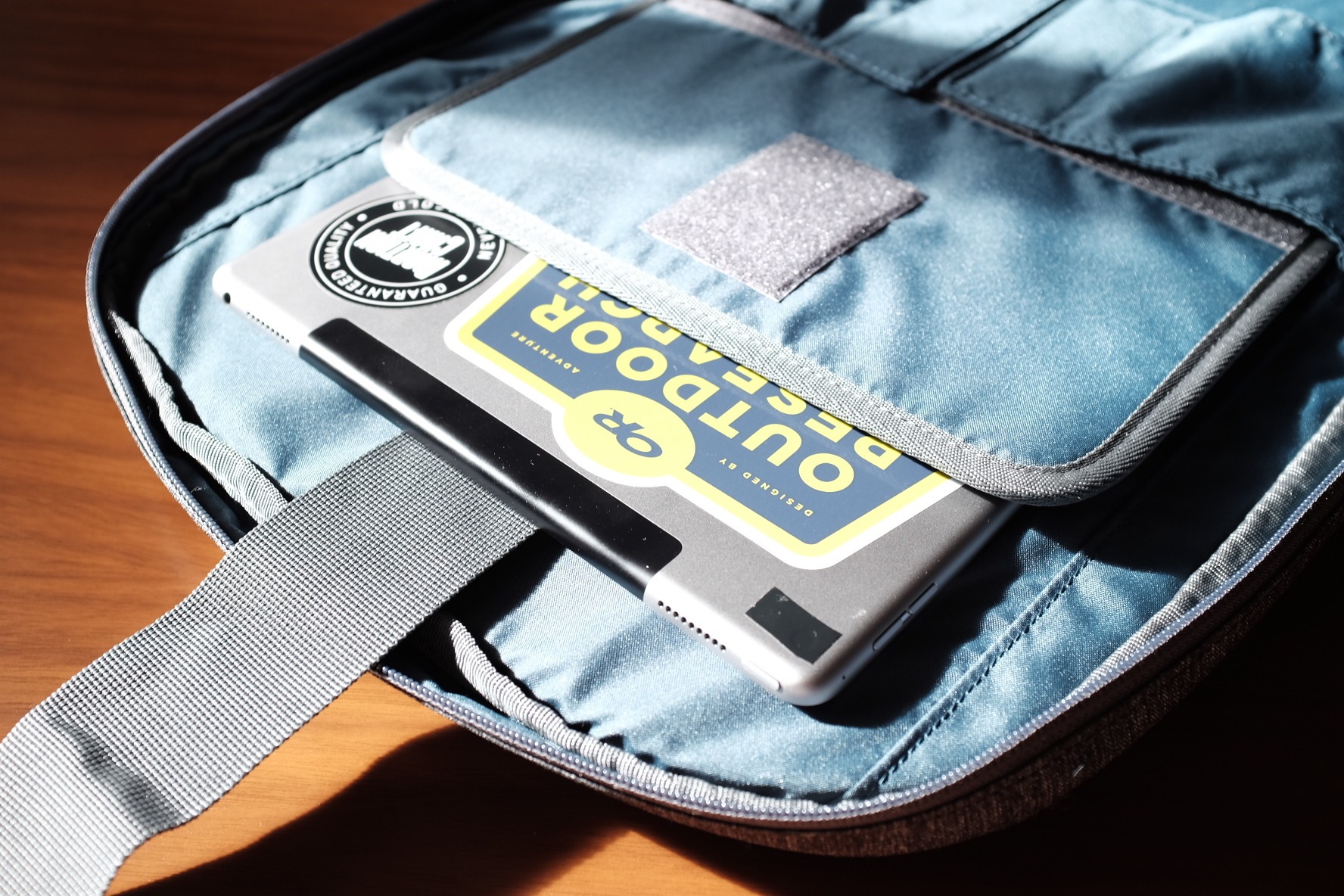 The sleeve is adjustable for the thickness of the laptop, and has a top strap to secure the laptop in place, which also goes all the way under the bottom edge of the laptop. In practice, when you undo the top strap, you simply pull up on the strap and your laptop slides up with it. How far depends on how large your laptop is, but it is a damn handy feature and one of my favorite features on Arcido bags.
Comfort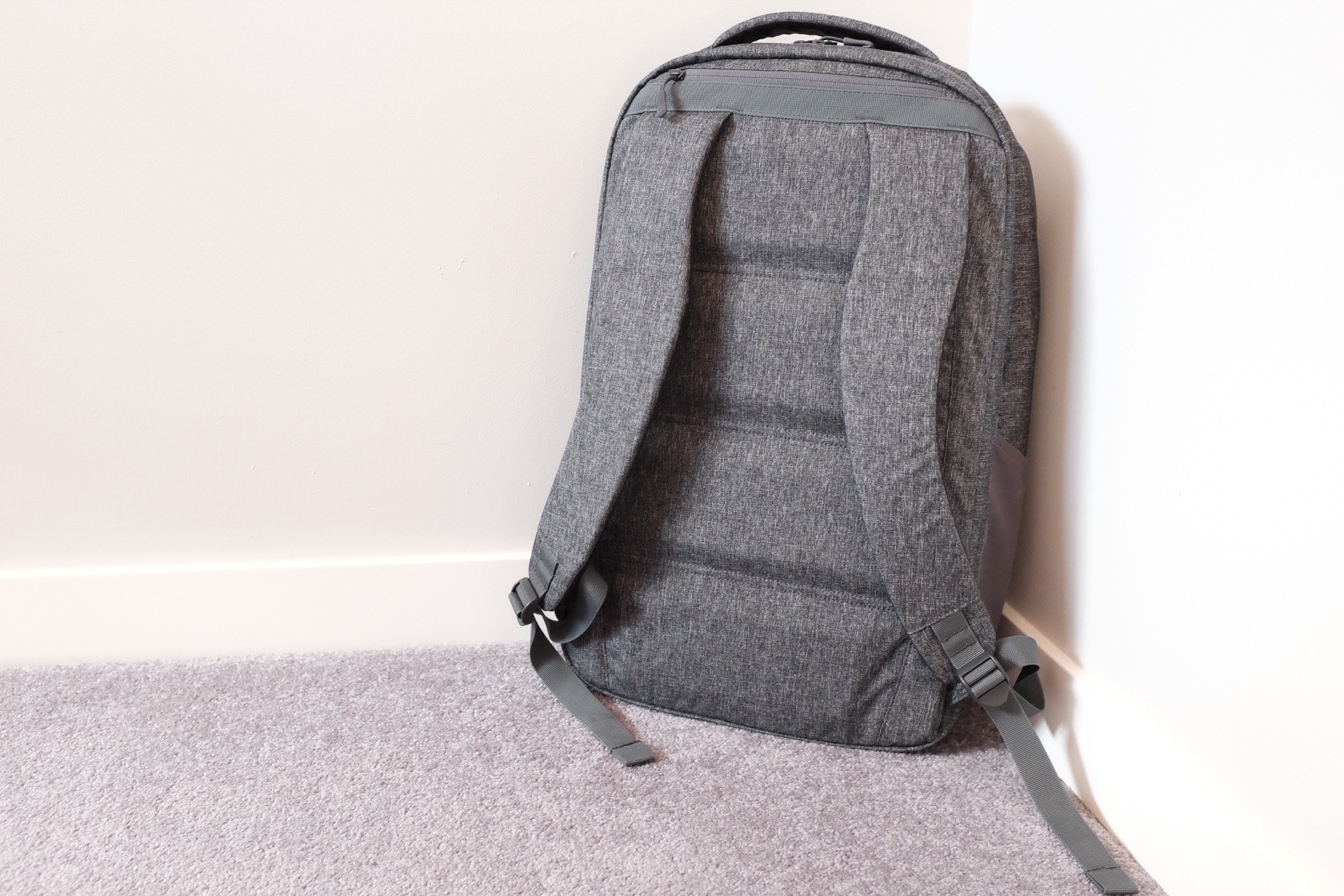 The back of the bag, and the straps, are well padded and offer solid comfort when wearing the bag. The straps are also contoured, and this adds to the immediate comfort. This is simply a bag that is comfortable the first time you put it on.
However, this is also not a bag you are going to want to wear on your back while walking many miles. It's a bag made to be comfortable from getting out of a vehicle, and getting to your gate. Then getting from the gate to your hotel. It's not meant to be worn around cities, unless you pack it very light, it's bound to wear on you after a while.
There are simply few bags where wearing them all day will be comfortable, so this is less about bag design, and more about optimization. No break in, no fuss, comfort is what the Faroe offers.
Material and Build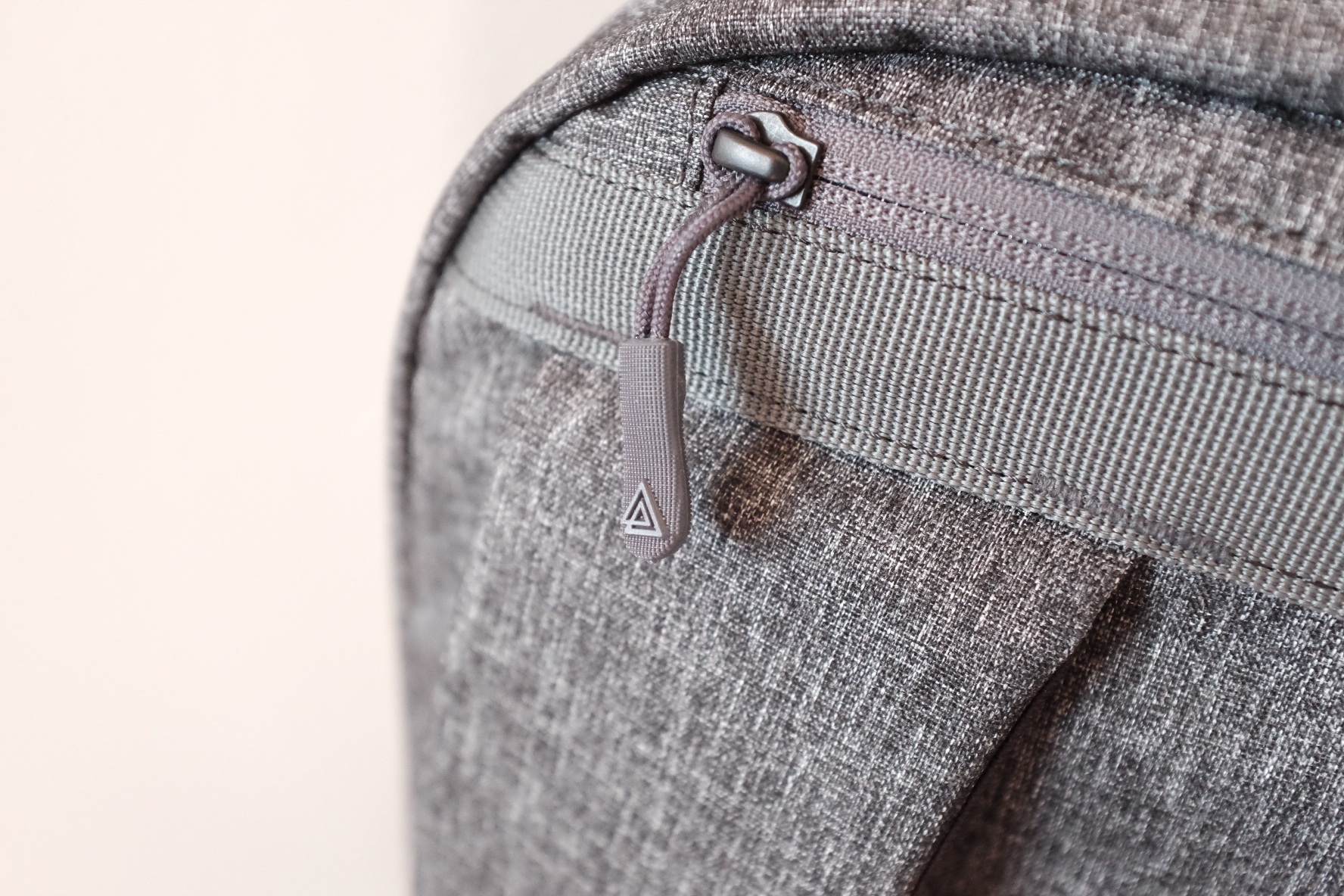 I mentioned above how the inexpensive price does not reflect a poorly made bag. The fabric is extremely thin, but it is still very strong. Yes, it might not survive a war zone, but it will last the average traveler a long while.
What's more is the fabric is not your typical Dyneema where it is very thin and crinkly sounding. It has some decent sound to it, but likely nothing you will hear once things are in the bag.
The texture on the fabric is quite nice — clearly something Arcido values as the texture drew me into their last bag as well. I love the tactile response I have to handling their bags. For the Faroe, the texture is not quite as soft, but quite a bit nicer than most bags I own. It's reminiscent of the Incase Icon City Compact backpack.
Back to the build quality for a moment, as I often tout how amazing the GORUCK build quality is. The Faroe is not that level, but it also doesn't need to be. A GORUCK is made to be your go everywhere, do everything bag. The Faroe strikes me as a bag you take from one civilized place to another — and it will handle all if that with aplomb.
All that to say, the Faroe is very well built, just not over built.
Thinking of the abuse my bags see on a regular basis, there's only one point of concern I have with the material of this bag, which is the bottom of the pack. It is a single layer of very thin material. The bottom of a backpack will see a lot of abuse, so it would have been nice to see a little thicker material here. Even then, I still doubt this will ever be an issue for all but the most abusive bag users.
Go Get It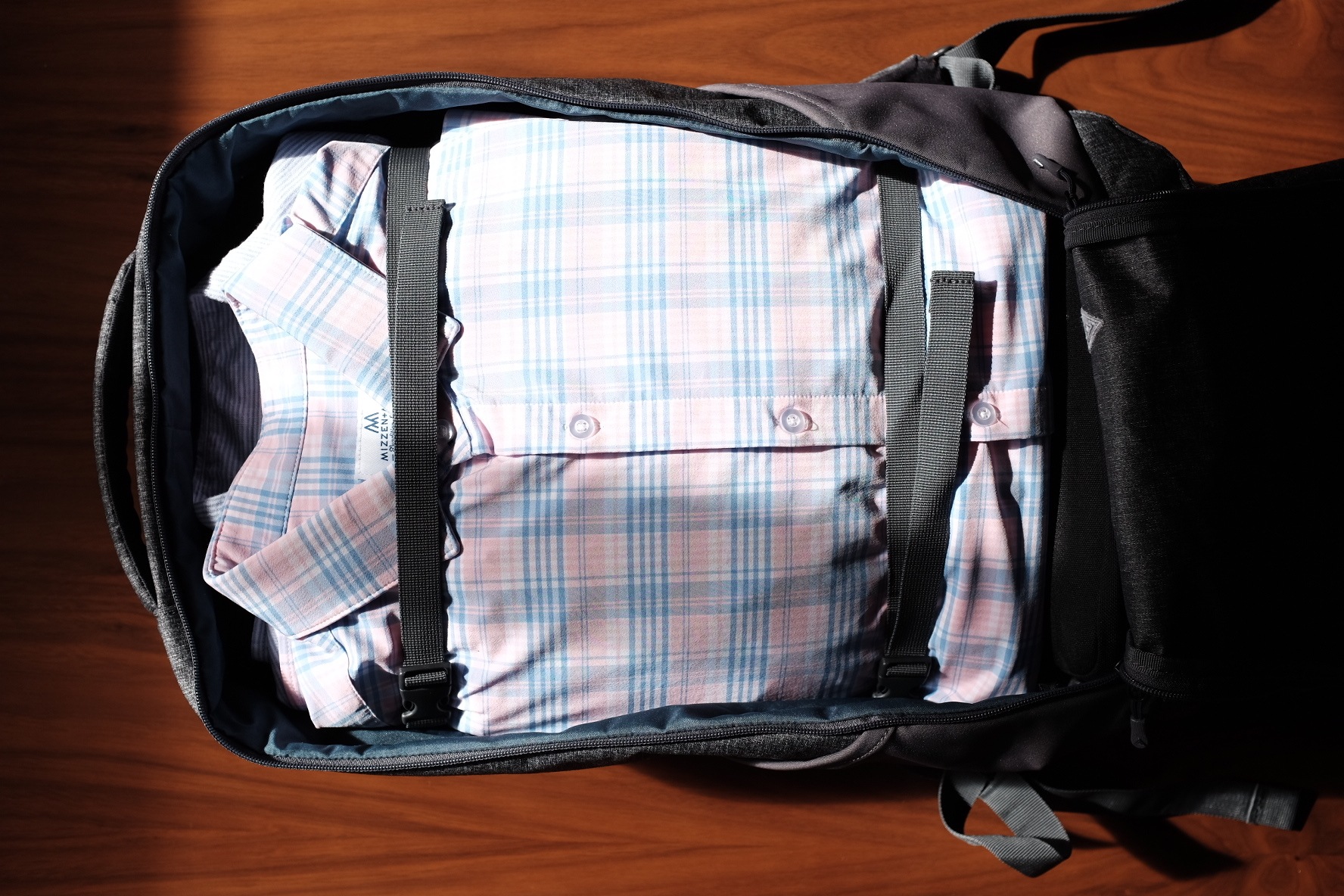 The thing about the Faroe is the price. It's a well above average bag, at a rock bottom price. For the price, features, quality, style, and capacity — I cannot think of a better bag to recommend. In fact, if you are new to traveling with a backpack only, I think this is the bag you start with.
From there you can decide if you want to spend three times the money to get the "next step up", but I suspect that for those who don't travel often (meaning more than 6 times a year), the Faroe is all they will need, and then some. And for a great many people, even those who travel often, this is likely to be all they need ever.
You can get it from Arcido directly, or from Amazon with Prime shipping.