I've been using Forecast Bar for my main weather app for quite some time, but it started to feel dated. On top of that it wasn't showing me data in the way I would hope to see it. I asked around and Justin Blanton pointed me to Hello Weather.
It looks a bit, umm, silly at first glance, but after using it for a couple months — it's easily the best weather app on the market. I've tried a lot of weather apps in the past, but I can tell you right now this is the one to get. I immediately bought a lifetime membership for it.
There's only one feature missing: a daily notification of the weather. Aside from that, this app is a fantastic mix of good design and data density.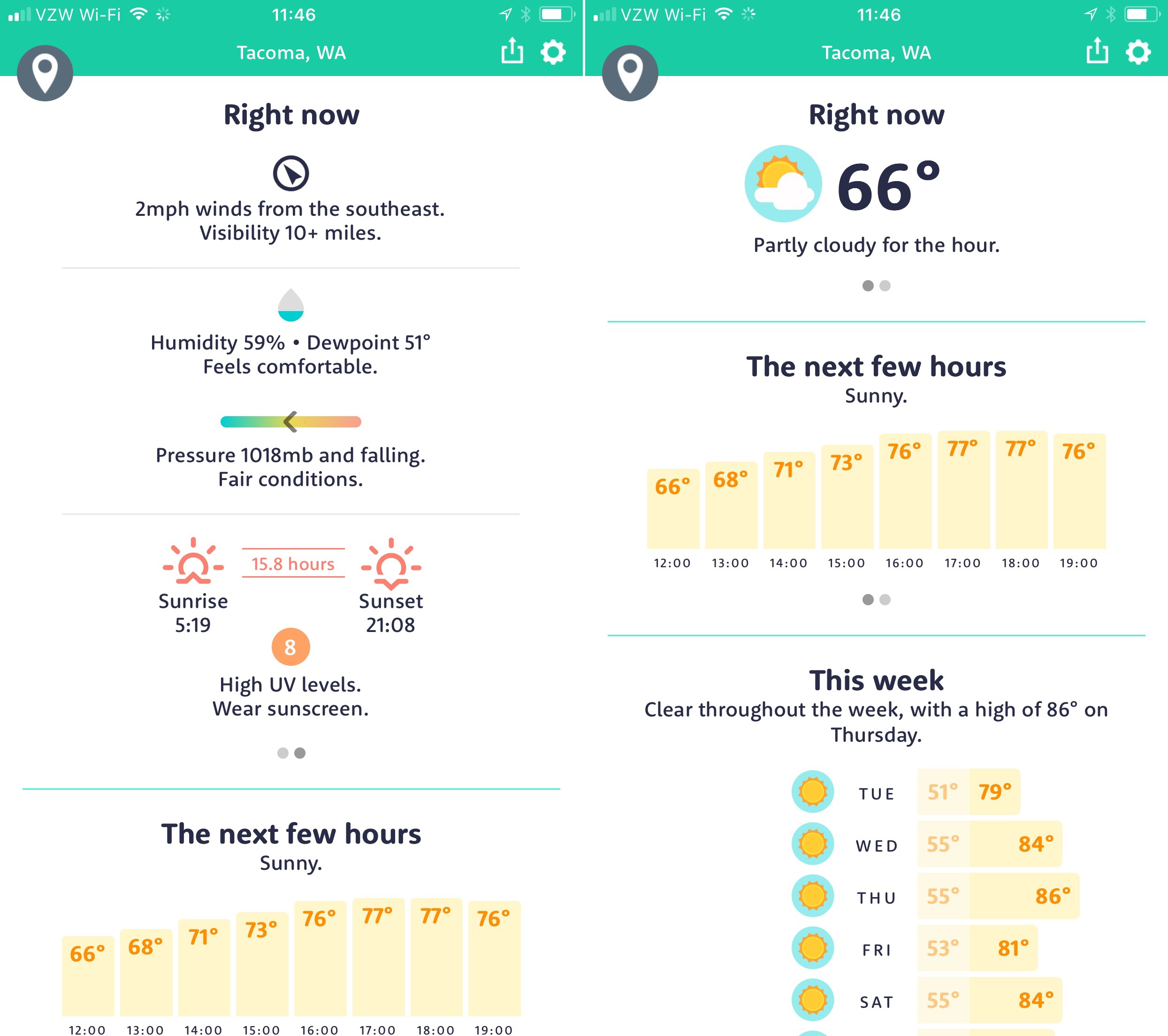 The main display shows you the current conditions, the next few hours, and this week right there in one glance. Scroll a bit more and you get the full range of the next week forecast.
What's more, with a swipe right to left in any area, and you get a new set of equally useful data.
The current conditions shifts from the condition and temp (e.g. Clear and 71°) to the current wind details, humidity and dew points, pressure, sunrise/set, and the UV index. The only missing feature of which is the current pollen levels. (I've yet to see any weather app incorporate this, and I suspect there might not be APIs available for this data. Who knows.)
Every spot of this app is well thought out. The language is natural and fun, without trying too hard. The app uses Forecast.io for the backend, which I love, but can be switched to get real time precipitation data from Forecast.io, and Weather Underground for general weather information (which many feel is the best source).
The only other note I'll make is that the app features a night mode and optional icon colors.
This app is without a doubt, my favorite weather app. Not just now but of all the apps I've tried over the years. Well done.