Let me start by saying: these bikes are for young kids and they are really expensive. But, there's a reason I am writing about them: they are absurdly good.
I think my daughter was 3 or 4 when we got her a bike. It was a Hello Kitty bike we snagged from Target, a while later we got my youngest a bike at 3, a Minnie Mouse bike from Target. These run somewhere around $100. They are heavy and basically like the bikes I had growing up. In other words, they are what I think of, when I think of "kids bike".
For a while my oldest would fly around with her training wheels, then while at a stand still, she turned the front wheel too far and tipped off the bike. That was over a year ago, and she never really showed interest in her bike again. She was scared.
Her friends were starting to want to ride bikes with her, so I signed her up for a bike riding class at REI — I'd heard amazing things about their class, and she was up for it. They were mercifully patient and professional. They started to get her confidence back, but she was one of the only kids who didn't learn to ride a bike that day in the two hours allotted for the class. The REI instructor told me: "She's got the balance and fundamentals, the bike is the perfect size, she's just terrified. Keep working on it, she'll be like the kids on TV, you'll just have to let go at some point."
Great.
And the thing is, now she really wanted to learn how to ride a bike, but in the way where she is still terrified of the entire thing, but she wanted that accomplishment.
We left for a vacation to the Washington Coast with a bunch of friends and tons of kids. There was an empty, non-vehicle traffic stretch of road, where I tried to keep going with what the REI instructors showed me. She wasn't having it. She was still scared and though she had balance, she was struggling — I couldn't figure out why.
Our good friends had a bike called "Woom 2" for their daughter and she could fly, she just a few months older than my daughter. He explained to me what the bike was about, then tried to get my daughter going on the Woom. She was still scared, but she was showing a lot of progress — progress which didn't transfer over to her bike when she switched back. It was clear to me that there was something about the bike itself holding her back — not that she wouldn't eventually learn on her bike, but she wanted to do it now and couldn't because of her bike.
Later that night our friends told me I should get her a Woom, but that they are expensive. The Woom 2, is around $350. He sent me an article, here, all about this stuff — why Woom's make such a difference. We talked a fair bit about it. In short there's a few things:
Weight. The bike I had for my daughter was about 27lbs, and that's more than half her own weight. Imagine trying to learn to ride on a bike, to balance for the first time, with something half your own weight. Crazy, right? Woom bikes weigh between 12-16lbs, which is substantially lighter.
Center of gravity. Most kids bikes have wide handle bars, and are overall chunky. Forcing kids to have their hands farther apart, and knees further out — all contributing to a more difficult time balancing. The handlebars were the one thing REI pointed out as problematic with "box store" bikes.
Brakes. Most kids bikes use a brake system whereby you peddle backwards to stop. This means that as you are teaching your young kid to ride, they make progress and then accidentally stop themselves. It's maddening. Woom uses hand brakes, and all but the 2 comes without a foot brake (they have a kit you can buy to rid the foot brake on the 2, but the law requires them to have it on that bike when they ship it). It's also way easier to teach a kid to use a hand brake than a foot brake.
Touching the ground. Kids need to be able to stand flat footed when they learn, but have the seat adjusted to the correct height later. For many kids bikes, you'll then need to start your kid on a bike much too small to get this, and then it won't scale well when they learn to ride. Woom easily has the lowest clearance, where the Woom 3 is a 16" wheel, but allows for her to stand flat footed while learning it — something most 16" bikes won't even come close to.
There's more too, like the steering tether which makes it harder to steer the bike too aggressively, but you can read about that for yourself. I ended up, after a good bit of research, getting my daughter the Woom 3 (she is almost too big for the 2, but the 4 is more for a second bike).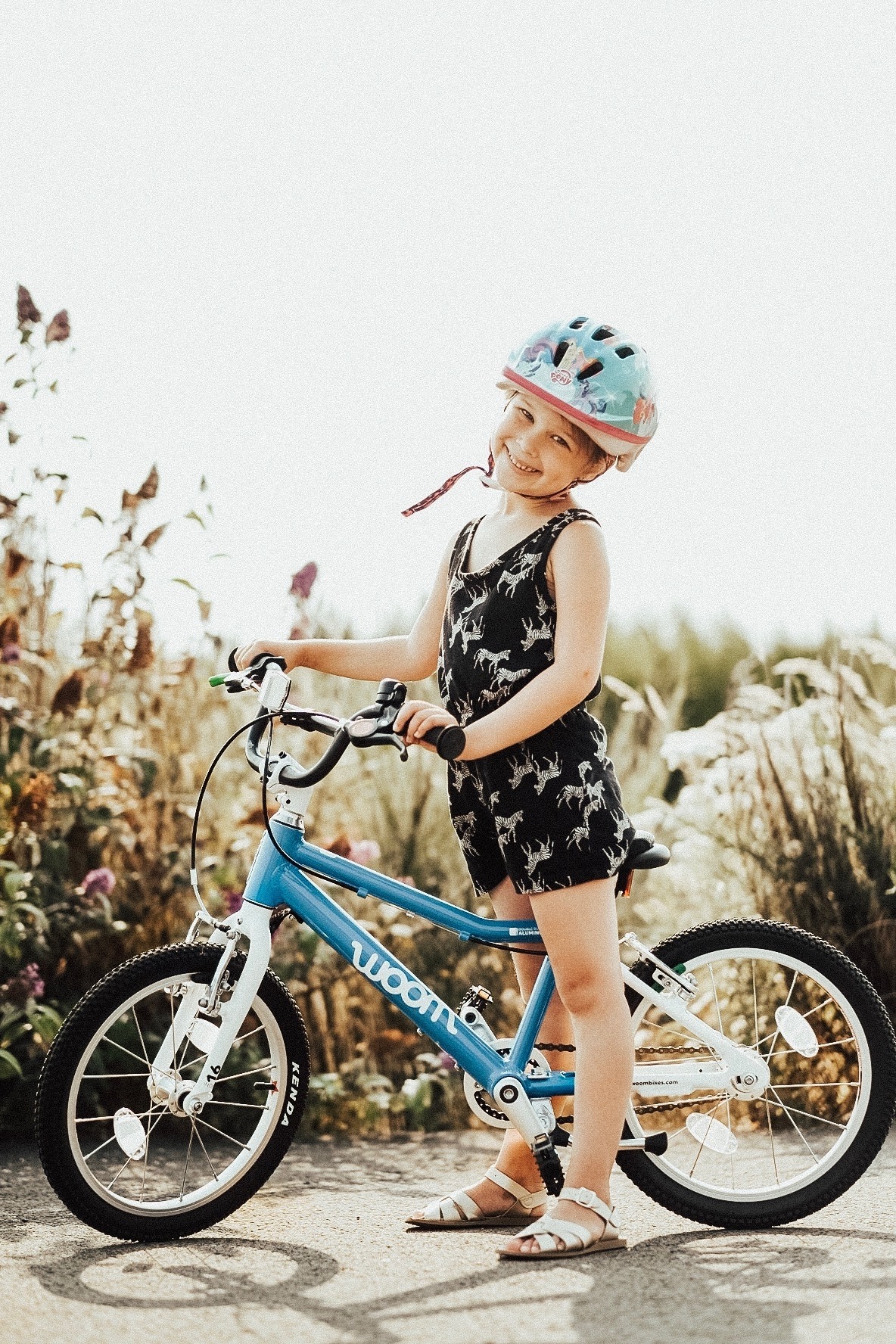 Thanks again to my wife for the photos.
It was delivered, and she set about trying to learn it. She was making progress, and then our friends showed up once again to rescue us. He taught her to ride a bike in a weekend. I don't think even now, having tons of experience on her Woom, she would be able to ride her old bike without training wheels. It's a drastic difference.
I can't tell you whether it is worth $400 for you to get your kid a Woom to ride, but I can tell you my daughter cleared the hurdle at age 5 because of this bike. ((And because of Billy, thanks for teaching her.)) And yes, it's expensive, but they have great resale value and I have two kids. It's a quality bike, well thought out, and clearly made by people who understand how to teach kids to ride bikes.
It weighs nothing. It keeps her hands in. She never accidentally brakes. She loves to ride it. She knows the name "Woom" and to her, without us telling her, she knows that Woom means a good bike. She tells her friends they need a Woom.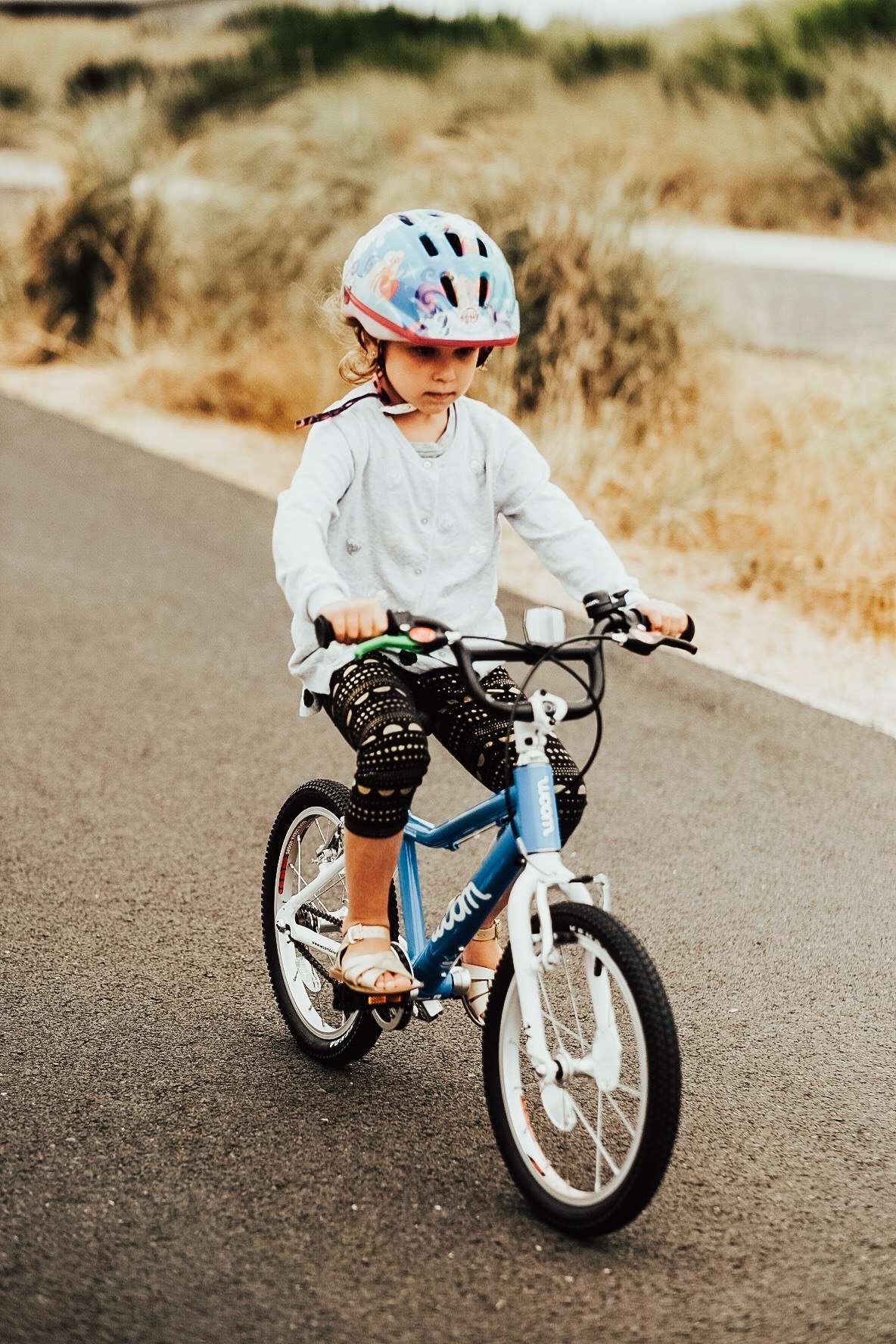 Hell, our friend who taught her to ride has taught others by letting them try his daughter's Woom. If you are struggling with this, you might consider buying this bike, or reaching out to hire our friend.
My only regret is that we didn't buy a Woom as her first bike.