In my quest to find a solid pocket knife to be my backup to my Chris Reeve Small Sebenza 21, I've been looking for something larger, and harder use. Something I have a reason to owning, other than wanting a backup. I initially looked at the Spyderco Paramilitary 2, but found that it was far too cumbersome to carry.
Today, I am looking at Benchmade's Griptilian, which is the larger of their two Griptilian knives and among one of the most popular knives out there. In this humble knife, I think I might have found my perfect backup knife, and a knife I really enjoy using.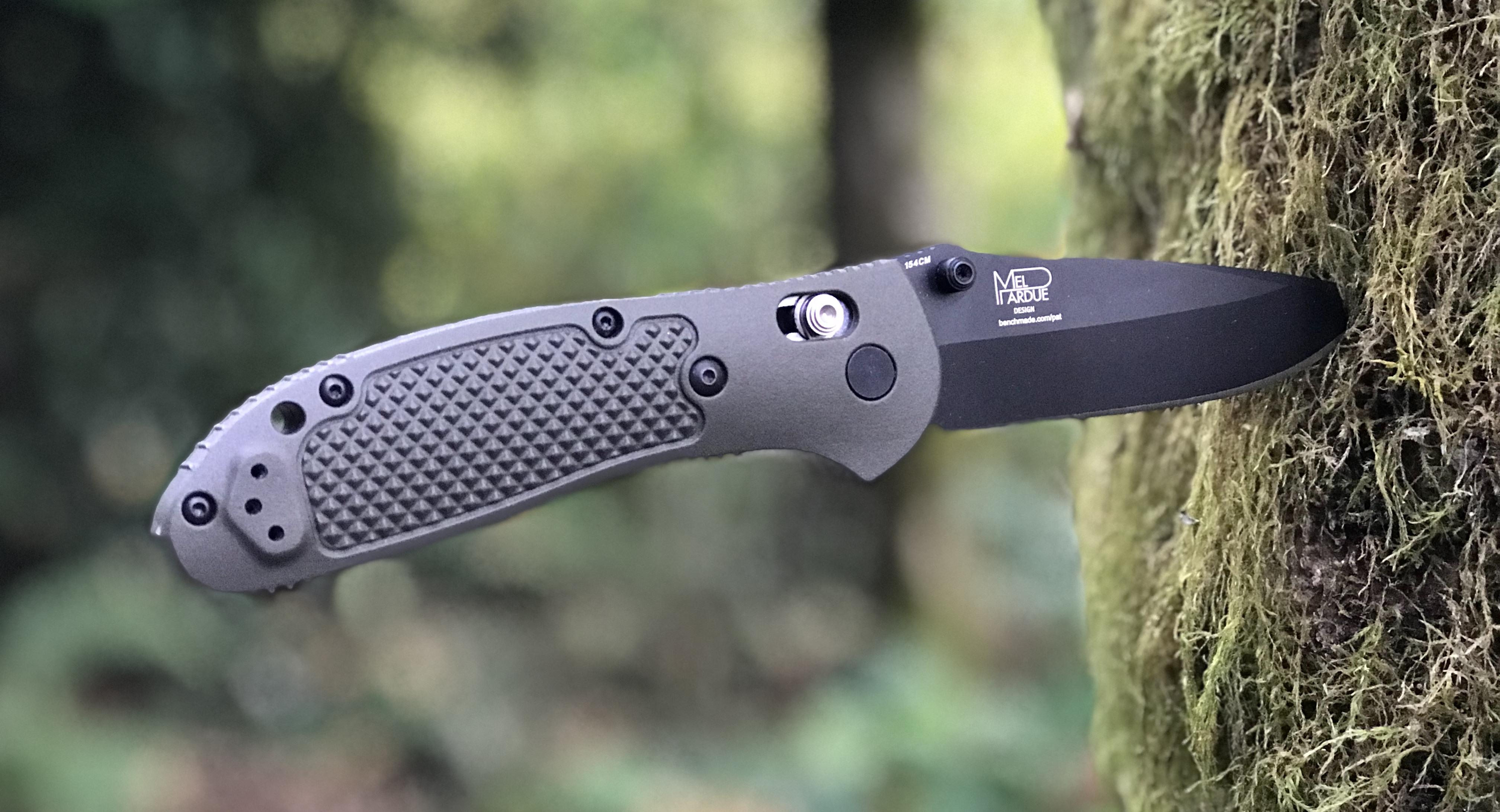 Steel Choice
The Griptilian comes in two steels: 154CM, and CPM-S20V. Basically 154CM is a solid, very corrosion resistant steel, with a decent, but not earth shattering edge retention. The CPM-S20V is close to M390 (my favorite knife steel), it has insane edge retention, while maintaining excellent corrosion resistance.
I chose 154CM.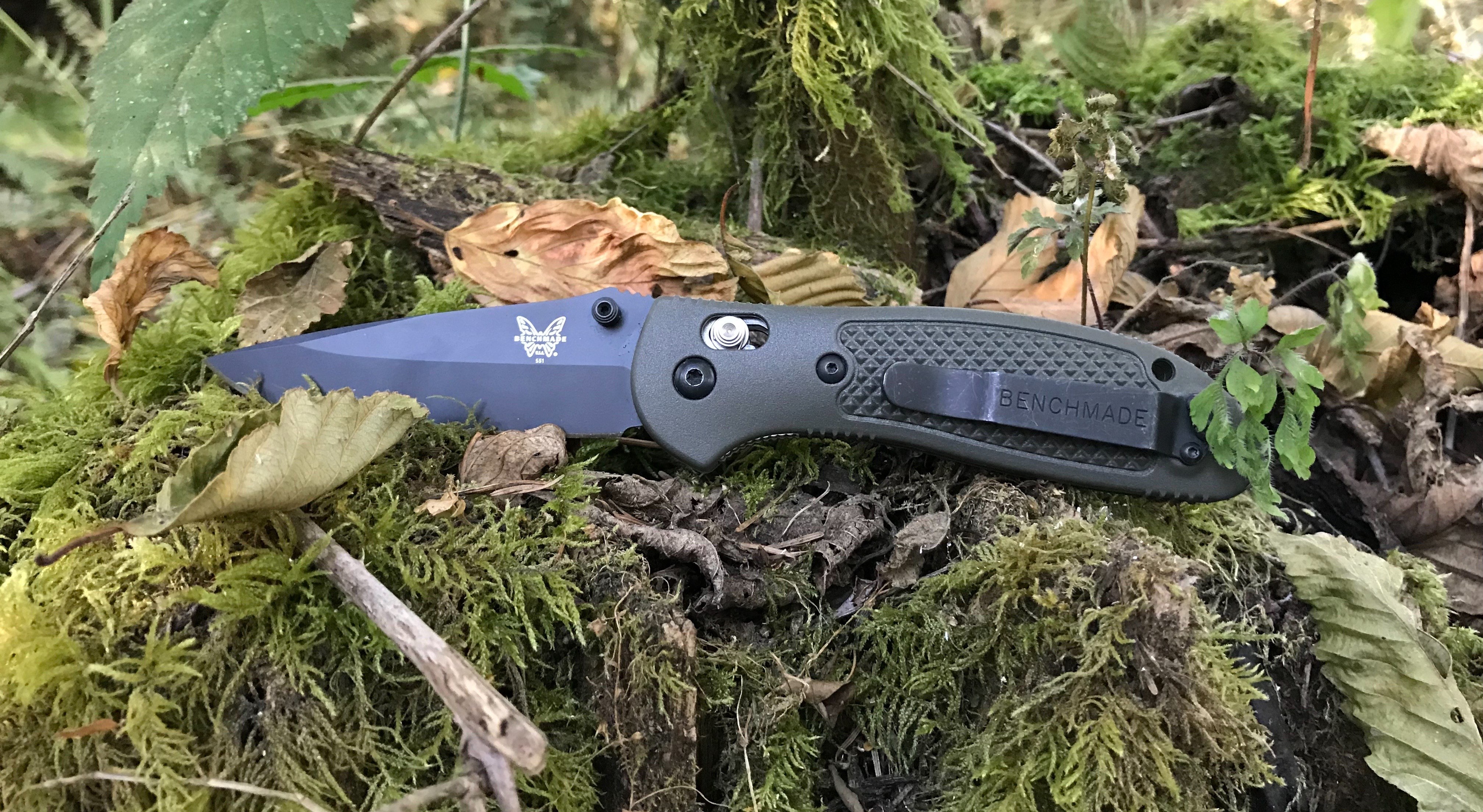 The reason being: I wanted a softer knife steel. I wanted something I could beat on and not break. Something I could use hard, and get and edge back on quickly. CPM-S20V, like M390, takes a lot of work to sharpen — it's not easy. 154CM is easy. I can sharpen it fast, and know that it is tough. My goal for this knife was something tough for the woods, and work duty around the house.
I don't need it to slice up Amazon boxes for a half year between sharpening, I just need it to be sharp from the start of one job to the end of that job. 154CM is the clear choice for this use case. (Also for an outdoors knife, softer steel can be just as good, as carving wood and such doesn't typically dull a knife edge very quickly.)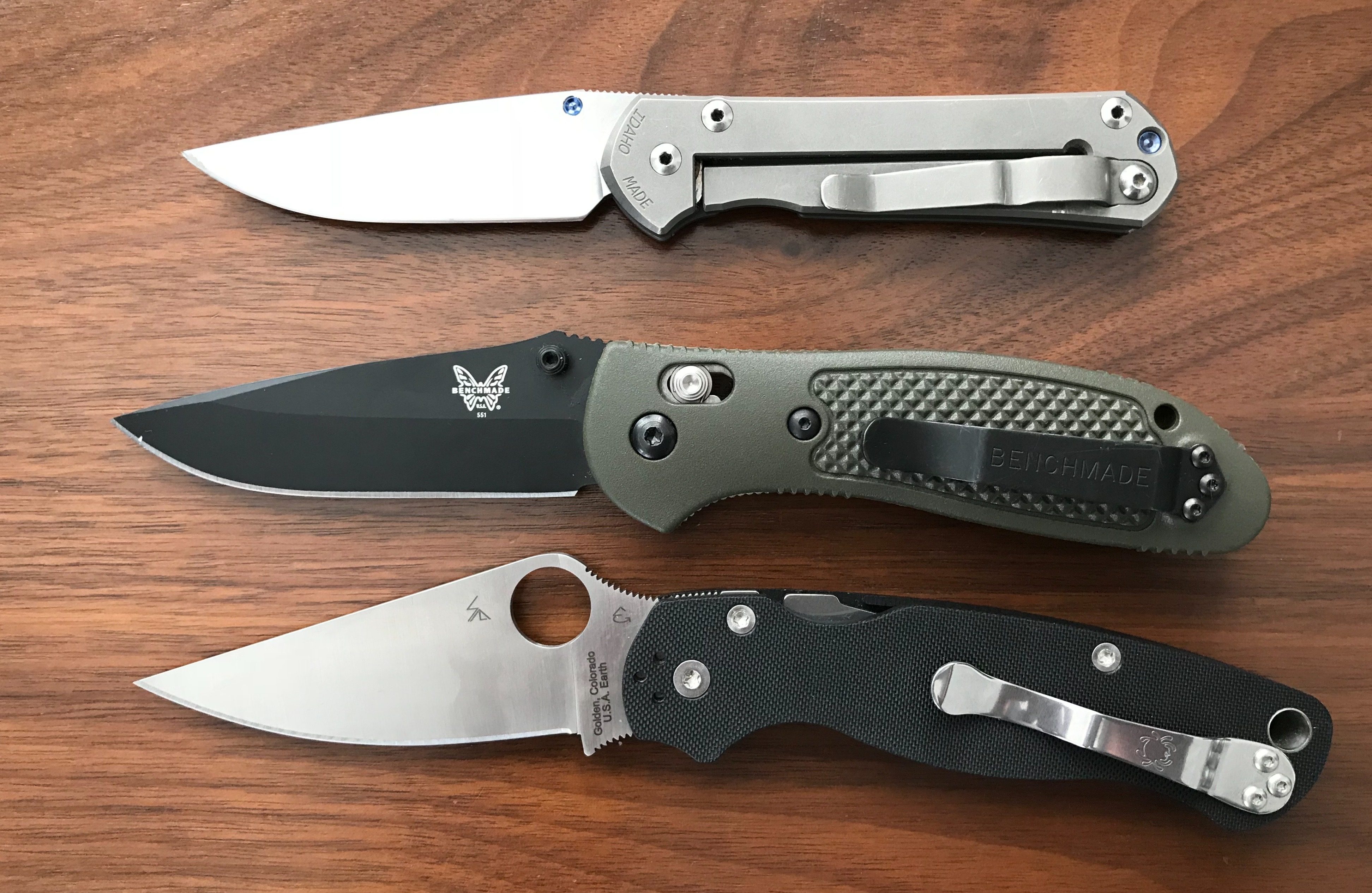 Comparing: Small Sebenza 21, top, Benchmade Griptilian, middle, Paramilitary 2, bottom.
Note: You can customize a Griptilian on Benchmade's website and get 154CM with the G10 scales, or even upgrade to CPM-M4, which is even tougher, but not very corrosion resistant. Had I known I would like this knife as much as I do, I would have probably gone that route.
Handle
I loved the Spyderco handle, it fit like a dream, but one of the trade offs in opting for 154CM steel in the Griptilian, is that you get the resin scales on the knife, instead of the far more superior G10 scales. I wasn't sure what to expect, as people are really split on these handles.
Overall the handle fit my hand well, was light, and felt durable enough. But it wasn't comfortable in a few spots. There were areas were the jimping was sharp on my palm, so I used a small file to knock the edges down a bit and got the handle to a much more comfortable grip.
There's nothing I loved about this handle other than the light weight, but not a lot to hate either. It's just OK. But only after you file (picture of result after filing) it a bit in spots. It does make me wonder what the G10 handle would be like.
Modification
As if to continually prove to you that I am a bit insane, I decided to modify this knife handle. I knew that you could get custom scales for Griptilian knives from many places, so I went out looking for some micarta scales. Instead, I ended up with aircraft grade aluminum scales.

These change the weight, making the knife much heavier. They also slim down the knife considerably. Lastly, they change the shape of the handle as much as they change the looks of the knife. I liked the knife before I changed out the scales, but after changing out the scales, I love this knife much more.
Use
With the PM2, things started to fall down when I really put the knife to work. Part of this was the blade shape, and the other part was that the knife didn't feel bigger than the Small Sebenza, while also being bigger. The Benchmade laughs at all of this.
The blade shape is excellent, to perfect. The blade is big, but is in balance with the handle. The knife feels big to use, but in perfect control at all times. It feels substantial, and gives you a lot of confidence that you are not about to break or otherwise damage your knife.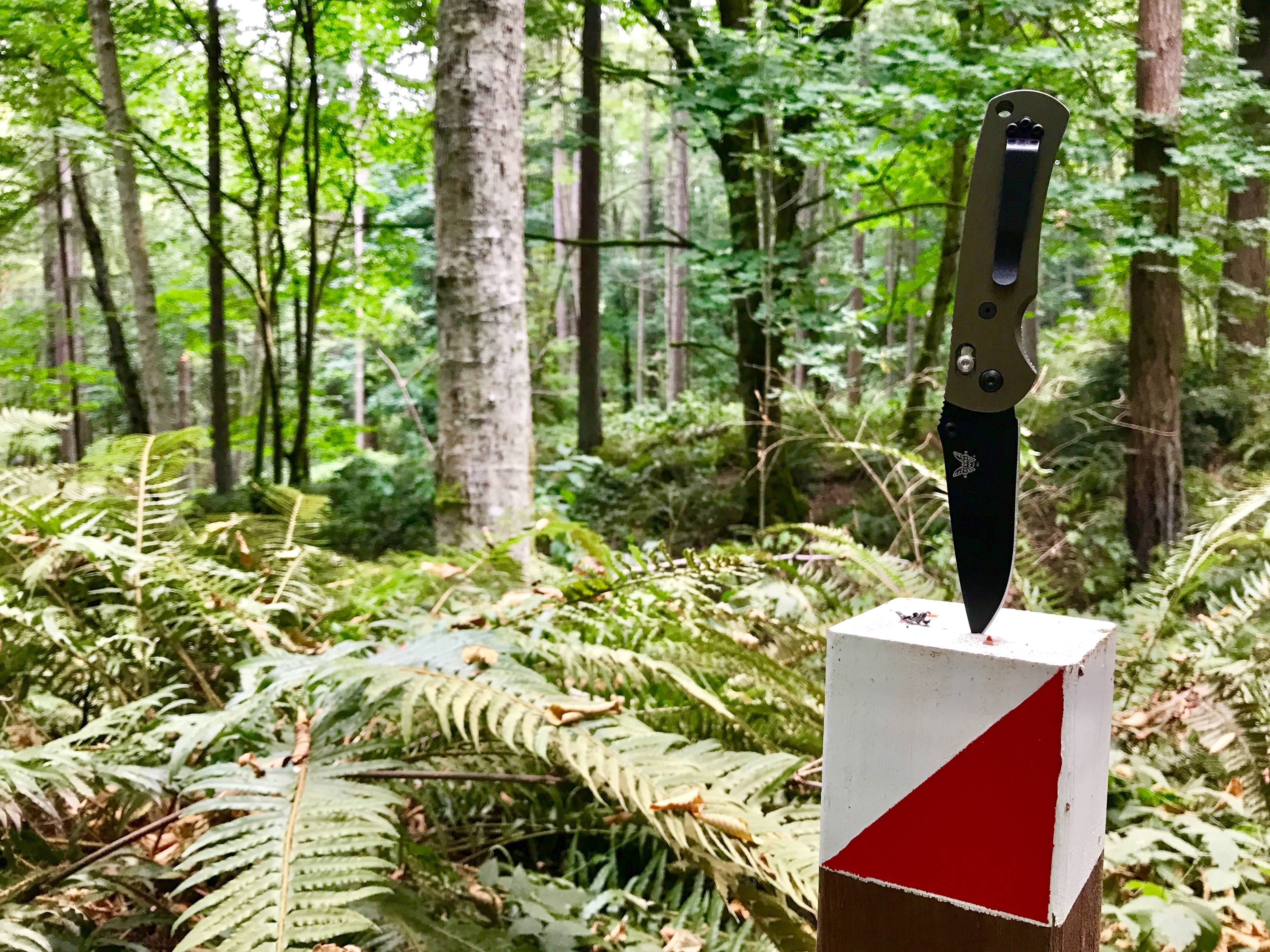 Blade deployment is fast, and the knife locks up really well. The blade can be a bit loose when you unlock it, but with practice this can make for quick storage of the knife. I do find that the blade has a little more play than I would like, but not enough to concern me.
I have no complaints about this knife in use.
Carry
The Spyderco completely fell on it's face when it came to carrying the knife. It didn't feel bigger to use, but felt like a damned machete in my pocket. On top of that, it did not release well from the pocket clip when clipped on to pants.
Again, there's none of that shit with the Griptilian. It carries large in your pocket, but smaller than the PM2. It feels like exactly what it is: a large knife. I've carried it plenty in pants and while I notice it is there, I am not bothered by it.
The stock scales, and the aftermarket ones, both release from pants well when using the pocket clip. And while the clip is not a deep carry clip, it keeps the knife in a good position.
It's much better to carry this knife loose in your pocket with the stock scales, but it's not too bad with the aftermarket scales. For what this knife is, and what I will carry it for, it's about as good as I imagine this could be.
Ambidextrous
I'm left handed. Many high end knives utilized frame locks, or liner locks, both of which are hand specific mechanisms. Not always do manufacturers make left hand versions of them either. I can usually adjust just fine, but when a knife is made to be used in one hand and not the other, you notice, and it slowly eats at you a bit each time you use it.
For instance, as much as I love my Small Sebenza, it's a left hand model and thus almost unusable to my right hand (like most left handed people, I am decently ambidextrous for many tasks). This Benchmade (as are most Benchmades) is a truly ambidextrous knife. To make a knife this way you need four things:
A lock which can be operated with either hand.
An opening system which can be operated with either hand.
A pocket clip which can be placed on either side of the handle.
A handle which is symmetrical.
The Griptilian checks all four boxes. I hadn't thought much about this until after I got the knife, but in using it, it's astounding how great this is. I can easily move between either hand, with no penalty for doing so. This makes the knife even better for the outdoors, where you might not have the luxury of using your dominant hand each time.
Sum
I love this knife. I don't want to carry it every day, but I do want to carry it when I know I have tasks well suited to it ahead of me. It makes me want to get its smaller sibling, but for now, I am extremely happy with it.
You can pick it up from Amazon.