Originally, I was going to post these as separate reviews, but I think they work best together. So be warned that this is three reviews of three knives, all of the same heritage from Bradford Knives.
Bradford's Guardian line of fixed blades knives are available in four sizes, here I look at the 3, 4, and 5 series of knives. These range from a small everyday blade to larger survival blades. Each of the three blades are among the best fixed blade knives I've ever used.
Bradford Guardian 3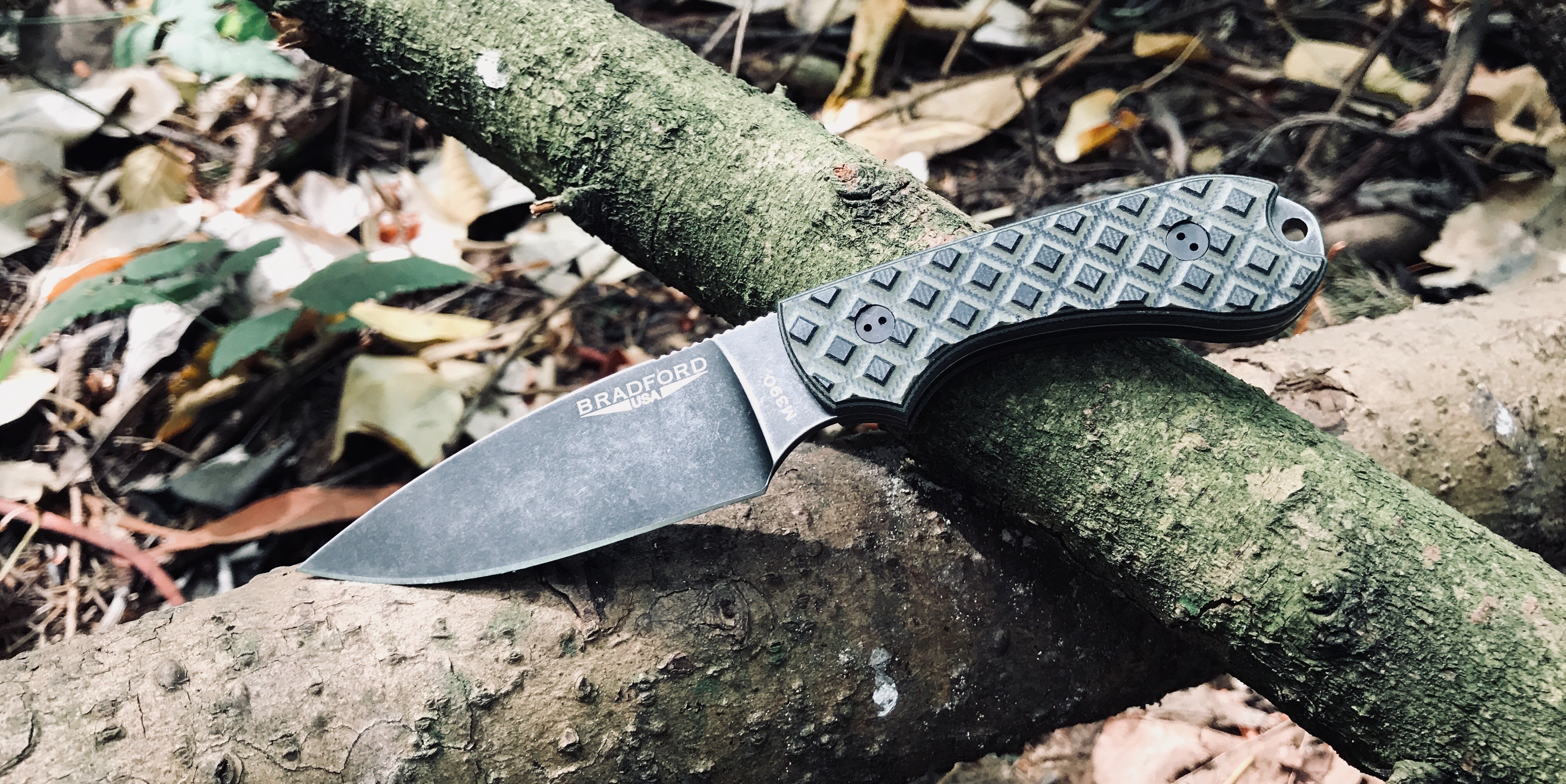 As you might have noticed, for those following along, I am trying to find a really good small fixed blade knife. I started my search with the Morakniv Eldris, and moved to the ESEE Izula. At that point I figured "this is a good knife, maybe as good as it gets." I wasn't enamored with the knife, though good, I didn't see wanting to use it much. It was going to be an emergency tool, nothing more.
There's a large contingent of people who carry fixed blade knives as an EDC, I think they are a bit nuts for doing it, but after testing the Bradford Guardian 3, well I kind of understand them more.
The Guardian 3 is the first small fixed blade knife where I want to use it a lot. In fact, I keep it on my desk, because it looks cool and is damned useful.
I came across Bradford from Beyond Clothing originally, and then again on Massdrop (god I love that website), and immediately saw that they are made in my backyard, Renton, WA. The knives are all made from one of two steels: M390, or CPM-3V. Both amazing steels, M390 is one of the best stainless steels you can get with amazing edge retention, and 3V is really tough metal with better attributes, but more corrosion prone. If you want a seriously hard use knife, get 3V, otherwise get M390.
The Guardian 3 is a small blade which measures 3.5" long, with a 3" cutting surface. It's larger than the other "small" fixed blades I've been talking about by a wide margin, but well within an EDC blade length. I nabbed one with the standard Micarta scales, in M390 steel with a "Nimbus" finish.
This knife, without a doubt, is the sharpest knife I have received out of the box. Typically I sharpen my knives within a week of getting them, but weeks later this knife can still shave hair (a sign of great sharpening at the manufacturer and amazing edge retention on the steel).
This isn't just my favorite small fixed blade knife — this ends the search for me on small fixed blades. Even more than that, this is one of my favorite knives I own, or have owned, fixed blade or not.
Handling & Use
The handle on this knife is small, but large enough to give you a good grip on the knife. You'll want to make use of the forward grip, to get a good handle on the blade itself.
The knife is perfectly weighted and the handle is insanely grippy. They make two different handles, a standard, and what they call 3D. When you handle this knife, the 3D scales are infinitely better. They feel amazing in your hand. The trade off is size — they make the blade a lot thicker, and thus a lot harder to carry around.
For this small knife I chose the standard scales, but might order a set of 3D scales to have should I change my mind. All in all, soaking wet, this is the grippiest handle I have on any knife.
Because of the balance, and the security of the handle, this knife is wonderful to use. It's a really easy tool to handle all the tasks my pocket knives generally handle day to day.
Again, this stays out on my desk because of how well it handles, not because I love to look at a knife on my desk. I won't carry this on me daily, but I won't question anyone who does. I get it, it's a joy to use.
Sheath
My Guardian 3 came with Bradford's leather sheath which is a horizontal sheath for right handed folks. Being left handed, this is of little use to me (Bradford sells a left handed version for $10, as well as Kydex options). It's a lovely, if bulky, sheath. However, as much as I like looking at it, chunks of leather are shaved out of the sheath every time I insert or remove the knife. It could do with a better lining on it.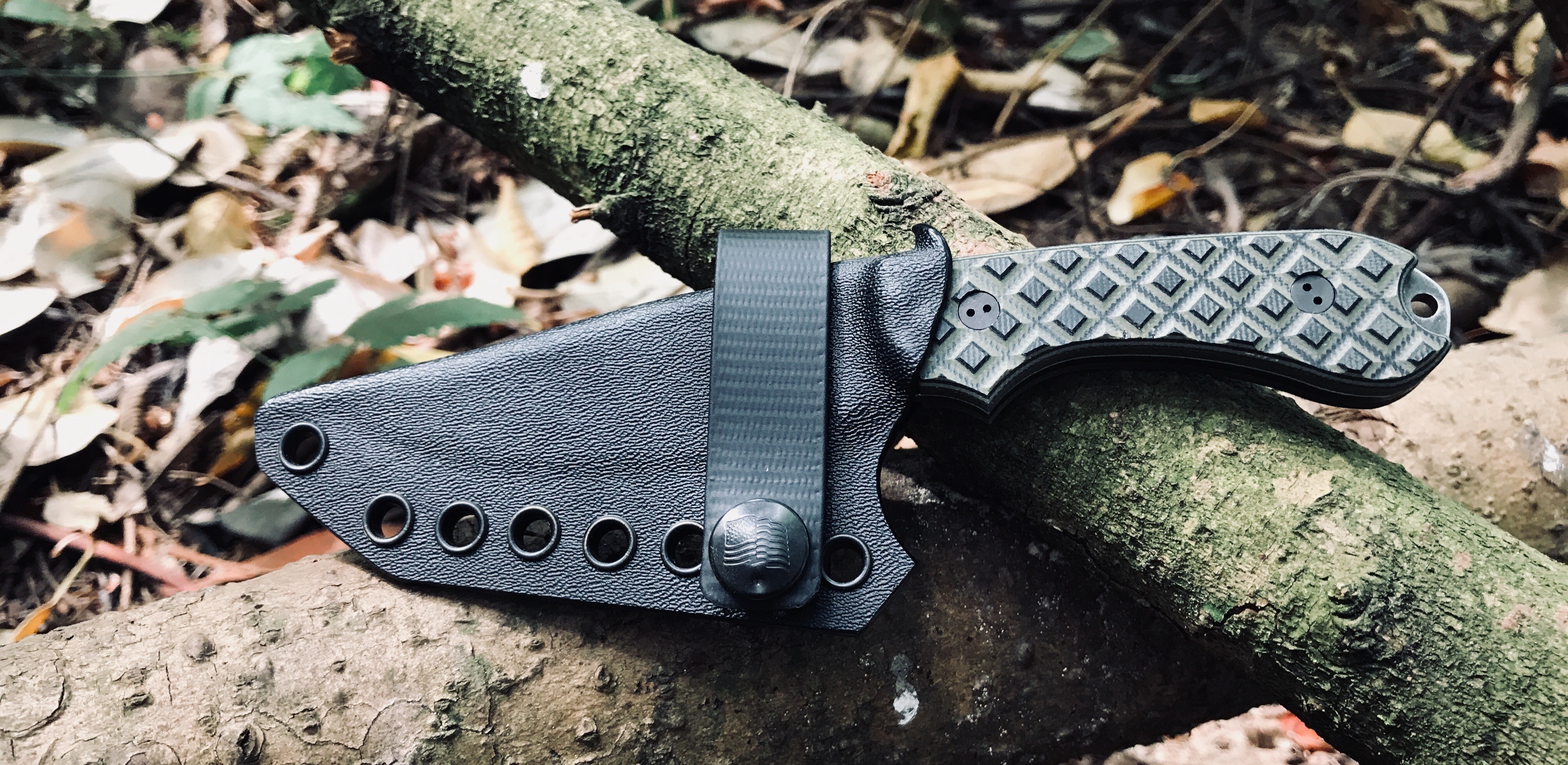 I ordered an Architect sheath from Armatus Carry, which is a Kydex sheath for the blade, and a lot more tactical looking, but it has better lockup on the sheath and more carrying options. It also reduces the bulk by a significant margin.
All in all, the stock sheath is lovely to look at and handle, but I question the long term durability. Beyond that I couldn't test it without ordering the left hand version.
The Armatus sheath is quite nice, but nothing earth shattering. I need to put it through its paces more, but I do like it more than the leather sheath.
Overall
You've likely guess by now, but this is one of my all time favorite knives. The blade is wonderfully constructed. It's a joy to look at. It doesn't look or act like it needs to be handled delicately — or look expensive — but it also doesn't look like a bland tool. It's an all around amazing knife.
This is the best small fixed blade knife I've found by a wide margin. But, you also pay for that. At a base price of $159, it's significantly more money that either of the other two knifes — mostly because of the M390 steel which always demands a premium price — though well worth it.
Check them out on Bradford's website, highly recommend this knife, especially for people who want a fixed blade, but don't want to look like they are trying to kill zombies.
Bradford Guardian 4
There's only a few types of knives: junk, pretty good, last forever, and family heirloom. If you are a knife person, you strive to find knives in the latter categories, while rapidly collecting those in the former categories. A few months ago, I couldn't tell you every knife I owned, because I had too many, but in my quest to simplify and scale back I now have three pocket knives:
Swiss Army Knife Cadet
Spyderco Paramilitary 2 (still in flux)
Chris Reeve Small Sebenza 21
Two good knives, and one heirloom quality. People have a hard time scaling back, or buying expensive things which last forever. And all of this needs to be said before talking about this next knife because I am now on a similar journey with my fixed blade knives.
I've written about them before, and I crowned the ESEE 4 as the best all around survival fixed blade you can get. It's amazing, and at $100, a basic no-brainer for a knife that will last forever. The ESEE 4, is not however, an heirloom. Someone might like it, but there won't be much sentiment — it's a tool.
The Bradford Guardian 4 is an hierloom — one look at it and you know that it won't be easily tossed aside long after you are gone. It is not only beautiful to look at, but a better tool than the ESEE 4 in all ways I can count. But not necessarily a better survival knife.
Steel
Like the Guardian 3, this 4 comes in both M390 and CPM-3V. I chose the M390 for this blade (because I love that steel) and am very glad I did. This knife isn't quite big enough where I feel like I would want a tougher steel, so the M390 plays a nice middle ground here.
I could see a good argument for 3V on this blade, but I think given the size, the extra toughness you get from 3V isn't warranted given the corrosion resistance you lose. Overall, very happy with M390 on this blade.
Handling
While I like the Guardian 3 handle, the 3D handle on the Guardian 4 is one of the best, if not the best, handles I've had on a knife. It feels perfect in hand and indexes the blade extremely well. It has a full choil, and thus your index finger is made to sit in the choil when holding it. This reduces leverage, but improves fine control of the blade.
In use, even for as large of a blade as this is, I was easily able to handle much smaller wood working tasks — things where it would be hard with most knives of this size. For me, this is where the Guardian 4 really pulls away from the ESEE 4 — the ESEE cannot handle fine tasks nearly as well.
The drop point shape has a very fine tip on it, but a very large belly as well. Making for a great all around knife when out in the woods.
Sheath
The Guardian comes with a leather sheath, made to be carried vertically on the right side. Just as with the Guardian 3 it is a nice sheath — but the sheath adds a ton of bulk. So like with the Guardian 3, I ordered an Architect kydex sheath to carry the knife in.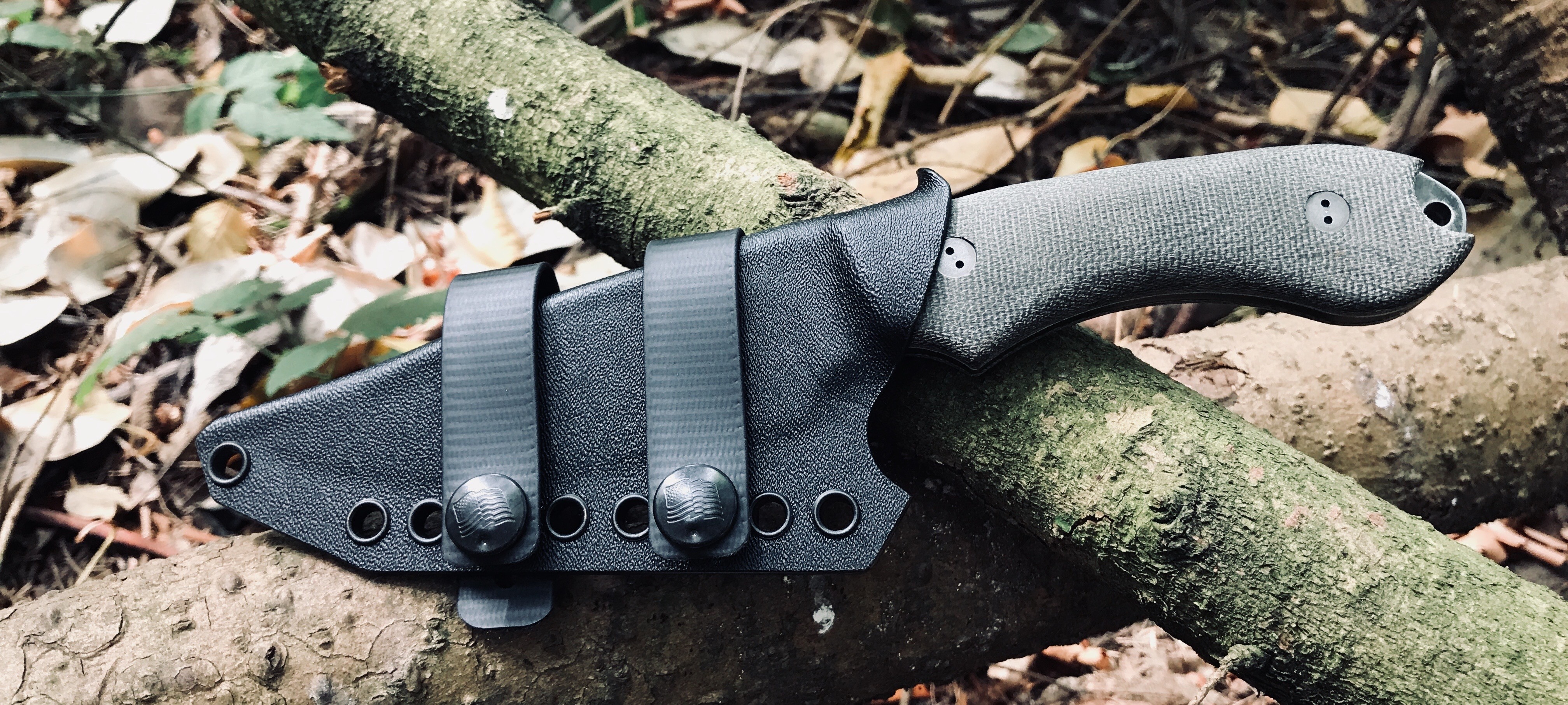 While I don't love the Architect sheath for this knife, it is a much better setup than what you get standard. Especially if you add a teklock belt clip, this becomes a far better setup.
Overall
The big question with this knife is wether or not it would replace my ESEE 4 in my bug out bag. Would I be willing to have this be my only knife in a survival situation? When it comes to the ESEE 4 and that same question, I confidently answer, yes.
With the Guardian 4, I am a bit torn. Logically, I don't think there's any way to make this knife fail. And the ergonomics alone make this a better knife for 90% of the tasks out there I would need it for. But it's less steel and that concerns me. The point comes down much finer and thinner, which means it could break in extraordinary circumstances.
So I'll keep my ESEE 4 in my bug out bag and enjoy using the shit out of this knife for every other part of my life. This is easily my go to knife for hiking and camping. It's fantastic — every part of it is a better knife to use. The only question mark for me would be sustained batoning with it, which is something I've never had to do in a real life scenario — I've only ever done it because I wanted to.
I highly recommend this knife, it's among my favorite knives I own. You can find them here.
Guardian 5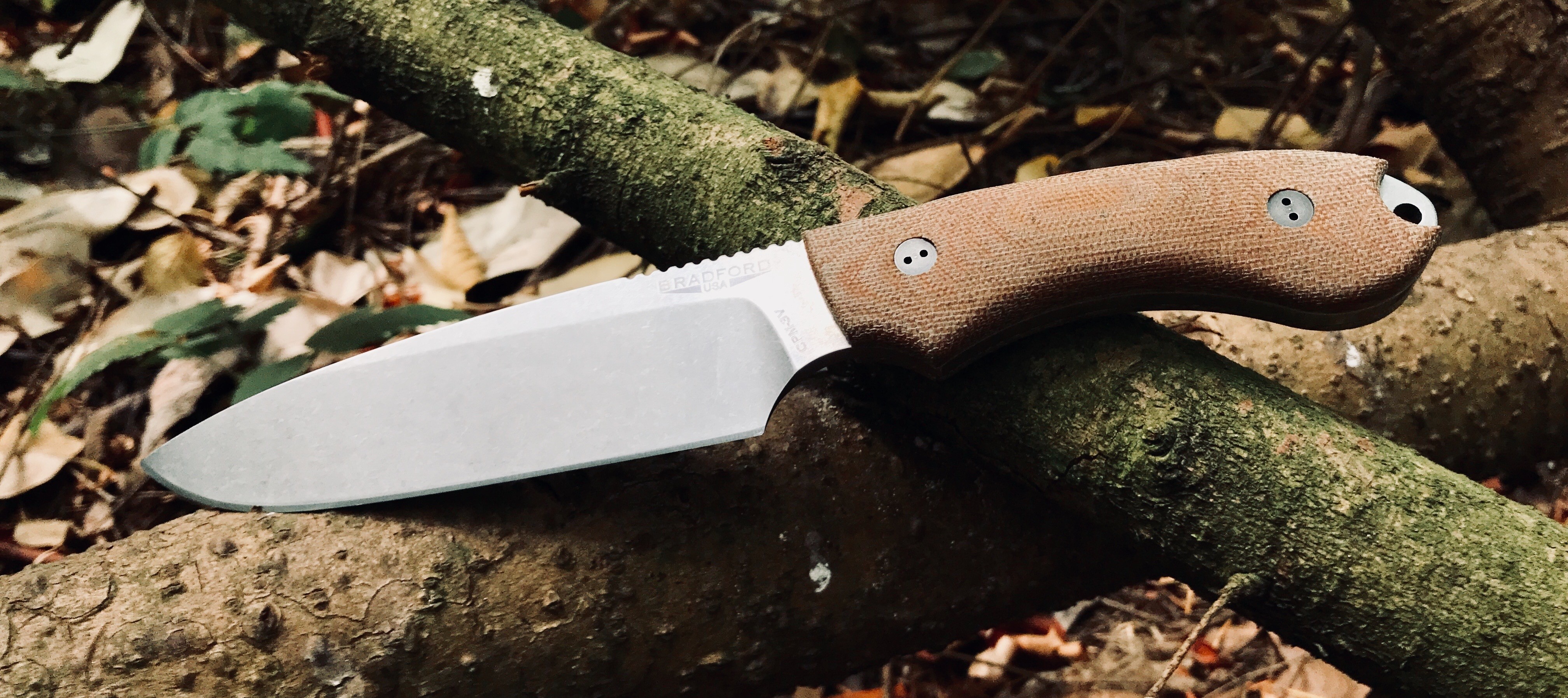 This the the second largest knife Bradford makes, with the 6 being the biggest. I was torn between the two, but ultimately I got a good deal on the Guardian 5 and so I snagged it. I immediately was glad I got the 5 instead of the 6, as I think the 6 would be far too large for anything except maybe Alone. Either way, for many, this is the size of knife people look to for a survival knife. While I prefer a slightly smaller blade, as in the 4, the 5 is quite good as well and I can see why people prefer its size.
Steel
With the 3 and the 4, I chose M390 steel. With the 5, it's CPM-3V, which is a much tougher steel than M390, but it gives up some corrosion resistance. The bottom line is this: when you have a larger blade, you want a tougher steel so that you can use it harder. You can chop, baton, and other activities with it.
This is also my first experience with CPM-3V. I don't have much to say about it, that others have not already said. It seems like a really good steel, but it doesn't blow my mind. Likely a better all around steel than something like 1095, which is high carbon. I simply don't know enough about the metal to say much more on it.
Handling
This is a big knife and the hard thing about big knives is making sure you can do three things:
Feel in control of the knife
Feel like it won't slip from your hands
Do fine work (which is like 1, but different)
This knife achieves near perfect balance right at the front of the grip, and the back end of the finger choil — which is awesome. That kind of balance gives you a lot of control over the knife — it won't pull you and instead feels well balanced in your hand.
Additionally, the 3D Micarta handle is phenomenal on this larger blade. I love it on the others, but it is superb on the 5. Again, like with the other knives, it's made for your hand to sit in that finger choil, like it or not: there's only one hand position on this knife. The extra length on the handle makes it and even better fit for me than the 4.
When you are picking a survival knife you always have the tradeoff in size. A bigger knife makes for better chopping tasks — such as shelter building — but a smaller knife is better for all your finer tasks like carving, filleting and other work around food prep. I think the 5 strikes this balance well — it clearly has the size — but it also isn't so big you can't work finer tasks with it. There's a large amount of jimping on the back of the blade to allow your thumb to rest and have better control. That in conjunction with the balance and grip, gives you a lot more comfort than you generally find in a large knife for finer work. It's not ideal, but it does work.
Sheath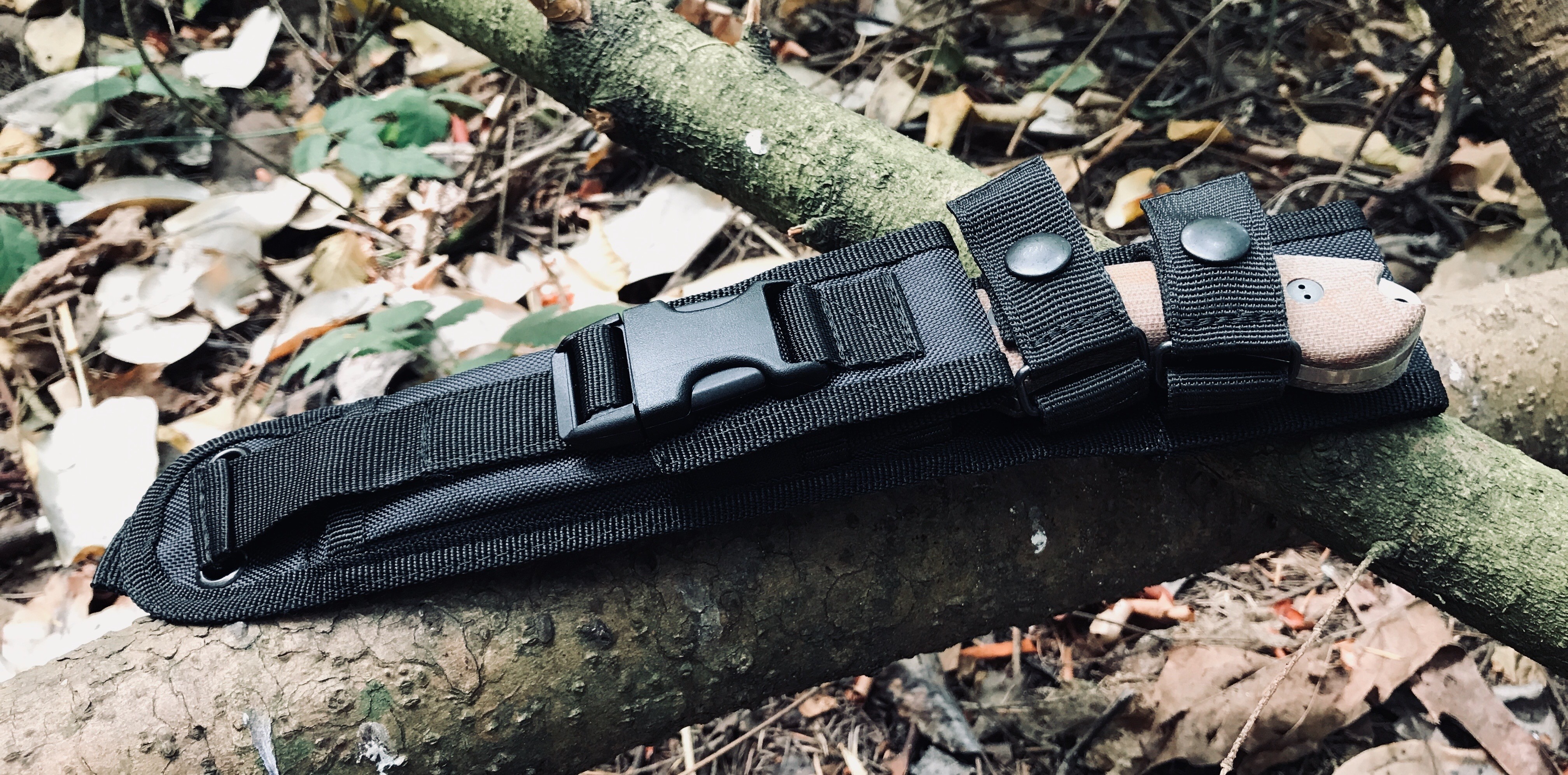 I've hated every Bradford sheath so far, but not this one. The Guardian 5 comes with a nylon sheath which is by far their best sheath. It has a dual snap lock over the handle to keep it in place when moving about, and a large pouch on the front of the sheath for storing other items.
The sheath can attach with a belt loop, or via a MOLLE compatible strap, and lastly there's two eyelets at the bottom for more methods of attachment. All in all, versatile, ambidextrous, and well done.
My only complaint is that I could do without the front pouch, as that would streamline the package quite nicely. However, nothing about this sheath has sent me looking for a new one.
Overall
This is an awesome knife and my new favorite survival knife. While I'll like carry the 3 and 4 far more, if the situation really counts, it's the 5 I would be reaching for. I'm not sure there's anything I would not be able to do with this knife and the most limiting factor is the issues which generally arise from carrying a larger knife (weight, laws, weird looks, etc)
These Are Amazing Knives
I have no doubt that the steak knives, the Guardian 6, or even the G3 Flipper are great knives as well. For me Bradford, in general, strikes a great balance of:
Top notch materials
high quality workmanship
competitive prices
The knives feel heirloom quality, while also feeling like tools made to be used. And still, they don't feel pretentious, overpriced, over designed. They feel amazing in the hand, they look amazing to behold, and perform very well. It's just a bonus that they are made not too far from my house.