One of the things I am constantly trying to find is a bag to be my "dad bag" — I've mentioned my high standards for such a bag before, but want to recap specifically what I am looking for:
Something 10-20L in size.
Something which can be packed down to fit inside a GR1/GR2.
Something which can carry my kids coats in the winter.
Something which is comfortable to carry all day.
The GORUCK Bullet Ruck 10L, is as close as I have ever come, but it's hard if not impossible to bring it with you. The Outlier Quadzip came tantalizingly close, but the high price, and some framesheet discomfort left me to sell it too.
I want a bag which can hold water, snacks, and a band aid kit without issue. The bag should hold those and be able to be carried all day comfortably. Additionally, it should be able to hold random things my kids get during the day out, and their coats/layers they left the house wearing — again that should be done comfortably. This bag should also allow me to travel in my preferred travel bags, without taking up considerable room — otherwise I'll have to pack differently and that presents a less than ideal situation.
This has all lead me to Triple Aught Design's Azimuth backpack. I had long dismissed this bag as it didn't make sense, but when they released a limited edition color (what's shown in these pictures is a color not available any longer, sorry) I dug a little deeper into the bag. And when I saw that the bag can be stored inside a pocket of it's own, I bought it.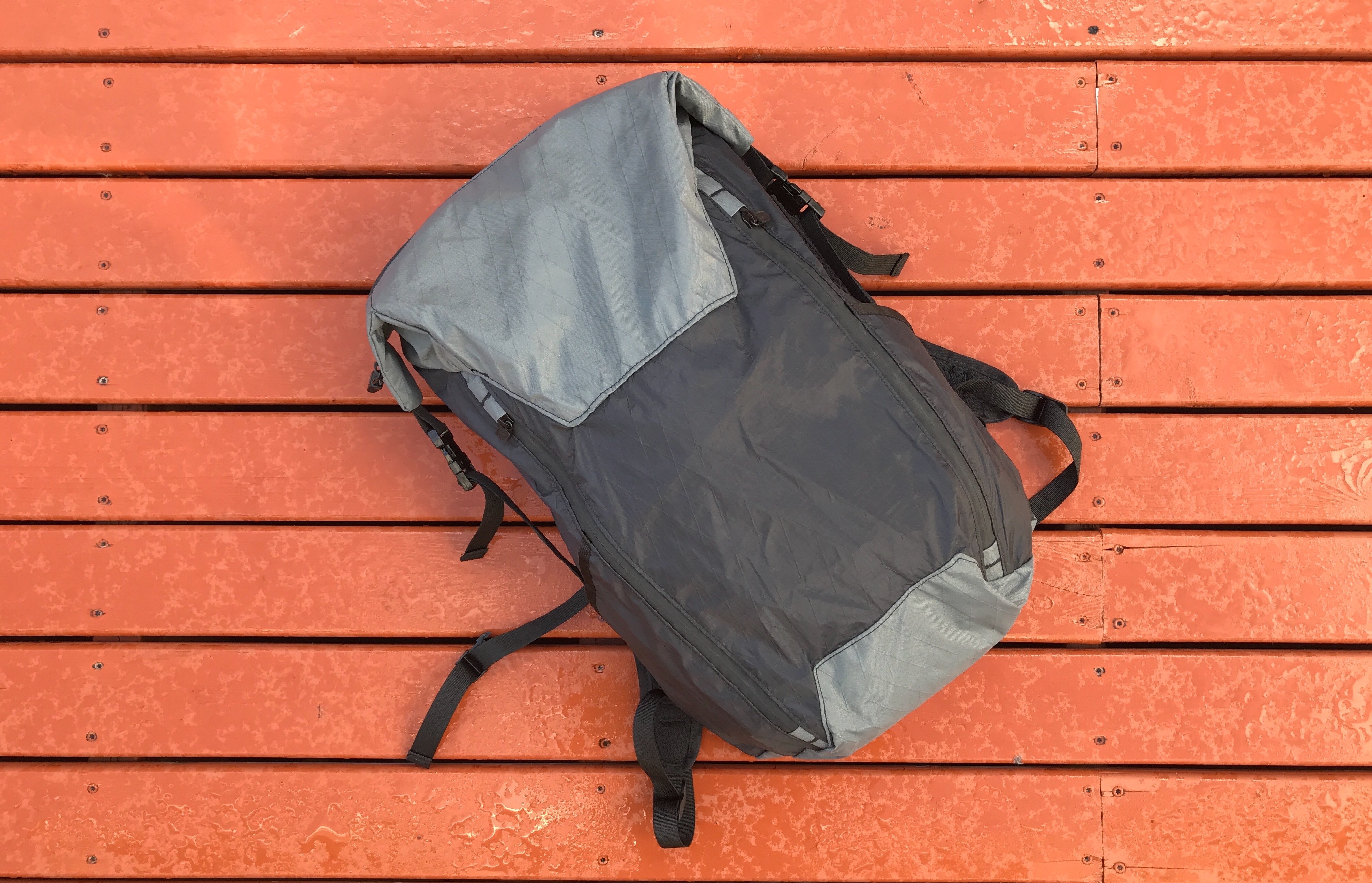 At $120, it is a bargain for what you get both from the materials and the design. But it's also only $120 because it is a purpose driven bag.
Purpose
This bag is designed to be something you stowaway in case you need it. Something you pull out to gain extra storage, or a different bag type should your situation dictate it. In other words, it's not designed to be an everyday backpack for people to use, but something storable.
That doesn't mean it can't be used daily, as I've found it to be quite good if you can get used to the idiosyncrasies with the bag. It stows nicely in it's own pocket. It weighs very little. It is overly large. The straps are solid, and it even has pass through for hydration bladders.
But there's no framesheet, which means it is a floppy mess (how else would it wad up into a stow pocket?) and because of that it's not great for carry heavy loads. The straps are not padded, and thus not made to comfortably carry a lot of weight.
Think of this less as a laptop backpack, and more as a soft/bulky goods bag. Anything heavy has a high probability of being uncomfortable against your back.
Size & Storage
The backpack comes in at 19L, and it's a big 19L, feeling almost as big as my 26L GR1. It's big. It also has very few storage options: main compartment, side pocket, and top pocket (which doubles as the stow pocket). Other than that, it's a big cavernous pit which holds an impressive amount of stuff.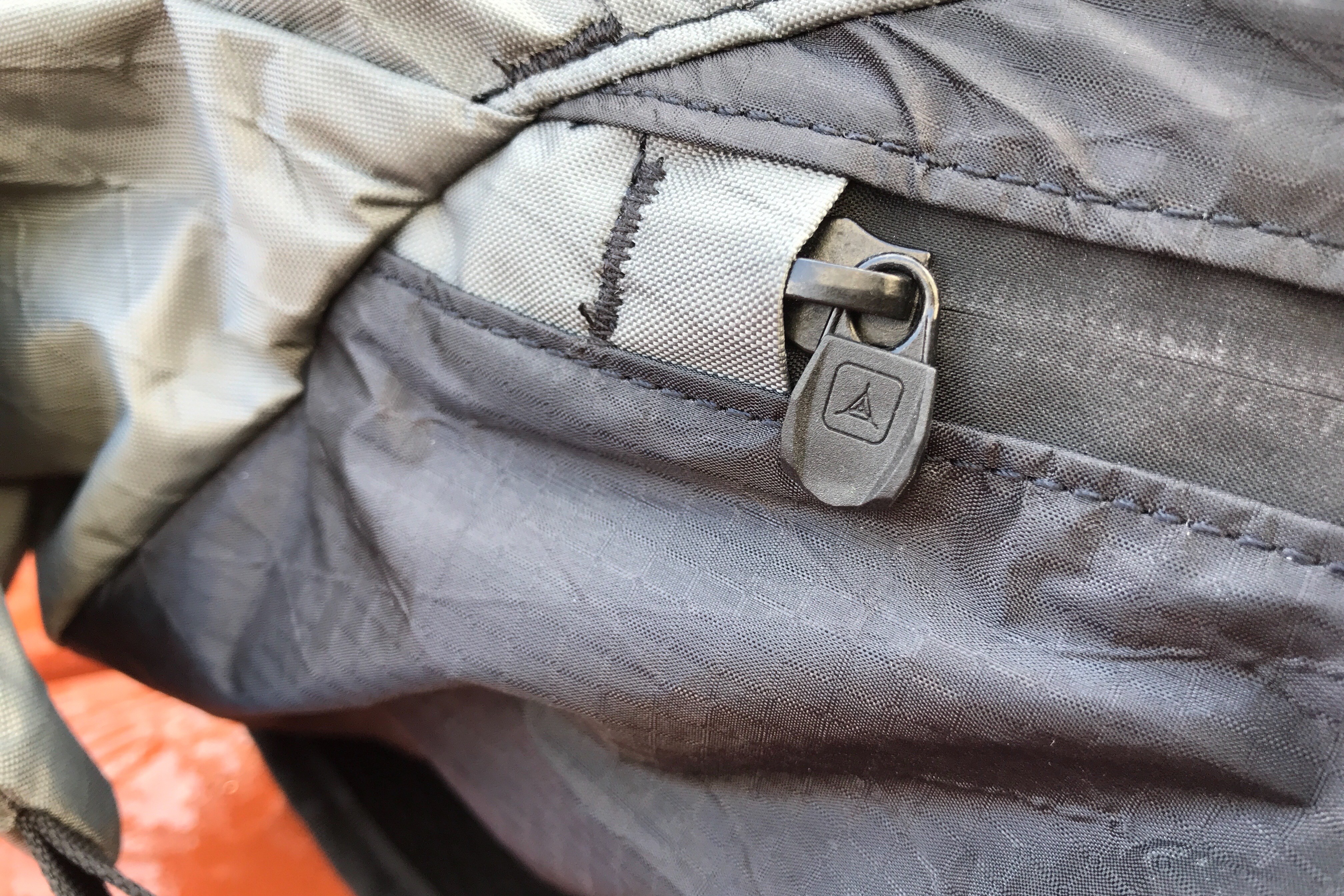 Use
It's best to load the bag from the top down, once loaded you can cinch the top of the bag down which helps to stabilize the pack when the load out is smaller. On the right side of the bag is a vertical zipper which provides quick access to the main storage area of the pack. On the left is an identical zipper, but it has a full length mesh pocket, which you can store longer items for quick access. Each side has water bottle pockets with no stretch, while the interior has: loop for water bladder, two attachment points for Triple Aught Design accessories or laptop sleeves, and the stow pocket which doubles as a very nice mesh pocket at the top of the bag.

Full length mesh pocket on the left side.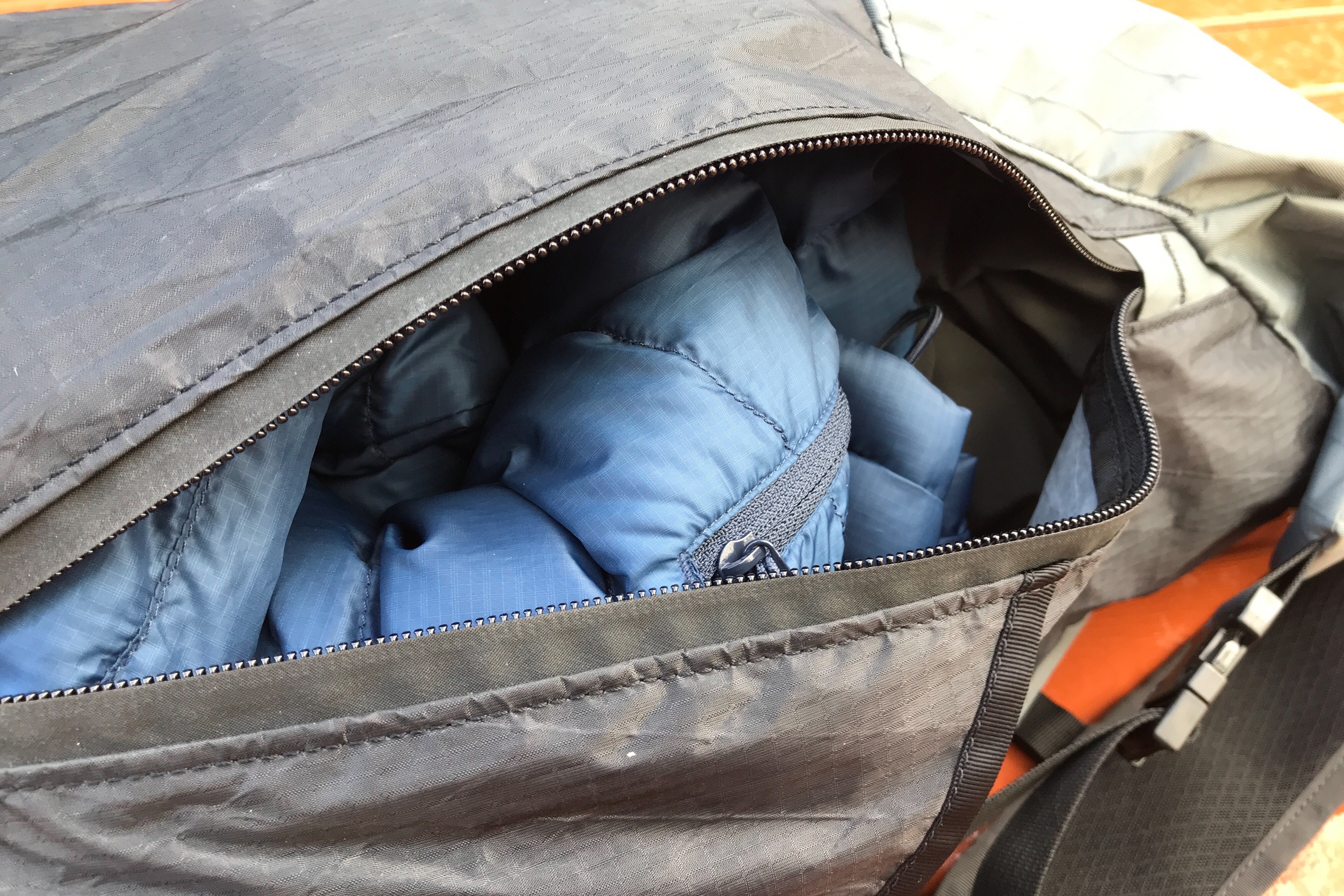 Quick access to my down jacket inside the bag.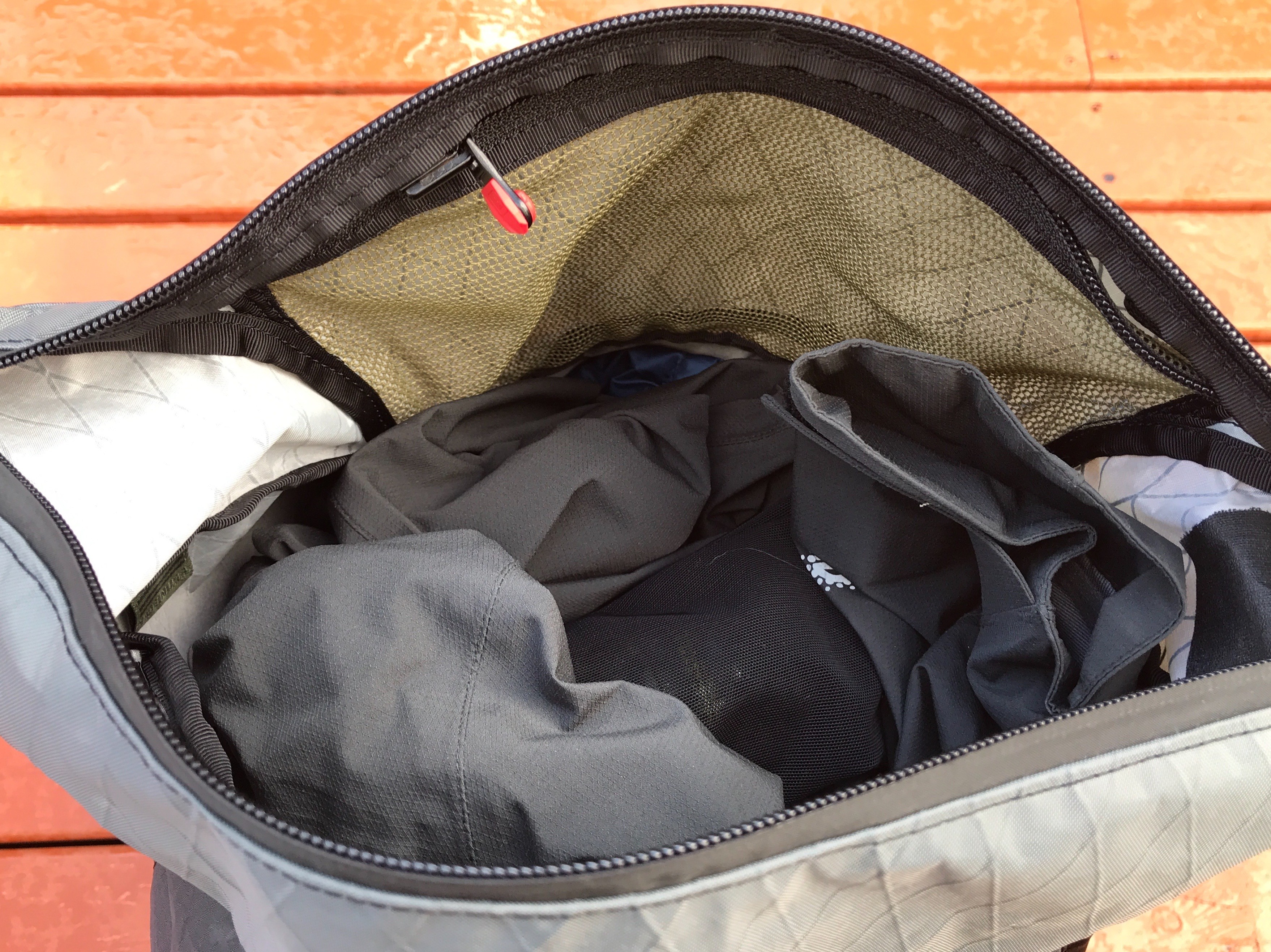 Overall, when using this bag to load it out, it's fantastic. I personally add an Admin Panel from Triple Aught Design (review to come), but even without, it's well appointed to keep things tidy, while not eating into good space for storing bulky layers.
The big issue is that the back panel of the bag is thin, so anything lumpy is lumpy on your back. Even having a water bladder in the bag can be problematic, as you will feel the cool of water on your back, and also heat the water with your back. It's less than ideal for a long day without an insulating sleeve on the water bladder.
In almost every situation I've used the bag in, I've found it to be fine. Not great, fine. The biggest complaint I have about using the bag is that it never stands up. It flops around like a toddler being asked to clean up.
Comfort
The biggest point of contention you might have with this bag is the comfort of it. The straps themselves are great. I tested this bag not only in day-to-day situations with my kids, but I also hiked a dozen miles with a water bladder and other items in the bag.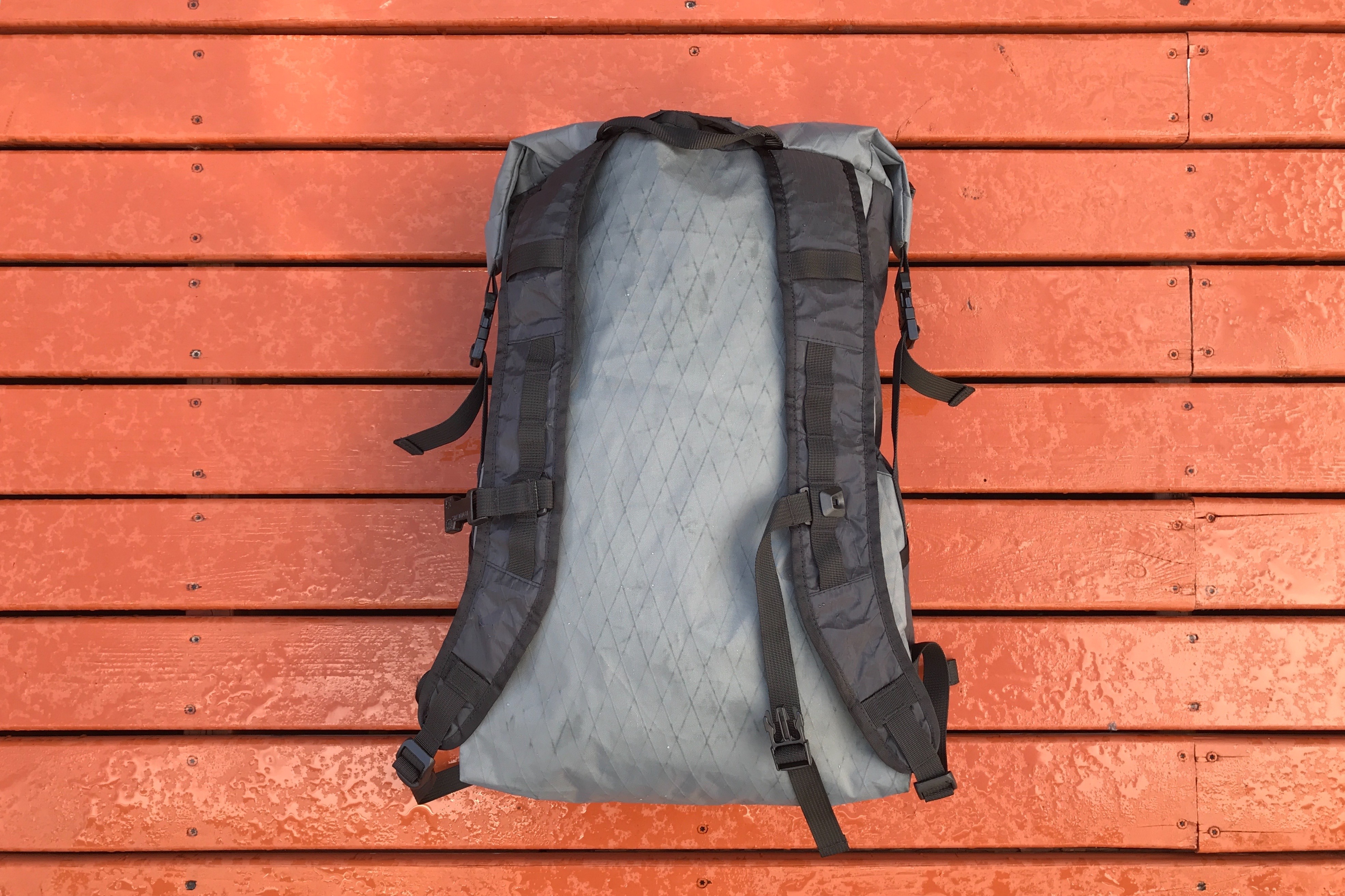 It was never uncomfortable, not in the way that the framesheet bothered my on the Outlier pack, but it was never luxurious feeling. There were multiple times where I would start going, and stop quickly to rearrange the bag contents a bit so they were comfortable on my back. After that, things where fine.
If you get this bag, get it to carry soft things, and you'll be fine.
Final Thoughts
A week into owning this bag, I regretted it. After quite a few more weeks, I like it. I've come to accept what this bag is, and what it isn't. It'll never replace any of my other bags, but it will complement them well. It's overkill in the summer, and likely perfect in the winter. I can stuff my kids winter coats, and a layer of mine own in the bag with water and snacks and a battery charger. It fits well, and carries well.
It has just enough extra features, like the water bladder, to make it a great bag during times when you just want to be light. This is the bag you grab when you want to grab something well made and versatile. The bag will keep out most water, and hold a ton.
I can see it not only being a great dad bag for me, but excelling in travel — with or without my kids in tow. It's far to easy and light not to carry with you if you even think you may need to shed some layers, or buy something you would have to carry around the rest of the day.

All stowed away.
If I could change one thing, I would make the bag 2 inches thinner — that would make it nearly perfect. Still, for $120, it's a really good bag. It's too bad they only have the black, and black/white bags now, as the colors offered for a limited time where really great.