Currently on Kickstarter for a few more days, the Meridian Dress Shirt is billed as the ultimate travel shirt. It boasts the standard set of travel dress shirt features: multi-day wear (because it is odor resistant), wrinkle free, breathable, and comfortable. Bluffworks sent me a non-final press sample, which arrived just a few hours before I left for a weekend trip. Here's my initial thoughts on this new shirt.
I tested this shirt by wearing it while loading my car for the weekend, driving two hours and forty-five minutes, and then unloading the car. I hung it up, and put it back on a couple days later to again load the car, drive the car, and unload the car. Then I wore it for half a day at work (I got too warm with my t-shirt under it) and lastly I wadded it up and stuck it at the bottom of a pile of stinky clothes for the night. So basically, I abused the shirt pretty well in the short time I've had it.
Most synthetic dress shirts leave me with the same conclusion each time I test them: they are prone to stinking, they are comfortable, but they look like a synthetic shirt. The dead give away is usually the collars and cuffs of the shirts looking too bulky, and the sleeves not draping correctly.
So, how did the Meridian fare? Extremely well.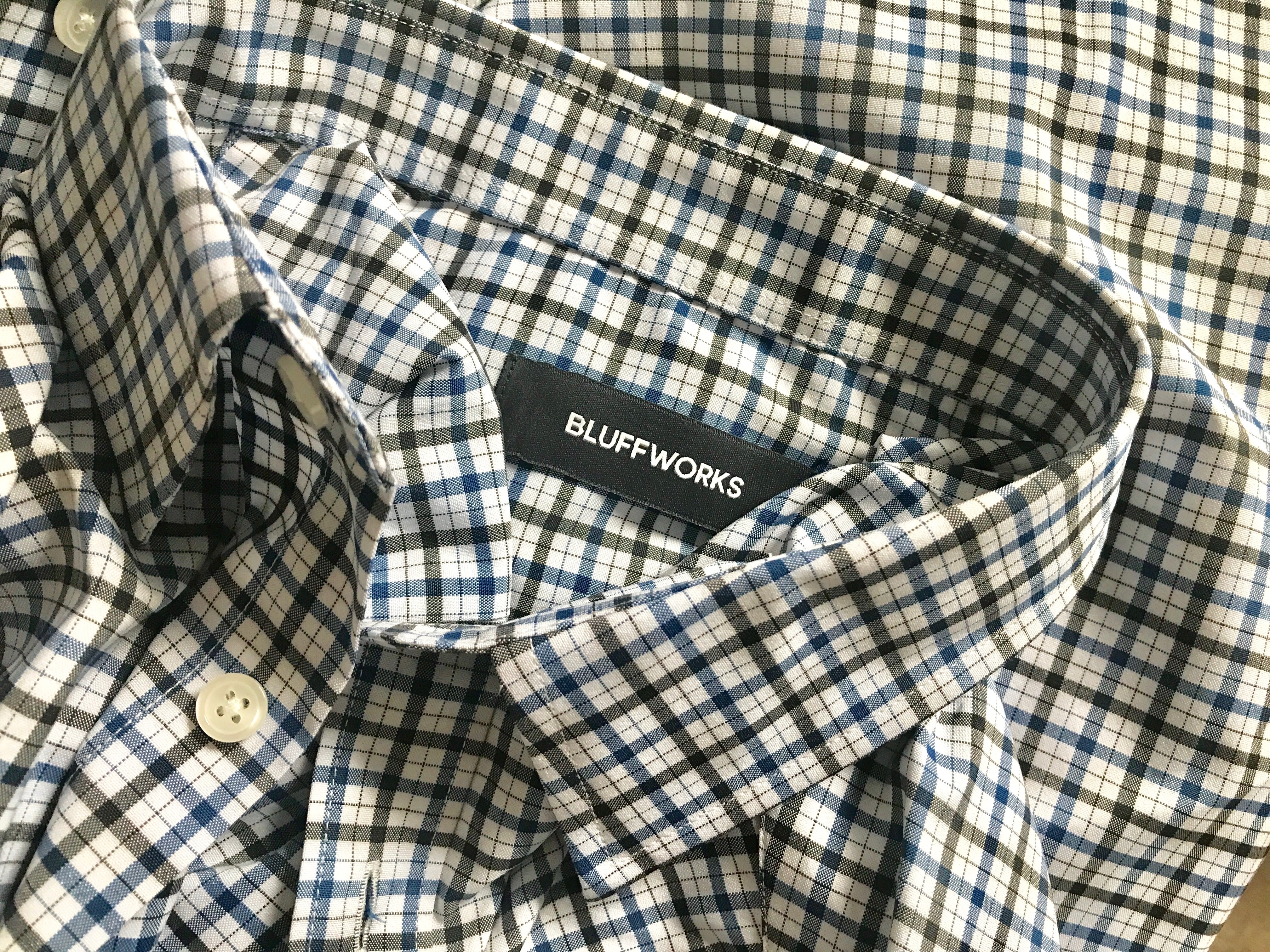 Odor Resistance
Most synthetic shirts only resist odors marginally better than cotton, and synthetics in general are known for soaking up odor. It wasn't until this vary morning, after the shirt spent the night wadded up with stinky dirty clothes, that I detected a odor on it. Even then, it was localized to just one of the two armpits (I'm guessing here, but if I had hung it, or rinsed the armpits one time, it would still smell perfect). The rest of the shirt had no smell, and keep in mind I was really active loading and unloading things from my car, twice, while wearing this shirt.
This is the most odor resistant synthetic shirt I've tested so far, and I can't wait to test it more.
Comfort
Bluffworks tells me that the fit isn't quite final yet, so I won't comment extensively on that (which will have bearing on comfort). I will say that I picked up a size Large, in the slim fit, and it fit like a tailored shirt on me — perhaps the nicest looking of any of my current dress shirts. I'll be interested to see what and how they tweak it.
The stretch in this shirt is minimal, and what is called 2-way. Meaning it's not something which stretches in any direction, instead it stretches width wise in the body and arms. This gives you more movement across the back, but no stretch in the arms when you are doing most articulation (but it will stretch if you move your arms above your head, in an extreme example). Overall it has a lot less stretch than many other synthetics, but it's still very comfortable. The lack of stretch comes into the play on the looks section too.
Lastly, the shirt is billed as breathable, and that's a bit harder for me to test given that it is cold, windy, and rainy here right now. But the material is thin enough that I can imagine this shirt being comfortable well past 80° in freedom units.
Looks
Where this shirt really excels for me is in the looks department. The one thing which keeps me buying merino wool dress shirts over synthetic is that all the synthetic shirts look synthetic. The Meridian doesn't. The Meridian looks stellar.
The collars and cuffs look like a normal dress shirt, and I think the lack of stretch in the shirt really helps with that. The collar itself is stiff and sits just how you want it too, better than most collars with stays in them — certainly the best of any synthetic dress shirt I've tested.
While the material feels synthetic, this shirt looks like normal shirt. That's all there is too it, and coupled with the fit of this sample on me, it looks like a really nice dress shirt. There's no noise associated with moving, and no detectable sheen. Really well done.
Get One
You can back this shirt and get one for $98. It's a no-brainer. The value is there, it's great for people who want a really good shirt that can be their only shirt for a weekend away, or a short business trip. It looks equally good under a blazer, as it does under a puffy vest when you are at the coast for a weekend.
My testing thus far is limited, but it has me convinced that I'll likely be picking up one of these shirts for myself to add to my wardrobe.