When I picked up the Triple Aught Design Azimuth backpack, I also snagged an Admin Panel to try and help organize the otherwise organizationaless Azimuth. It was almost an afterthought of a purchase for me, at $35 it's hard to put too much consideration and I often just try stuff out at that price. I purchased it because it has a clip and rail system that is designed to work in Triple Aught Design packs (I can't test this, but I suspect it might work in Outlier packs too).
The idea behind this Admin Panel is really simple: it's a removable organizer for your bags. What I particularly liked about this is the idea that you can setup the admin panel, and use it in your main bag. Then when you go to use the Azimuth you can put it in that bag. And unlike the GORUCK Field Pockets I normally use, you can see all your stuff, get at it quickly, and have considerable less bulk. Let's dive into how this all works in practice though.
Organization
There's a ton of things you can organize with this simple panel, but let's first start by going over the pockets on it. There's two zipper pockets which are on either side of the organizer (there's a rigid core between them) and these pockets are almost the full width and height of the organizer. These are best for large, flat items. On the front of the panel, there's a series of pouches. The two largest are half the width of the pouch and 2/3s the height. Next there are four oversized pen pouches, which should accommodate about any size pen. Lastly, there are two 1/4 width sized pouches which hold larger cylindrical objects well.
It's a bit hard to visualize, so best to look at an image.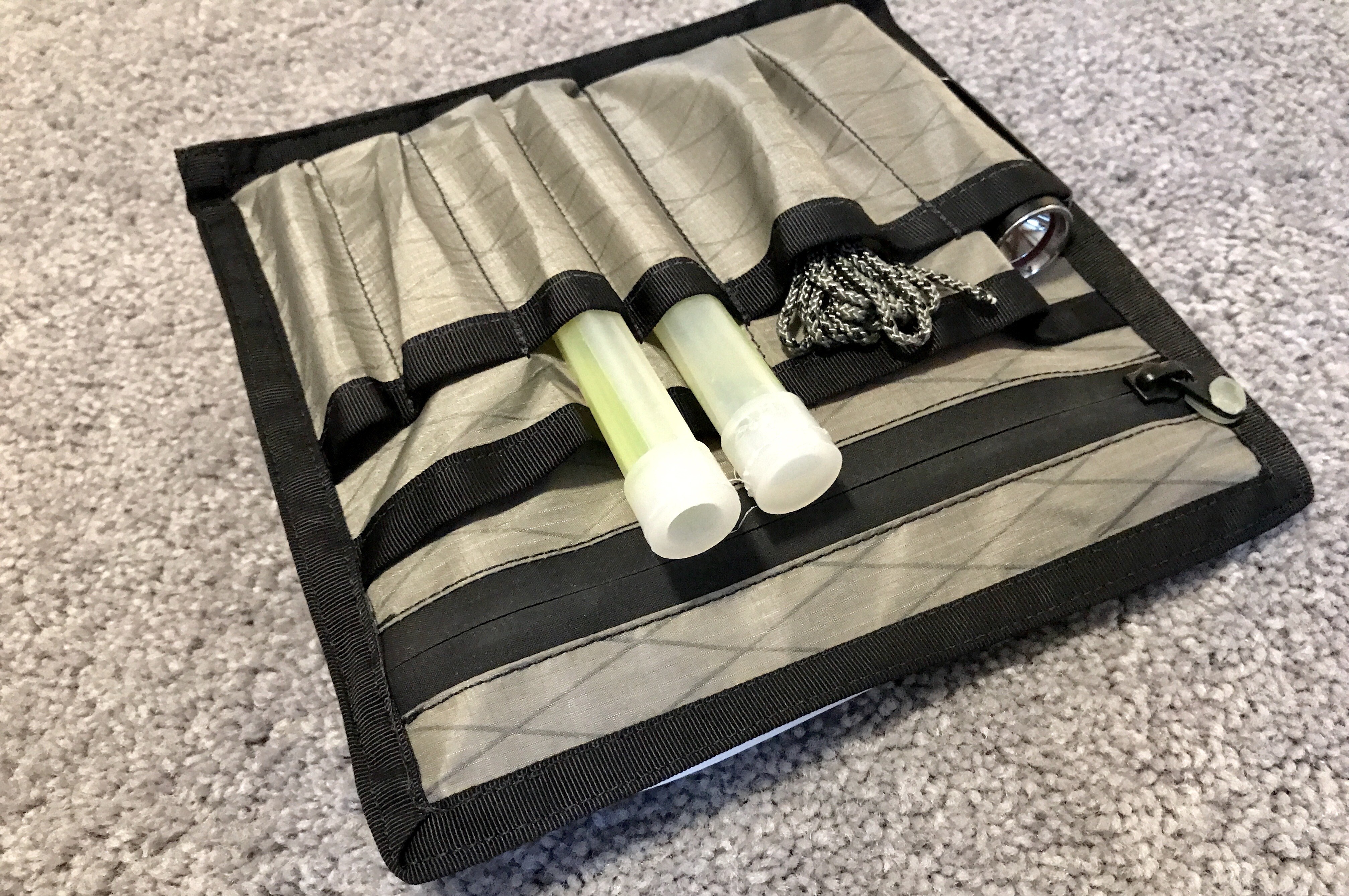 I've found that the two larger pen pouch things hold flashlights really well — they are sized nearly perfectly. The pen slots hold chem lights (glow sticks) well if you turn them upside down. And as precarious as my load out may look, it's all in there securely.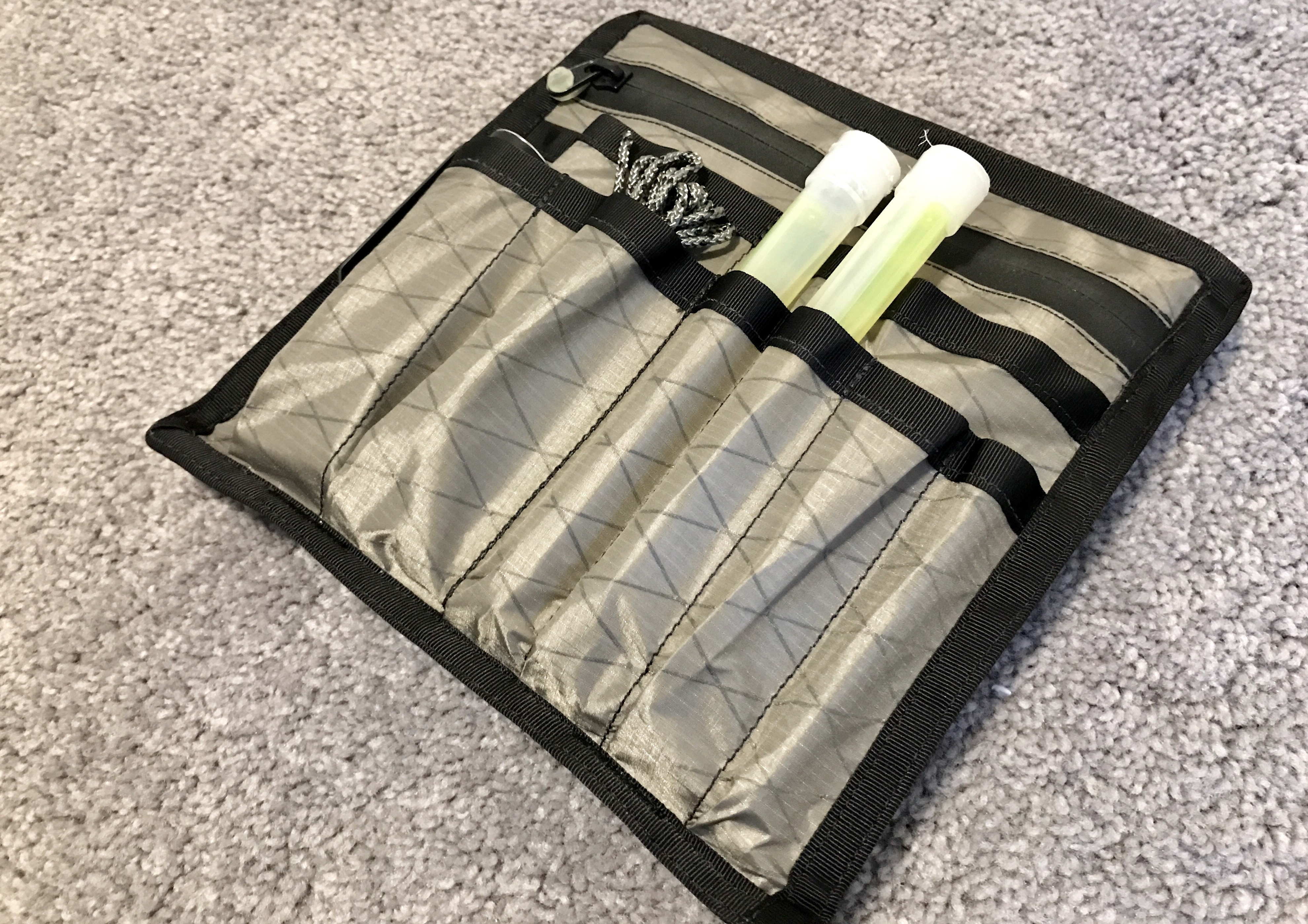 Moving from Bag to Bag
The panel has two rails on the backside, and each rail has a double clip on it. These clip into most Triple Aught Design bags, but the clips can also be removed from the rails if you don't need them. These are very secure clips and are not likely to fail under any reasonable use. However, they are easier to clip into a bag than they are to remove from a bag. I still struggle every time I try to remove these from a bag, and really have come to loathe these little clips.

Having said that, I do like how easy it is to move this panel from bag to bag. In the Azimuth I use the clips, but I really like using the Admin Panel inside my GORUCK GR1. It fits perfectly in the large interior mesh pocket, and the mesh nature of the pocket and the exposed nature of the panel allow me to see everything I might want to get at. In fact this has become my go to use case for this panel: using it in my GR1. It's much better than the large Wire Dopp GORUCK sells (still miss that mini Wire Dopp though).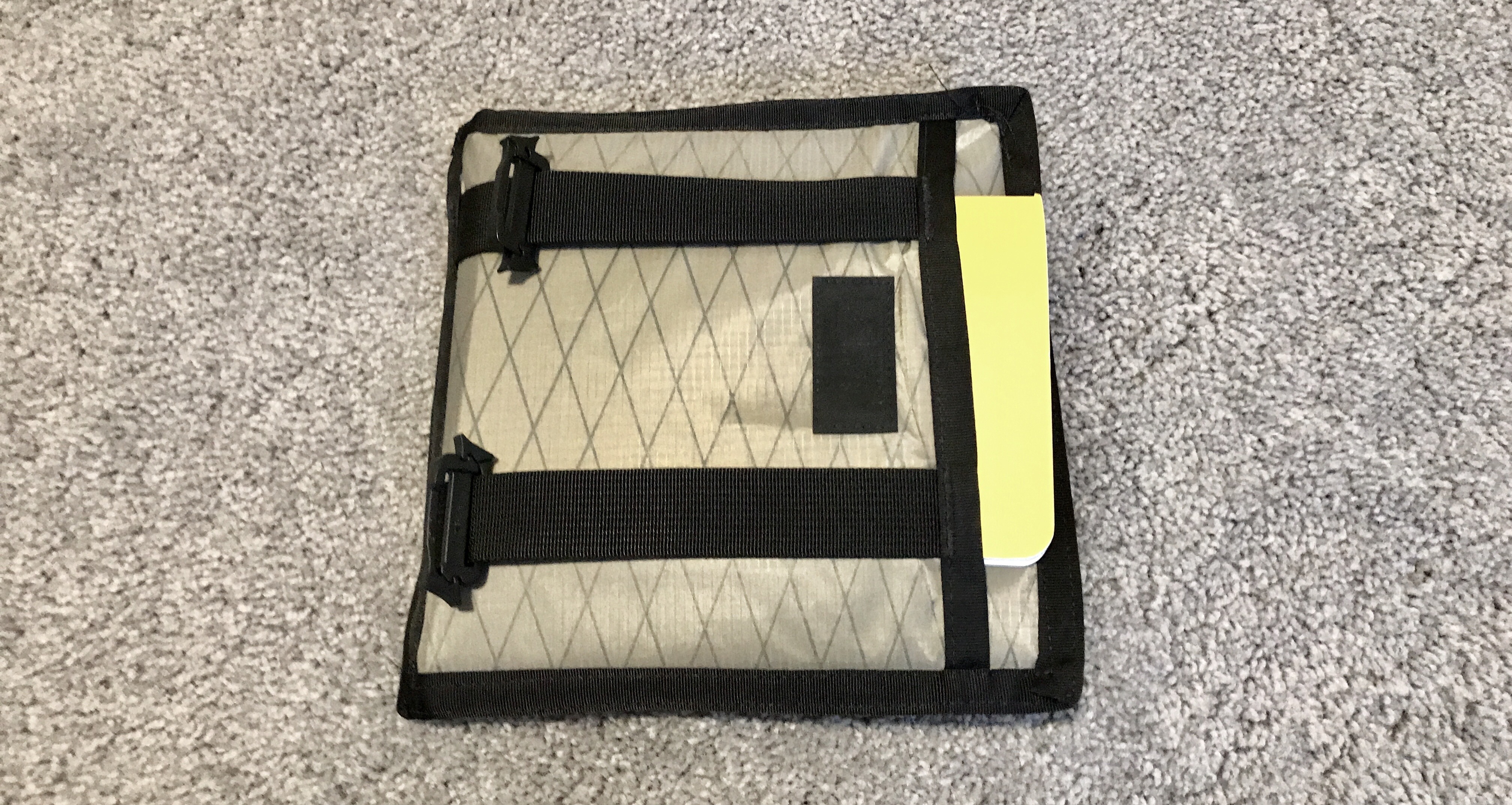 I've long been accustomed to moving Field Pockets from bag to bag, but now with the Admin Panel, I've come to tailor Field Pockets to a specific bag, and move a core set of gear from bag to bag in the Admin Panel — this works out really well for me.
Highlights
A huge part of my love for this is that it both works in the Azimuth and also fits great in the mesh pocket on the GR1/2 — which means I can truly move it from bag to bag very easily, while also staying very organized.
It's a bonus that this organizer weighs almost nothing. But the versatility of the organizer is the true highlight here. You could use it for your office supplies, or for some crazy survival spy gear, both are easily accommodated with the organizer.
My Loadout
I keep a small, and rather eclectic combination of things in the Admin Panel, with the goal being that I should be able to leave it in my bag and fly with it. Leaving the non-flying load out to the bulkier Field Pockets. So when I travel with a bag I know to remove field pockets and add the admin panel if it's not already in the bag.
Here's my load out: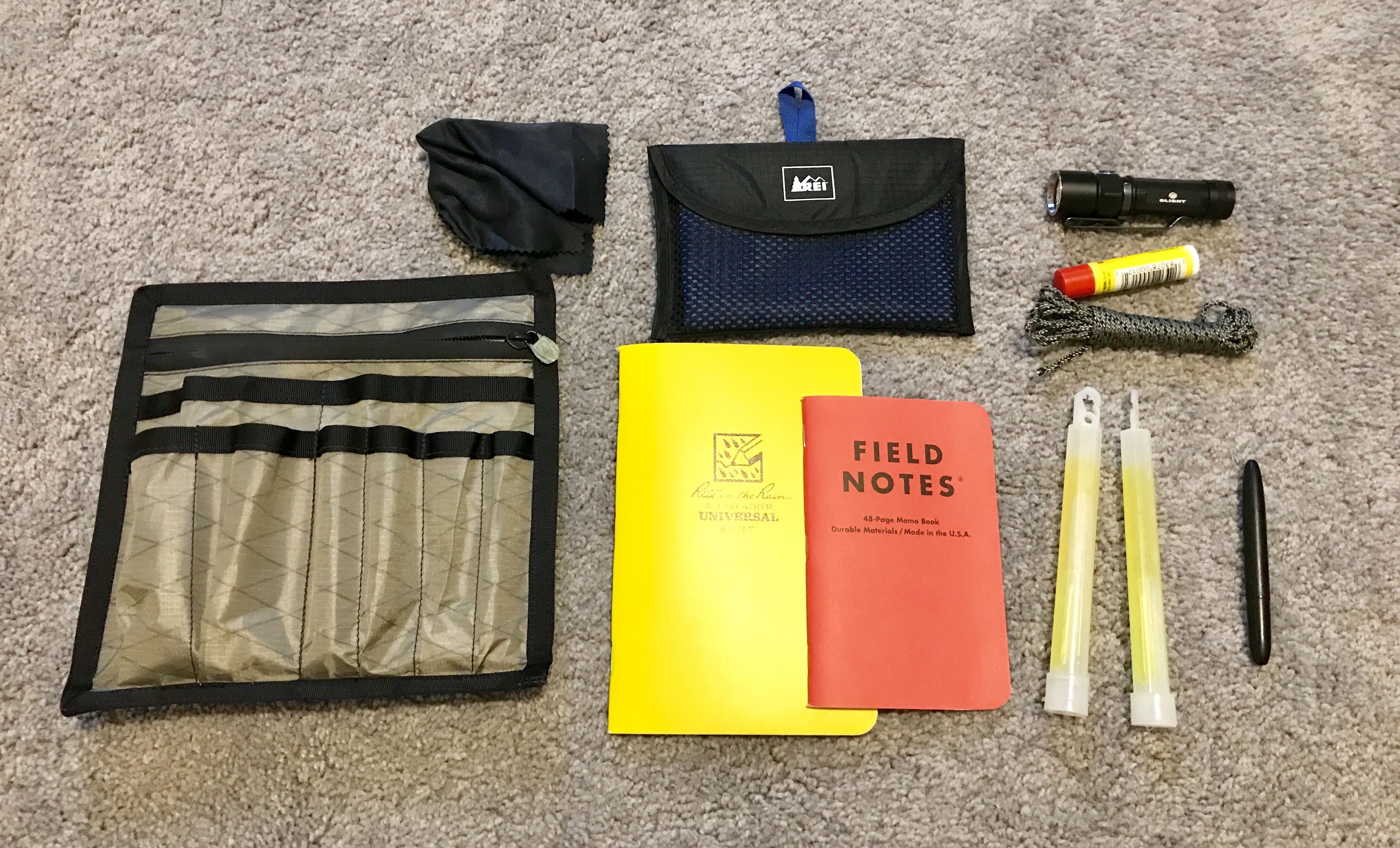 The list:
– Microfiber lens cleaner
– REI Pack Towel
– Rite in the Rain notebook
– Field Notes
– 2 Chem lights (I don't actually know if you can fly with those, to be honest. Quick searching seems to say it should be allowed, but you might run into issues.)
– Fisher Space Pen
– Olight S15
– Carmex lip balm
– Nylon Tether Cord 3/32"
I'll explain a few things on this list, because I'll fully admit there's some odd selections. The Rite in the Rain is the biggest overkill, but I added it simply because I bought a bunch for my bug out bag, and thought it was a neat notebook to toss in there. The tether cord is awesome for tying stuff to the pack, or fixing all sorts of small things.
The chem lights are probably your biggest question mark. I don't carry them for any other reason than entertaining my kids. You want to stop a tantrum right away? Show them a chem light. You want them to have something to do for a while: chem light. I buy these bastards in bulk and I never regret it. Hell, it's fun to play with them even as an adult and I have no shame in admitting it.
Overall
I really have come to like this Admin Panel. I think it's a great addition to any bag, and it works very well in the Azimuth and GORUCK bags. Highly recommended.
You can get one here.