I've written far too many words about the 26L GR1, or GR1s in general, so this likely is the last for quite some time. Since I've now reviewed and spent time with the 21L GR1, I thought a direct comparison between the two was in order.
Let's dive into these two bags…
Differences
There are two main differences between the 21L and the 26L:
The 21L is two inches shorter.
The 21L has a more narrow elastic strap on the internal pocket of the bag.
Otherwise, these bags are identical. Which is great, because the GR1 is a near perfect bag. The difference in the elastic straps is both odd, and disturbing. It makes no practical difference, but the slimmer strap feels quite a bit cheaper in both usage of the internal pocket, and visually. I can't quite understand why this change is there, but it is there.
---
An Aside and Some Quick GR1 History
Normally I don't nerd out about the history of GR1 bags, but there are a few comments I need to make since we are talking about the sizes of these bags and how they prove to be more or less useful under certain circumstances. One of the worst parts about GORUCK is that they destroy the product history with reckless abandon — if it's not in stock you can't find the page on their site, even if you know the former URL to it.
But there's one important bag to talk about as we talk about bag sizes in this post, and that's what many call the "OG" GR1, which was the one sold before there was any other sizes of GR1s. Specifically it's the one you hear me talk about the most often. These bags can be identified in a few ways:
The bottom is made from 1050 cordura, which gives a smoother finish. GORUCK doesn't do this on any of their bags anymore
The straps are not directly stitched to the packs, instead there's nylon webbing slightly separating the two. GORUCK says this was changed because they had trouble QAing the stitch and they couldn't scale well like that.
They have a means to run a hydration tube from the laptop compartment to the main, and back out the top. This was eliminated because it's a stupid spot to put the water bladder and was hard to make.
What's important here is that those GR1s (despite what GORUCK might say in marketing) are a different size than all currently available GR1s. But not by a lot. They are slightly smaller than the current 26L GR1s, and most consider them to be 25L in capacity. I'd say they are somewhere between 24-25L. I'll swear by this model until the day I die, it's fantastic, but the 26L is bigger and that's that.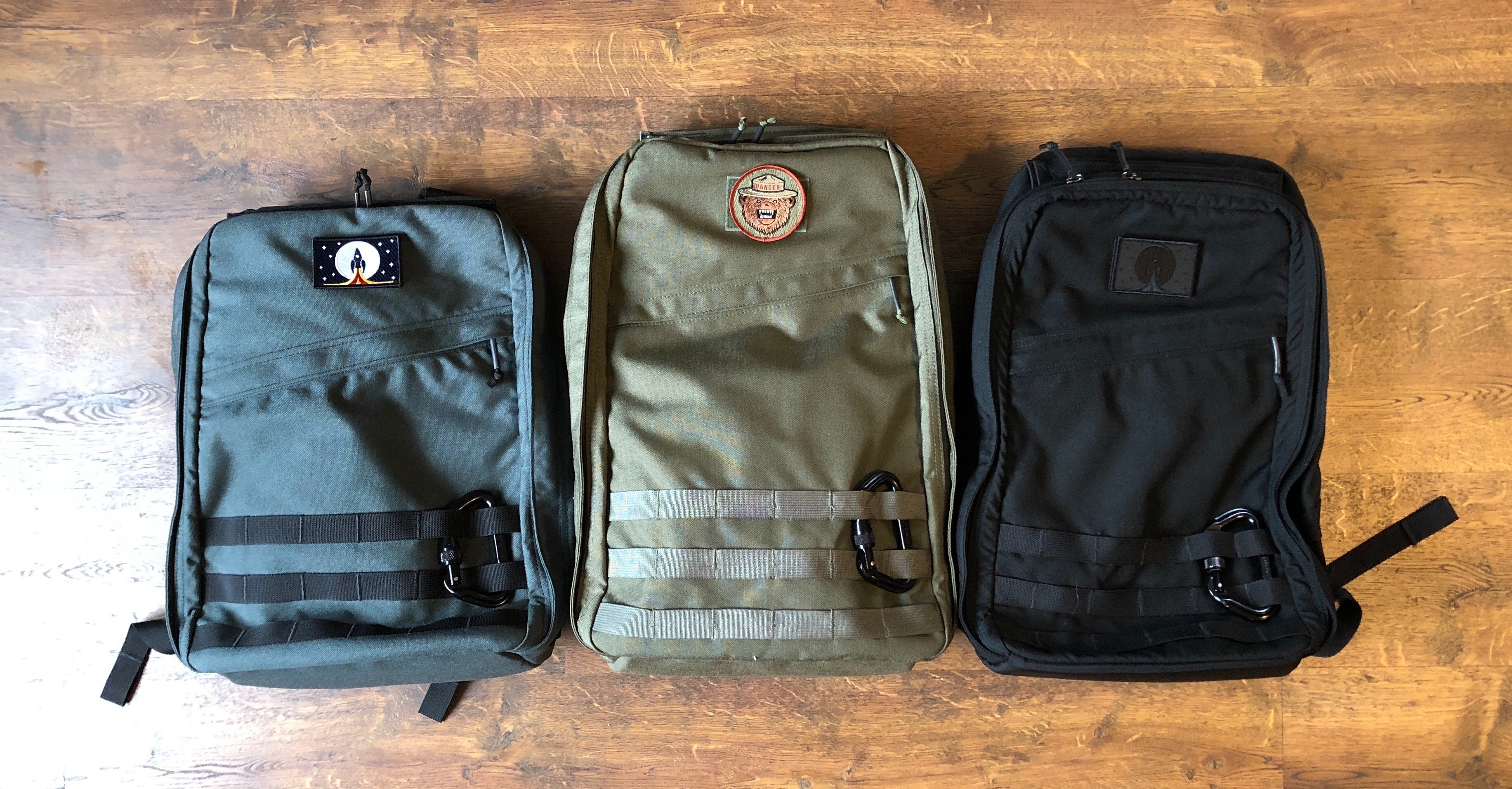 From left to right: 21L GR1, 26L GR1, OG GR1.
However, when I talk about 26L GR1s in this post, I do so with the framework and understanding that you can't get this OG version anymore (you can used, they are a little expensive for a nice one, but worth it if you ask me). So I am basing all comments in this article off the currently available 26L GR1 and currently available 21L GR1. I own models of both, and that's what I am talking about so that you have the most recent information.
If you want to know more about history of GORUCK gear and GR1, check this post from GORUCK, and this one from All Day Ruckoff.
---
For EDC
As I wrote already in my 21L review, the 21L is the optimal size for EDC for the vast majority of people out there. It's slightly more compact, thus making it more manageable in most urban settings. And because the capacity is smaller it should help to reign in how much you are likely to pack for a given day, making the bag less burdensome to carry.
This makes it a much better option: plenty of space for the things you need, but not an overwhelming amount of space for the things you don't need. The only time you might want the 26L for EDC is if you carry taller items, or if you carry a lot of bulky items.
For example, if you need to carry a pair of shoes for a gym workout, you might find that the 21L is a tight fit, especially if you also carry a lunch. In such a case, the 26L is going to give you a reprieve with the extra space it affords. The 26L feels like a much bigger bag when you pack it, but not when you carry it. I'll always fall on the side of the camp that a smaller EDC bag is better, because you're far more likely to use it.
For Travel
This is exceedingly hard for me to answer. Typically when I do reviews and evaluate gear I do so solely for what I, and I alone, think — with little regard to "normal" people. But that presents a tricky situation here because I also know that there are not a ton of people who look at a 21L bag and think "I could pack for a week in that". So instead, let me break it down like this:
the 26L is the bag I prefer. I prefer it because I pack only in one bag. Thus, those extra 5L, while only adding 2" of height, is massively beneficial to me. I could probably go backpacking with this bag, let alone often traveling with it.
the 21L is the bag most people should get unless they have specific reasons or needs for the 26L. Because most people will use this backpack when they travel as a supplement to another bag (which they check, or roll on the plane) and also use the GR1 around town during their travels. In these cases the 21L is a much better size as it doesn't need to be big and being smaller is a bigger advantage.
Basically: if you are a one-backpack traveler and you are worried the 26L might actually be too large for your one-backpack travel needs, then rest assured it's likely the better option. For me, it's the difference between easily fitting a water bottle (filled) and my Bose headphones, and not fitting them.
However, if you think I am full of insanity with packing for any trip in just one little backpack, you're likely to find the 21L to be a far better travel bag. And if you select the 21L, know that it will fit very nicely under the seat in front of you on the plane.
For Body Fit
The way GORUCK bags are designed, and made to be worn, they all should ride at the same level (basically the top of the bag at the top of your shoulders or slightly below it) — that's true with all their bags. So the differing size bags don't protrude above your shoulders at all. This is important because as you start to look at the various heights of the bags, you can easily figure out where they will hit your body — just roughly measure from your shoulders down.
So in the case of the GR1, the 26L will have the bottom of the bag sit two inches lower down your back, than the 21L. Each person has different body types, so I think GORUCK's advice of the over/under 6 feet tall is about as universal as anyone can get.
As someone who is 6'-3", and with an overly long torso, I find the 26L to be the perfect length to cover my back without any annoyance. The 21L, though, doesn't at all feel too short or small on my back. So the biggest concern will be for people who are shorter, where they might not find the 26L as comfortable as the 21L. Basically you want the bottom of the backpack to ride in a spot where it is not irritating you as you wear it, and riding on your butt or belt line can be quite annoying.
Which One?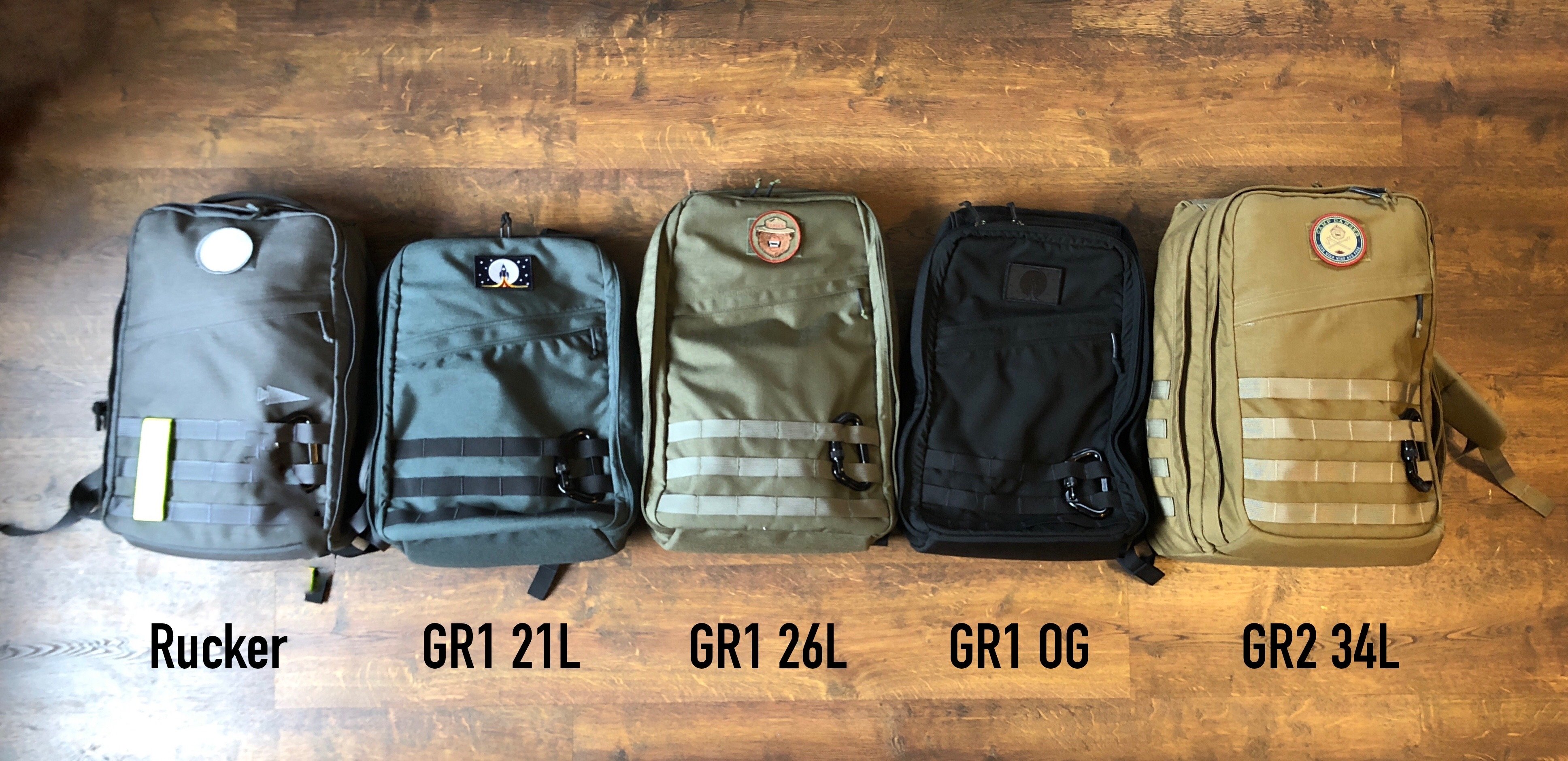 I am torn. The 21L, as I've said, is likely a better bag for most of the situations I encounter, whereas the 26L is slightly better for travel. So I own both sizes. My advice remains the same:
The GR1 is a near perfect backpack and the backpack you should get. If you can only have one bag, make it this one and buy a cheap duffel bag if you can't pack everything in this.
The 21L is the better variant for most people. Unless you are tall (say over 6'-2"), you should get the 21L and not worry about it.
If you are over 6'-2" and know nothing about optimal bag sizes, get the 26L, you'll be happy.
You only need one, it'll last a lifetime. (My original GR1 is from 2011, 7 years old and it looks brand new and is perfect, despite being used constantly.)
So there you have it. You can find the bags here.