It has been a while since I've reviewed a knife which is made to be an everyday carry blade. The reason has been simple: I found the Chris Reeve's Small Sebenza 21, and it is perfect. I do mean that, I've been using that knife a lot, and it really is perfect. But based on some very strong reviews I picked up this Massdrop collaboration the 'Gent' to see how it stacks up.
The Gent is (as far as I can tell) "produced" by Massdrop, designed by Ferrum Forge, and made by WE Knives in China. It's basically super weird, so from here on out 'Gent' is what we are calling this knife, but do know there's some stuff around how it got made.
The long and short of this knife: had I found this before the Small Sebenza, I would have crowned this the perfect knife. And given the price, it would not be absurd to make the argument that it is a better everyday knife than the Small Sebenza — as much as it pains me to write that.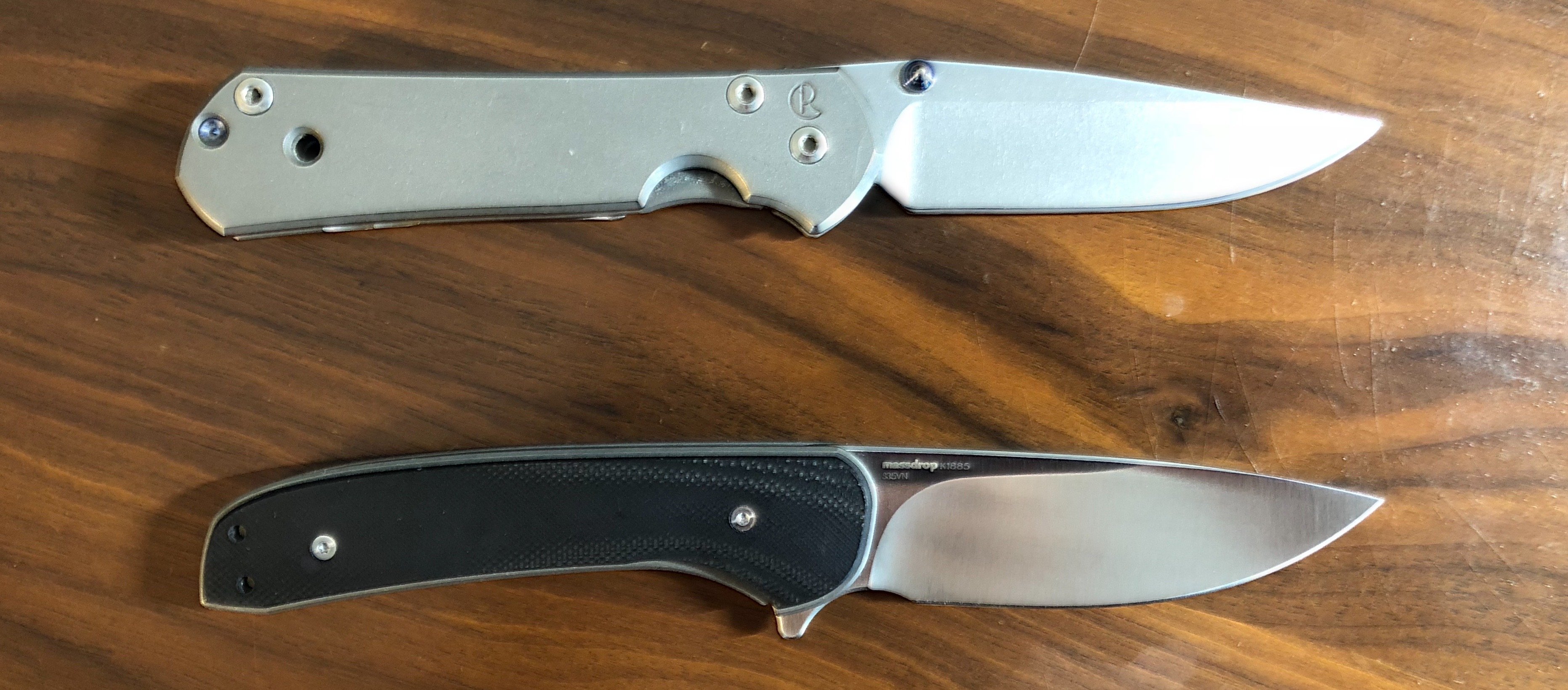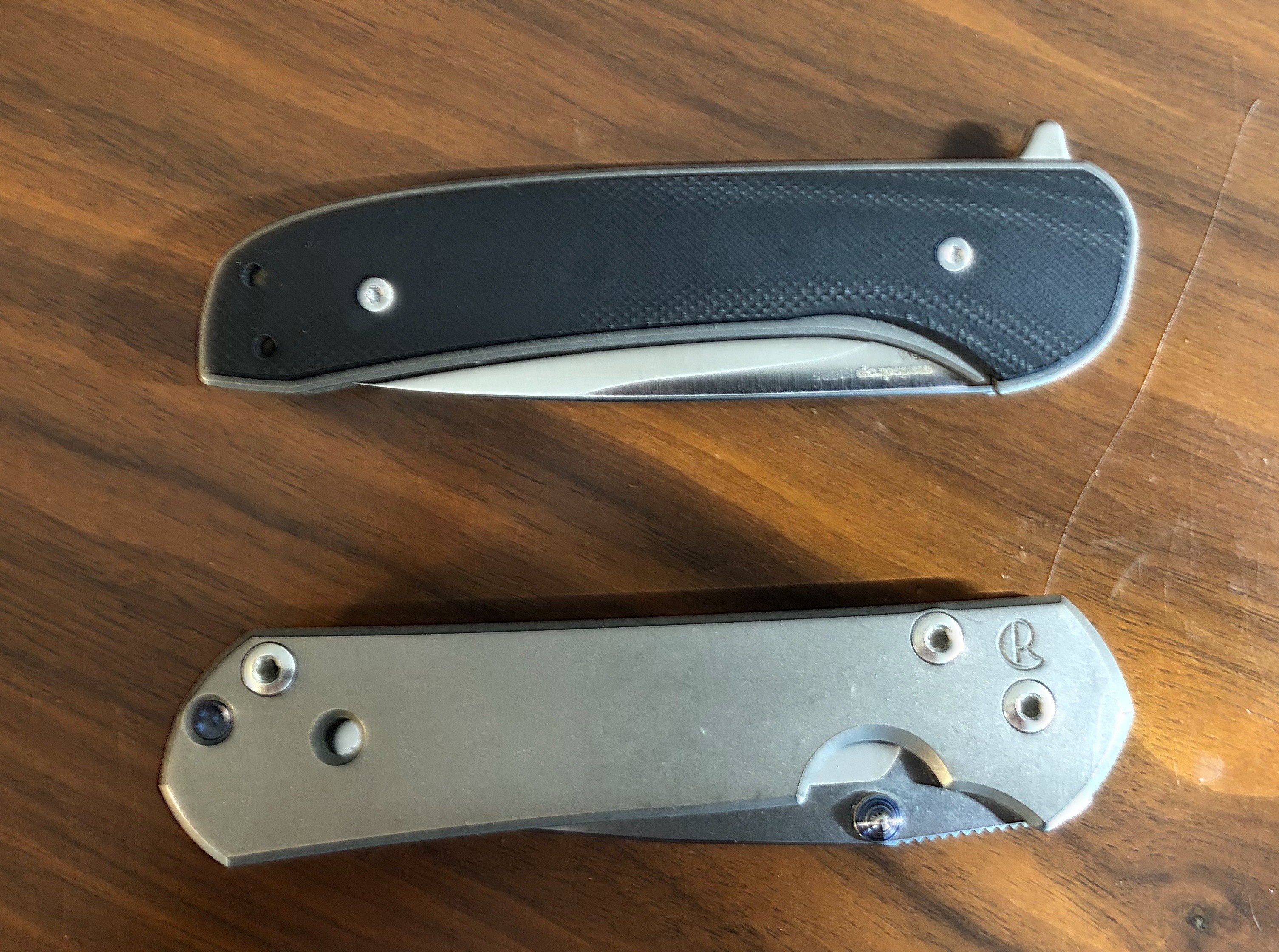 The Blade
The blade is S35VN, which is more and more becoming the standard for good knives. Same alloy as in the Small Sebenza, but every manufacturer is a little different treatments. This is on the softer side of the S35VN I've used, but that almost feels unfair to say. If you care about steel, then you know what I mean, if you don't care about knife steel and just want to know if this is good or not, it's great. It's not amazing, but it's really great — again it's among the more common "upper end" knife steels (high end has moved to M390 and S110v mostly, both are fucking annoying to sharpen).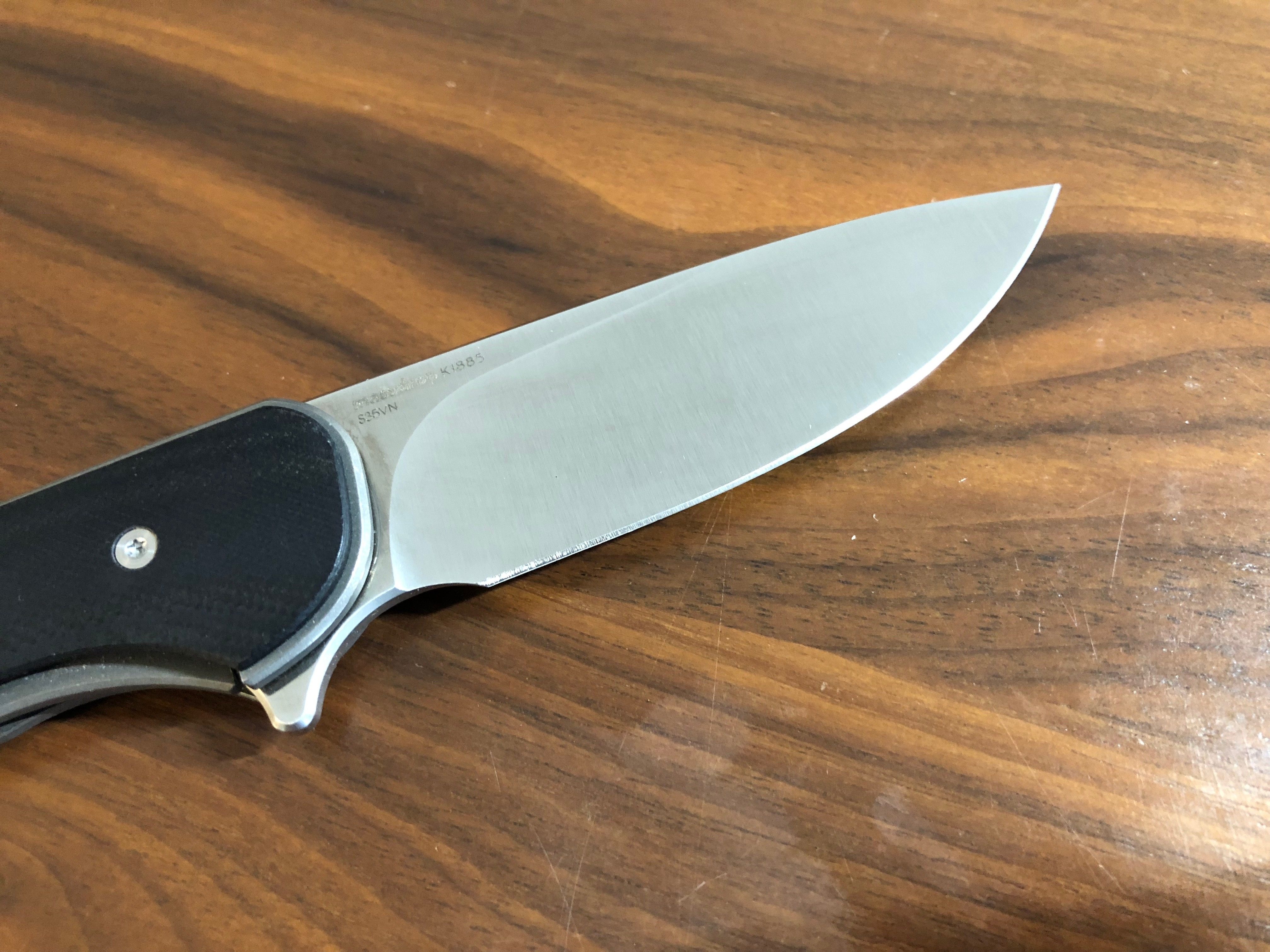 The shape of this blade is superb. It's a drop point design, with a very thin cross section and a touch more height than the Small Sebenza. The spine of the blade is chamfered on the edges, which is very nice when controlling the back of the blade with your thumb. I would have loved to see this be rolled like on the Small Sebenza, but it's still very good.
A lot of knives fall down for me on the blade area, but the Gent excels here. Really good blade shape, design, and steel.
Deployment
I was nervous about this knife, as it is a flipper. I tend to like knives with thumb studs to open, as they are reliable and controllable. A flipper has no such stud, and instead has a bit of metal which protrudes from the bottom of the handle. Applying pressure causes the blade to flip open.
And flip it does. The action is smooth and the lockup is solid. But it's go or no go. There's no opening it slowly with one hand like with a thumb stud. You can open it quick or fast, which is depends on the pressure you apply and if you flick your wrist or not.
It's a ton of fun to play with, and very useful 90% of the time. I do find this type of opening to be a little more menacing, and thus it might come across less than gentlemanly. I really don't like flippers, but this is the only flipper I've found which I will tolerate. It's not too bad.
The one issue I've had is that the titanium handle can catch my nail when I flip the blade open, and more than once I nicked the edge of my nail on the scales. I think I might sand that edge down a bit, but otherwise no issues at all with deployment. Most people will like it, I am fine with it.
The Clip
What a pile of shit. On an otherwise nearly perfect knife, the clip itself feels cheap, doesn't match the design of the knife, and very much feels like an after thought. I ditched it right away, and recommend you do as well. It sucks. I hate it.
Worst part of this knife.
Using It
Everything I said up to this point doesn't matter much if the knife sucks to use. However, this knife is a joy to use. The balance is superb. The titanium handle with the G10 scales is fantastic. The quasi-liner-frame lock works really well, even if it is geared for right handed people.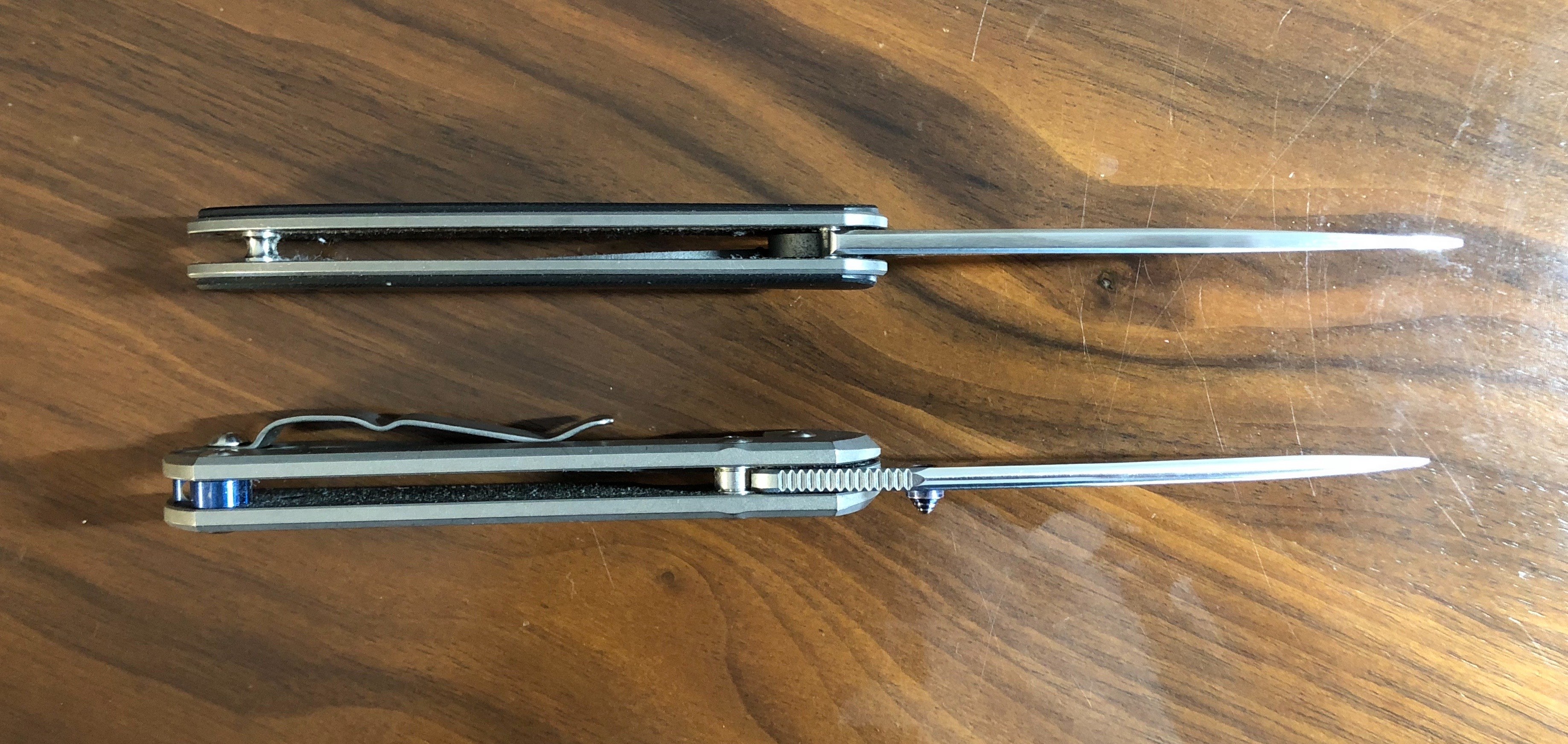 More than any of that, this thing slices like a beast. The blade shape will absolutely destroy Amazon boxes in a very precise manner. This is among my favorite knives to use. It whittles like a champ too, all around a fantastic design.
The handle itself fits in my hand quite nicely and comfortably. The flipper tab makes for a nice natural stop to keep your index finger back from the blade. And though it looks like there's forward finger choil, there's no way I would want to use it because it's way to close the the edge.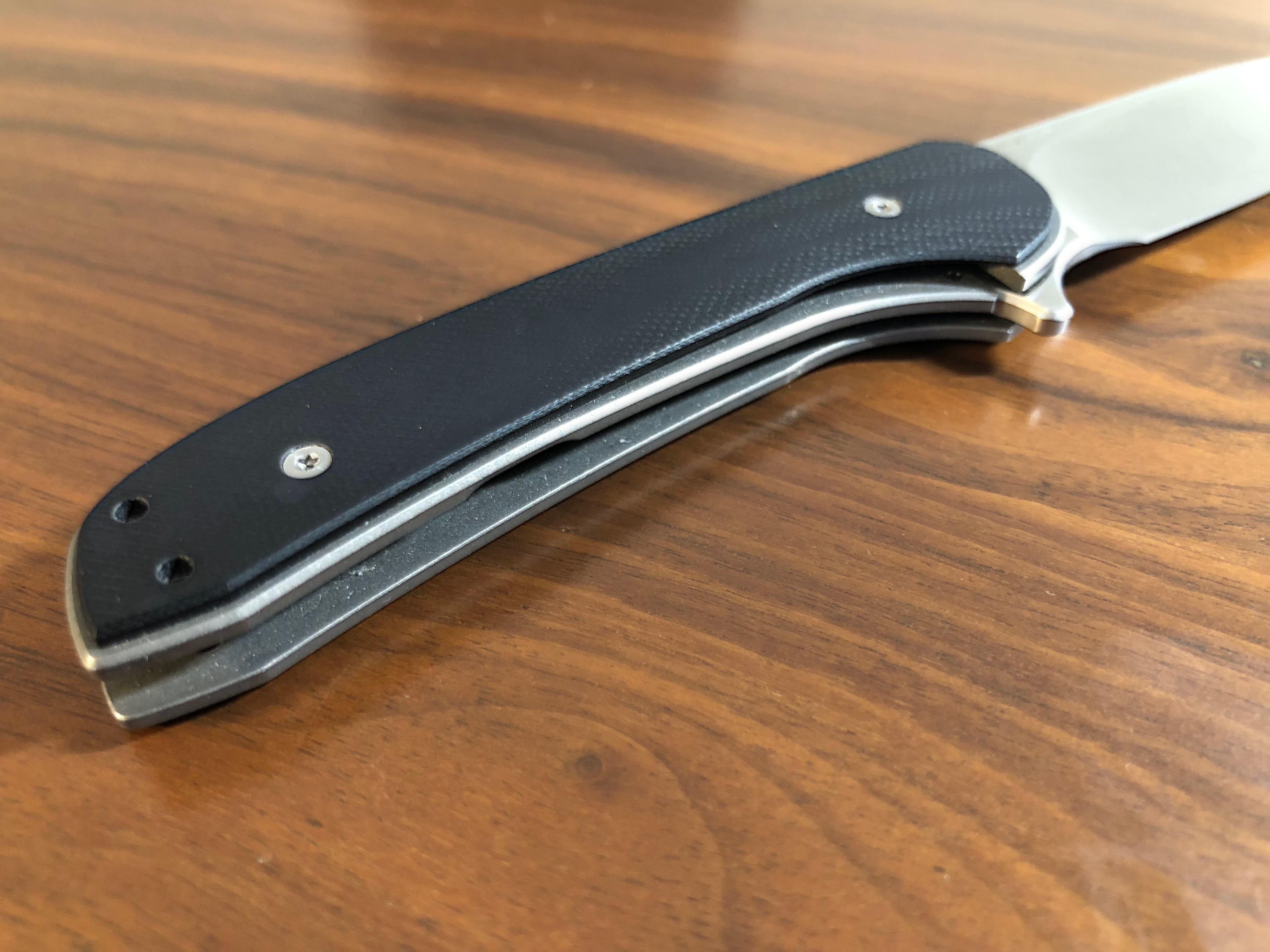 I really enjoy using this knife. It's not one I think I could use all day long without issues, but rarely do I find a knife in this size class where I could. That said, I would certainly want to use this knife that much. It's really a joy.
Overall
As I said above, this knife gives the Chris Reeve Small Sebenza 21 a run for it's money. It won't replace mine, but only because I already own one. And, given that you can buy 3-4 of these for the price of one Sebenza, it's a hell of a knife.
If you are the type of person to only want one knife, you can't go wrong with this one. It's hard to acquire given the Massdrop nature, but Massdrop is currently selling a limited run with lovely rosewood handles or carbon fiber. I'd get another, but I really don't see why I would need more than one.