Note from Ben: What follows is a review of Tom Bihn's Synapse 25 backpack, written by my father after he took the bag globe trotting. The bag was provided for review purposes by Tom Bihn.
My dad is the perfect person to review this bag. He is the person who I got my gear obsession from, and someone who has certainly used more bags than I have. He has experiences with nearly every bag talked about on this site, as I tend to loan or give him many of them. He has a GORUCK GR1, which he opted against for this trip. Unlike me, my dad tends to pack much heavier, while still being efficient with it. And, also unlike me, he likes his bags to have a lot of pockets to keep him highly organized, whereas I tend to prefer more of a blank slate for my bags. Here are his thoughts…
---
22 days | 10 cities | 12 airports | 4 train depots | 3 rental car sites | 1.5 packs
imagine looking at iMessage on your phone…
Ben: "How's your trip planning/packing going"
Me: Planning is great, haven't started packing, bought a "urban" backpack on Kickstarter that really sucks so it went off to St. Vinnies."
Typical Ben, he processes for a bit and later that night I get a text that says: "you should try this, https://www.tombihn.com/products/synapse-25?variant=19611983431"
I click the link and see a nice, sleek, Tom Bihn Synapse 25 of all kinds of colors. I ponder for a bit, and click to buy. Argggg… F***, not available in any of the colors I would want, "in production" it says. Fortunately, one was available and delivered a few days later.
Note from Ben: I actually dropped Tom Bihn a note to see if I could get the bag to my dad quicker. That's when they sent over the review sample with a smattering of accessories for the bag.
I've been accused of being an over-packer; I prefer to think I'm prepared. For what, only God knows, but it's a good feeling to reach into my backpack and pull shit out that I need, but even a more glorious sensation to pull out the extra batteries for someone else's dead wireless headphones and dangle it in front of them.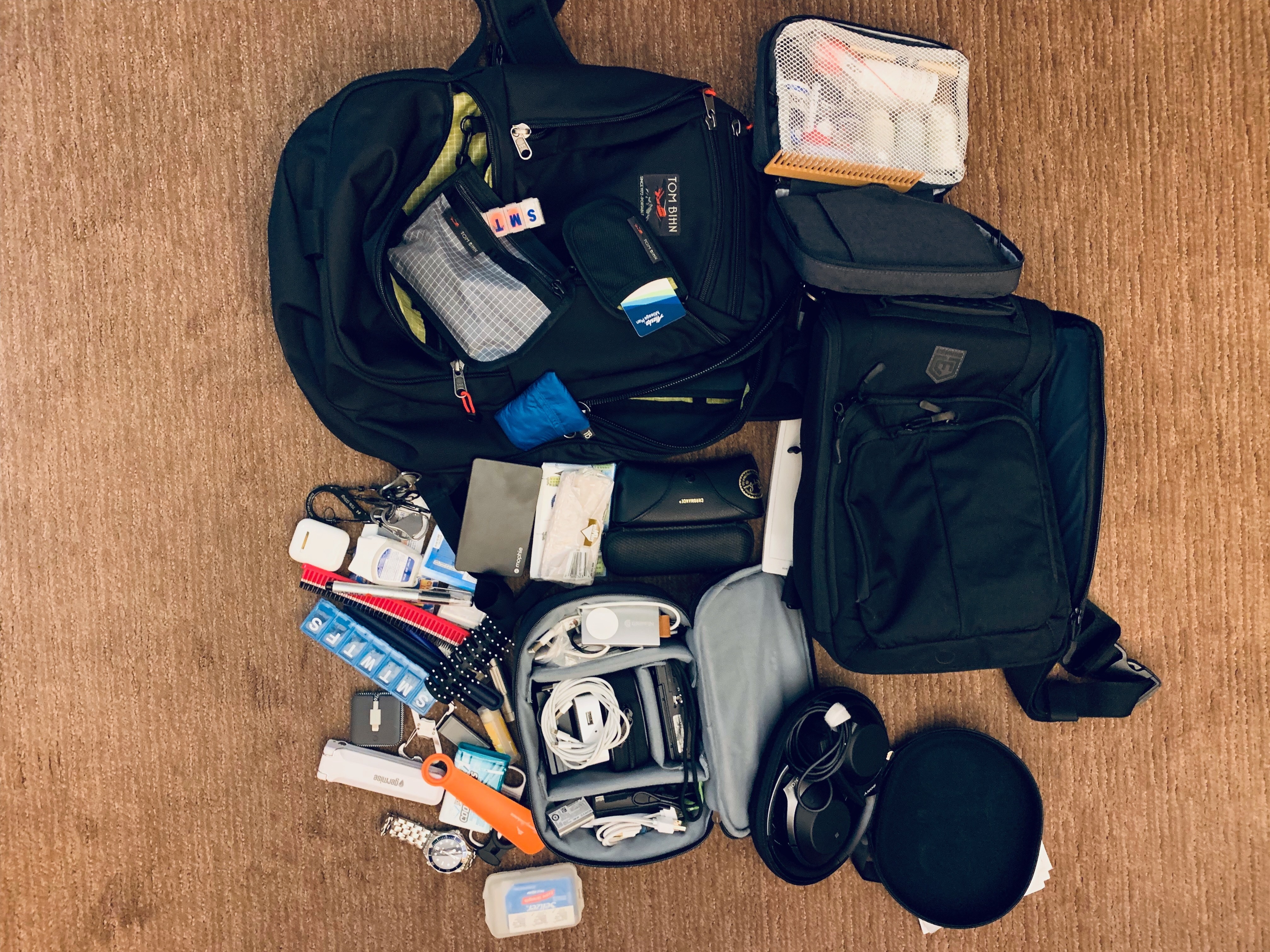 Speaking of shit, that is a photo of what went inside. Well almost everything. I jammed a puffy jacket in there as well, because I bought the Tom Bihn pocket travel pillow. (It's basically a nylon bag you stuff a jacket in to form a pillow. It's small so I packed it, but didn't use it, even on a 9.5 hour flight.)
The backpack came with cord zipper pulls in black, not yet installed. Nice kit, by the way. I liked how easy it was to install them and how secure they felt. Wanting a bit of a pop of color, I happened to have some bright red 275 paracord from paracordgalaaxy.com, cut a few lengths a bit shorter than the black and it looked great. I guess, I'm sayin', you can dress it up to what ever suits your fancy and still use the Tom Bihn zipper hardware.
Note from Ben: holy crap, this must be where I get this from.
The padded hip belt that came with Mr. Synapse never made it into the pack or to a foreign country. Wasn't going hiking with it and didn't care for it, so no remarks on the belt.
An interesting part that came with the backpack, was the internal frame. Fundamentally, a plastic board that makes one feel like an idiot, having to read the instructions to get it installed. I contemplated not installing it, not wanting to add weight, but was intrigued enough to shove it in there and have a look see. Jumping ahead, it was the most excellent feature on the pack. I maxed out what that bag would hold with all kinds of stuff, that wasn't necessary smooth and flat. The frame ensured the part against my back wasn't lumpy, rather it made it comfortable to have on. And I was immensely content having it on my back. One could even say happy! Another bonus was it helped keep the pack upright when it was set on the ground.
You will note in the photo up top, there is a Cannae Pro Optio sling pack. The Tom Bihn 25 awesomely held that sling, fully stuffed with gear inside, leaving enough room internally on the edge to hold my Sony headphones and more. Since I was urban trekking, I wanted a smaller bag for water, cameras, power bank and a place to shove the typical tourist crap one cannot seem to resist. Hence the sling pack. Being able to shove that into the Synapse allowed me to carry on the backpack with a small carryon suitcase, thus eliminating a checked bag.
Observation: while the Synapse 25 has routing for a hydration pack, it would have been nice to see a pouch or a clip for a water bottle on the bag.
Note from Ben: This isn't obvious when you have your hands on the bag, at least not to me, but the top small zipper on the bag is a water bottle pocket. Again, not at all where you typically would expect it. I really liked that, because I loathe such dedicated pockets, but interesting to note that my Dad didn't surface this pocket.
The Synapse has just the right amount of zippered compartments for easy access to the stuff one quickly needs. The organizer wallet and pocket pouches clip on and make for trouble free access to travel or credit cards. You can easy separate the goods into one of the 5 external zippered compartments. I will say that hearing about pickpockets in tourist cities compounded with the restaurant servers saying put your packs near you was slightly unnerving. The lack of an ability to put locks on the zippered areas is a minor shortcoming. I always carry a bunch of Nite Ize small locking carabiners that I simply put around the zipper pulls. Not a real deterrent, but if it's on my back, it would make it bitch for someone to get into without alerting me.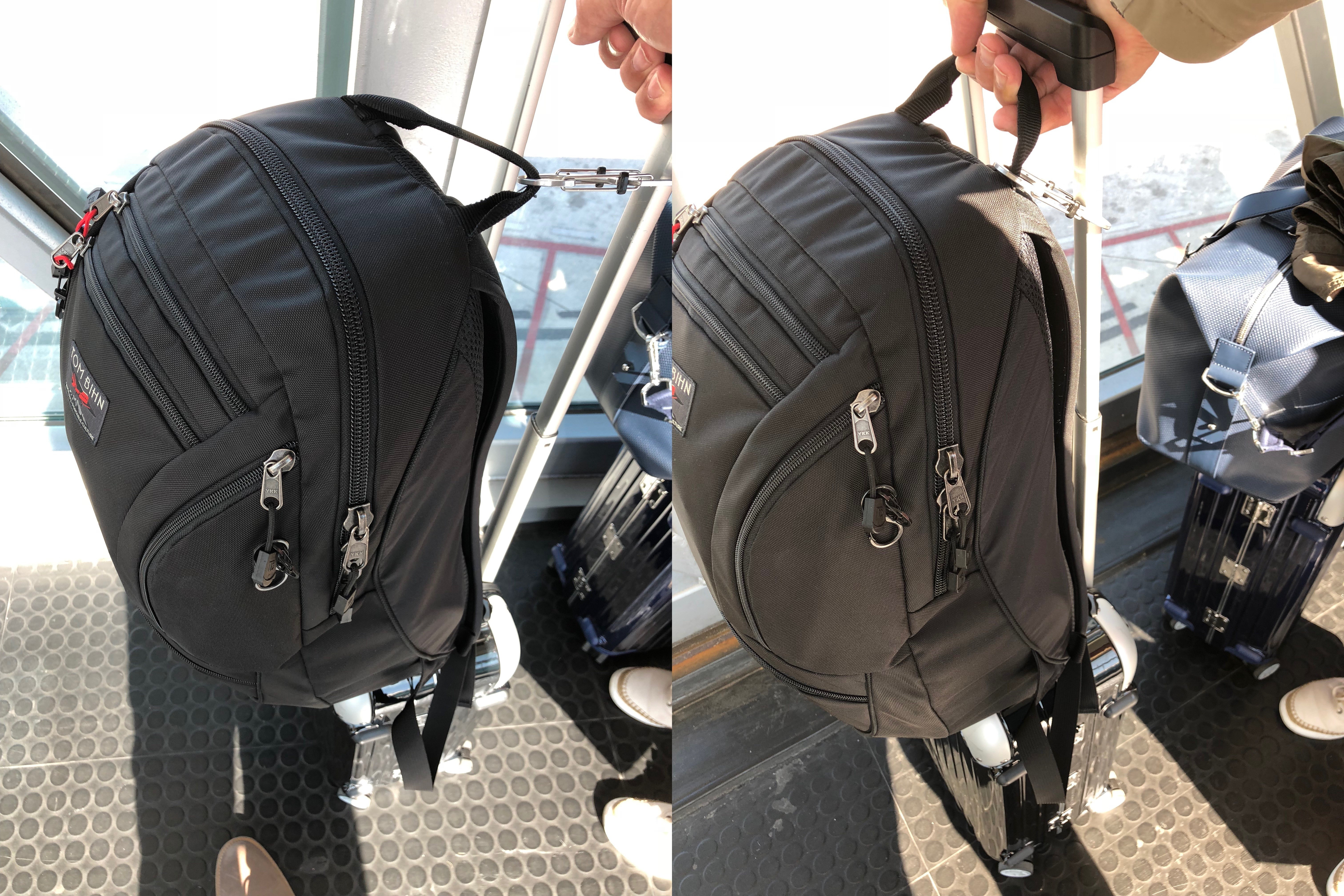 If you take vitamins like me, you will love to travel with a locking pill dispenser. I got it on Amazon and it never opened up accidentally spilling crap inside like my non-locking unit. Only $5.04 with Prime free shipping. For a friggin 3 pack no less. What a deal, check it out.
I digress, back to the review.
A dumb, but totally cool little feature is the loop at the bottom of the backpack. When I had it fully stuffed, it didn't fit under the seat of an Airbus A320. So the tapered end went in first. That loop made it so easy to pull out, I actually said thank you Tom Bihn out loud. I even turned to my wife and said the typical, "Check this out." Now she hears that a lot from me, and usually gives me the "you're an idiot look", but this time, I got the, wait for it….. "Huh." If you know my wife, that was quite something. So 'check it out' in the photos here.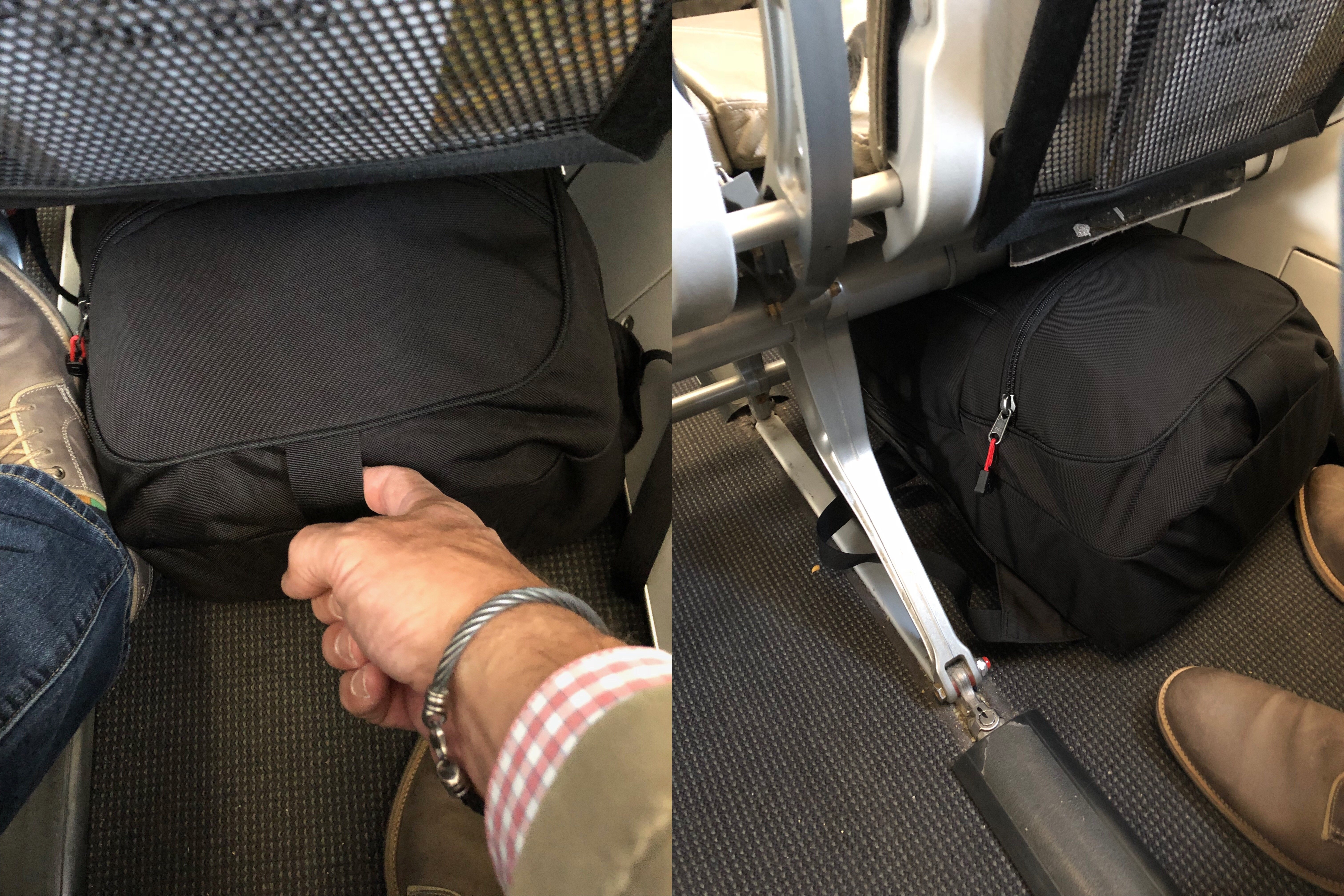 As an aside, the backpack fits perfectly, fully stuffed, under the seats of a Boeing 787 Dreamliner.
It sits nicely on the back, albeit in this photo, it's sitting a bit low on my back as you can see. Seeing this photo reminds me. Absolutely do not, repeat do not, think it would be "fun" to take the train from either Gatwick or Heathrow into downtown London. They get so full you can't breath or move, it gets stuffy and sweaty people lean on you. Don't get me wrong, they are nice and polite people, I just like a bit of separation. Uber all the way.
Bottom line, I would recommend the Synapse 25 for any urban traveling you would plan on doing. After 21 days of being thrown around, zippers tugged at, over stuffing, kicking it under seats, shoving it in overhead bins of trains and turning it loose to hotel Bellmen, it looks brand new. Zero damage.
---
Additional Thoughts from Ben
My dad is not lying about that internal frame. He's reiterated to me a few times how much he loved that, which surprised me a bit. One of big complaints I have of many backpacks is that the lack of a frame sheet makes packing the bags more of a challenge. It seems Tom Bihn solved this in an elegant way. When I took delivery of the bag, I actually went to install the frame sheet as I feared my dad wouldn't use the internal frame if I didn't put it in the bag, and I knew it would make the bag better. But I couldn't figure out the installation before I had to leave to go deliver the bag to him. I'm glad he took the time to sort it out.
The key to the Synapse is that you have to love a bag offering organization for you, rather than providing your own means of organization. Many people prefer this, and my dad is one of those people, which is why I was confident he would like the bag.
The Synapse is one of the most unassuming looking backpacks out there. You wouldn't know it is expensive, well designed, and travel tested. Which makes it a really good travel bag, but I'll also note that I know plenty of people who use these bags for day hikes too. It's not that the bag isn't versatile, because it is, but rather that it is hard to pack the in ways contrary to how it was designed to be packed. If you're happy with that, this bag will make you very happy.
Of all the bags I see being recommended, this is among the most recommend, and for good reason. It's a hell of a good value, well made, and well designed. I recommended it to my dad for a reason, which means I would also recommend it to you.
Lastly, that S-Biner trick of his is something I am going to have steal, that's clever.
Here's the deal, if you look at many of the other bags I talk about and wish they had more pockets: stop worrying and get the Synapse. If you're tall, you want the 25, if you are under 6 foot, you'll want the 19.
Go buy it.