Last spring and summer GORUCK started teasing that they were about to release a boot. Some people found images of those boots online, and I quickly formed the opinion of: yikes. While I find GORUCK's bags to be aesthetically pleasing, the preview images of the boot, I found to be comical. Surely it could not be real.
Then GORUCK announced the boot as part of a pre-sale, I didn't order one, because as it turns out the boot looked exactly as I had seen. And at $195, I was not willing to pay that for a boot I found to be hideous. A couple months ago people started receiving their boots and checking them out. For the most part the impressions I read were along the lines of these being the most comfortable boots out there.
That's annoying, because it meant I really wanted to check them out for myself. So I grabbed a pair to try out, and have put just under 20 miles on them, here's what I am thinking so far: they are interesting.
Looks
From the website images the black boot looks hideous. The new coyote variant looks better, but less versatile. In person, I was expecting to hate them even more. However, I found they moved from hideous to just ugly in person. Not much of an improvement, but it's something.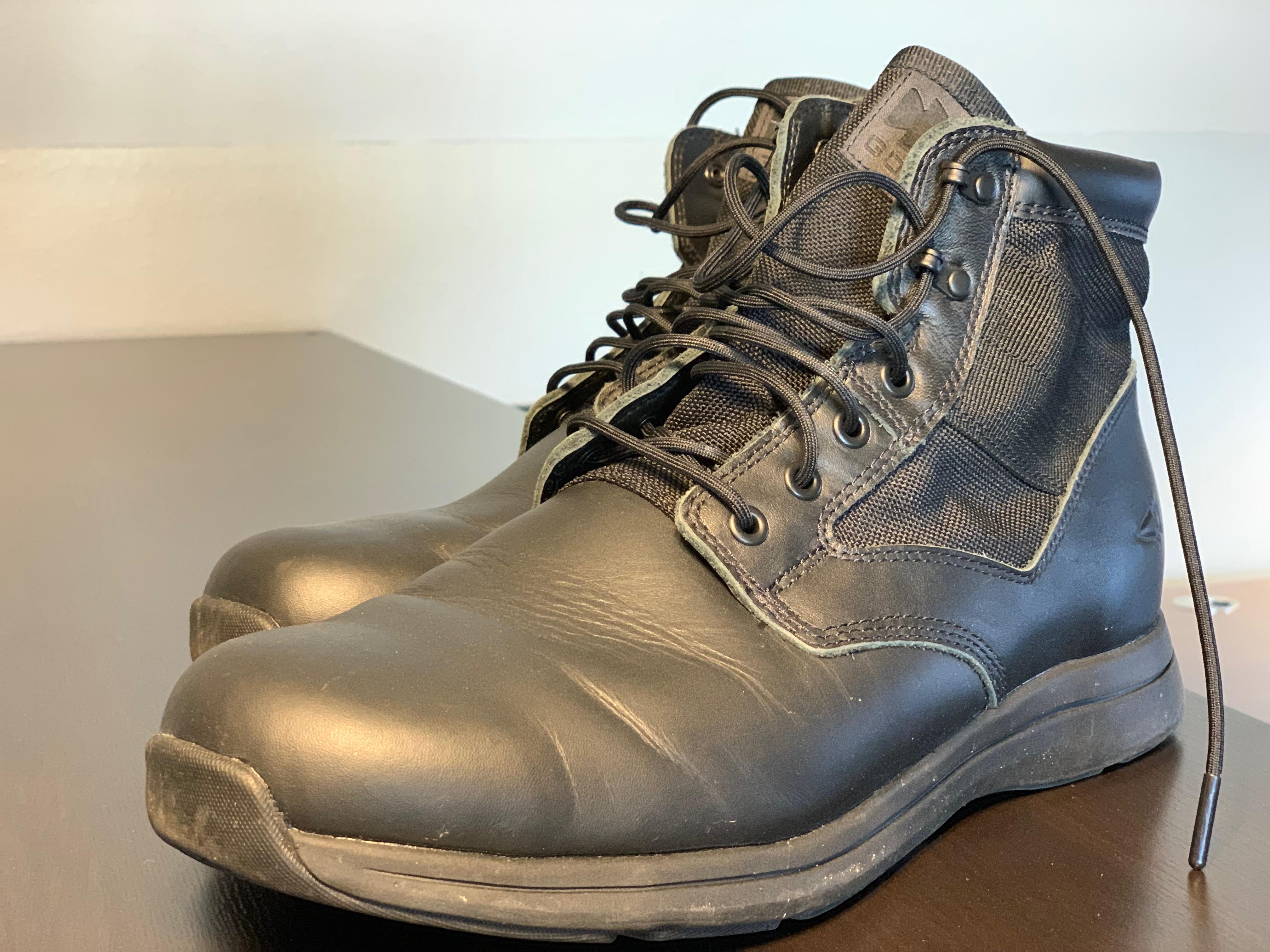 My wife laughed at them, and asked why they had to be so ugly. She's not a fan. I'm not a fan, but they are growing on me in the same way that really ugly cars grow on you: you see them enough and you become indifferent. I think that's the best a reasonable person can hope for with these boots: indifference towards the look of them.
They remind me of the black orthopedic shoes my grandfather wore. It's not that they stand out, and cause people to look at you like 'what the fuck', but that they certainly don't do you any favors.
Comfort
I am breaking comfort into two sections. The fist, this section, will do with general around the day comfort, the 'performance' section deals with comfort when rucking. I was expecting these to feel like a new pair of basketball sneakers — comfortable to just have on. That's not been the case for me at all.
My first pair was my standard size 11.5, and I could not lace them tight enough to keep my heel from slipping badly. So much so that the boot was hard to wear. And they generally felt — well you could feel them. It's not that they are uncomfortable but they don't feel luxurious.
Then I sized down to size 11s (if you want a pair of size 11.5s with only 3 miles rucking on them, $140 shipped and they are yours), and the boot immediately fit better. Except they were now more uncomfortable. On my right foot, just above my ankle bone, the lacing system hits a spot on my bone in just a way that it causes annoyance to me unless I am wearing a decently thick boot sock. On my left foot, on the top left, a lacing eyelet hits a bone which causes annoyance too. Not pain, not discomfort, just a general 'wtf'.
I had hoped these boots would be so comfortable that they were the shoes I tossed on to run quick errands, and when I generally didn't care much about appearances. So far they have utterly failed me on this front.
Performance
The big thing with these boots is supposed to be their performance for rucking. I have put 18.23 miles on these boots with rucks of varying lengths while wearing boot socks and about 34lbs of weight in my GR1. All of my miles thus far have been on concrete, as that is where I generally ruck.
I've been impressed by the sheer grip on the soles of these boots. The one time I slipped was stepping on a moss covered manhole cover while going downhill and landing on the heel of the boot, and any shoe would have slipped there. Also the lightness of the boot makes them perform more like a cross training sneaker, than a boot. Generally if I ruck in proper hiking boot, my mile time slows by about 30 seconds a mile. That has not been the case at all with the MACV-1s as they have kept my times consistent.
Additionally, my feet feel great the entire ruck. They never tire, and generally these boots preform exceedingly well when rucking. The discomfort I mentioned in the last section mostly goes away when moving, so I am never annoyed when rucking.
I've used 6-7 different pairs of shoes since I have been rucking and these are the best ones I worn by a very large margin. I am not surprised by this, but I am surprised they are this great when under stress, and suck when they are not under stress. I can ruck farther while maintaining my times in these boots than I have been able to in any other cross training type of shoe I typically wear.
Still Figuring Out
It's too soon for me to make a definitive assessment on these, that's going to take many more miles of seeing how they hold up. I know the ugly will not abate. However, despite being a no-break-in needed boot, they are breaking in nicely and getting more comfortable for casual wear. I do hope that continues.
The lacing is also annoying with the top eyelets making it so that I have a hard time keeping the boot laced tight. It's a process to lace them, which I am still getting accustomed to.
As a rucking shoe, I know of no better shoe. That's to be expected. As a casual shoe this really seems like a bastard child of Merrill, Ecco, and Doc Marten's — which is not a compliment.
Whether they are worth the price is the big question, and one I simply do not yet know the answer too. I need to see how the sole wears over time, how it performs off street, and if they break in enough to be comfortable when not rucking.
I am posting this first impression now, as the boots are on sale for $155 in black — at that price I think they are a good deal for someone who rucks a lot.