One of the constant struggles that I face is what do I take with me when I want to, say, go to a coffee shop, or the library for a few hours. Realistically I could take everything, I mean my bag has room. I could also take just my laptop, that would likely cover me as well and would be as minimal as I could get.
It's just a few hours, why is it so hard to decide what to bring?
Part of my struggle is that I don't like to move things in and out of my bag. I like to get everything setup in the bag and then leave it there — don't touch it — just keep it in the bag until I need it. Because I don't like to swap things in and out, I like to have my bag ready for a short trip to a coffee shop or a longer trip while traveling for work or pleasure. My bag should always have the necessities in it for either.
So I took everything out of my bag and spread it out.
That's quite a bit of stuff, and I've stared at that picture for a long time. I wanted to make it more minimal, but still versatile enough that I don't have to add or subtract from it as I prefer.
The first thing I realized was that I was carrying some really odd shit, here's the full list of what I have in that picture:
Keys
Cash
USB 3.0 Cable
USB Micro Cable
USB Mini Cable
Finger Nail Clippers
Power Adapter for USB Hub
USB 3.0 Hub
Bluetooth Keyboard Adapter
USB 3.0 Flash Drive
Monoprice Battery Pack
DDC Stuff Sheath with Field Notes and small Moleskin inside
Some Mail
Keycard, and file drawer keys
Hardgraft Box Case with Business Cards
Apple Screen Cleaning Cloth
Whew, that's quite a list, and as I said I needed and wanted to make it smaller.
After staring at that photo for a bit I decided on a two pronged approach: shrink the kit, and replace some of the older gear if needed.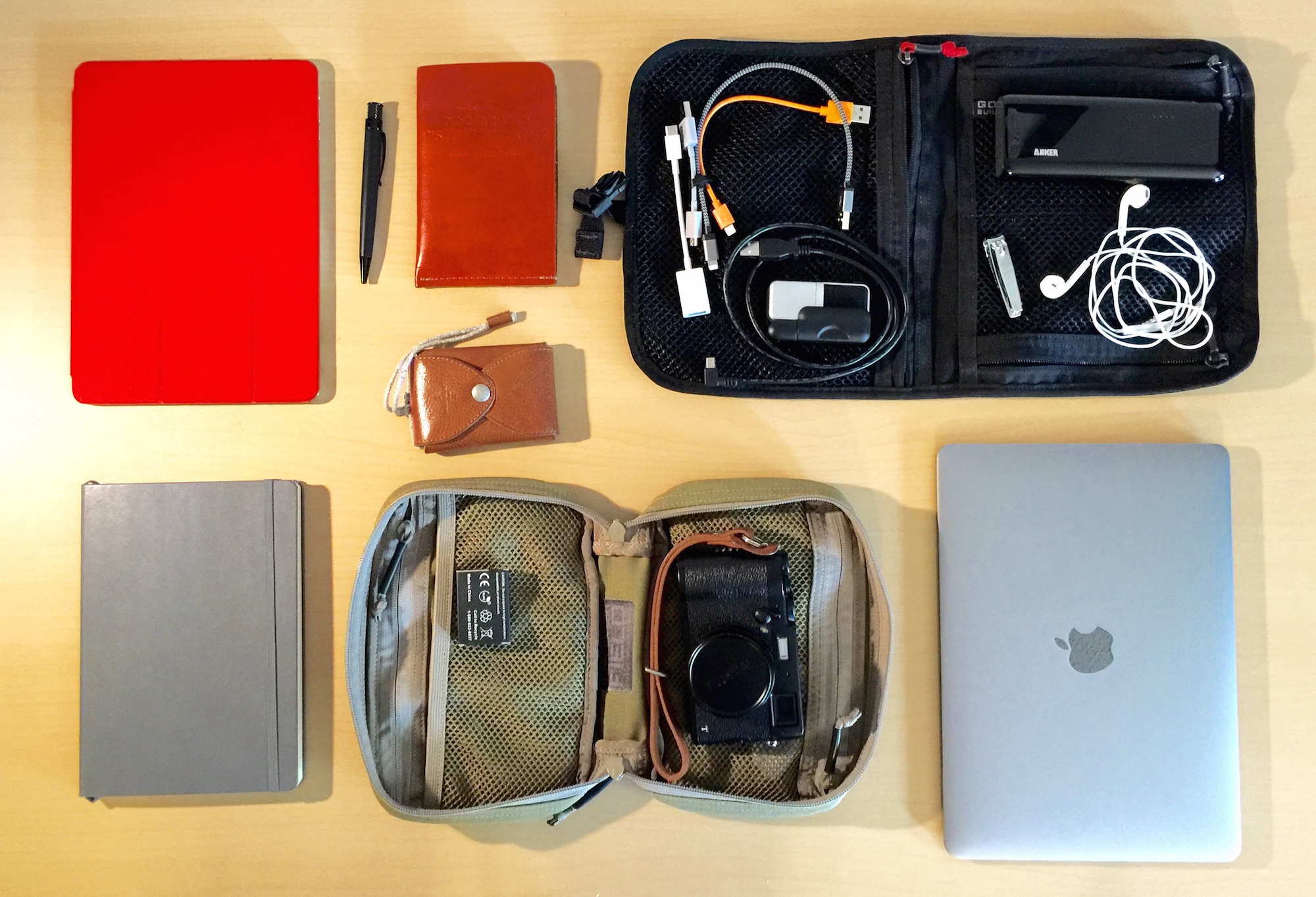 Here's the new kit:
Fujifilm X100T
Retro 1951 Pen
Hardgraft Box Case with Business Cards
GORUCK GR1 Field Pocket
X100T Battery
DDC Stuff Sheath with Field Notes and small Moleskin inside
USB Micro Cable, 2″
Lightning Cable 6″
Lightning Cable 8″
USB-C to USB Adapter
Samson Go Mic w/ USB Mini Cable
Finger Nail Clippers
Apple Earpods
GORUCK WireDopp
Apple iPad Air w/ Smart Cover
Leuchtturm Notebook
Keys
Originally I was carrying 34 items with me everyday and everywhere I went. Now I am down to 21 items, with many of those taking up less space. Only the battery pack got heavier, but it also holds a lot more power so I call that a wash.
I could have stopped there, but as I wrote about in my review of the GORUCK 15L Shoulder Bag:
And I think that's where my issue is: the size of the 15L is not a compelling enough reason to use it over the GR1, and I was banking on the fact that it would be compellingly smaller.
I also wanted to tackle that problem I am facing with the recent changes of a few notable things in my life:
My everyday gear list is a lot smaller
You might have noticed I moved from a 15″ MBP to a new MacBook
I have two trips coming up where I know I will want to carry a bag with me, but DO NOT want that bag to be the GR1 for varying reasons (that's a topic for another post).
So I also slimmed down from the GR1's 26 liter to the GORUCK Bullet Ruck which is 10L. I'll do a full review of that later, but my thinking is that I want something more mobile like a nice shoulder bag, but that is still a backpack and large enough on my back to not look foolish.
We will see how this gear setup fairs long term, but I am committed to carrying far less crap with me everyday and suspect I will be pruning my list even further as time passes.