I've already shown you how I have used a Nock to carry cables, and another small snippet about the GORUCK Wire Dopp. The truth is that I have been really struggling to find a good way to hold my cables since I started carrying a computer regularly — that's about 2000 or so.
Everything option out there is just odd. It's like a clear glass desk — as I have written before — they look fabulous, but they suck in practice. Likewise, every case is too big, too small, or too poorly designed, but most look cool.
I also use a small bag most of the time, but need to scale up to larger sized bags when I travel. I am a mess. I am all over the place. And because of this I have amassed a large collection of cable carrying things.
I figured why not take a look at all of them.
(Note: all images include a Field Notes in the frame to help you see the size differences in play, not because I am a mad man that requires these things to hold a Field Notes. I can't think of something more nerdiversal than a Field Notes.)
GORUCK Wire Dopp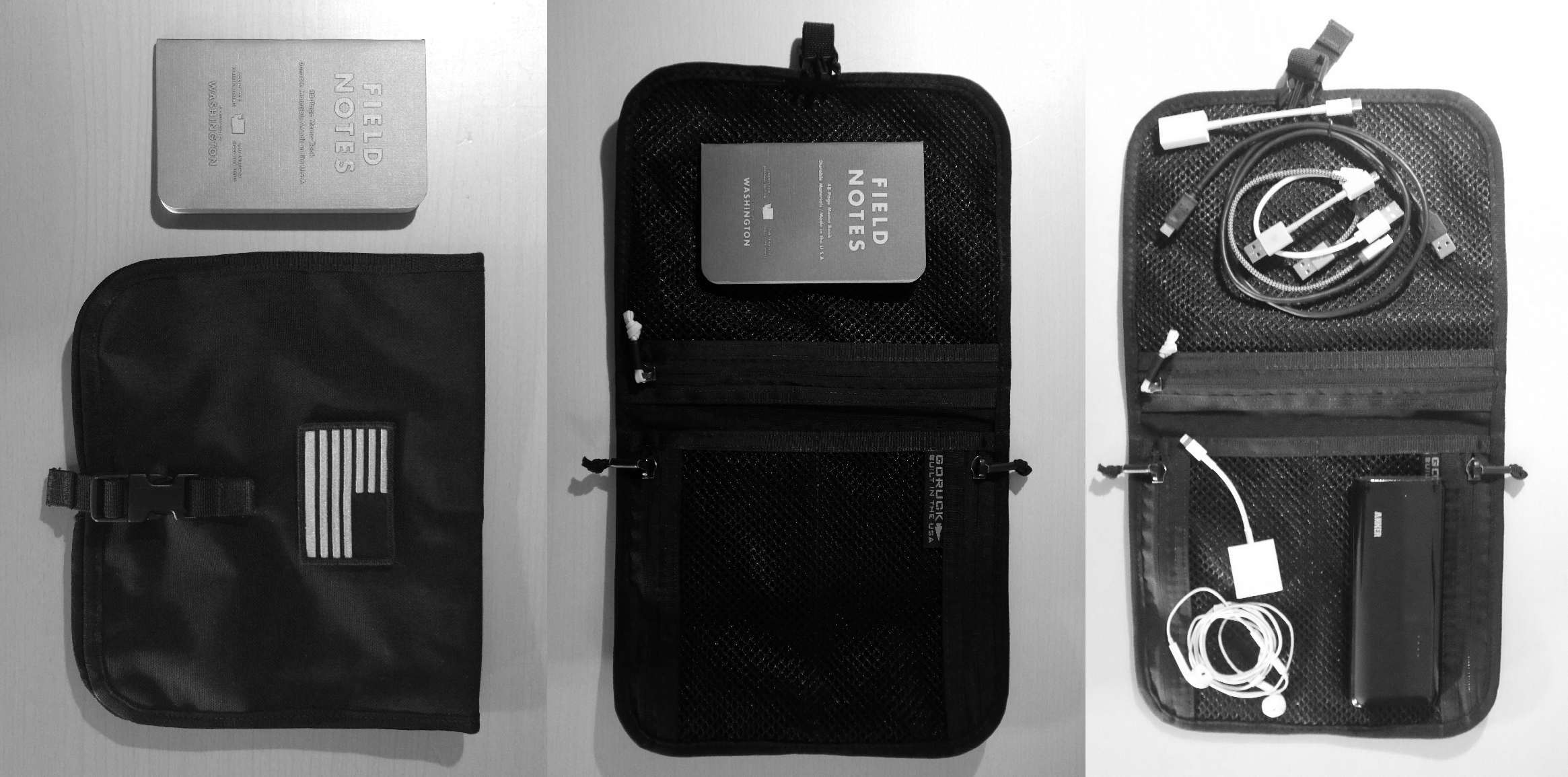 You guys have heard that I really love GORUCK gear right? Well I do. So naturally I bought their wire management solution. It's a nifty, if large, bifold set of pockets (one large, two small), which clips together in a sandwich style package. It looks nice and keeps things really tidy.
I use this a lot when traveling, but find it is much too big for the average day to day load out. Also the big pocket is a bit too large to keep my wires free from tangles. Even still, it is pretty cheap, well made, and holds a lot. I highly recommend it for travel, and at $25 it is a good value.
GORUCK Wire Dopp Small
Recently GORUCK released a smaller version of their Wire Dopp, coming in at about half the size, but unfortunately it is no longer for sale. It still has three pockets, they are just three much smaller pockets than its larger sibling.
This is by far my preferred daily cord carrying tool. It works out well to hold my battery backup charger, and a few smaller cables. Nothing gets tangled, but it holds a limited amount of gear. Unfortunately, the clasp on it makes the entire kit a bit thicker than it needs to be, but that clasp is really easy to use so it is an acceptable trade off.
Either way, this is an awesome bit of kit and the most recommended on this list. As I said, it is no longer for sale.
Tom Bihn Small Stuff Sack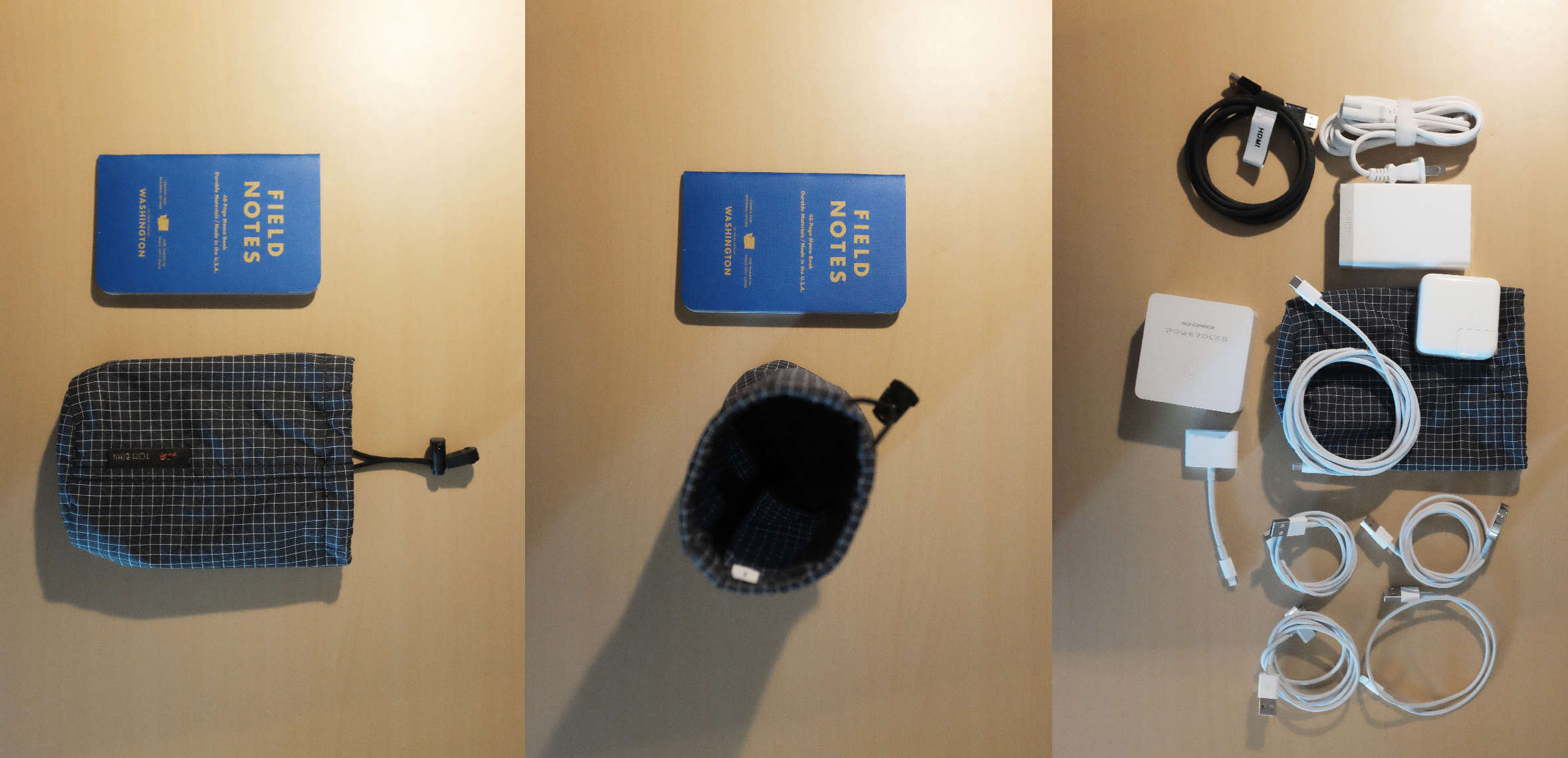 Fairly recently, Tom Bihn sent me a bag that was filled with these little stuff sacks from them. I had never really looked at using them, but on a recent trip I was struggling to fit a bunch of crap in something that was contained. So I grabbed the smallest stuff sack and, well, stuffed it full.
Wow.
This little thing holds a lot, but because of its very nature they are an all or nothing type of bag. Meaning either all your stuff is in it, or all your stuff is out of it. Because I can assure you, no matter how smartly you pack it, what you need will be on the bottom. That said, this is a great little addition to my travel kit.
I keep one packed full of all my charging gear for the entire family. When I travel, all I need to do is pack this small bag and I know that I will have everything I need.
Grid-IT Organizer
I've seen these things for years now and never tried one. When I switched to the Bullet Ruck I grabbed one which was perfectly sized to fit in the bag. I really, truly, loathe this item after a lot of use. The main reason why is: for as much space as it takes up, it doesn't hold very much stuff at all. Which is just odd.
It looks like it holds, and will hold, far more things than it truly does hold. That said, if you really want to keep things from being tangled, and to keep from digging for the item you want — you cannot get much better than this.
I don't recommend it, but I am sure there are some who can make it work for them. On the plus side, they are pretty cheap.
Nock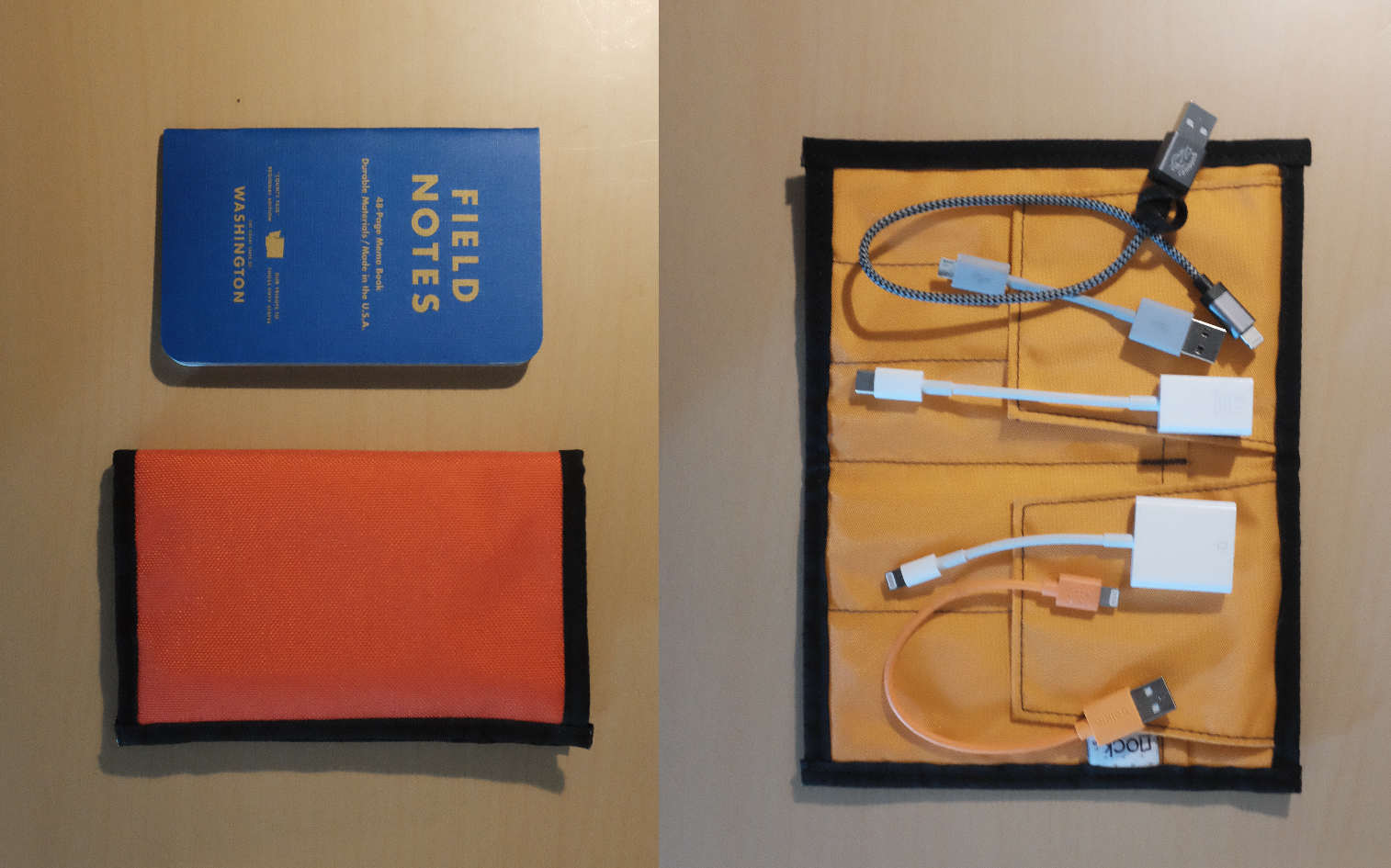 I've previously written about the Nock, here, and it's a great little case. That said I've been growing less satisfied with it for holding anything other than pens. It's still a great case, just not ideal for the load out I carry these days. You can buy the Nock here.
Tom Bihn 3D Organizer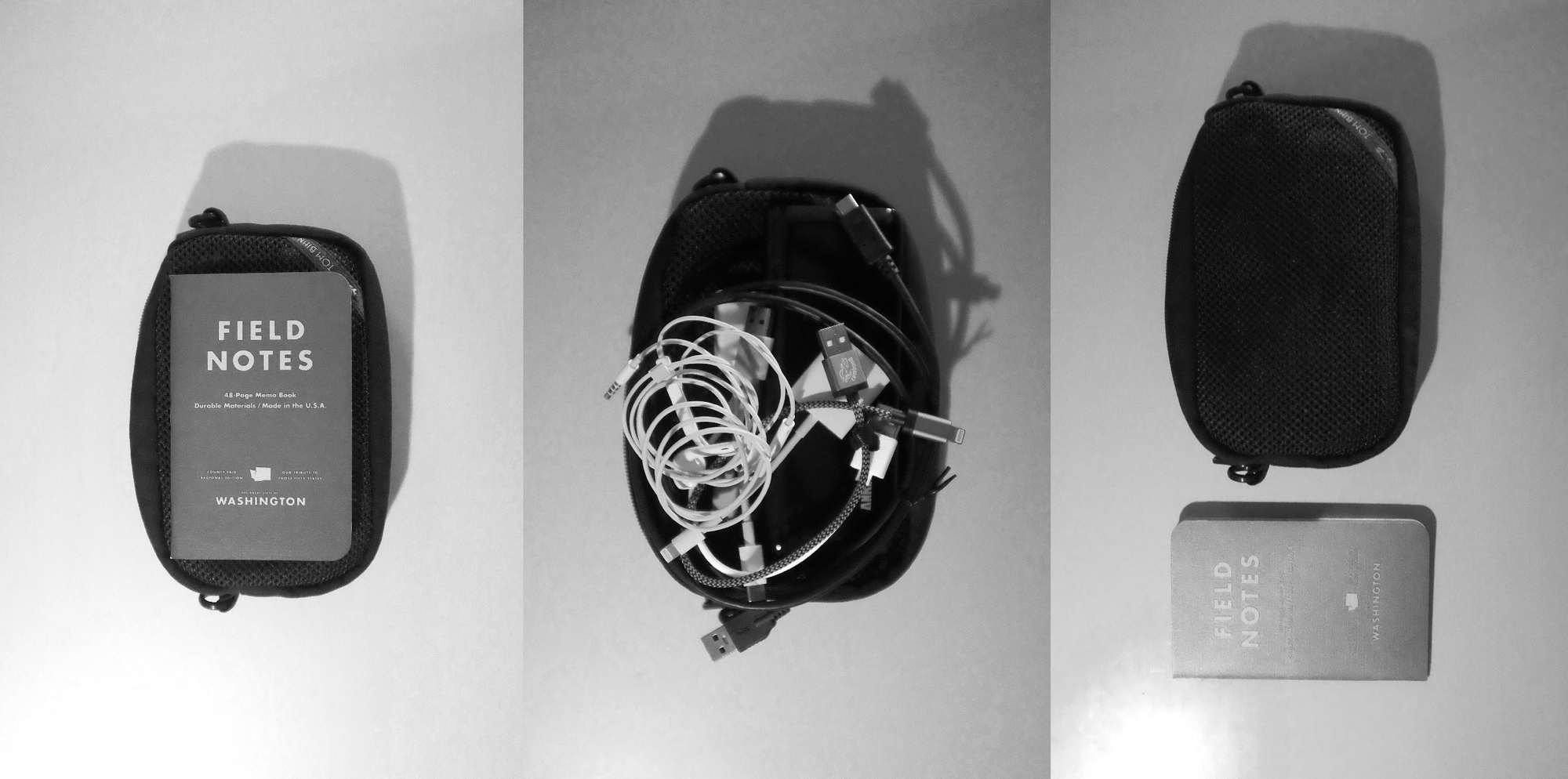 This is a great little bag. What I like most is that the mesh nature allows you to crush it down without worrying about air being trapped inside. I keep this bag as my "backup power" bag — which is just a bag full of charging cables and power bugs.
That said, it's a great small travel bag and works really well for toiletries too. Highly recommended for cable storage, or for a go bag of cables. Get it here.
Tom Bihn Mesh Pouch

These are great little pouches, and I have quite a few of them. They never trap air, you can see your gear, and nothing falls out that easily — even if you forget to zip it up. But they are just a pouch, so you really need to limit what you put in them and how you use them.
For me they kick around the house empty and mostly are ready for the moment I need a small pouch for a one time thing. Maybe I need to travel with something I normally wouldn't (like chargers for the my kids' devices). For those instances it works really well. I also love to use them to house things that I want to temporarily place in a bag — snacks, notebooks, small toiletries. You can find them from Tom Bihn.
Overall
The best case I've found is the GORUCK small Wire Dopp, which is not currently being sold. From there the small Tom Bihn Mesh Pouches, and the larger GORUCK Wire Dopp are front runners. All of this, of course, assumes that you are not using a bag with internal storage pockets to hold all this — or that you want to be able to quickly swap things around by using many small bags.
The one thing I know for sure: those Grid-It organizers are terrible for the way I think and use things.