Note: This bag is a pre-production unit, which was provided to me for the purpose of this review.
One of my favorite things to do when I am traveling is to stand next to, or near, someone who is going the same place I am going (and roughly for the same length of time) — typically a co-worker, friend, or family member. I stand near them, look at what they are carrying for luggage, and then smirk as I wait for them to say something like "is that really your only bag?"
I typically respond by asking: "Are both of your bags full?"
My wife knows better than to play this game, or even be amazed at how light I can pack. But it truly isn't easy at times. I often am testing bags which require me to rethink how I pack each time, and for those rare times I am packing in one of my normal bags — well I have to take special care to not only fit everything but to try and minimize wrinkles.
So when I was contacted about the SLICKS bag, and I saw their special shirt folding system — man did I want to get my hands on one. It's been more than a few months now, and I have been testing a preproduction unit of the bag. I have to say, this is one hell of a bag.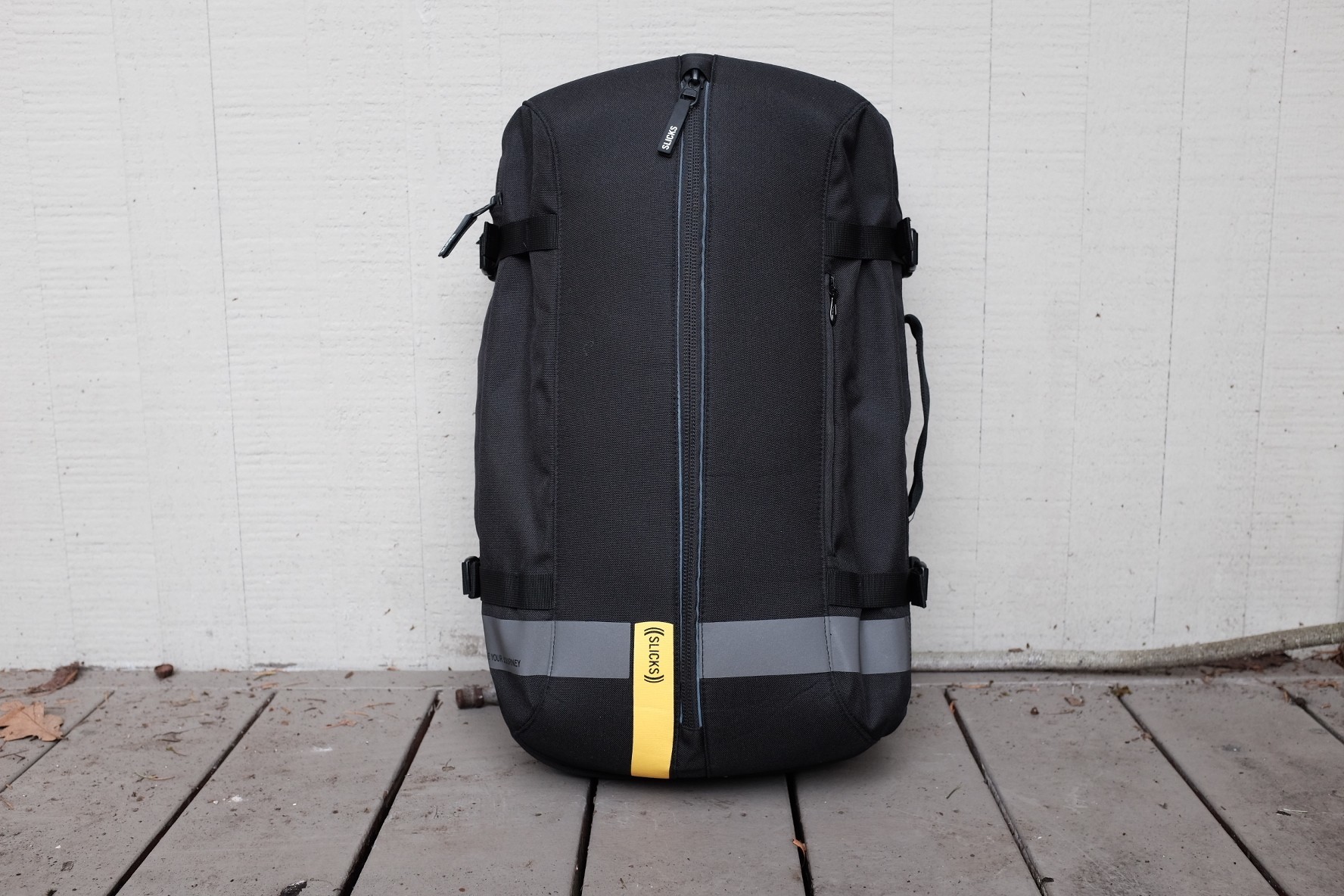 It looks good, packs extremely well, and is an all around fantastic bag. It's also very different from most travel bags I test.
One Bag for One or Two Days… Roughly
The key to the Slicks bag is it is made to only carry one full change of clothes — perhaps you can stretch that to two days, but that truly is stretching it. Even still — this is a perfect business travel bag for me as those trips are usually very short.
I've managed to get 2 days out of the bag, but it was jammed full of stuff. It's perfectly comfortable as an overnight bag, or as a bag to compliment a longer trip as your main carry on, but don't rely on this for 2-3 day trips. I took it for a 5 day trip to Florida and used it to carry a change of clothes and a ton snacks for the kids — it handled this task perfectly, but I couldn't have packed for 5 days. ((I know there are people that could pack this bag for that long — but that's not my style.))
Most bags are not as rigid of a system as the Slicks, but then again most bags simply are not as well designed as the Slicks. The toiletries kit the bag comes with, for example, is perfect. Well thought out and — more than anything else — has a real place in the bag for travel. There are two things that are always a pain in the ass to pack: shoes and toiletries. For me the Slicks doesn't solve the shoe issue perfectly, but it sure has hell solved the toiletries issue.
Duffel
The design of the Slicks is: backpack + duffel + garment bag + electronics bag. The most notable attribute of the bag is the long vertical zipper that runs down the middle of the bag. This is the duffel bag section and it gives the bag a very distinctive look.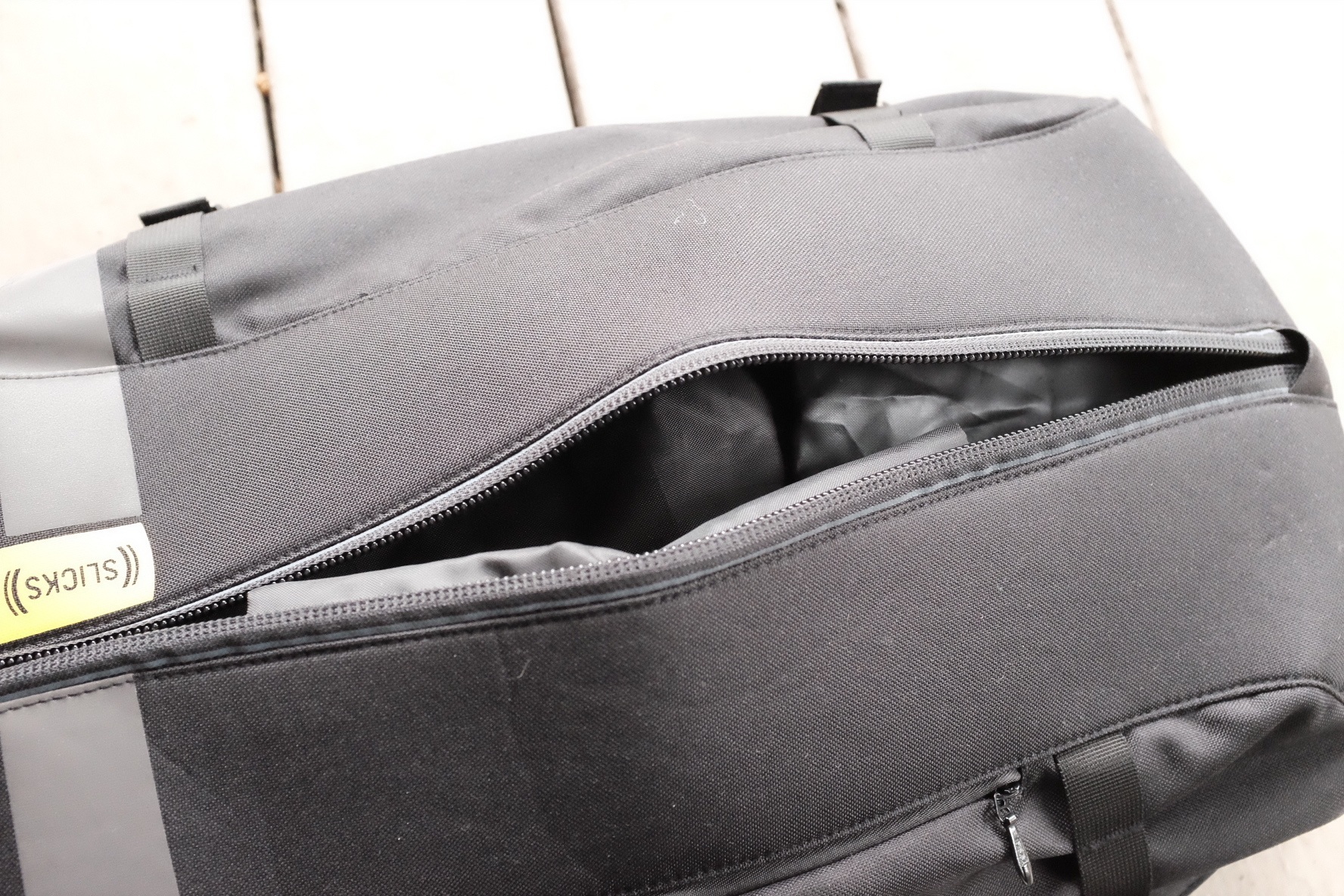 Dont' be fooled by how this part of the bag looks though, it's not a very large duffel section. It's not small either, but you won't be able to just toss stuff into it and be wowed with how much gear it holds. That said, the design of this section is one of my favorite parts of the bag.
(Side note: there is a somewhat hidden pocket which intrudes on the duffel section, this is the pocket Slicks says should be used for shoes. You can fit shoes in it, but it will consume all the space in your duffel section — depending on the size of the shoe(s) at least.)
What I love about the duffel section is that it is awesome to access when the bag is laying flat on the ground — say under the seat in front of you on the plane. I typically do quite a dance to get stuff out of backpacks when I store them at my feet on a plane, but that's not the case with the Slicks. It's really easy to get at stuff I leave in the duffel section of the bag while in flight — a bit magical at times.
It is still a duffel though, and that means that your stuff isn't going to stay perfectly in place. It means that opening it while carrying it on your back, or if you can't lay the bag flat down, is going to be pretty risky. Even still, this is one of the best parts of the bag.
Compartmental
The rest of the bag is very compartmental in design. There's a small pocket on the front of the bag for a smartphone (the 6 plus fits with plenty of room) and there's the standard padded laptop compartment along the back of the bag (accessed in a vertical fashion).
As I mentioned in the duffel section, there is also a pocket on the side which uses the cavity of the duffel section (though is separate from it). This is great for either shoes or for dirty clothes. Though it does use up the duffel section, and as such I tend not to use it.
Which brings us to the main area of the bag.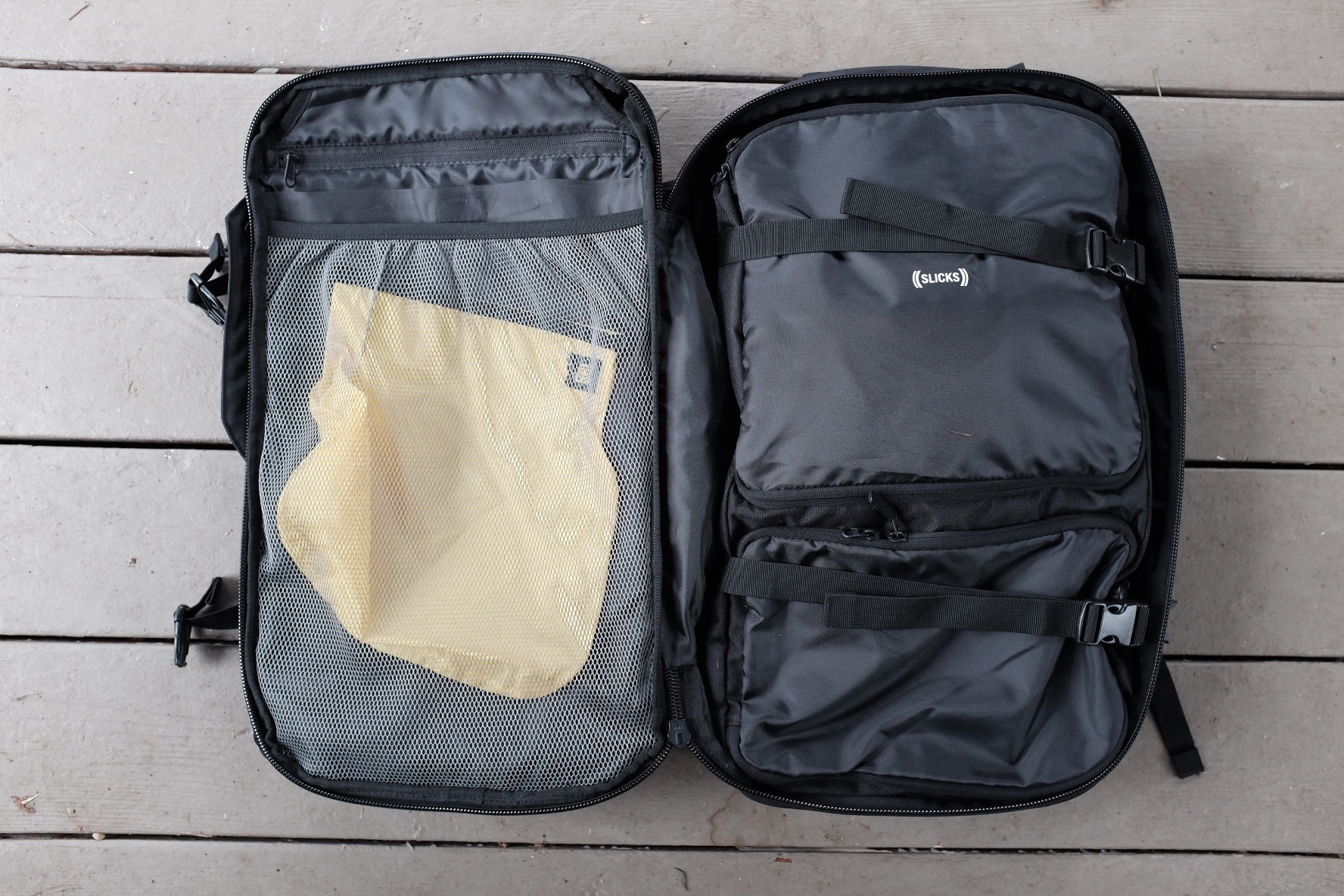 When you open the bag up, and lay it out flat, you get a large area of the bag — all of it more or less tailored for certain items. (Credit to Slicks, they include these great cards to tell you what they think should go where.)
On the 'lid' of this section there are three pockets, two of which are full length and one is about a quarter length. You have one mesh, one secured by a square of Velcro and then the small pocket zips closed. These are really odd pockets, but ostensibly where your wires and chargers will likely go (if you don't keep them in a smaller bag in the duffel section. The most useless pocket on this bag is the middle pocket which is secured by the square of Velcro. It's not secure enough to put small things in, and anything large enough to stay in the pouch (because the Velcro would stop it) is likely not long enough to be easily found. This is an extremely large and deep pocket.
Either way, these pockets are useful for certain things, but the uses are limited. Slicks does mention these areas are good for papers and tablets, and those do fit. But the papers don't stay wrinkle free in any sense of the word. All in all I look to these pouches for two things: the larger ones for clothing and the smaller zip for things like my car keys.
Which brings us to the main compartment of the bag — the compartment which it feels like the most focus was given to. For this review I was given the Slicks Trip backpack which is the backpack and the Tripcover Mobile Wardrobe. Essentially this is a nylon organizer which clips into the main section of the bag and is double sided. This is what really makes this bag amazing.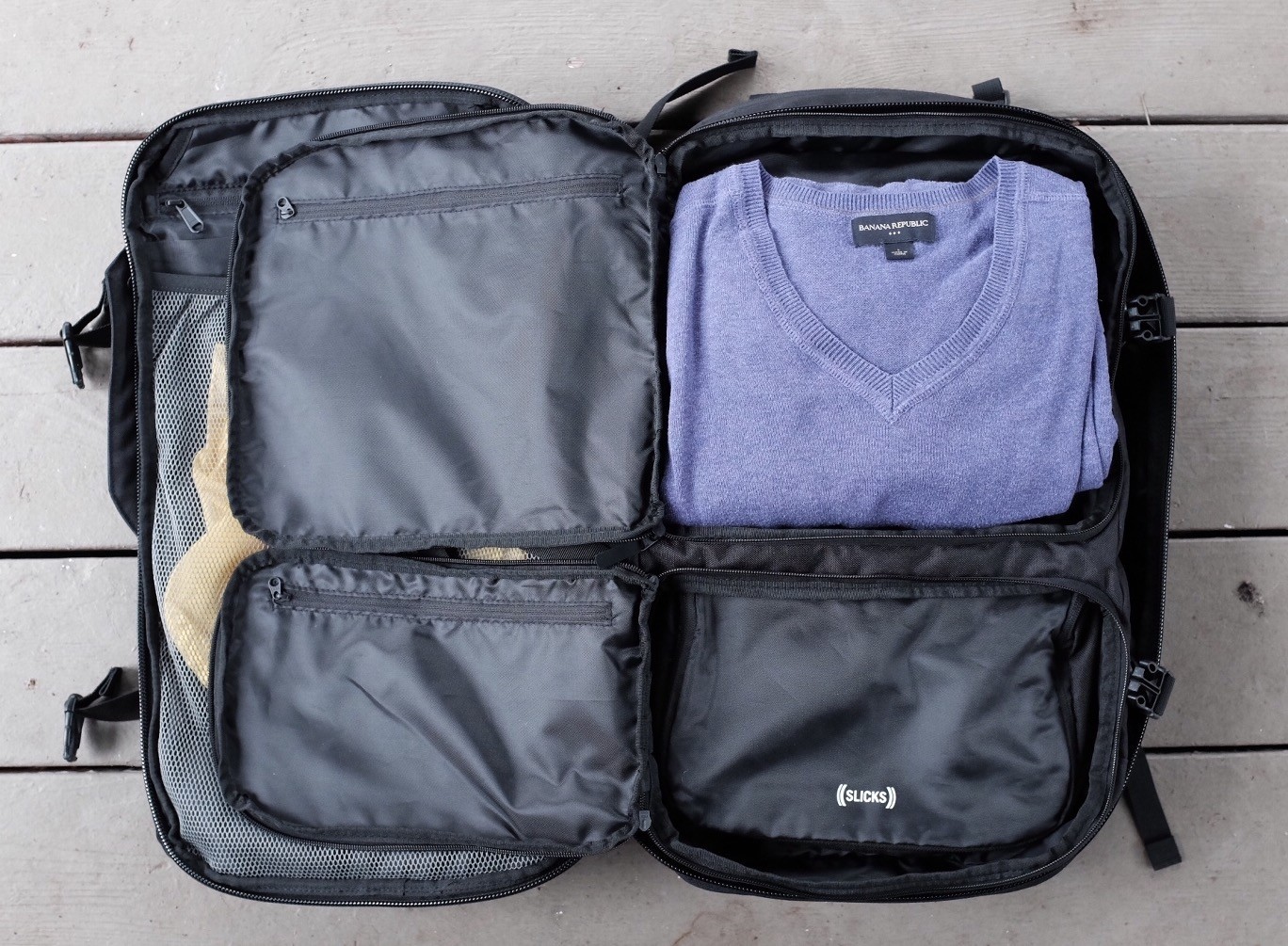 On the front of the organizer is two large pockets. The top pocket is made for t-shirts, underwear, a light sweater, and the other clothing type items. They need to be folded to fit this section, but then fit and stay in place very well. This is also where you begin to be limited on what you can take. Notice I said light sweater, as a bulky sweater or fleece will likely suck up all the space. I was able to fit 2 t-shirts, light sweater, two pairs of socks, and two pairs of underwear all in this section. But it was a tight fit.
The lower pocket on the front of the organizer is smaller, and is sized to house the toiletries organizer the Tripcover comes with. As I mentioned above, I do like this toiletries kit a lot. It isn't fancy, but it does have a built in hook and plenty of appropriately sized organizing slots. It's easily one of the better toiletry kits I own. My only complaint is that the zippers are not sealed, which means if something leaks it is going to come out — I am not sure the nylon is sealed either. Still, it would have to leak through the toiletry kit and through the pouch which holds it, then move up to the clothes section before it really starts causing trouble. Either way, did I mention how nice it is to have a dedicate spot to fit my toiletries for a change? It is very nice.
Both of these two front pockets have small zippered pockets on the inside of each flap. They aren't good for holding much, but great from small thin items. Things like band aids or condoms would fit well. Sorry, I mean "personal items" who uses the word condom?
If you can't tell, this bag has a shit ton of pockets. But you really wouldn't know that by looking at it from the outside.
And now the backside of the Tripcover — where the ingenious shirt holder is. This is one large pocket which opens to hold two things: a dress shirt and a tie. The tie simply rests in a pouch, but the shirt goes into a foam frame. This frame is designed to both help keep the shirt wrinkle free and also keep the collar from being smashed. Most people who travel a lot can pack a dress shirt to stay wrinkle free — but keeping that collar crisp is something else all together.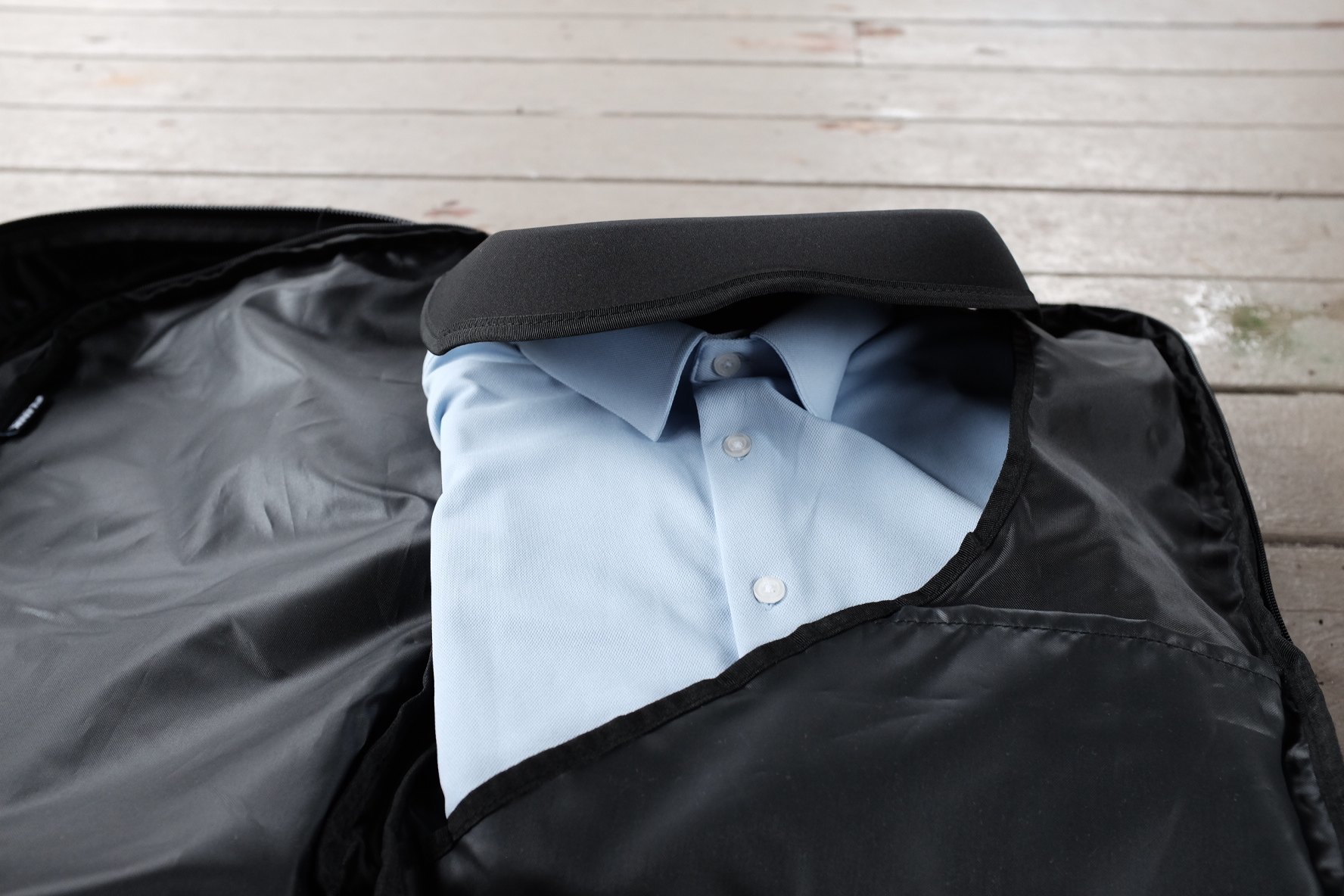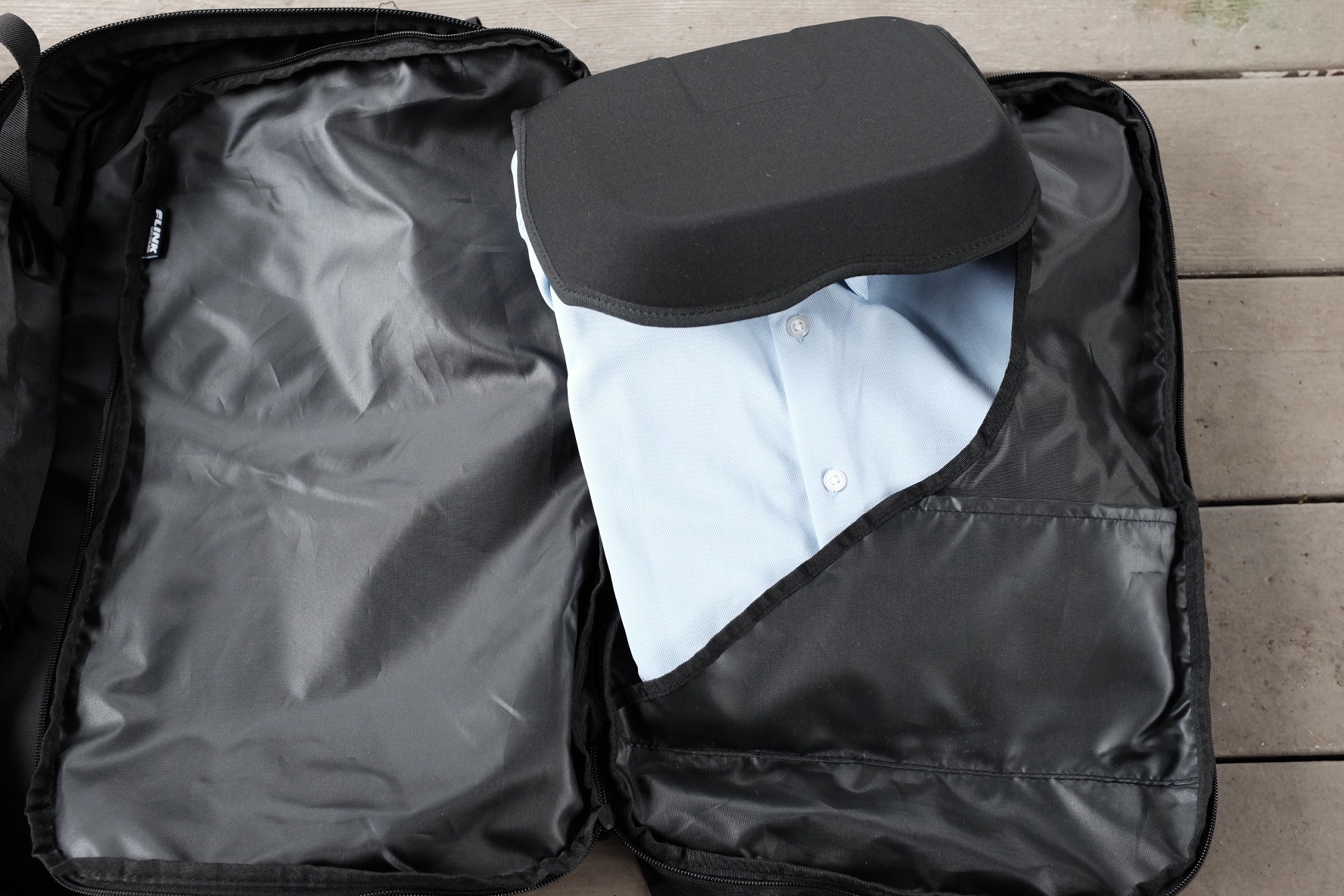 And it works. It works perfectly. The shirt slides in and the collar stays crisp — even when you overload the bag with stuff (as I did on two occasions). The fault here is that it can only hold one shirt. I managed to get two in there by putting one inside another, but it was less than ideal as the "inside" shirt was very wrinkled when I arrived (though the collar was crisp). This one feature makes the bag awesome for traveling on business As you essentially can pull a perfect looking shirt out of a backpack.
The entire Tripcover section clips into the bag on one side and further can be secured into place by two straps which come over the top of the wardrobe. It's not going to move, or sag at all when you carry the pack which is very nice.
All in all, there's a ton of compartments, but they all lead to an organized and well balanced backpack. Typically, I stay away from bags which are this compartmentalized, but this is the first bag which makes sense and offers a great balance of free form space and compartments.
Straps and Comfort
The pack itself can be carried two ways: backpack, and by an handle as more of a briefcase. ((Slicks says it can be carried as a messenger too, by changing how you connect the backpack straps, but I don't find it comfortable.)) The backpack straps can be completely stowed away as to hide them if you want to carry it with just a handle. There are no clips for a traditional shoulder strap though.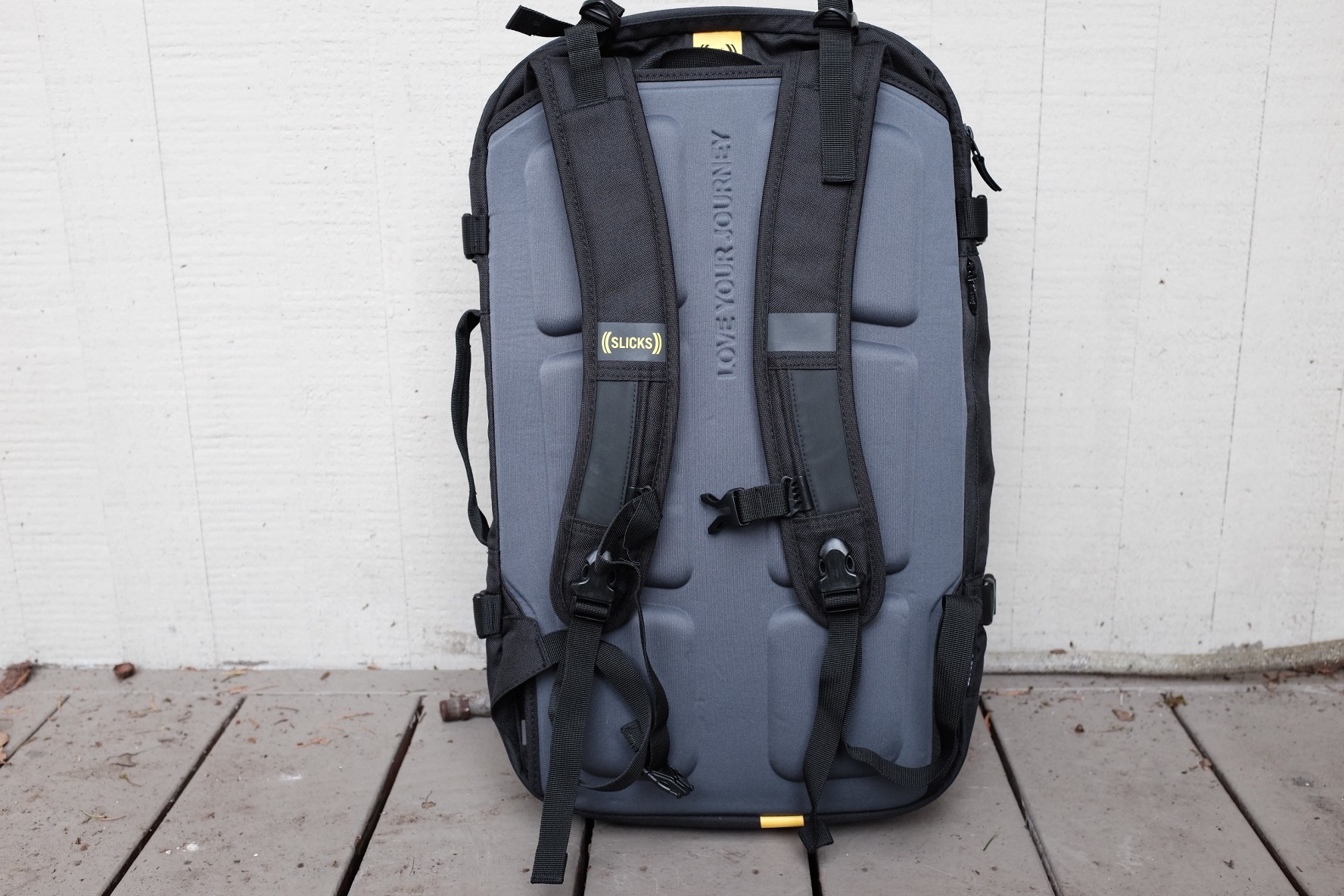 The backpack straps themselves clip at the bottom of the thin padded section and offer a chest strap as well. They also have top cinch straps to adjust how the backpack load is being pulled to your body. In practice — with the bag really heavy — I found no issues carrying the pack. The straps are thin, but comfortable. I wouldn't leave the bag on to leave it on, but I wasn't constantly fighting to be comfortable either. When the pack had less weight in it — when I wasn't traveling with my kids — it was perfectly comfortable and I had no complaints or need to take it off.
The bag also offers a waist strap which is nothing to write home about. However I do want to note that the waist strap can remained stowed while the backpack straps are in use — this is something I really do like. My biggest complaint about the backpack straps is the top handle. As with most backpacks the Slicks has a handle at the top between the two straps. However this handle is slightly recessed into the cavity that hides away the backpack straps and as such makes it very difficult to grab onto this handle. There was more than a few times when this was an annoyance to me while I travelled. I wish that handle came out a bit more so that I could actually use it.
Lastly, there are four compressions straps on the bag to keep the bag small and the load close to your back. These are a nice touch given that this is a relatively large backpack. The back panel on the bag is also nicely padded, but not smooth. A couple of this padding areas would occasionally hit my back oddly and make me feel like something was poking me — but most of the time I was able to adjust the straps in a way where that discomfort would quickly go away.
Looks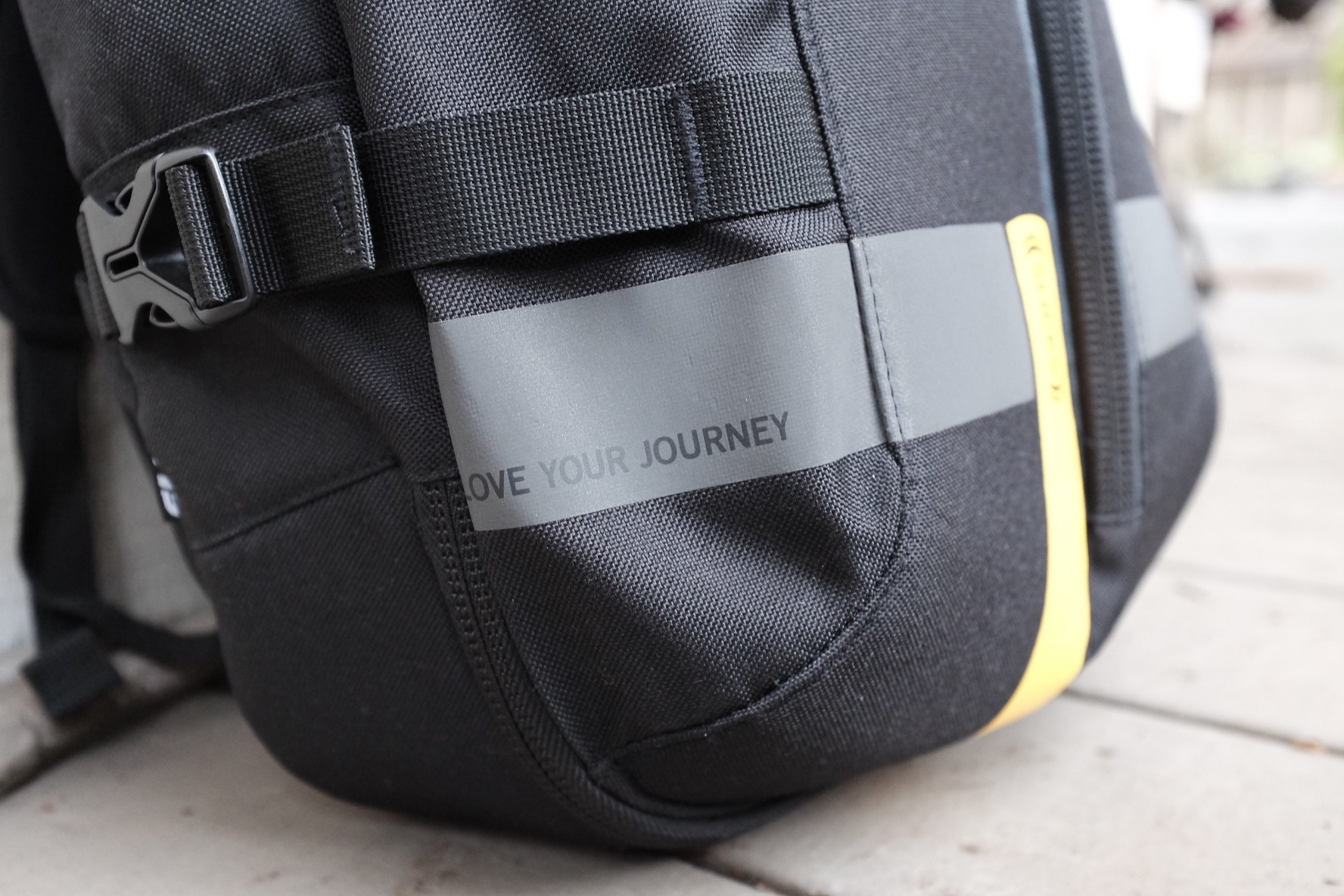 The Slicks comes in two colors: yellow and black. I have the yellow version and that translates, not to an all yellow bag, but rather just a couple yellow highlights on the bag where the Slicks logo is. I actually like the yellow quite a bit, as it adds a nice bit of break in the sea of all black bags.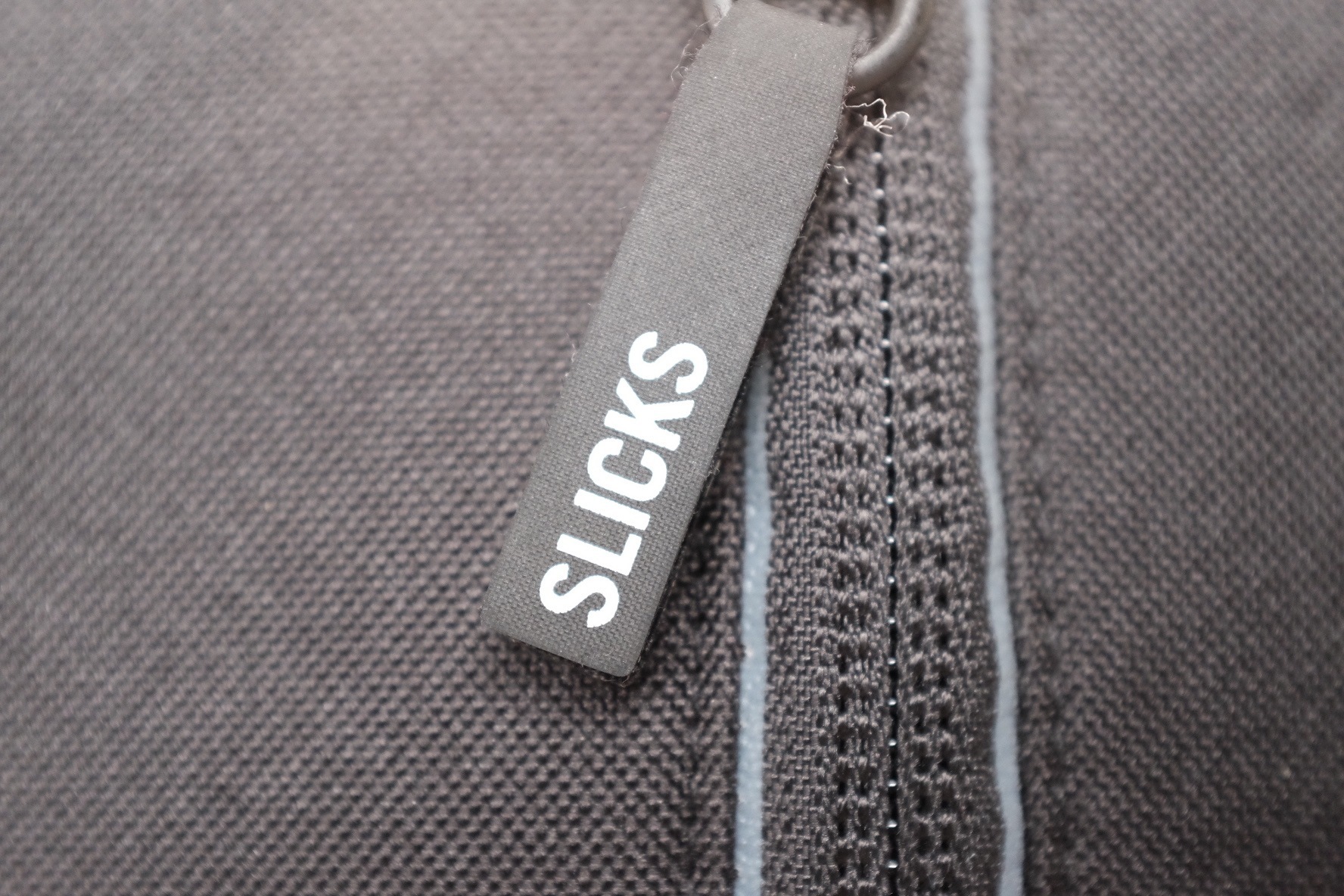 I really do like the way this bag looks. It's very smooth and very structured in its appearance with just a touch of technical elements with the compression straps on the side. It feels both casual and passable for all business settings I find myself in.
Perhaps if you are wearing a suit to a stodgy formal meeting it might look out of place. Then again all those Samsonite bags that come with Windows laptops look like shit to my eye — so it would be an improvement over those in the same way that a dress shirt is an improvement over a torn up t-shirt.
Usability
The bag itself is rated at 30 liters, which is just a bit larger than the GORUCK GR1 I typically travel with. The bag does look a lot larger, but thankfully it also packs a lot more. None of that really matters though, because it is all about how well it actually functions when being used.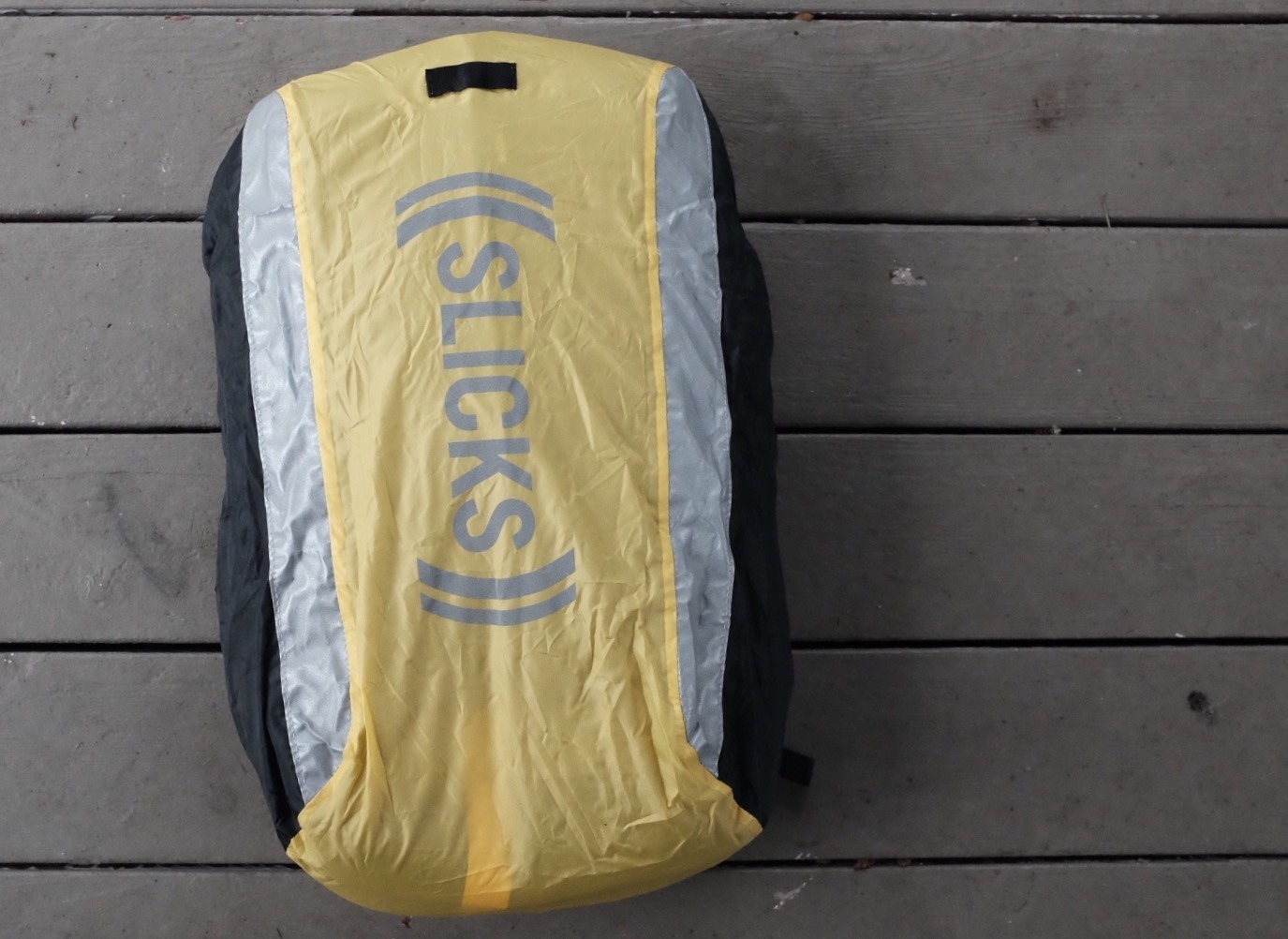 Shown with rain cover on. The rain cover stows in a special pocket and thus is always with you.

And it functions way better than most bags I travel with for one simple reason: it makes the best one-bag travel bag that I have come across. Hands down, nothing can touch this for traveling on business with just one bag. I might prefer a different bag for leisure travel, but when it comes to business travel this is the only bag I want to use.
And it's not because any of the things I listed above, it's far more simple than that: I can take it on the plane, I can take it to a meeting, and I can take it to the hotel and "live" out of it — and all the while no one will know or see what I have in the bag unless I want them to.
Here's what typically happens with my GR1: I need something out of the main section. Therefore I have to sneak away to a private area so that I can open that section without people seeing all my clothes and toiletries. It's annoying because it doesn't feel professional to have a backpack full of underwear on your back, underwear which could easily make their way out of your bag. That's where the Slicks Trip backpack really excels.
I can go into any meeting with confidence that no one will see, or know, what is in my bag. I could even pull out the Tripcover and leave it at the hotel or the front desk bag check and have a lighter bag while I attend meetings. Either way, this system makes it even easier for me to travel with one bag for work.
Each time I use this bag — I am happier with this bag.
Awesome Bag
From the moment I received this bag, and each time I used it there after, I was and remain impressed. It's not perfect, but it's more perfect than most bags I use. But its perfection is limited to a niche travel set. It's a bag that excels with one day's worth of clothing packed.
While you can use it as a compliment to another piece of luggage for longer travels, it's not as good of a compliment as more versatile bags are. It doesn't work well as just a backpack (too big).
However, when it comes to the travel which I do the most — 1-2 nights — this is likely to be the best bag I can find. I really can't imagine taking these trips without the bag.
The Slicks bag just opened their Kickstarter campaign, so be sure to go back them and get your bag. There are other versions available, including a version which can pack a suit neatly away if you are in need of that — and if it is anything like the Trip system, it will be great too.