Editor's Note: I'm going to be writing some posts about how I travel light. I'll pull them all back together at the end with one larger post and hopefully a video. I am not a super minimalist packer, I am however a light packer. This will also be very geared to men, sorry to all the women — I just have no way of writing about that.
There are two things I hate when it comes to trying to pack toiletries light: travel toothbrushes and the idea that you can buy what you need, where you are going. Travel toothbrushes, which are too small to hold comfortably, and fold in half and thus are never great to begin with.
Just use a regular toothbrush for crying out loud.
Likewise, the idea that you should just buy what you need when you arrive, shows little value for your time. Perhaps, if you are staying for more than a week, it would make sense to take the 30-45 minutes to buy toiletries as small travel sizes might not suffice for that period of time. However, for shorter trips, such a detour is a complete waste of time. Just pack what you need and nothing more.
This is the key to traveling light with toiletries: practice. Each time I travel I am careful to only take note of what I didn't use, and what I needed but didn't have. Here's my current list, but I am constantly refining it:
Toothbrush (full size)
Toothpaste
Contact case
Contact solution
dental floss
finger nail clippers
breathe right strips
Advil
Zyrtec
lotion
deodorant
hair goop
razor (if more than one night)
Chapstick
mouthwash
That's my refined list and yours will naturally be different. I try to think about my kit as something which should be able to sustain me for as long as the toothpaste lasts, but also something which I can use quickly and easily in the bathroom at an airport should I need to go straight to a client meeting from the airport.
I also try to keep a lot of half tubes of travel toothpaste, so that I can take a half tube for a day or two day trip and just toss the tube before I leave. Whatever you do, refining this list is key to keeping a lot of weight out of your bag. Most of what I take in my kit is not stuff I normally use — I simply bought that brand, or that thing, because it was the smallest I could find at the time.
Always Packed
The key to my entire toiletry system is that I always keep it packed. There's only one item which I don't have a duplicate of: my electric razor. Everything else stays in the bag and ready to go.
At any point then, so long as I remember to put the kit in my bag, my worst case scenario is not having a razor when I arrive. Second worst: not having enough stuff to last the entire trip — which is so easily managed I don't worry about it. Essentially then, I will always be fine for the first night there and can deal with any shortcomings the next day.
Now, there's more to this than just leaving duplicates of all your shit in a bag. You have to pack the bag when you return from your trip, not before you leave. If you don't repack the kit when you return, then your kit isn't really packed and ready to go. For me this means I keep a stock of the items I typically burn through quickly, like: toothpaste, deodorant, and contact solution.
My routine is to take my toiletries out, open up the kit and replace anything that needs to be replaced and then put it away. If I use up any of my extra stock of things, I add it to my shopping list right then and there for the next trip to the store.
For me, having this always packed takes a huge amount of mental stress out of traveling. I only have to worry about grabbing the kit, and nothing else. No worrying that I forgot a toothbrush, or deodorant, or any number of other things. 'Did I get my toiletries kit?' If the answer is yes, then I am good to go.
Dopp Kit Bags
No post of mine would be complete without talking about bags. I've actually tried far more toiletries bags than I care to admit. Of those kits I've only found two that I truly like, and only one which I actually use.
What I Use
Personally I use the GORUCK GR1 Field Pocket. It's bulky, but it fits all my stuff perfectly, keeps it tidy enough. More importantly: I feel confident that even if an entire container of stuff leaked, that it would not leak through the thick Field Pocket onto my other gear.
If you really want something light weight, and a kit which I may switch too, then go with the SLICKS toiletries kit. It is super light weight and really nicely done, unfortunately I don't see any way to buy just the kit. Which is too bad, it is one of my favorite parts of the bag system.
Lastly you could go crazy minimal. For that you probably want a cuben fiber bag. This stuff weighs nothing and is waterproof. You can find all sorts of bags made out of this stuff from Z-Packs and Hyperlite Mountain Gear. I've used the material before, but not for this purpose — though I have little reason to doubt how well they would work. Or a slightly less minimal take is Tom Bihn's 3D Oragnizer which I find myself needing two of for toiletries.
For me I prefer the organization and rigidity of the Field Pocket, but it's certainly not for most people.
Note About Pill Cases
Unsurprisingly, I did a lot of research on pill cases by ordering half a dozen from Amazon to try out. Of all of them, this GoPillable is easily the best.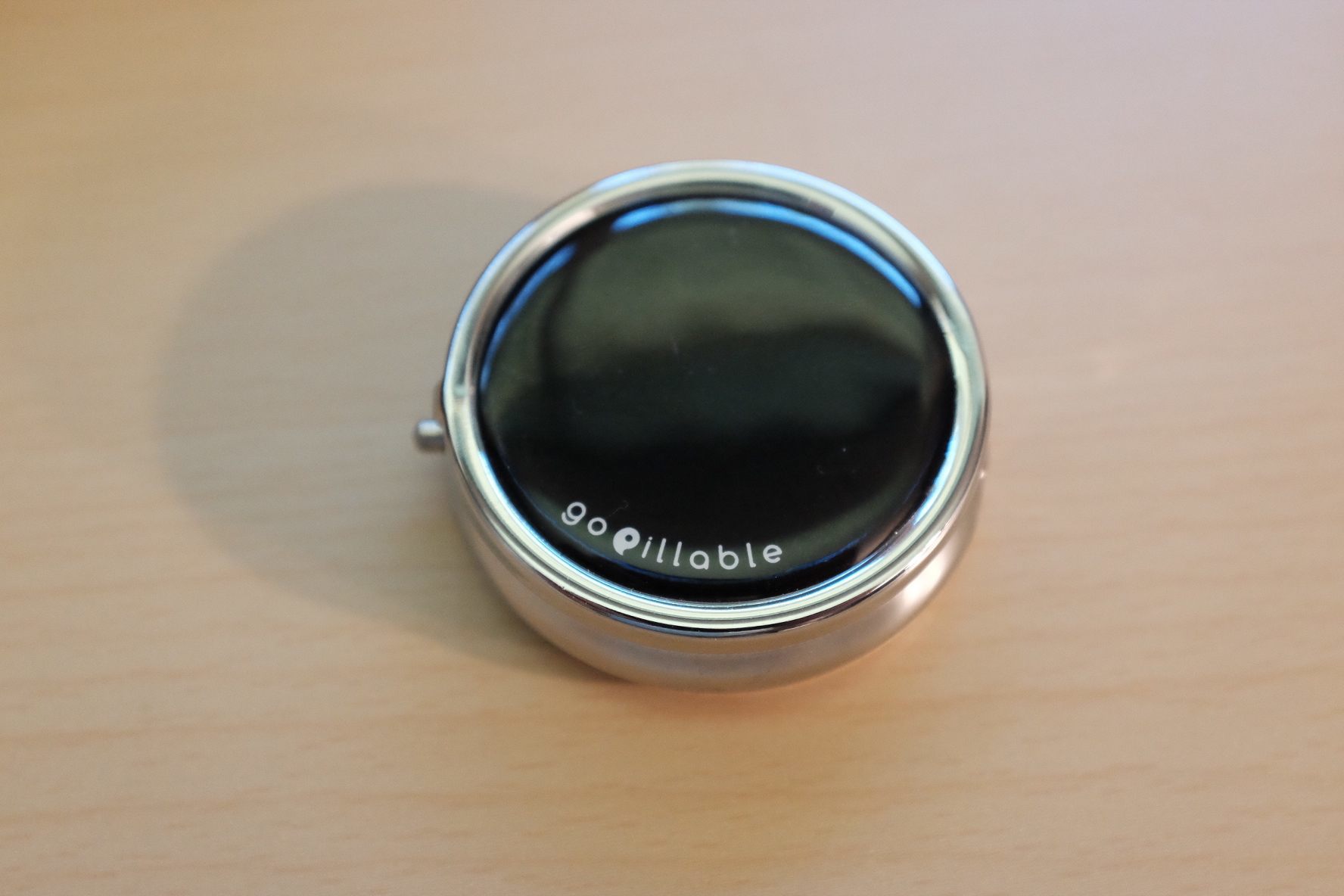 You might notice in the above pictures that I hacked out the plastic dividers. It wasn't that easy of a task, but well worth it as it allows for holding more pills. I highly recommend this case as it closes securely, yet is easy to open. Easy to pick through the pills, durable, and holds a good amount in a small package. Really nice product for $13.
---
There you have it, my toiletries. The key is to find a bag you like, pack only what you need, and keep it packed and ready to go at all times.
See the rest of the posts here.