A lot of what I write about here revolves around my search for finding better things to carry on a daily basis. When I started working from home, I thought it would alleviate a lot of the needs for carrying, but it actually made my struggle worse.
When you don't work from home, you tend to leave your house with the notion that you will be gone for the entire work day. This allows you to grab a bag, and slightly overpack, while having little guilt about doing so. That's certainly how I approached it, and how most approach it given the "EDC" setups I see online.
However, when you work from home the dynamics change. I still need to keep my phone on me, or I tend to forget about it and am thus unreachable to those who need me. I also tend to need to carry a pocket knife, otherwise I find myself constantly walking back and forth across the house to get one. But at home I don't need to carry anything else,
When I leave the house, it tends to be for shorter periods of time, so taking a bag doesn't always fit — who needs a backpack to go get groceries or drop by Starbucks for 60 minutes? So my kit needs to fit in my pockets, and needs to cover the basics, and most importantly it needs to be easy to grab as I don't often plan when I might leave the house. Here's the kit I am using now: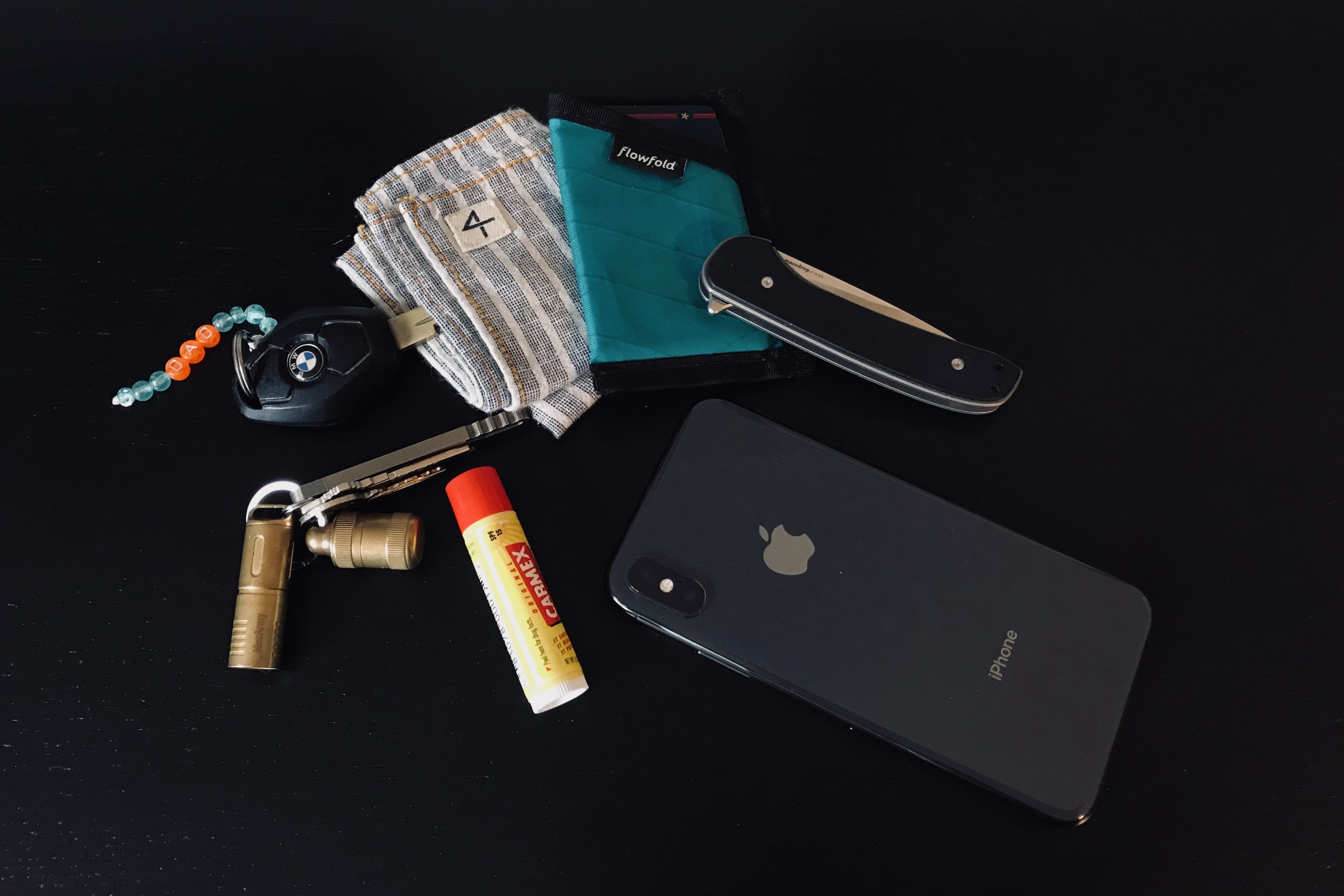 iPhone X
4 Corners Handkerchief
Car Key with a keychain from my daughter
Key Ring with Titanium Clip

House Key
Mailbox Key
Pico Pull with Advil in it
Carmex

Massdrop Gent Knife (or Chris Reeve Small Sebenza 21)
The larger key ring tends to stay in the car while I am out and about, or clip into a bag when I travel. And despite constantly looking for and trying new wallets, this Flowfold is the best I have found. That pill case could be lighter, but then it wouldn't look as good. The flashlight is perfect.
Oh, that knife, I'll have more to say about that soon.