I last talked about a classic and cheap Casio diver watch, today I'm talking about perhaps the most classic looking G-Shock, which is also absurdly cheap. And even at that, it has 2,638 reviews on Amazon with a 4.6 star average. So people like it. I got one to find out why.
Bottom line: if you like the look, there's probably no better watch for the money.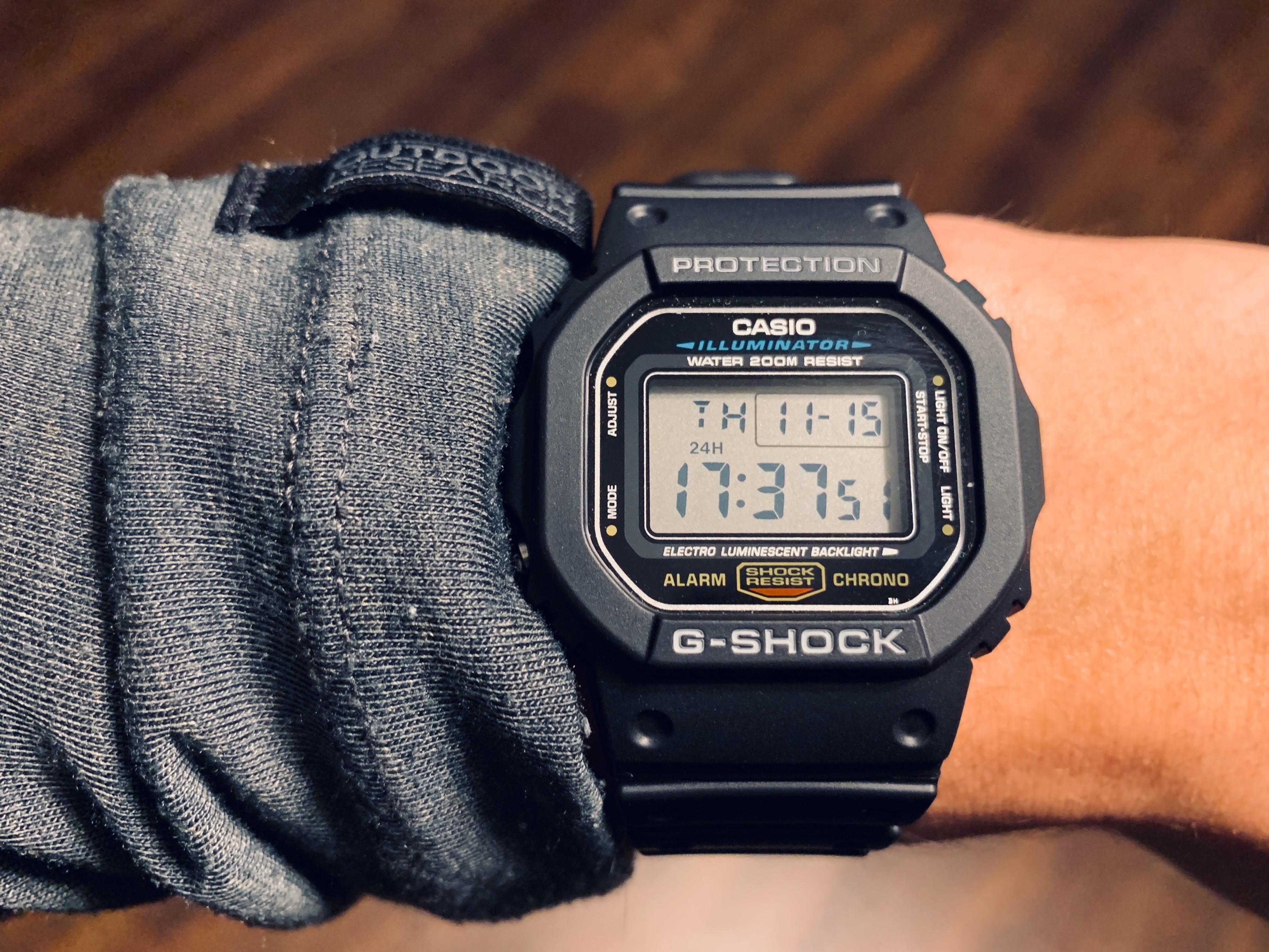 Why
I bought this to test out a theory: there's simply no reason you need to spend a lot of money to get a really solid watch. This is part two of three, where I'll be looking at a watch you can buy on Amazon for around $40 shipped to your door.
Read part one here.
Part three is here.
Fit and Finish
This is a digital watch with a resin case, so there's not a whole lot to say about the fit and finish. The watch is solidly made, like all G-SHOCKs, and there's very little to complain about with the overall construction. It's uninspiring, but fine.
I will also note, as I think all G-SHOCKs do, this has a water resistance to 200m. There's very little you could do to break this watch.
Comfort
This is among the most comfortable watches to wear that I own. The resin strap (as they always are) is very comfortable, and the thinness and lightness of the watch makes the entire thing disappear in your wrist. I don't really have a rating system for comfort on watches (or anything else) but it gets the highest marks for comfort if I did have such a system.
Use and Wear
I'm not a huge fan of most digital watches, so I won't be the best to talk about them. This watch has all the most basic features, like time, stopwatch, countdown timer, and alarms. It also has a green backlight for the lcd display. Looking at the watch on Amazon is pretty unappealing — it just looks like it won't be great looking on your wrist.
The reality is that changes a bit more once you see it in person. It looks fine, and if you like a retro-digital look you'll probably like this.
I like the green backlight on it, as it wasn't overpowering at night, but still legible. I found the display to be a little small, and not very crisp when looking directly at it, move it off angle (an angle you would likely see the watch from on your wrist) and things get sharper. That's not ideal, but $40.
Where I really ran into issues with this watch is with the buttons to operate it. They are very small and hard to press, especially with cold hands. And the 'adjust' button has given me a ton of issues to press for setting the watch. I have read that others don't have issues with these buttons, so maybe I just really suck at pressing small buttons, but I still found them annoying as shit.
Overall
This G-Shock looks like you spent less than $40 on it, but performs like you spend way more. Kind of weird, but I kind of like it. I don't like operating the buttons, but as a strictly time telling device it is great. The accuracy is solid, and the durability is G-Shock. I can see why so many places recommend this watch to people looking to find a good watch to abuse. You could destroy this over a long period of time (I don't think it's likely to destroy this watch fast), afford another, and do it again. I get it.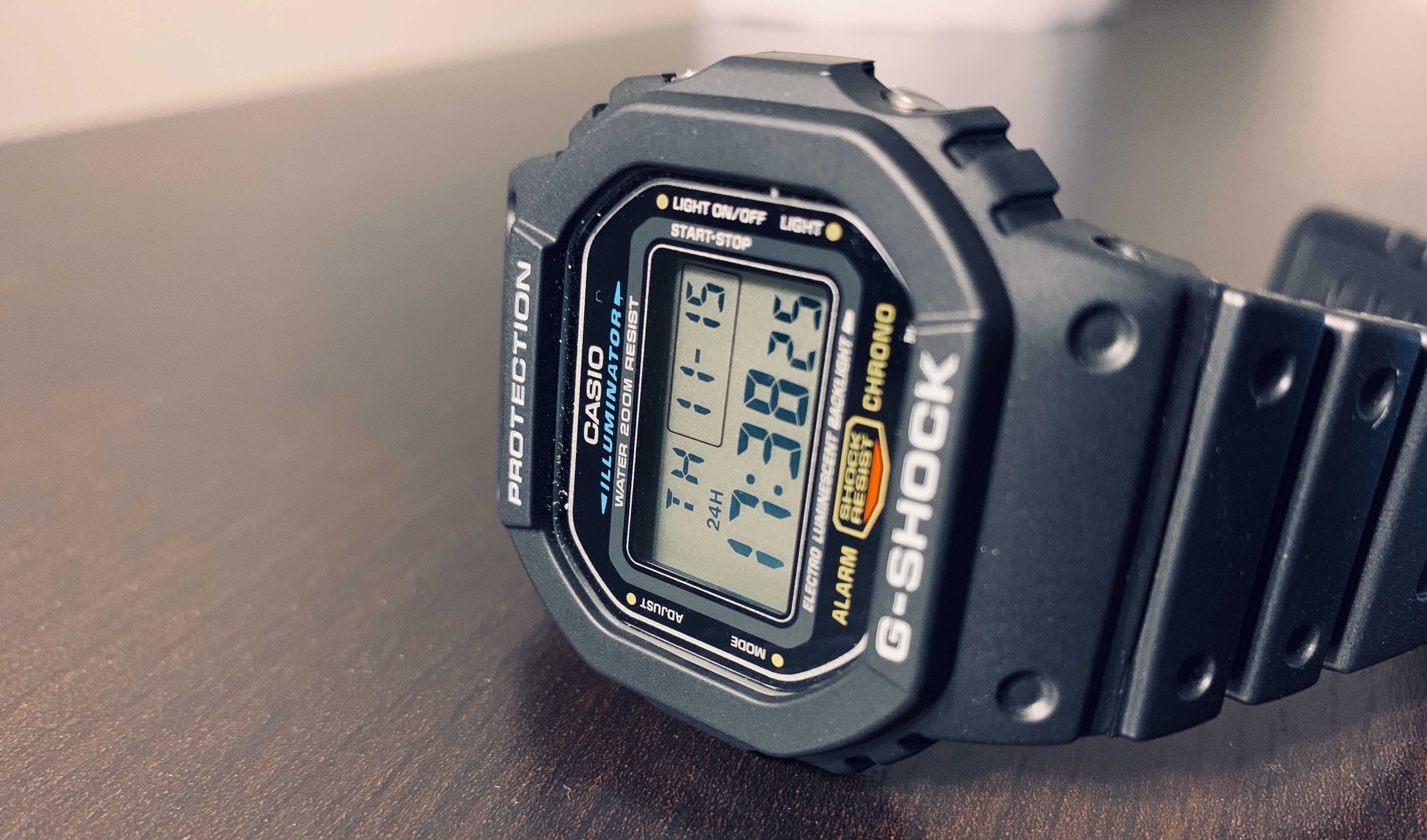 It's so simple, and yet so good. I can't quite explain it. I think people get watch suggestions wrong. If you want a hard use watch, or a great outdoor watch, that doesn't break the bank, this is it. Why would you spend more if you know you either won't use it outside of special cases, or know you are going to beat the hell out of it? I wouldn't spend more. I really like this watch. The low price is just a bonus.