So far I have covered flashlights to depend on with your life, and flashlights to always have on your person. Now I want to go over all the other flashlights I purchased to test, which don't really fit into either of those other two categories. And a few other lights which are on my radar, but have not found their way to my office (yet).
All these lights run the gambit of uses, and looks, and while some could fit into the two categories I already wrote about, for one reason or another I didn't feel they fit well enough for my criteria. So here we find ourselves, with the poorly named: Flashy Lights edition.
Muyshondt Aeon
More than a few of you wrote in to make sure I knew about Muyshondt and the Aeon specifically. It is very expensive compared to everything else, and seems to be worth every penny from what I read and can tell. At $295, it is simply out of my price range for this series, but it's at the top of my "to drool over" list. Looks stellar.
Muyshondt in general is a well respected brand of flashlights and if you aren't price sensitive, it's probably one to add.
MDC HA 1CR123 Flashlight
This Malkoff Devices light is also one which a lot of people wanted to make sure I knew about. There's a huge following of people who love to use these lights as EDC lights, and they certainly seem to be competitively priced — if a bit hard to find. (Another thing to note about Malkoff is that they make quality LED "drop ins" for older Surefire and Maglites.)
HDS Rotary
The last of the lights I have not bought, but want, is the HDS Rotary which is another very nerdy flashlight brand — and priced at $269 it is up there for sure. What really draws me to this light is the rotary control allowing you to dial in any brightness you want, and yes the excellent reputation from the brand. While it doesn't look as sexy as the Muyshondt, it's the light I would buy out of the three I don't currently own yet.
Armytek Wizard Pro v3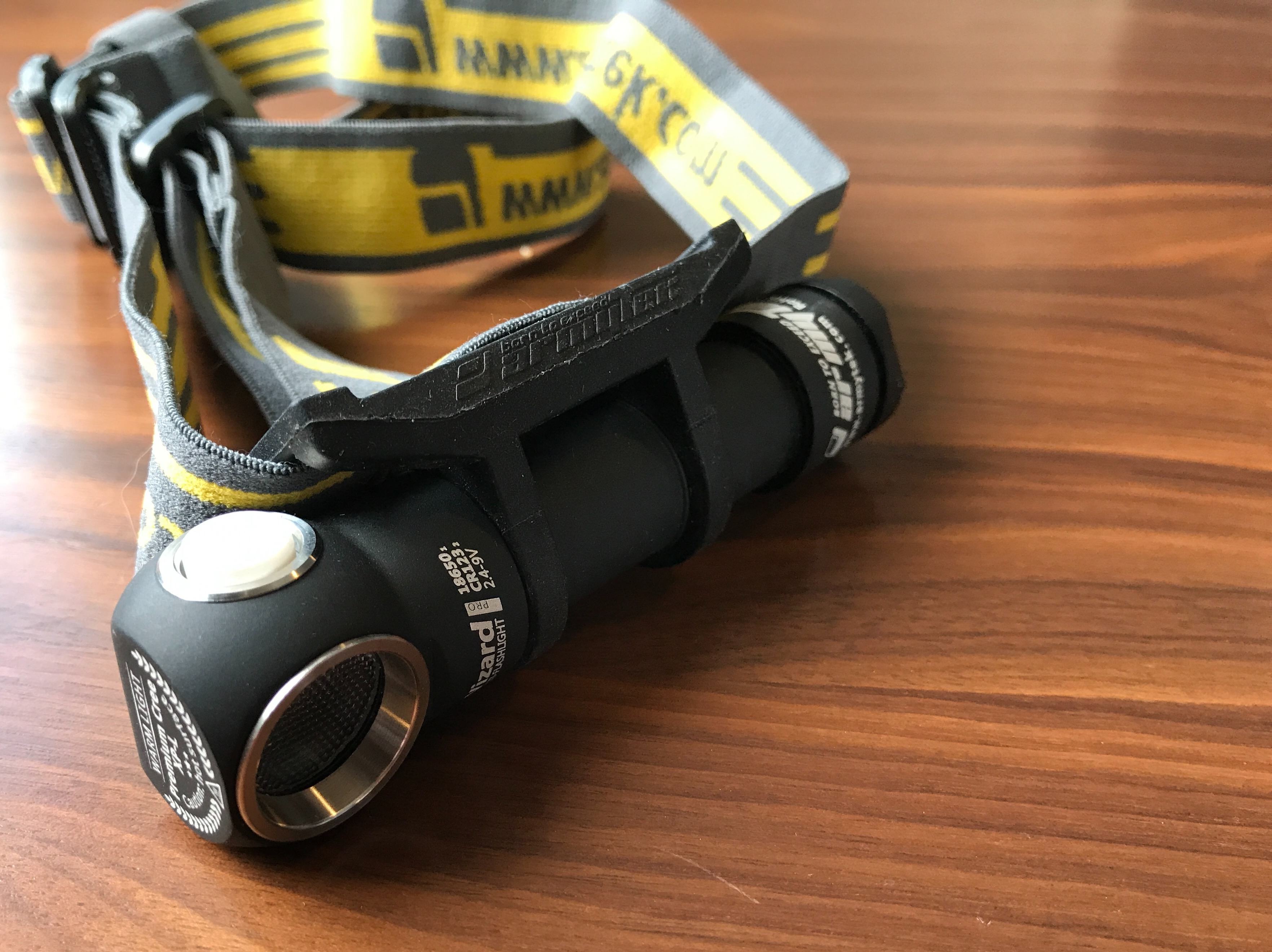 In my survival oriented flashlight post I mentioned Armytek as a brand which can rival Surefire. I snagged an Armytek Wizard Pro v3, with the Cree XP-L warm white light. It's fantastic. This light is unique in that it is a 90° light which takes an 18650 battery. This gives it immense power, and a long run time.
The 90° angle is made for the light to work as a headlamp with the included headband, as well as a wrist light with the included wrist strap. The light can tail stand as well, it also has a magnet in the tail.
The UI is the best of any light I have tried to date. After just a few days I had the controls down, and could always turn the light on to the mode I wanted at will: moonlight, medium, turbo, what have you — awesome UI. The matte coating on the light also feels superb in hand, and is very grippy.
Overall, I think this is one of the best all around lights I bought. The beam is very floody, and in using it as a headlamp to work around the house it has proven fantastic. This is most certainly my new hiking light. Really, good light. My only complaint about the light is that I wish it had less branding everywhere. Less white writing, less writing on the head band, but that's a minor complaint for how good this light is. The light also has a great moonlight mode, which is the perfect mix of being dim, and yet bright enough for seeing around a tent in the dark.
If you've been reading these waiting for me to say "if you pick one, make it this one" this is going to be that light. It's not going to light up huge distances, but I think most people won't need that. What a great light.
Armytek Barracuda Pro v2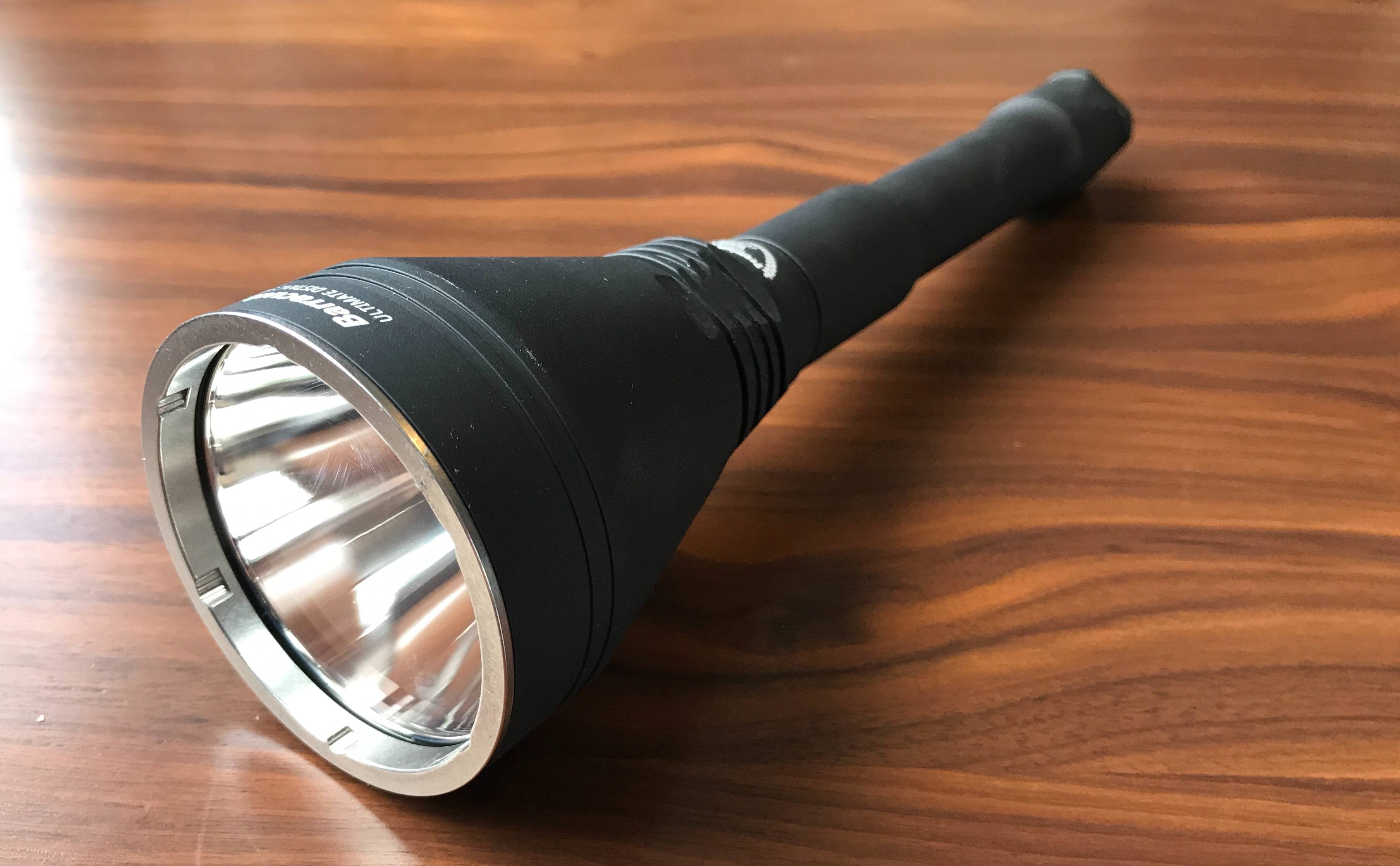 The next thing I ran into was what to do with these huge Maglites I have in the house. The 5-cell D and 6-cell D models. For the most part they are useless as flashlights compared to even the smallest and cheapest of lights I have. But, they are really good as security lights for being able to whack someone with them, or just feel like you have something more substantial in your hand.
So I went in search of something which I could replace those lights with, something which is really bright, and strong enough to hit someone with if needed. I ended up looking at lights with huge throw (shines the light really far), and snagged the Barracuda Pro v2 from Armytek in warm white, with the Cree XHP35 LED.
Like the Wizard, I wish it had less white writing on it. It has the same grippy and awesome matte finish. Though it takes two 18650's and has an insanely bright and far reaching beam. And, yes, you could do some damage hitting someone with this.
I file this light under the category of both really fucking cool to have, and completely unnecessary. There's few people that need a light like this, but for me it will be a "want to see something awesome?" type of light. Still, damn fun. What's also funny is using this light on the moonlight mode. I like that I can have the light always turn on to that mode, but also twist the head of the light down tight and quickly go straight to the brightest mode — again Armytek has great UI on their lights.
Lumintop Prince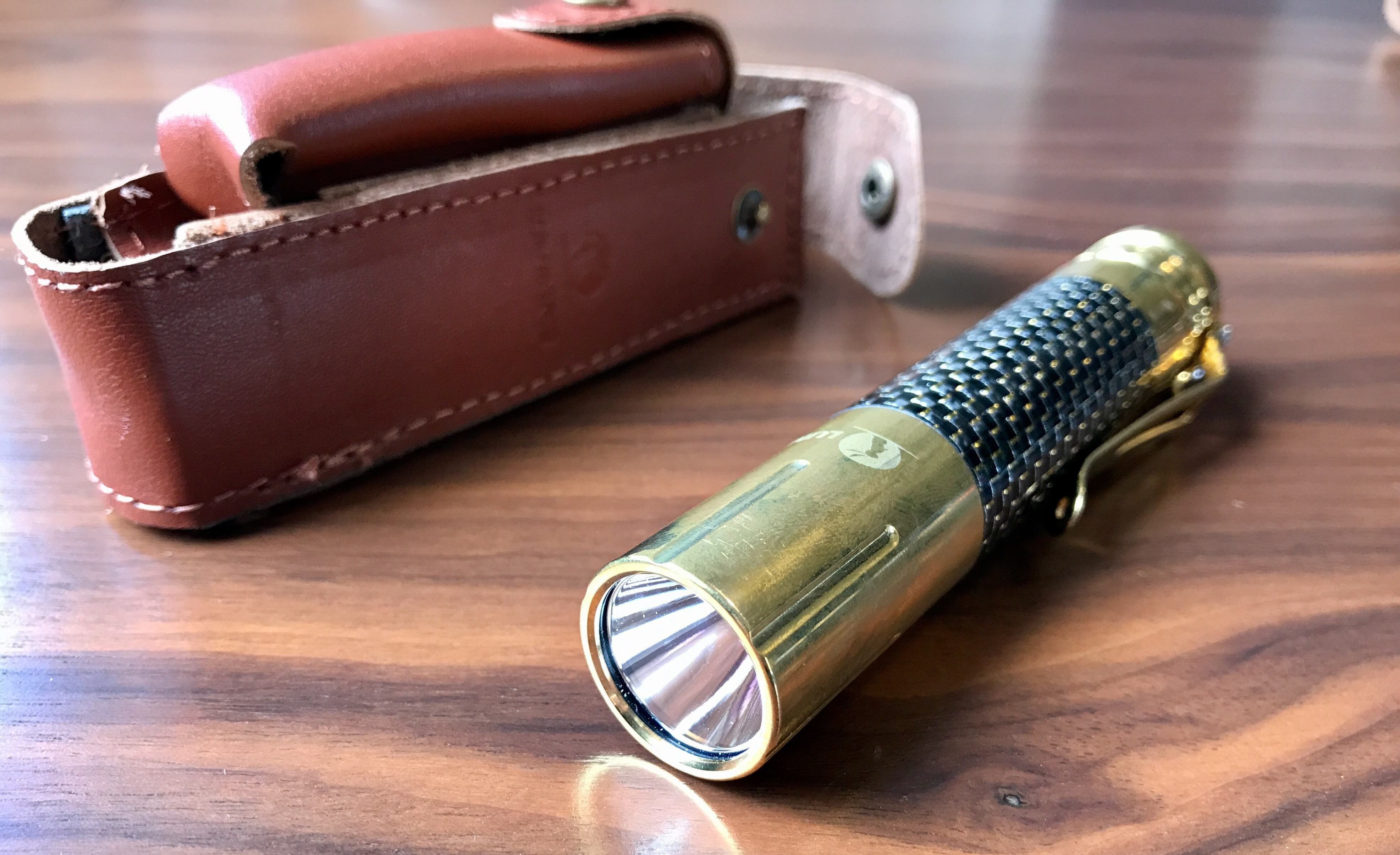 Now we start down my brass collection of lights — which apparently I really got into. First up is a Lumintop Prince light purchased through Massdrop.
The brass model I purchased is an 18650 light with a Cree XM-L2 U2 LED putting out 1000 lumens of light. It's bright, and for getting around the house at night, it is too bright on any mode. That said, it's a really nicely made light.
The light always comes on in low, and you cycle through with the tail switch. It's a forward push tail switch so you can cycle through the light modes rather quickly by half pressing the switch. I really like this light, but the case it comes with is a joke. You can't get the light out of the case without the case coming off your belt.
That said, it's a solid light with good looks. It's not my favorite, but it is a good alternative which would easily stand in for many of the more tactical looking lights with this kind of output and features. It's a tad more delicate (not as much impact resistance), but this easily could be the only light most people need. It covers those bases well, while looking fancy and stuff. If tactical black coated lights aren't your thing, this might be a good choice for you.
Amazon has the copper and stainless steel models.
Reylight Pineapple Brass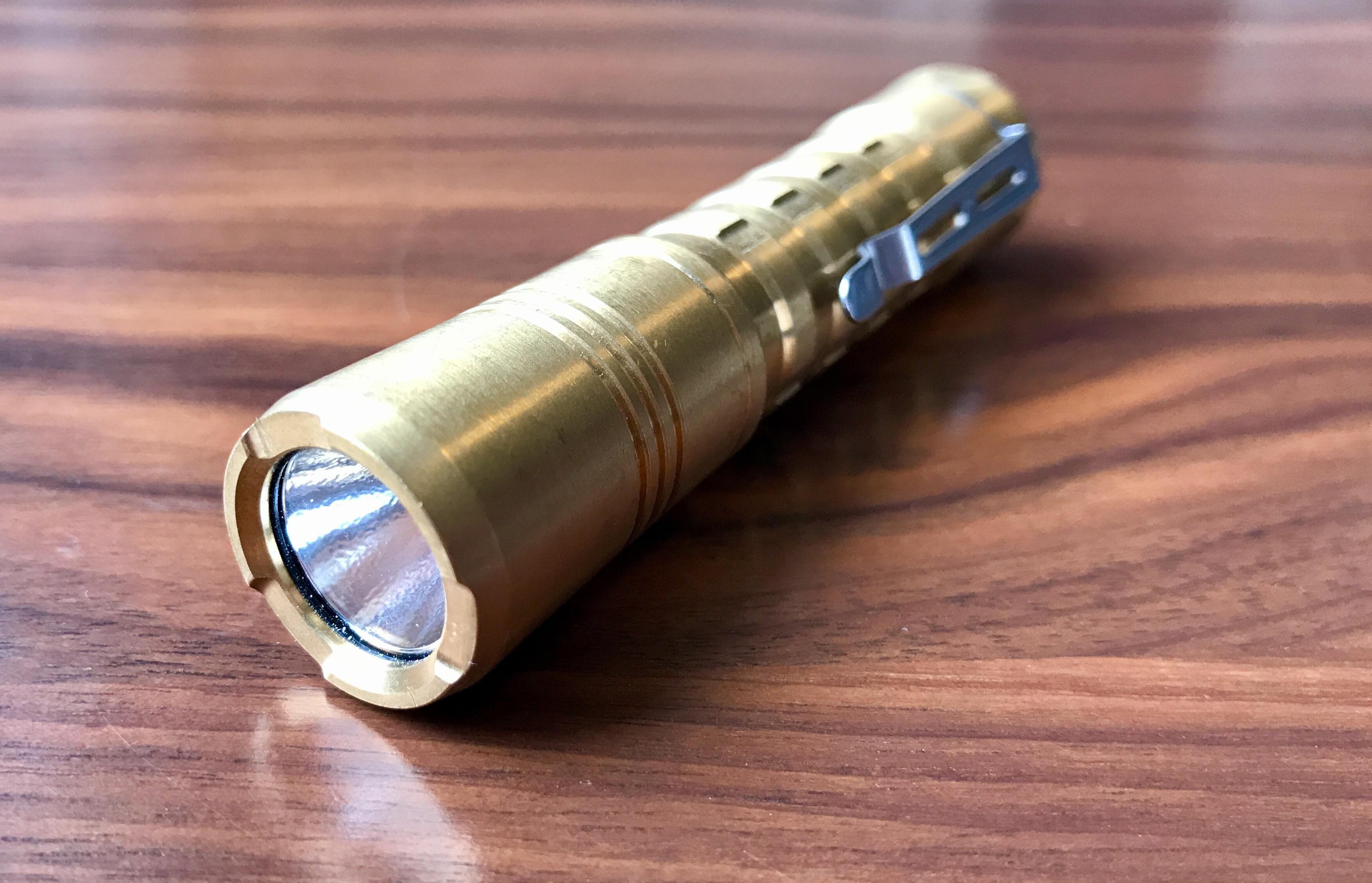 I had seen this light around the flashlight forums and really was glad Massdrop held a buy for it. This is a solid brass light, that takes a AA battery. I snagged one with a Nichia 219C LED, for the higher CRI of the light (makes colors look more true tone).
This is, without a doubt, my favorite flashlight. Yeah, it's output isn't super bright. It weighs a ton in hand. It only takes a normal AA battery (though you can go to a 14500 battery if you have them), but the thing is, it's a really beautiful light.
It's not my best light, but fuck yes it's my favorite.
I really don't have a single complaint about the light. I love the size, the feel in my hand, and everything else. When I travel, this is the light I now toss in my bag. It's too heavy to keep on me at night around the house, and that's a damn shame, because I'd love to carry it.
One additional thing to note is that the tail switch has a groove to hold a Tritium vial for a constant marker. I am torn on wether or not to add one, so we shall see — but it's a nice touch. At 110 lumens max (with a AA) it won't impress many, but that's 110 lumens coming out of a perfected flashlight body design.
For those wondering: I use a AA instead of the 14500 because I want less light output from the light, most of my other flashlights are way too damn bright. I find that with the AA the three modes on the light offer the right balance of light for what I want and need.
You might be able to get it on Amazon.
Massdrop Brass AAA Pocket Flashlight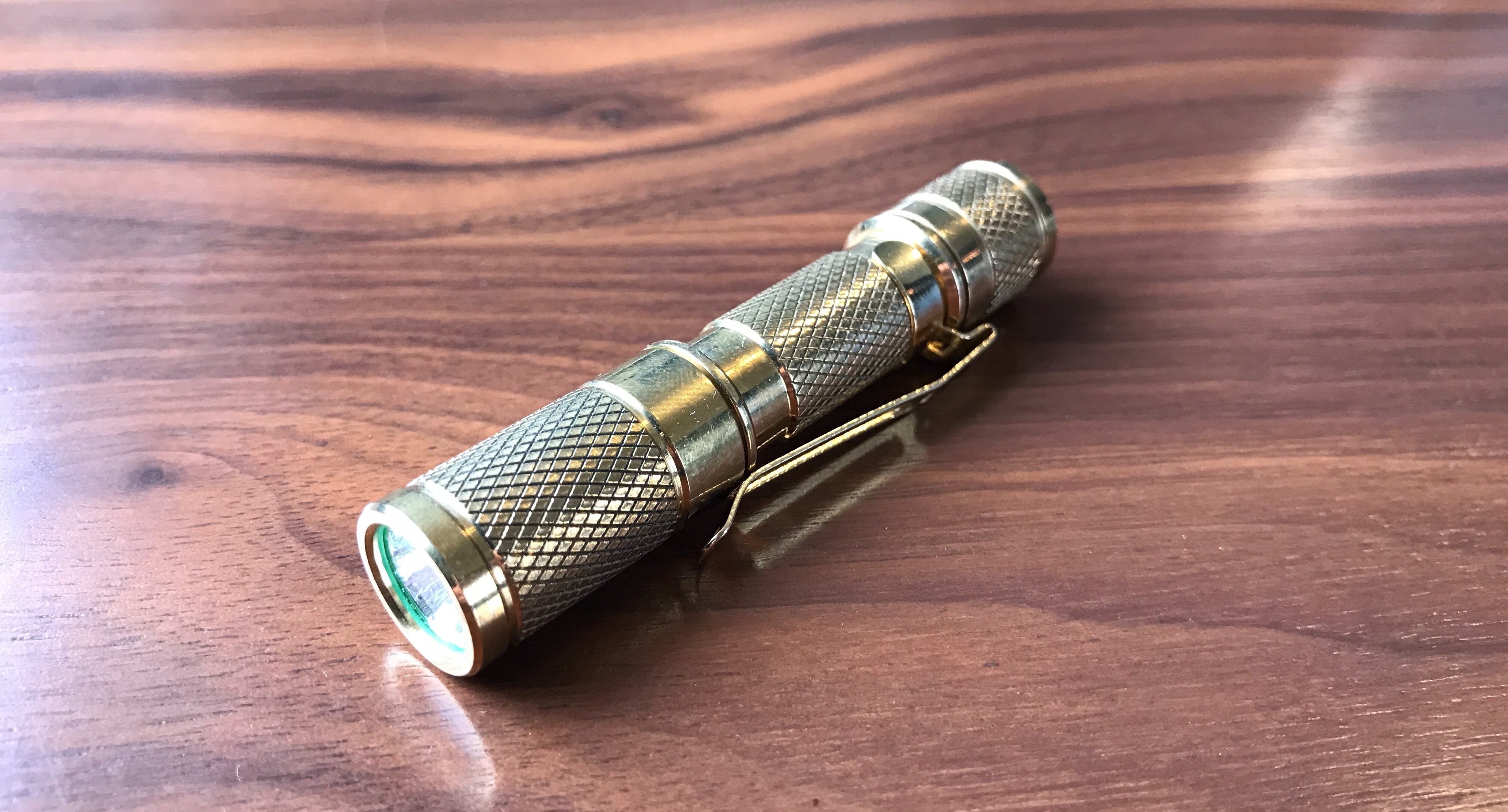 Massdrop also held a buy for a collaboration/custom light they contracted. The closest readily available light I know of is the Lumintop Tool light, but it's not entirely the same. This is a tiny little light powered by a AAA battery and my model has the Nichia 219B LED for the improved CRI once again (it's well worth the trade off in output, unless, of course, you are completely color blind, then I guess it isn't?).
At $25 this is a great little light with it's own set of flaws. The tail switch is electronic and so it has a constant battery drain and a less than ideal feel to it. Compared to the Pineapple, it weighs next to nothing. The output on the lowest mode is really too bright — in fact for a low powered light I find it to be very bright.
But it's also really tough with an IPX-8 rating. It's also my most used light, because it disappears into my pocket. When the sun sets, I drop this light into my pocket and it stays on my night stand while I sleep. It's the perfect little light to keep something on your person while around the house at night, but never notice you have a light in your pocket.
It has quickly become not only my most used lights, but my most appreciated. I only wish I had purchased a couple more of them.
Wrap
Ok not a complete wrap, I'll do one more post on batteries and such, but that's a wrap on the actual lights. Wizard Pro v3, in warm white, if you are buying only one. Otherwise I've made my picks and I stand by them.
If you don't care about things and just want the one I love the most, clearly that's the Pineapple light, did I mention it's amazing? Anyways, there you have it.
Now, if only the power would go out for a night.