If my recent G-SHOCK purchase taught me anything, it is that I really like G-SHOCKs. They are versatile, durable, and more than anything else: functional and extremely comfortable. The issue was that I had not found the one that I loved — the one that was right for me.
So I kept searching.
Why
The Gravitymaster taught me to love G-SHOCK again, the G-STEEL showed me how valuable a digital display was, and the DW5600e showed me how light and small they could be. But what really drove me to this watch was the vibrating alarm.
I wanted something similar to the DW5600e, something digital, but I also had a practical need: now that I wasn't sleeping with my iPhone in the bedroom — how in the hell am I going to wake up? My wife and I have been together for 10 years, and I've always woken before her. I've also always woken to the same song. It starts slow, but usually I hear the vibration of the phone before the sound, and wake up to turn it off. My wife has learned to tune both of these out.
So, now that my iPhone wasn't in the bedroom, how would I keep from disturbing her sleep in the morning, but still wake up when I wanted? I thought about Apple Watches, Fitbits — both went against the goal: no devices in my bedroom. Then I remembered there are watches with vibration, and found this G-SHOCK for just this purpose.
Vibration
Given that vibration is the key feature here, I should note it is not as strong as that on an Apple Watch, but also plenty strong enough. At no point has it failed to wake me up, but it's also not unsettling. It's a gentle wake up — more so than my iPhone was. The watch allows you to set 5 alarms, with 1 time, or daily modes. They are easy to set, and easy to toggle — but not so easy you ever need to worry about accidentally turning them off. It's actually faster for me to set alarms on this watch then it was on my iPhone — unless you trust Siri for such actions.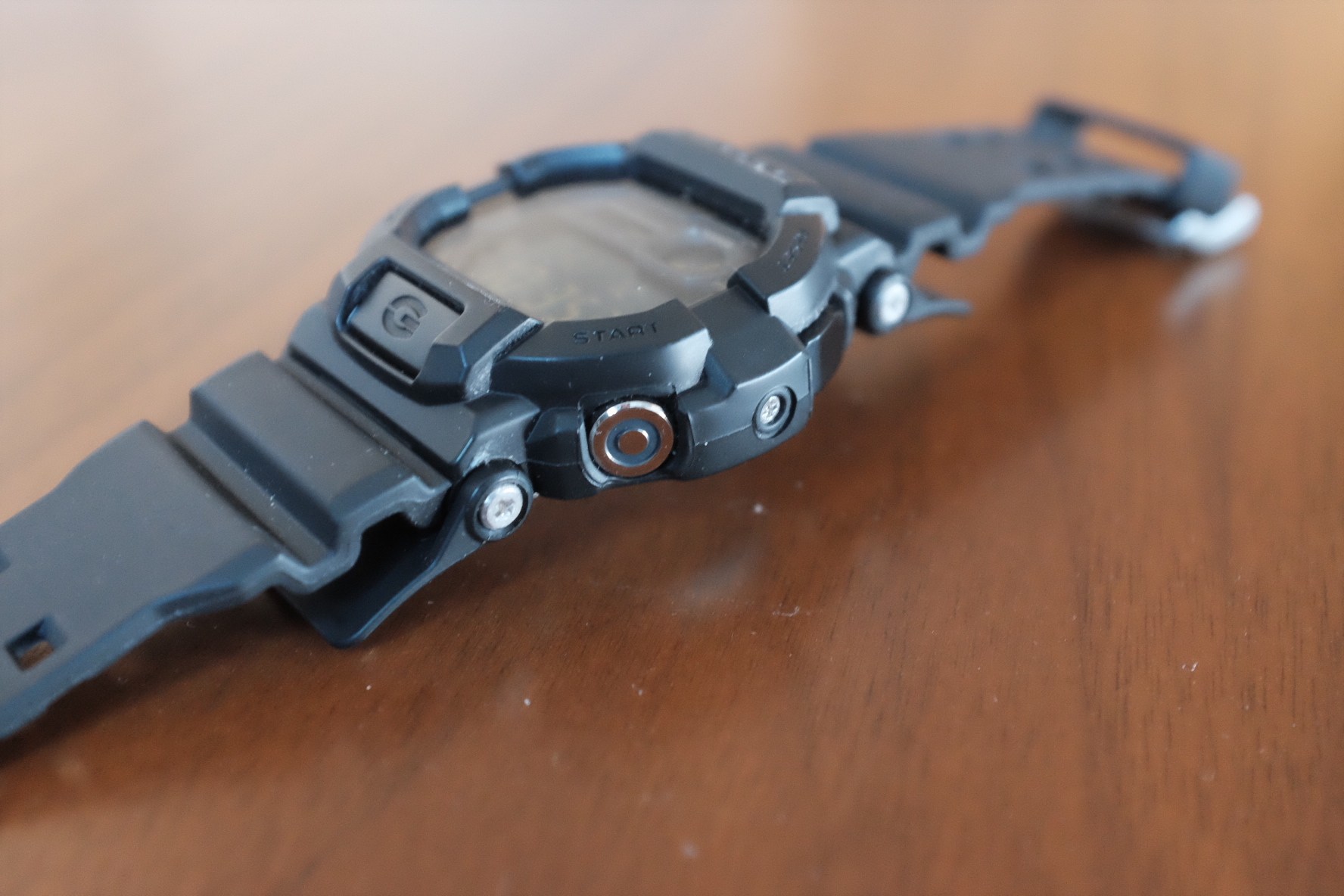 The watch also does audible alarms, but not both audible and vibration. When you turn on vibration mode, the watch no longer makes any sound. And when cycling through modes, when getting back to the main time, the watch vibrates to let you know. All in all, the vibration is nothing more than you expect, and nothing less than what you need. It's solid.
That Display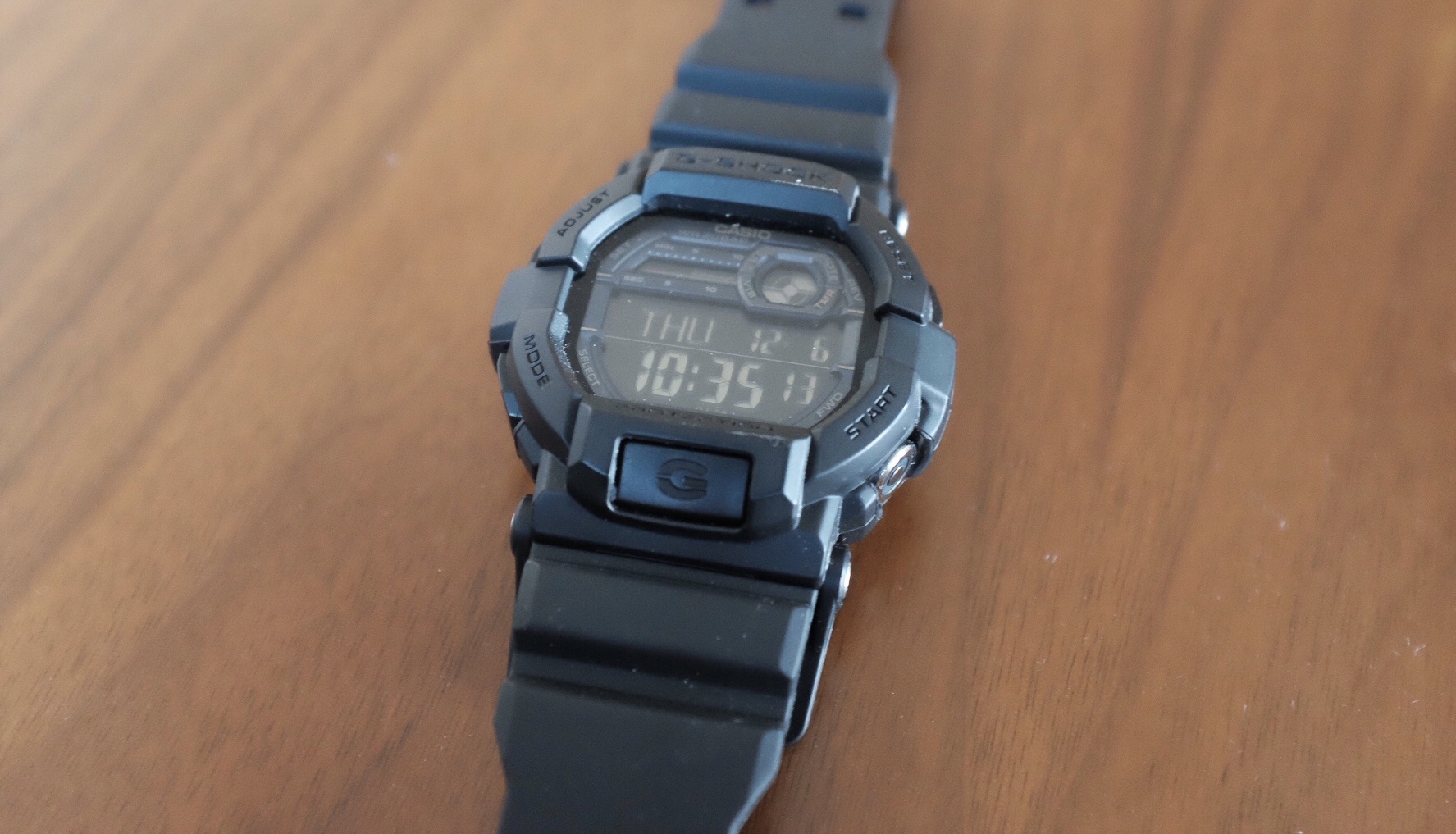 My biggest concern with this watch was that the reverse (negative) display might not be great. However the minute I saw it on my wrist, I was impressed. The black background with the yellow/amber colored numerals is stunning and the contrast is stellar. The display is also very sharp and crisp — much better than other G-SHOCKs I have tried.
It was, and is, glanceable. Even in darker settings, you can read it — but the display always looks dim and off to others. The display also has an LED light to illuminate it. I wish it had a backlight, but alas it has LED floodlights to show you the time in the dark. And they are bright. Too bright. I wish they were 50% as bright, because it is enough to light up a dark room at night.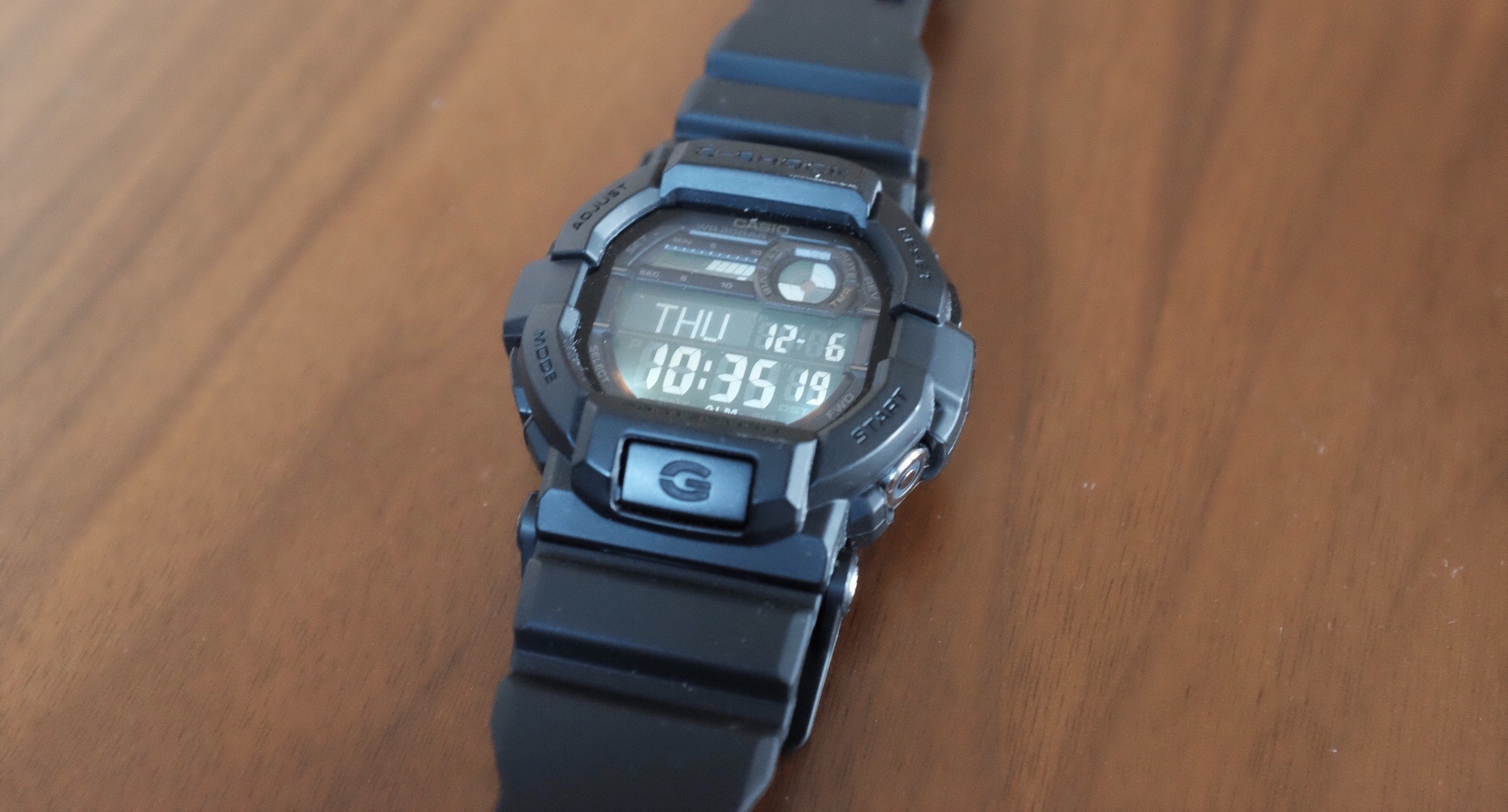 Backlight on, and visible in a bright room.
Last night I used it to look for something in the dark instead of grabbing my flashlight. So yeah.
Wear
One of the first things I noticed about this watch is that it is bigger than I expected. It is thick, and the display decently large. It's bigger than I would have liked, but just ever so passable as small enough to not look comical. It straddles that line well.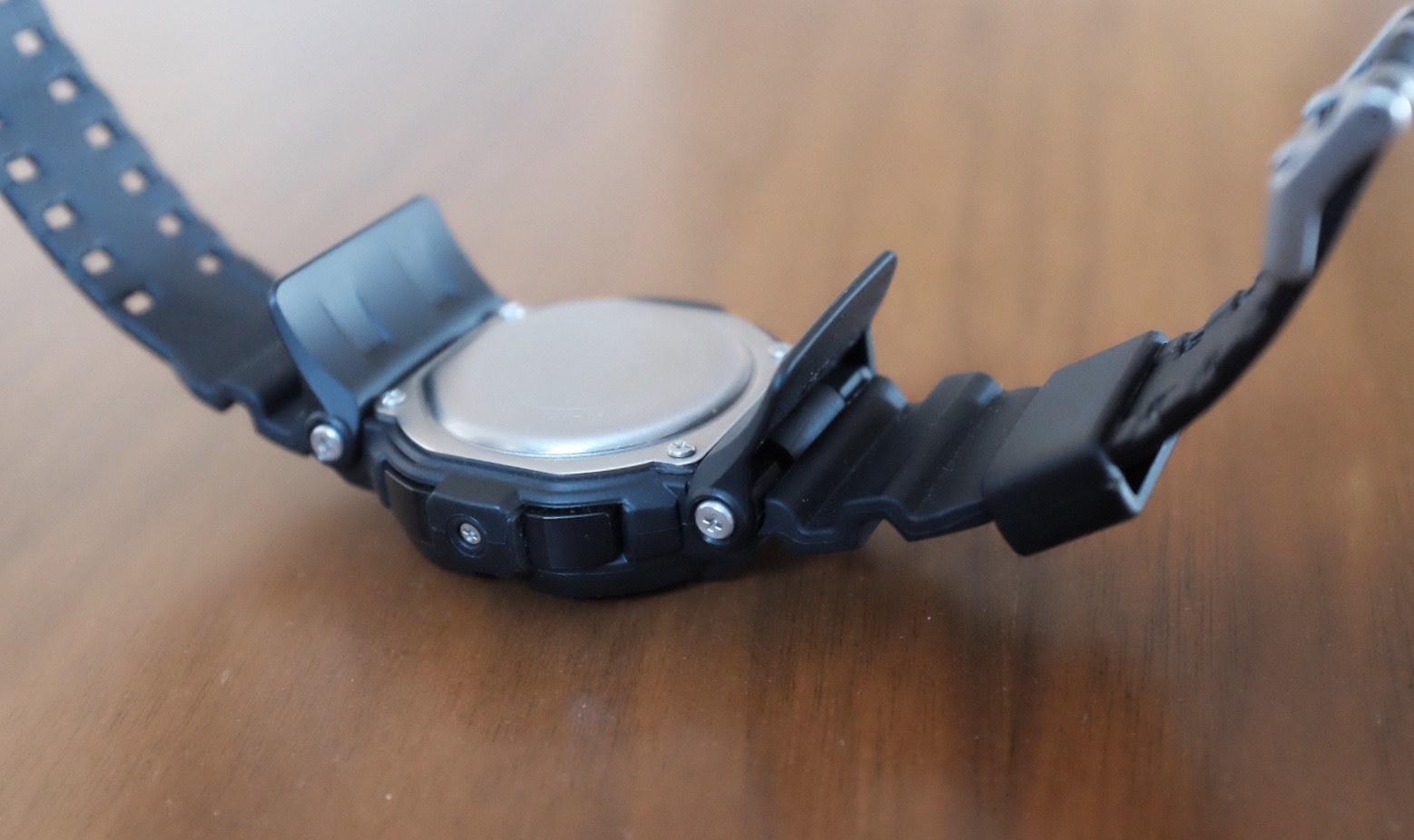 It is easily the most comfortable G-SHOCK I have worn. The resin is supple and comfortable, and the added 'wings' where the band attaches to the case helps to keep the watch in position and comfortable all day long. I've worn it for 3-4 days in a row with zero discomfort.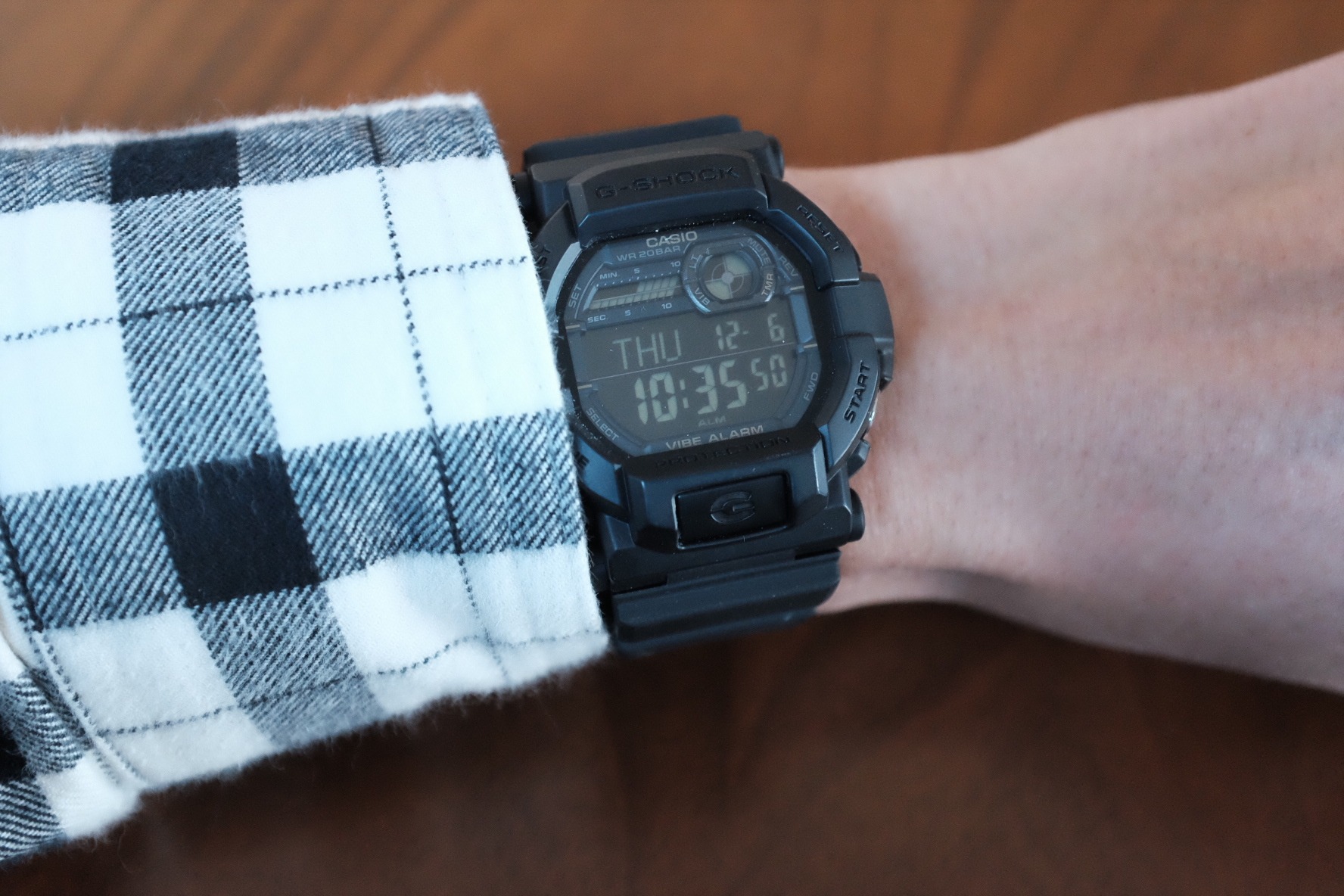 This watch is also very light, so the only time you notice the size is with a smaller shirt cuff. That's par for the course with most any G-SHOCK so it is hard to fault this watch for that.
Overall
I'm impressed, this is my favorite G-SHOCK I've owned so far. It hits the right feature balance and size balance for my wrist and the vibration alarm is killer. On top of all of this, it's priced right: $80 on Amazon. I rarely see people mention this variant of G-SHOCK and a couple reviews I did see were less than impressed.
I can't see why, I think it is simply great. Highly recommended. This will end my G-SHOCK search for some time to come, and if I were forced to pare down to just two watches, this watch would be one of them for sure. And not only because I now rely on it for my alarm.