Lots of revamps to the list this year. I did my best where possible to narrow the lists down further. Historically, I liked to present three choices, but this year I did try to (when possible) present as few as I could. Next year I hope to have the lists even smaller as a primary goal.
Also, because many of you base buying decisions off this list (sorry), I am introducing my "confidence rating" to each list. This is a simple metric to let you know how stable I feel the picks on a given list are. There are three ratings possible, here's what they mean:
Ongoing: I am still actively researching this type of item, and I suspect it might change by the next year. The list is in flux.
Solid: I feel like I have looked at enough things, and am overall happy enough with what I have that any changes would be minor. Or perhaps only because something new was/is introduced. A change would thus be unexpected but not completely blindsiding to me.
High: I would be happily surprised and shocked if something showed up which substantially changed this list because what I've found is far ahead of the rest.
I hope that helps, as I know I get questions about why somethings change year to year. But also keep in mind that sometimes my preferences change as well. Either way, I have tried to spell out major shifts and why they happened.
Enjoy!
The Only Items You Need
Confidence level: Solid.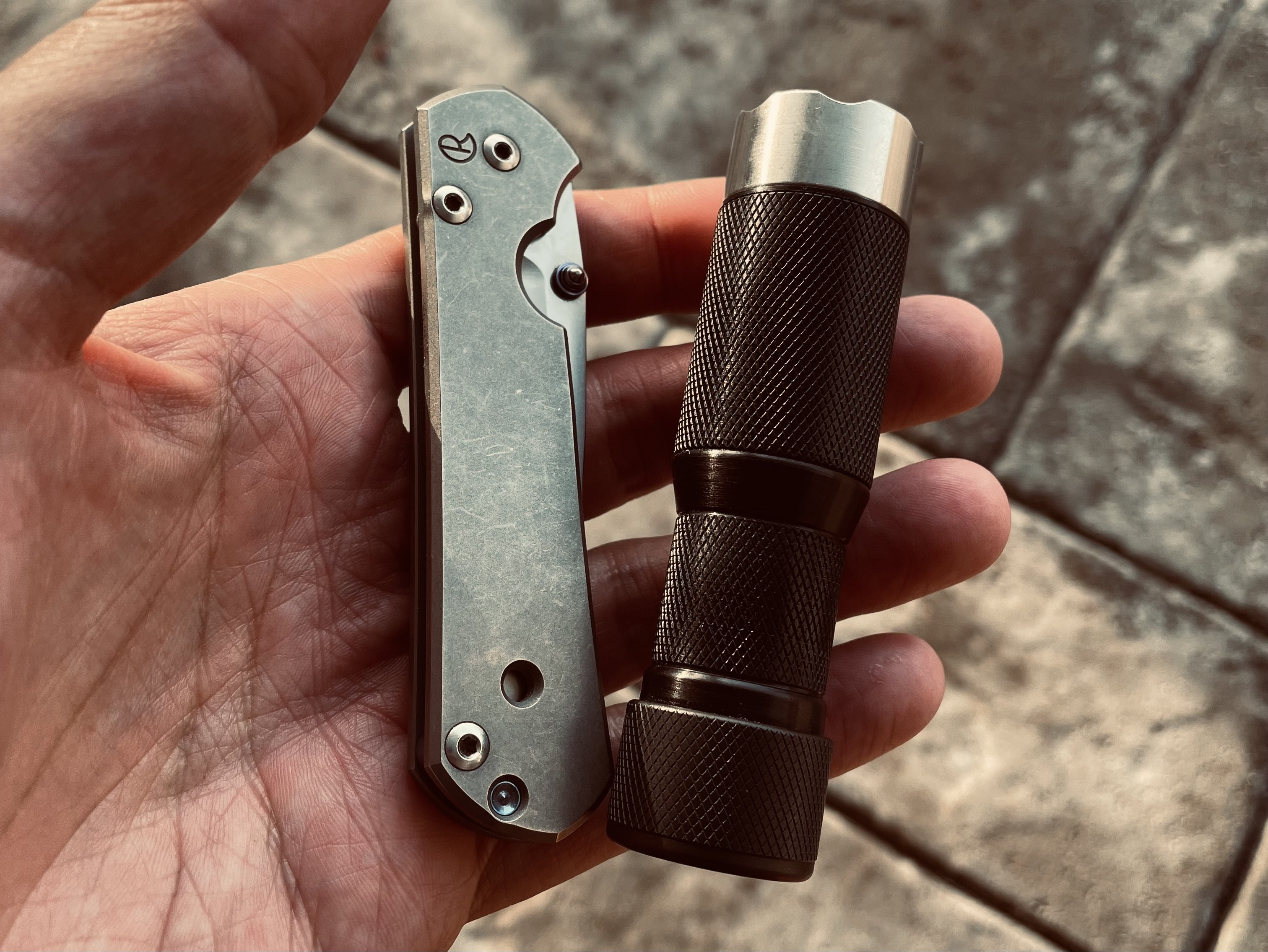 I am worried the lists this year are too long. Like, so long. Anyways, what if you showed up, got a membership and were like "crap, this isn't helpful there's too much!" Some of you want to know about specific sections because you too nerd out about them, but I also know there's a good amount of you out there who just want me to tell you what to buy.
That's what this list is for.
A list where if you buy everything here, you have dope EDC gear that I think is the best. And to do you one better, I am listing the "best" item I have found, but also a less expensive alternative which I also love but is not the best, because I assume this is going to be expensive as hell.
Here you go:
Ok, now for the down and dirty of it all…
Best New Thing in 2021
Confidence level: High.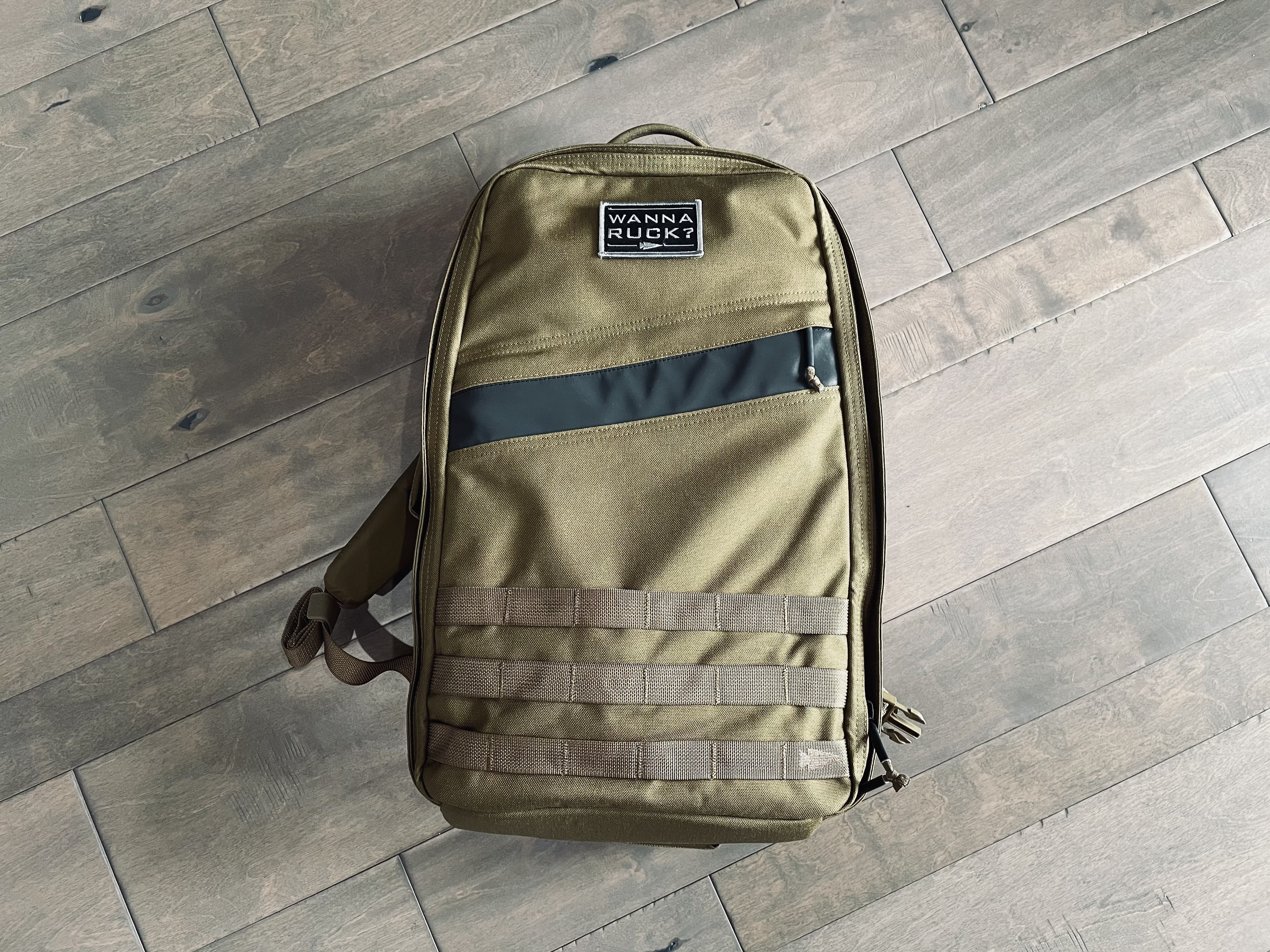 GORUCK's Rucker 3.0 25L is the best new thing that came out in 2021. It is, hands down, the best backpack GORUCK has ever made. Incredibly comfortable to ruck with a lot of weight in, and it works really well as a general bag too. Truly though it is a niche bag, and that's why it misses the lists below, but know that if you ruck (and you should, it's awesome) this bag is the one to get. And if you do ruck, this bag is pretty great for non-Rucking uses if you can't swing the budget for two bags. Nothing carries weight as well as this bag for a ruck. Nothing.
Yes, 210D is easy going on clothing and requires less break in and all of that. But more than any of that, it actually makes the straps significantly more comfortable than the GR1 straps. I wasn't sure that was possible, but here we are. Almost for that reason alone, the Rucker 3.0 25L is the best new thing of 2021. (3.0 Ruckers came out at the end of 2020, but the 25L didn't ship until 2021, so I'm counting it.)
The Bag Lists
The Best Backpack
Confidence level: High.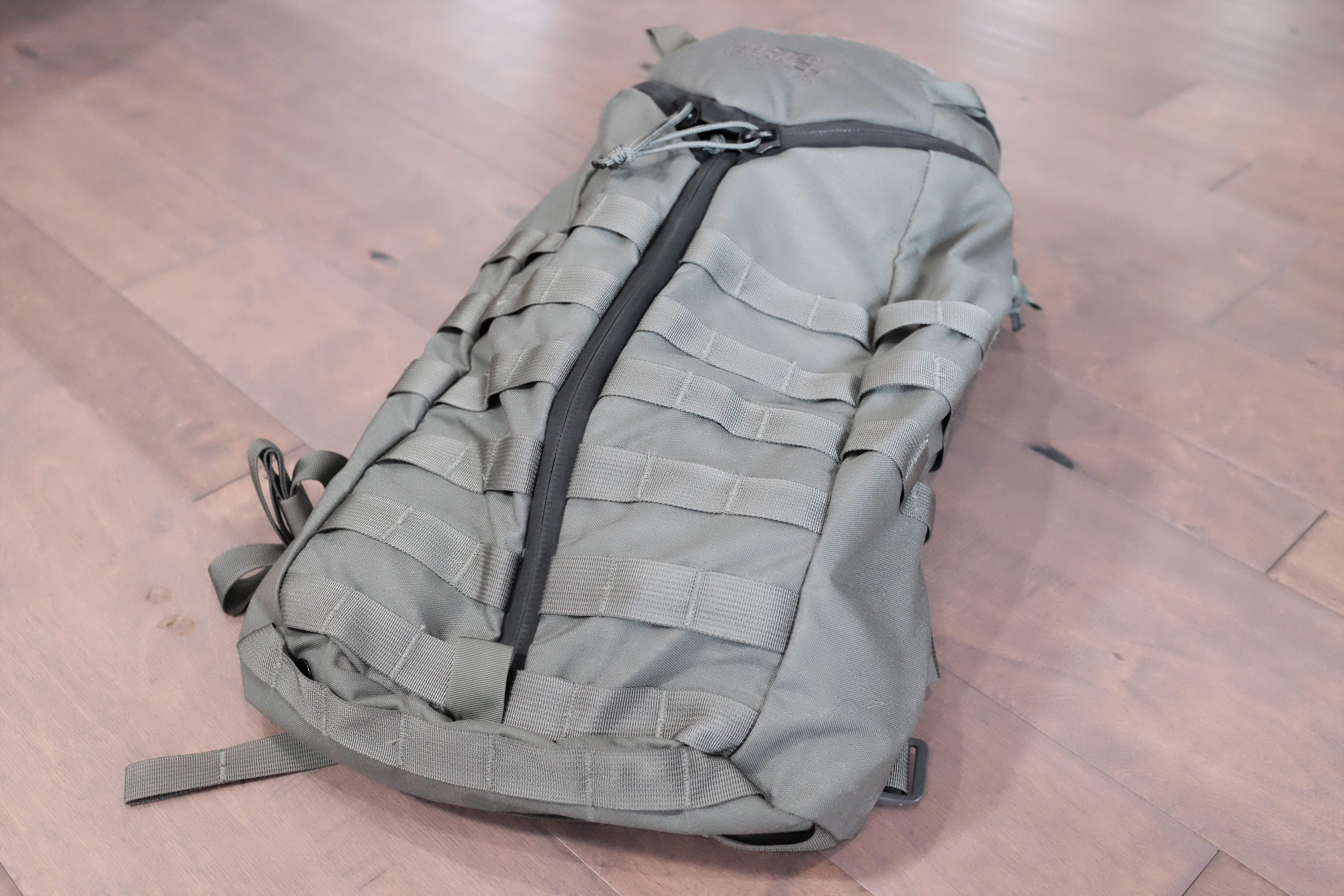 The Mystery Ranch ASAP is the best backpack you can buy. Across all categories except if it is your only backpack — it's the best. Use it hiking, use it rucking, use it for travel, or for the office — this bag cannot be beat. It's only limitation is the low capacity at 20L — everything else can be added or removed to fit the task at hand. I've used this bag more than any other bag in my closet this past year, and I didn't even have it for a chunk of the year.
That's how good this bag is. There is no more comfortable backpack to wear. There's no backpack which feels this agile, this formed to your back. It feels truly modular, while offering the right places for quick access. It's better than the GR1, and even though it has more MOLLE webbing on it, it doesn't look any more tactical than the GR1. I take it into an office everyday with the MOLLE in full view and not a single person has said anything about it.
What's the best backpack? Mystery Ranch ASAP. My Review.
Bag Company
Confidence level: Solid.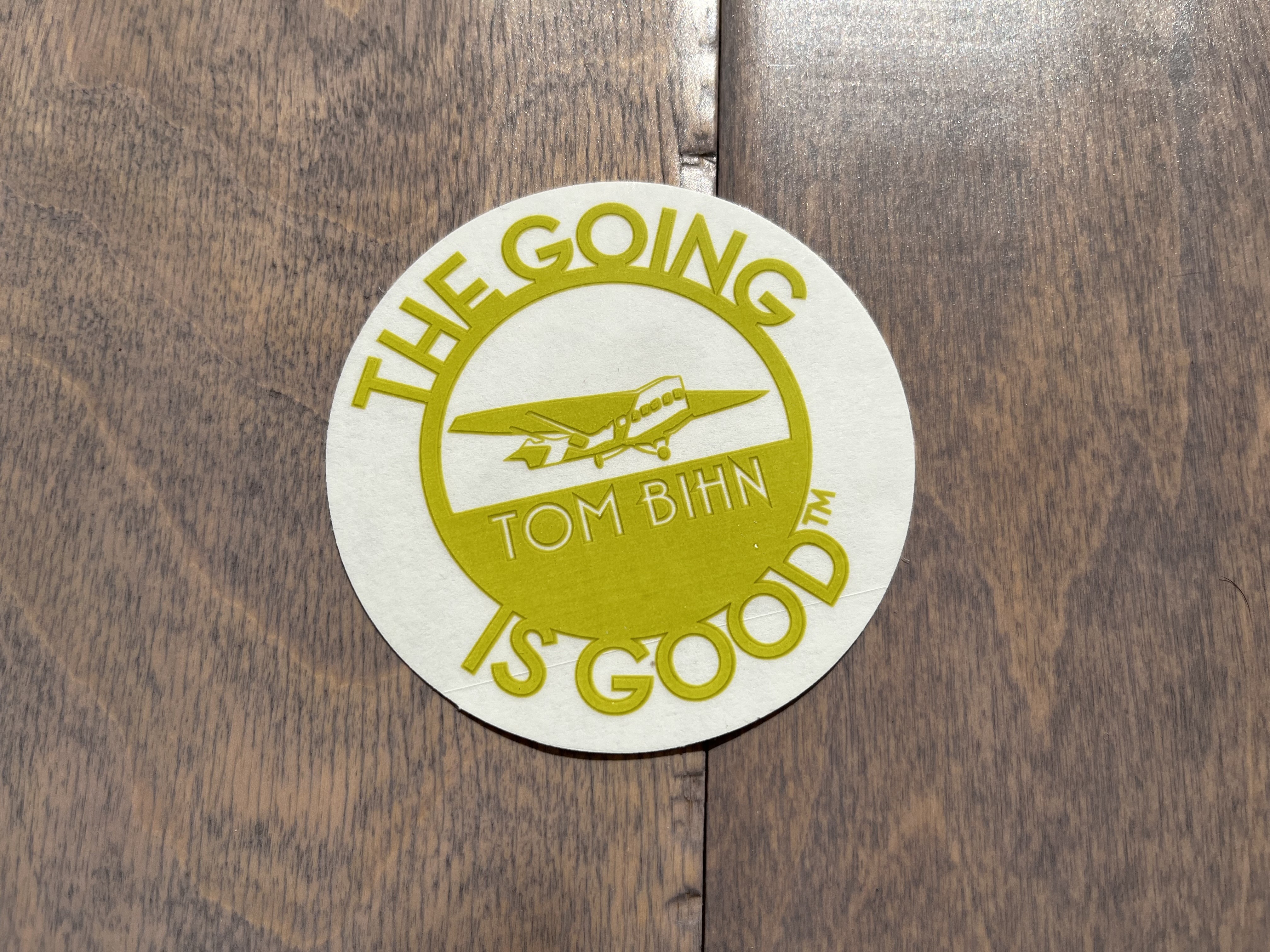 Every year I like to decide which bag company really deserves to be highlighted, so I am going to highlight just one instead of a pick three list: Tom Bihn.
I have a long standing relationship with the company, and they do provide me with a ton of items at no cost to me for review. But you might also notice that while a lot of their bags rank highly on this list, I am not the biggest vocal proponent of their gear. I think the stuff they make is outstanding and smart, a lot of it just doesn't quite fit for me and how I live.
None of that is why they are here as the best bag company for 2021. They are here because they listen, they constantly improve, and they are very upfront about it all. Want to know when something will come back in your desired color? They tell you on the website when to expect it, they email again before it is coming. They tell you in forums too. They communicate widely, sending samples to people far away from influencer status to get feedback and to improve their gear. They engage like no other bag company I see. It's not just some person they have hired to engage, often it is their CEO Darcy Gray herself who is directly engaging with people.
There are other companies who do this, but not many as large and long running as Tom Bihn — at least none I can think of. The pandemic has been rough on bag companies, but Tom Bihn has continued to make outstanding stuff throughout it. And every time they release something it is better than what the last version was. They are not perfect, no company is, but as a whole they impress the hell out of me.
Backpack for Everything
Confidence level: High.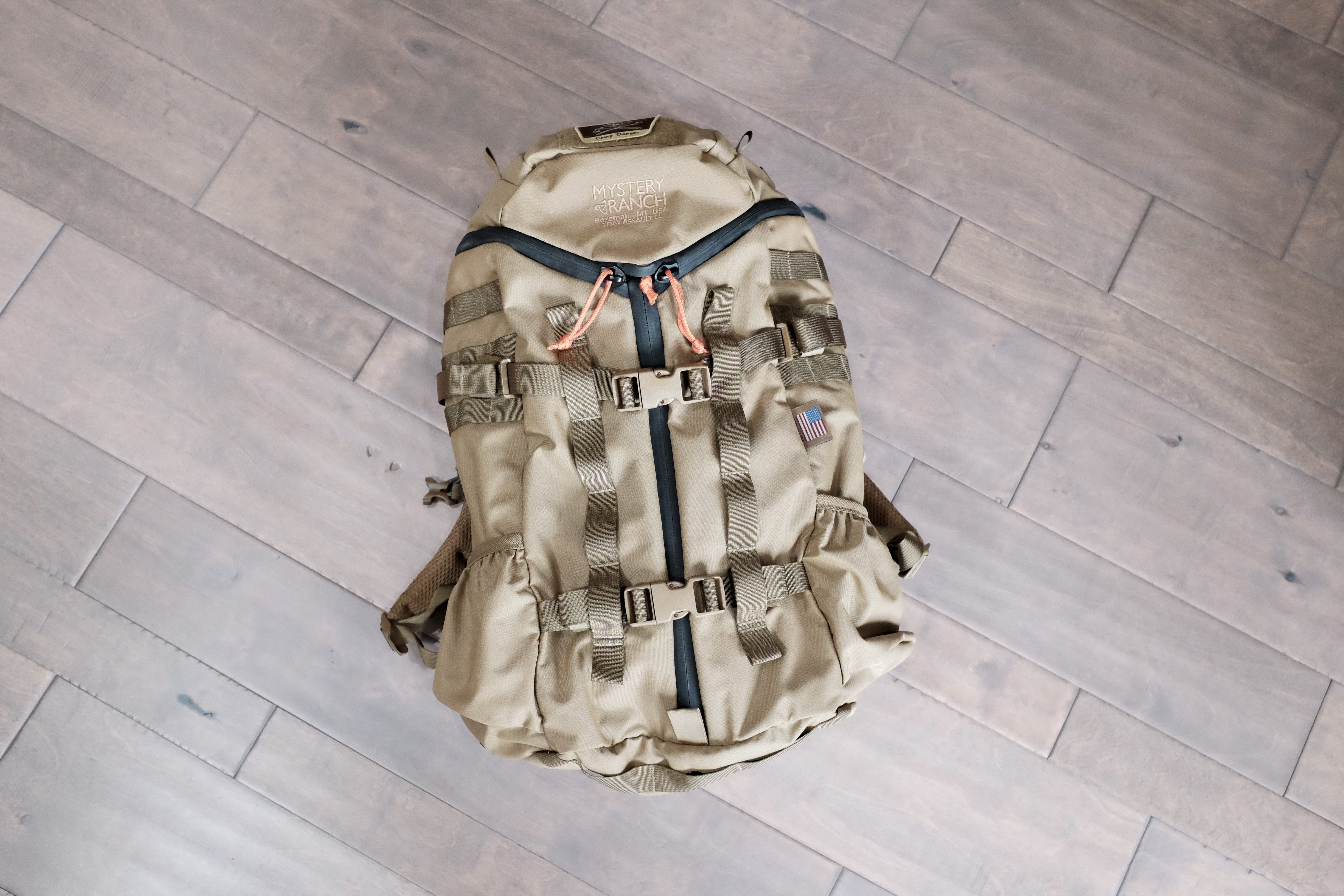 If I only could have one backpack, which needs to handle all my needs in life, here's what I would pick:
Mystery Ranch 3-Day Assault CL: I said this when I wrote the review, and I will say it again here, because if I could only have one backpack this would be the one I would choose without hesitation. It's large enough for extended travel and can be compressed down enough that I would EDC it if needed. The harness, and features are outstanding as is the build quality. It's an insanely expensive bag, but well worth the price. It's the best backpack if you need something for a very wide range of uses. It's the ASAP on steroids, but you get a laptop compartment and less MOLLE — this is excellent. My review.
GORUCK GR1 26L: I think most people are better served with this bag as most people don't travel in a backpack, but it's not the best one overall. The looks, and rough fabric hold it back here. If they were more readily available on 500D with a slick front, then maybe, but they start to look boring at that point. While I love this bag, and it is great, it's lost the spot as 'the best' to the 3 Day simply because the 3 Day can do everything this bag can, and then some. That said, most people don't need a large backpack, and in that case, this bag moves back up as the 26L sizing is fantastic for all uses except travel. My Review.
Tom Bihn Shadow Guide 23/30: I am torn putting this here, but I think it's warranted even though these are the most divisive bags on the list. Yes they are well made and comfortable. They are also super versatile given how much of a blank organizational canvas they are, but the laptop compartments really irk me. The 23 would be in second place here if it could hold a normal sized 16" MacBook Pro. That's a huge miss for a 23L bag. And the 30L can hold it, but that bag is huge to carry around EDC style without adequate compression options available for the girth of the bag. However these both are too good not to be on the list, and if they work for your devices and you want the best low profile backpack for your 'only' backpack — these are them. Choose the size based on your device until they fix the 23 to carry a normal laptop. My Review.
Backpacks For Exploring Cities
Confidence level: Solid.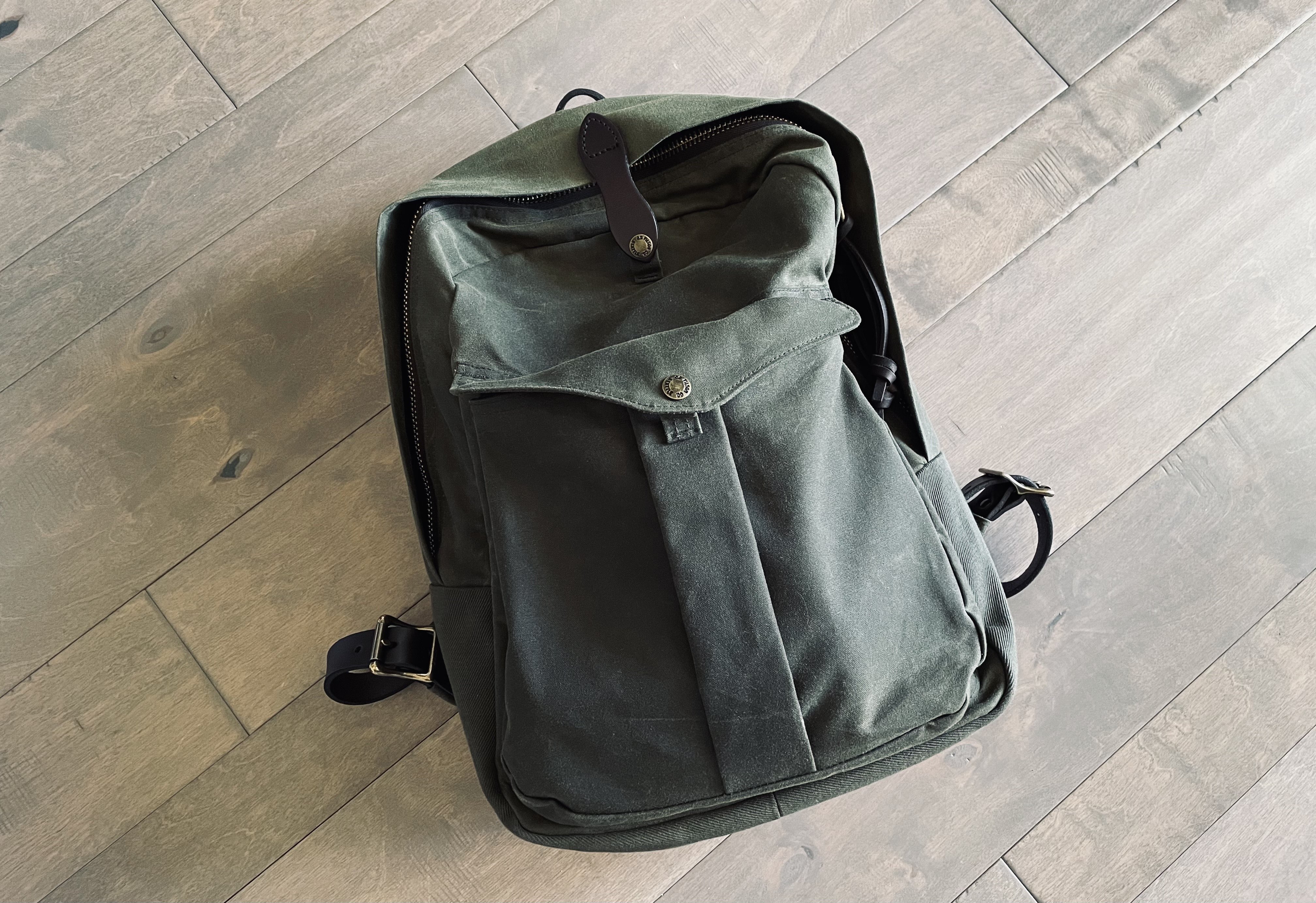 I define this category as: you need a backpack to carry things with you in and around a very urban environment, with room to spare for stuff you find along the way. And you need that backpack not to standout too much as well, even if the environments may differ wildly. These are not tech begs, but should hold a laptop if needed.
Filson Journeyman (this may be out of stock at the moment, try Zappos/Nordstrom/Moosejaw): this is the ultimate city exploration bag because it looks stellar and can blend in upscale and all the way into the woods. It is sized right for almost anyone, and is pretty no fuss. It will repel rain and other gunk well, and hold everything you need. The only downside to this bag is the price, and that's not something I care to penalize good stuff over. Nothing about this bag looks like it would be great, and yet everything about this bag makes you fall in love with it. My review.
DSPTCH Ridgepack: this bag to me is the modern version of the Journeyman. It holds a ton in a pretty light footprint. And it looks nice as well — all without any flashy looks. Simple and effective. It's the type of bag that doesn't remotely look expensive and thus stays low key. It's actually not to expensive either. My review.
Adventure / Exploration / Outdoors Backpack
Confidence level: High.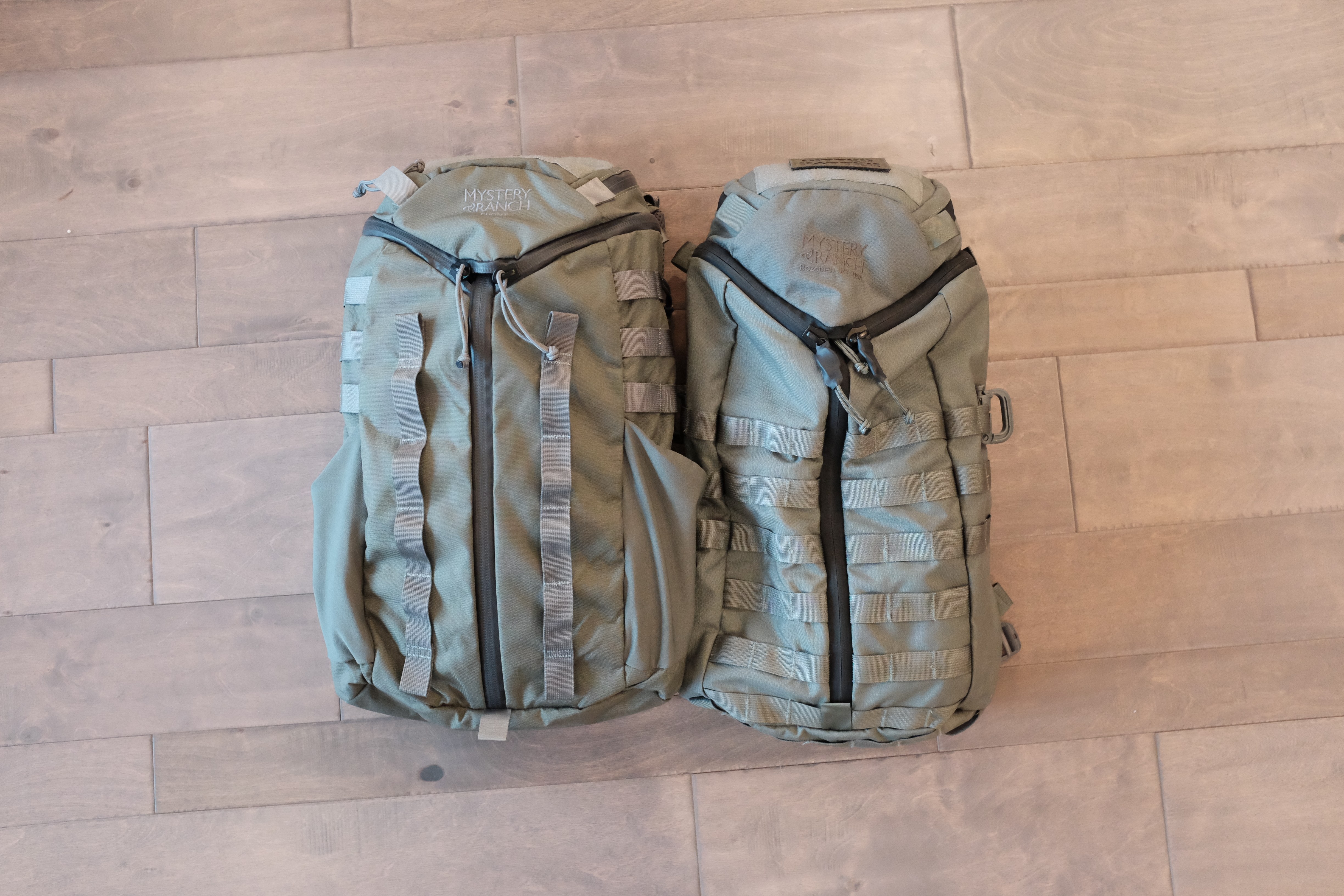 Think day hiking, or any scenario when you don't give a shit, you need a great bag.
Mystery Ranch ASAP / Front: no surprise here, these are outstanding outdoors packs. The Front is discontinued, but it's the better one if you can find one for this use. The ASAP is actually objectively better but is slightly over built for this, even though it is the option you can readily buy. I love my ASAP and gave up my Front for it, so there's nothing wrong with either. These offer wear all day comfort, over many miles, with a heavy bag if needed. They have great support for water bladders, and external attachments for anything else you need to rig up. But mostly they hit the top spot because there exists no more comfortable bag than these ones — especially the ASAP. ASAP Review, Front Review.
Shadow Guide 23: For people who want something less tactical and more standard, this is the bag. It's super light when empty, and has the ability to attach hip belts, and the framesheet works well. It can easily accommodate a bunch of different stuff and is very durable. For day hiking, or more casual outdoor use, this is a really hard bag to beat as you can cram it full of everything you need, while still having a great lid to get to a few quick things. This bag is underrated for day hiking. My Review.
Office Bags
Confidence level: Solid.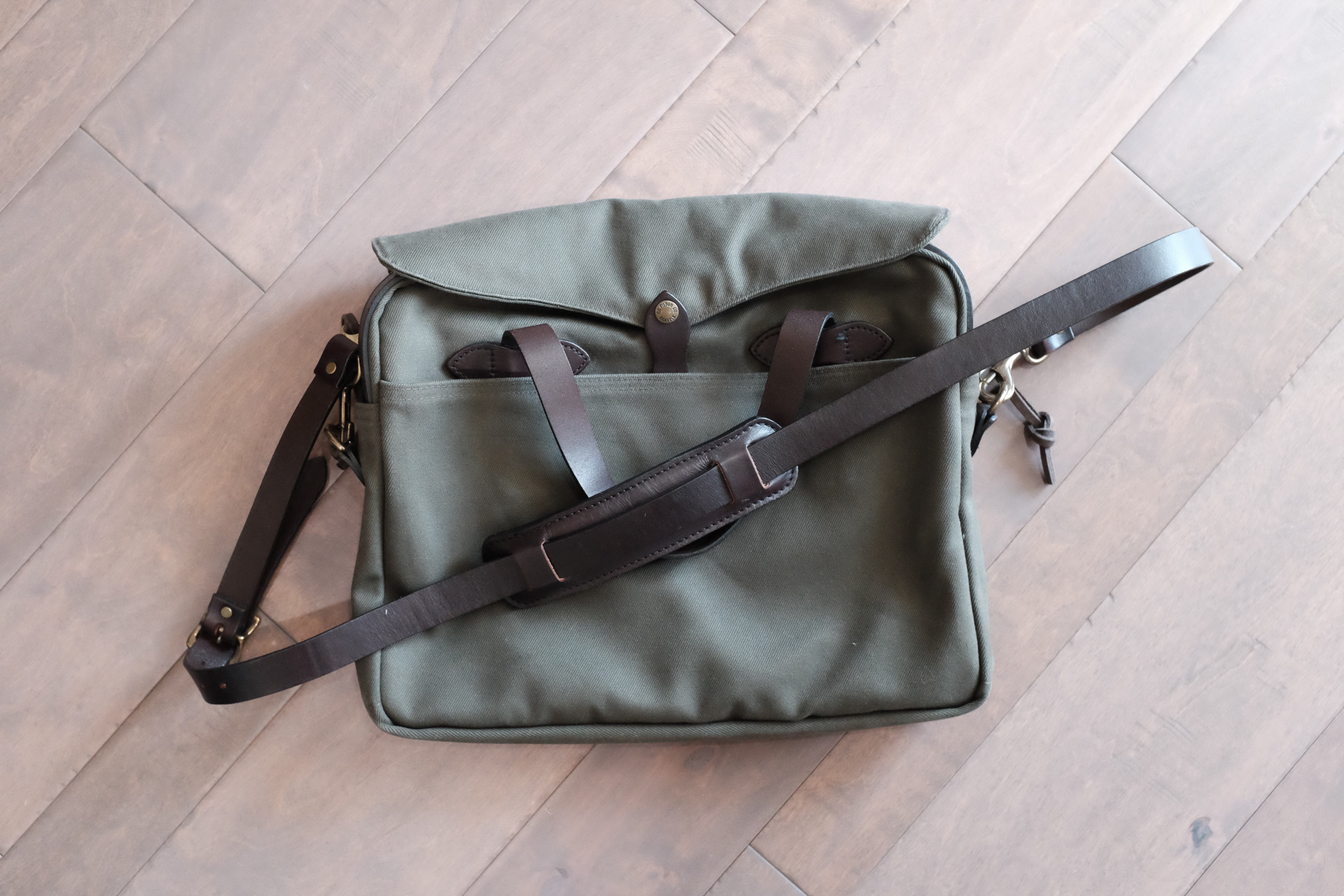 Remember the office? I went back in over the summer, so let's talk about office bags:
Filson Original Briefcase: I've tried very hard to ditch this bag, but it sticks. Man I love this. Yes, there's no padding and it lacks a lot of modern bells and whistles in other bags, but it still shines like crazy. It fits a lot more gear than you would assume and is incredibly durable. Like most Filson bags it looks just as good going into a dressed up office, as it does kicking around out in the field. It's stellar, don't let anything about the bag dissuade you from getting it. This is one of my favorite bags across all categories. My review.
Mystery Ranch Urban Assault 21: I think the 18 will be too small for many people, but it's still a very good bag. If you are smaller and the 21 feels too big, the 18 will likely fit well. Otherwise, the 21 is great. If I didn't have the ASAP, I would be showing up in the office most days with the UA21. This is an insanely good bag without even considering the price. But when you consider it is MSRP at $125 then it really starts to get silly. Our household has two UA21s and two UA18s — if that's any indication of how good this bag is. Simple, effective, and comfortable, while also blending in well and working even better. My re-review.
Mystery Ranch 3 Way Expandable Briefcase: If your office is the type of place where you need/must have a shoulder bag, but your commute to the office is better suited to a backpack — look no further. I really like this bag, but struggled with the sizing of it as a shoulder bag, and the bag is first and foremost designed as a shoulder bag. Even still, it is nicely comfortable as a backpack for those who need this versatility — not as niche as you might think. My review.
Duffel Bags for Travel
Confidence level: Solid.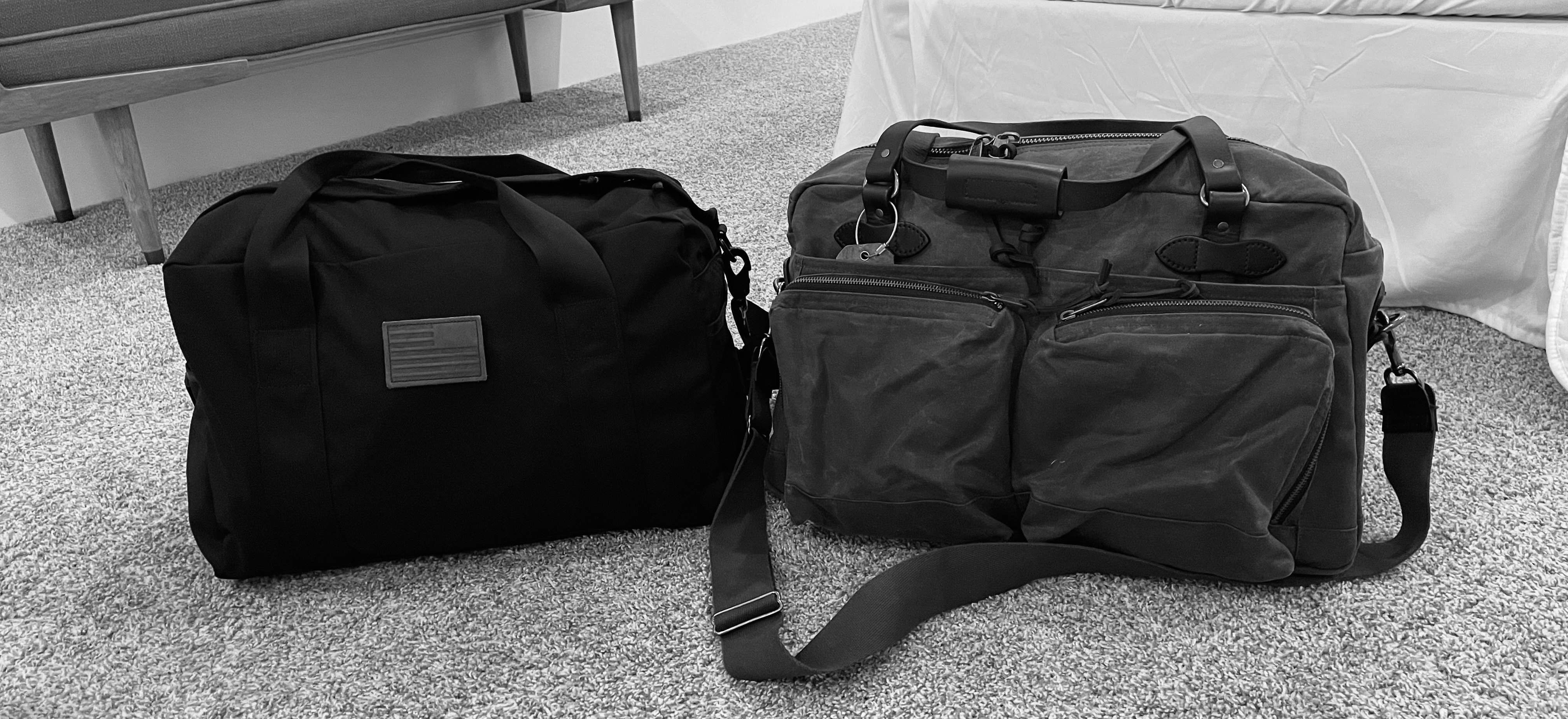 I am specifying "for travel" because I don't want anyone to mistake these for 'gear' bags or 'gym bags' which I think these may or may not work well for — I don't gym so I can't say.
GORUCK Kit Bag (32L, Vietnam made): I've been a long time hold out on the Kit Bag, but I picked one up this year and I am annoyed I didn't do it sooner. It looks much smaller than 32L, but certainly carries all that capacity and then some. And even with it stuffed, it doesn't look too large at all. It knocks the 48hr down a little for me because it carries lighter and easier across a wide range of uses and travel types. I would check this without worry if needed. This bag is awesome (and makes a good bug out bag if you are looking for something), and I will review it soon, but for now, know that it's my top pick for a duffle bag.
Filson 48hr Duffel: If you looked at the above and thought it wasn't your style, this is the bag for you. Same deal with the other Filson bags on this list, it'll fit in from fancy to muddy. I use this bag a ton when I travel. It carries a little smaller because a lot of capacity is in the front pockets which is my only contention with this bag. It looks amazing, and it really is easy and nice to carry no matter how you are doing it. I like the organization in the front pockets as well and find that they work great if you are really working out of this bag too. If it were slightly larger, I could see this back at the top spot, it's very close as it is. My review.
Honorable Mention: The North Face Basecamp Duffel, which is a classic for a reason and they last a very long time, this should be the option if you default to wanting to check your duffel when you travel. I've had one since at least 2001 that is still going strong, albeit with a few small holes now. Consider it a duffle first, and never a backpack — they suck to carry like a backpack.
Sling
Confidence level: Solid.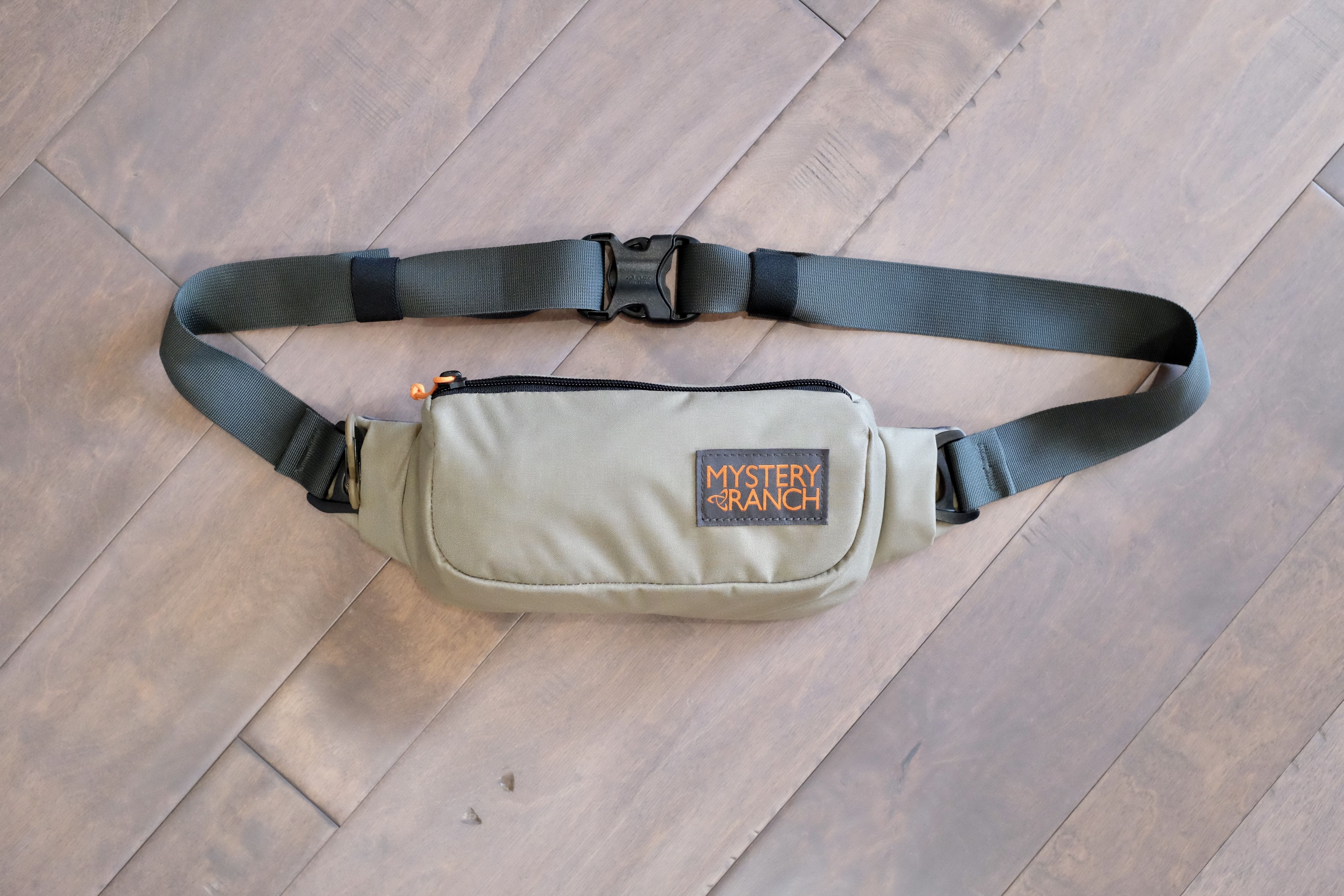 I have not tested everything sling out there, but I have tested everyone that I am interested in. Here's how they rank:
Mystery Ranch Forager: I love this sling, it's the perfect size, great colors, and it's $30. I cannot believe that my top pick is that cheap, but here we are. This has been around for a long time in the Asian market, but Mystery Ranch brought it to the USA late this year. It's perfection and a very blank canvas. But it does minimalism right and really is a no-brainer pick. I love the size, the materials, and how well the entire kit just works. My review.
Hill People Gear Belt Pack: I love this, but it's down at the second spot because it's a little tricky to figure out how to organize, and even when empty it is decently heavy. I still use this a lot when I want to cram more into the bag than one would think is in there. It has surprisingly good organization, and is well thought through generally, but much more expensive and slightly less versatile for this use. If I am carrying my 48hr when traveling, then I probably am also carrying this sling. My review.
Honorable Mention: Hyperlite Mountain Gear Versa is something to keep in mind and is really smart. It could be third on this list but I am leaving it off because I think either above are a better buy given all the factors around the slings, this one is great if a sling is something you want to pack in another bag as a just in case, or attach to a hipbelt/sternum strap when hiking.
Bag Pouches & Organizers
Confidence level: High.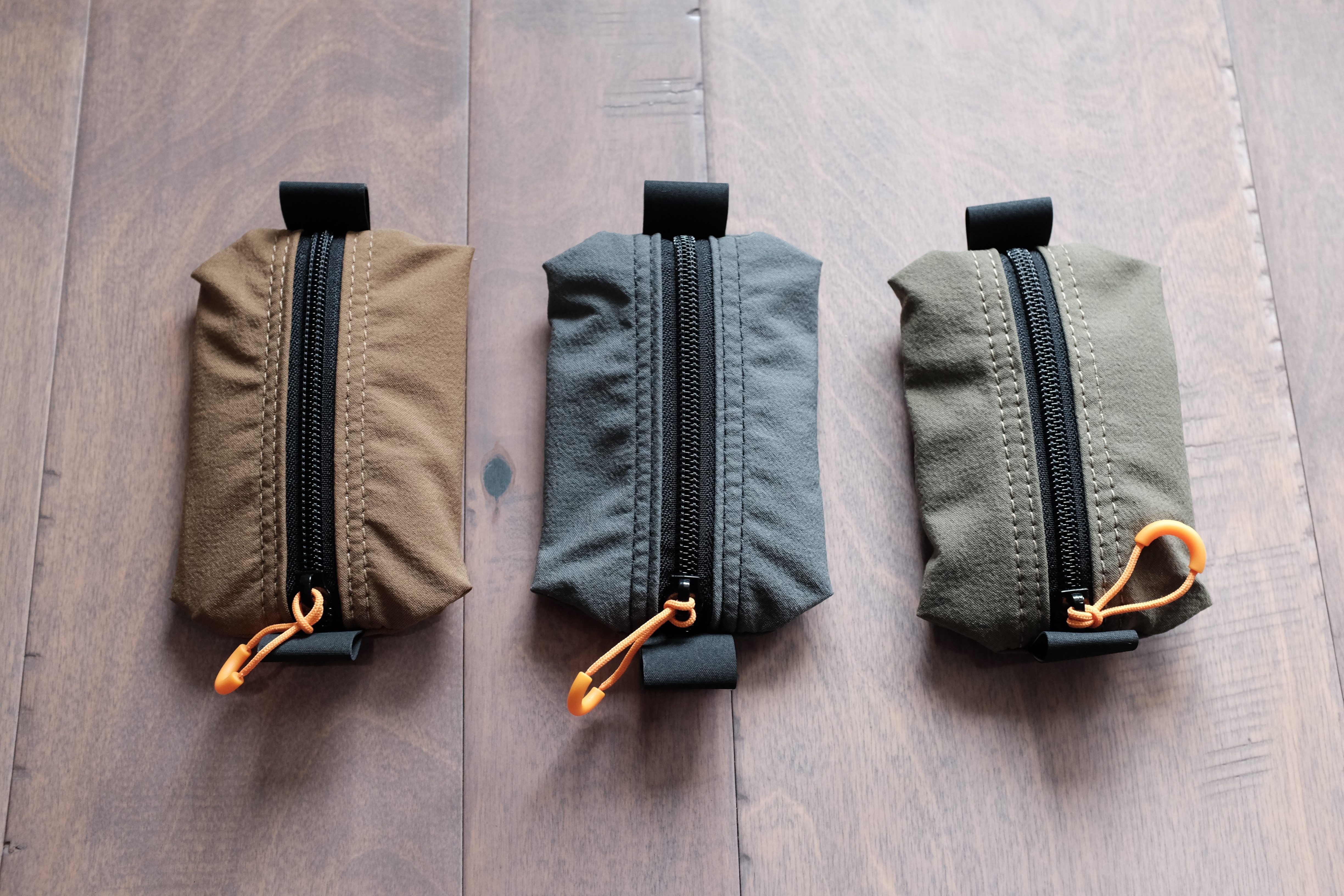 A lot of this type of gear rotated through my house this past year, and these two blow others away.
Tuff Possum Gear Pocket Possibilities Pouch: easily the best little pouch. I own a bunch of these, and they are almost all used as little bandaid kits in various bags. The stretch tweave material is outstanding and the sizing is perfect. A really great bit of kit and I add one to every order I make from this company. Great item. My review. Update 12/13/21: It has been brought to my attention that Tuff Possum Gear has COVID misinformation on their website/blog, this is very unfortunate to hear. Please keep that in mind when/if considering ordering from them.
Aer Tech Folio: This is sold in two sizes, and it looks unnecessary at first, especially if your bag has some organization built in. At least that's what I thought before getting it. But now that I have it, I keep it loaded all the time and it's aces. I have a few things I would like to see changed with it, but for the quality and finish on this, it is great. Well executed and it works great day to day. My review.
Pocket Organizers
Confidence level: Solid.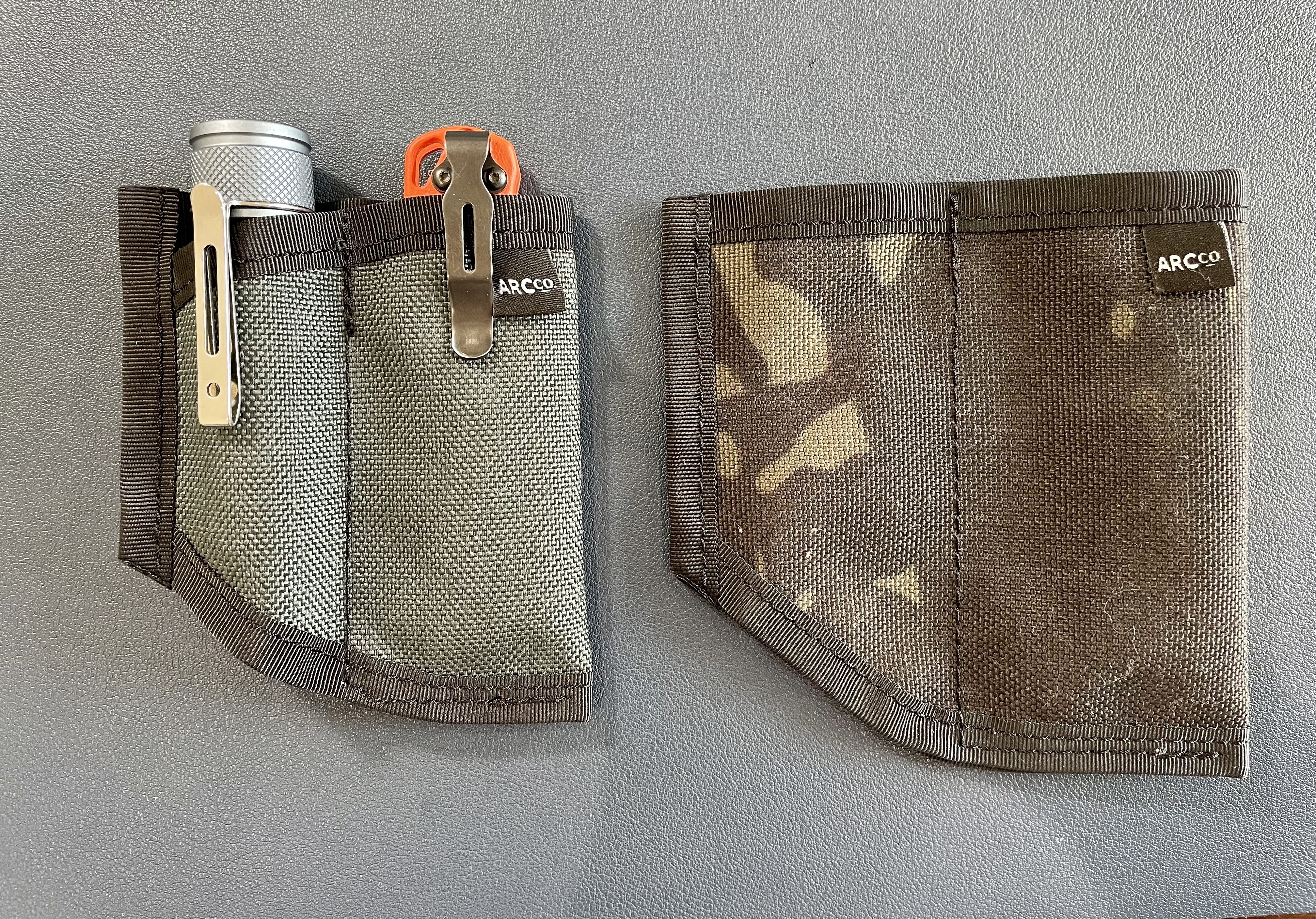 I never really used things like this before this year, but carrying a light, pen, and knife in one pocket means you need to get organized. Luckily the options are pretty good:
Arc Design Ripcord (and Ripcord mini): is perfection. Nothing you don't need, but exactly what you do need. Size based on the largest item you are going to carry, I have one of each to swap around, based on what I carry that day. Really nice and simple, with a good price and solid designs. Not a lot more to say, it's what is in my pocket about 5-6 days a week. My review.
Yellow Birch Outfitters PockIt: if you want more, this is the more option. You can get these fully customized and they are really nicely made. They add a good bit of bulk which is what keeps me from using mine more, but I do use these all the time in my slings to organize my gear there in a package which I can slip into my pocket if needed. They also make great jacket pocket organizers — they hold a ton. They are second only because of the added bulk which is contrary to what I am trying to achieve with a pocket organizer. My review.
Pocket Knife
Confidence level: High.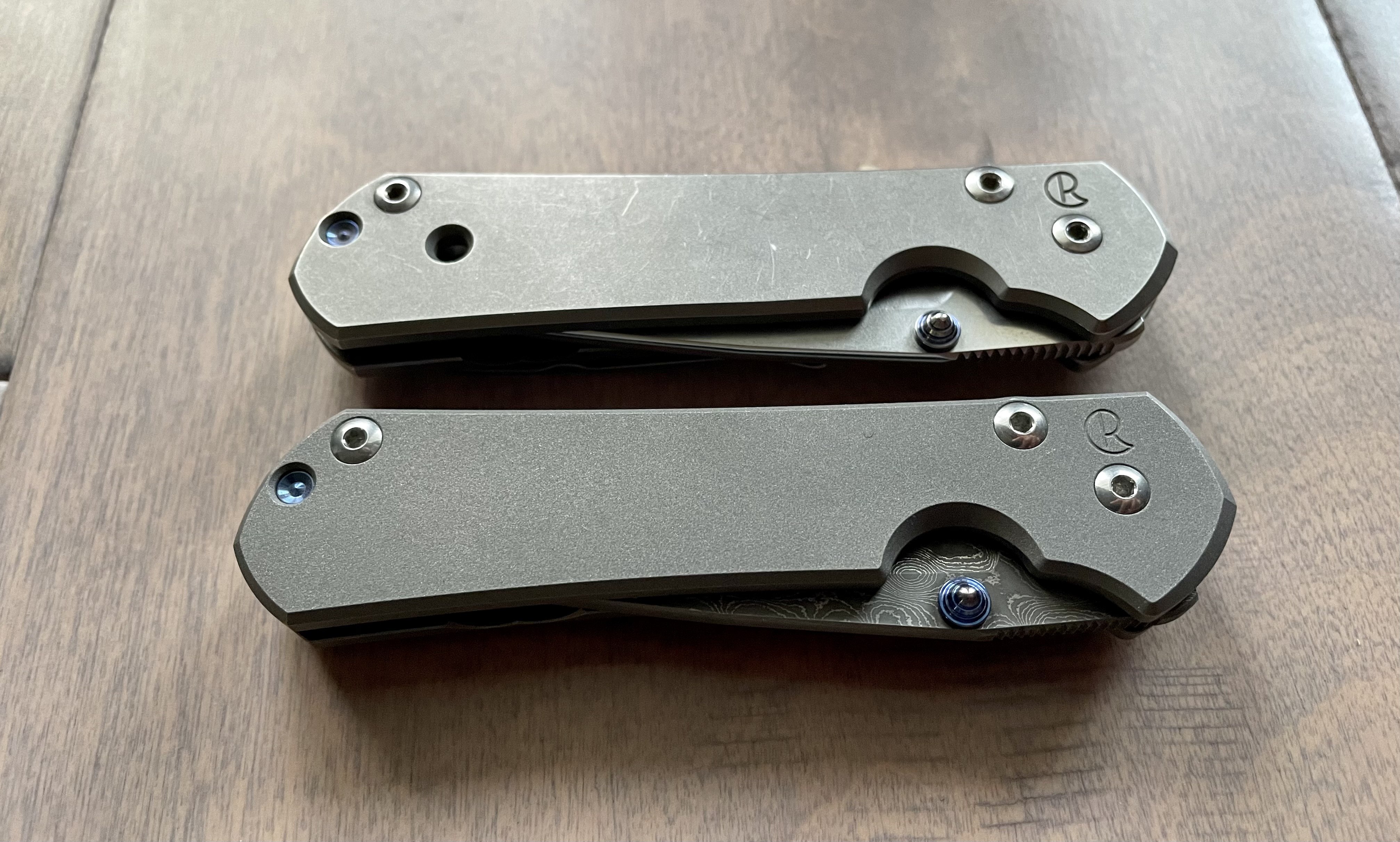 I actually tested a few really good pocket knives this year, but I am not sure there are monumental movements to note in this category. There are some changes, but they are minor shifts. So let's dive right in:
Chris Reeves Knives Small Sebenza 31: Flipping this knife from the second place finish last year to first place this year. I have a 21 and 31, but don't feel the need to get the 31 if you have a 21 already. That said the 31 is stellar. Since getting it I have been carrying it most days. It's a stand out and with the shift away from S35VN to S45VN almost complete, it's a champ. It costs a lot, that's true, but it is easily the best all-around pocket knife you can get. It's very durable, and very versatile. There are better knives for particular use cases, but for an all around use, this is the best by far. My 21 review.
Benchmade Mini Bugout: this was first place last year, dropping it down a touch here this year. This is less about this knife dropping and more about the Sebenza family moving up. My only complaint about the Bugout Mini is that there isn't better steel options yet. I think that's a little silly and needs to be fixed. That said, this is still my most carried knife, because the weight and size is absolutely perfect on it. What keeps it from being the best is the fit and finish not being at the same level (or even close to it) as the Sebenza. That's all. I will say it one last time though: goodness the size and balance on this knife is fantastic, give it to me in S90V or 20cv and it's going to be a different story for sure. My review.
SOG Ultra Xr: new to me this year, well known, I am blown away by this knife. For one, SOG is not a knife company I thought I would find myself recommending again anytime soon, but this knife is silly awesome. It is very thin, like silly thin, but the blade is thick enough and fat enough that it works well. The handle scales are crazy thin, but it remains comfortable in hand because of the width of the scales — I wouldn't want to break down a room full of boxes, but I've also never found it uncomfortable in normal use. The entire draw of this knife is how thin and light it is — making it a great knife to carry when you want to be very discreet about it. I don't see utility in a money clip knife, but the clip itself does work well as long as you don't want to clip it to the top of a not-flat pocket as the clip is very wide. This knife is held back by the finishing of the carbon fiber scales, which I found to be a little rough/sharp in hand, and needed to smooth by wet sanding them. That took all of 5 minutes, so it's not a big deal, but out of the box I thought it was just ok. After sanding it a little, I carry it at least once a week — I really dig this knife. My review.
Watches
Confidence level: High.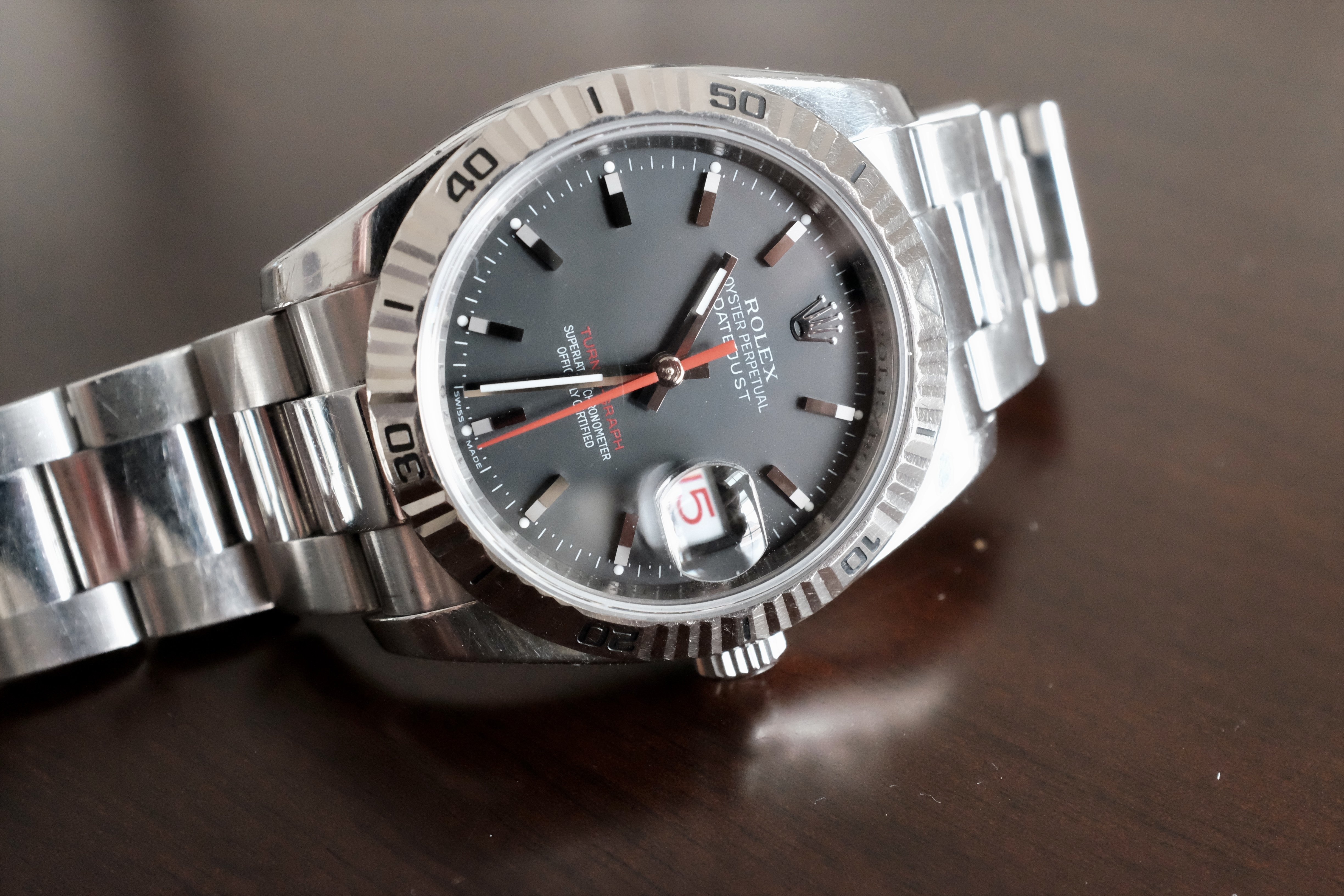 Well, look, not a lot has changed here, but that's because watches are pretty straightforward, like knives, just a minor change.
Rolex Datejust 36: I am moving this up from the second place finish last year, to first place and back to being the best. I'll note that this is not my most worn watch (the GMT is), but I think it is the most versatile. And when I reflected, this would be the one watch I would keep if I could only have one, and I think that is the marker for best. This is an absurdly versatile watch and the 36mm size is really stellar, don't let big watches lure you in too easily, smaller wears better. The Datejust is a classic for a reason, but if you don't need a date window, the Oyster Perpetual is really great too and cheaper. The Datejust is complete perfection and there's a million variants you can snag. It is durable, simple, and will work in almost any situation. Somewhat review.
Tudor BlackBay GMT: was first last year, second this year, points off for being a little bulky at times but more than that I hit the date wheel skipping issue which triggered a warranty repair on it — not great. Otherwise, this watch is really fantastic. A true GMT, subtle Pepsi bezel, and all around stellar watch. If you are a little more active this is a better pick than the Datejust as the water resistance is twice that of the Datejust. That said, if you wear a lot of dress shirts, the Datejust will be better to wear. Still, the BB GMT is an amazing watch and I wear it 3x more than the Datejust — except when it is being repaired. My review.
Casio GSHOCK GBD-200: this replaces the Garmin Instinct from last year. And the thing is, a GSHOCK is just amazing, but this GSHOCK is outstanding. Vibrating alarm, MIP display, bluetooth connection, two year battery life. Umm, yes please. Oh, and $150, which is like icing on the damned cake. It tracks your movement for running/interval training and it does that still without needing to be charged every few days. It's decently thing, wears well, and is stellar.
Money where my mouth is here: these are my three watches. I have one other, but it needs a service and thus I don't wear it at all. These three, in this order, of what I would keep if I had to pare down the collection.
Lights Lists
I've always loved lights, but this year I leaned hard into them and it's been a super fun ride. So I caveat this entire section that my understanding of some of the higher-end (read: more expensive) side of lights is still evolving. Here we go…
Singularly The Best Flashlight
Confidence level: Solid/High.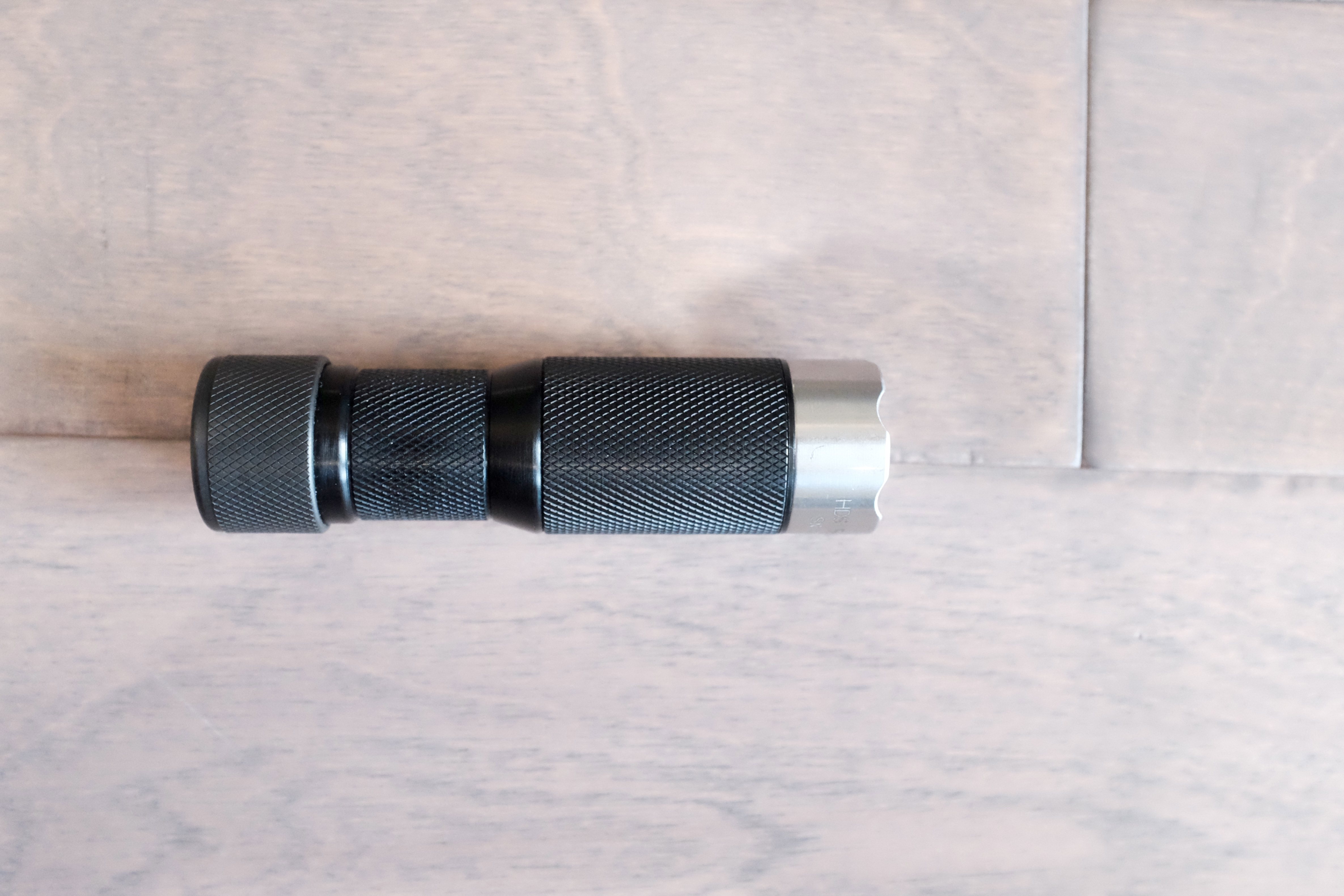 HDS Systems EDC Rotary Custom is the best flashlight you can buy. It's insanely durable, you can get it with a wide range of LEDs and it takes a single CR123 (or rechargeable) and has stellar run times. The UI is stupidly simple to get the exact output you want, each time, without fail — and because of that you are less likely to have an oops with this. While at the same time this UI is very complex and smartly done. It has really low outputs and a really nice and refined top end — which isn't earth shattering but it is also all you likely need.
True story: one comes with me to work everyday either in my pocket or in my bag. I wouldn't have it any other way. I don't love that it's difficult to hack on a pocket clip. I don't love that these take forever to get. And I hate the stock LED they come with. But you get the 219bs or the 351Ds on the custom page and you are off to the races. I first thought that these lights were overpriced, but I now firmly say that they are a bargain. I fully expect all my other lights to crap the bed before these — including my SureFire lights. My review.
Update 12/13/21: HDS has COVID misinformation on their website/blog, this is very unfortunate to hear. Please keep that in mind when/if considering ordering from them.
Flashlights for Normals
Confidence level: Ongoing.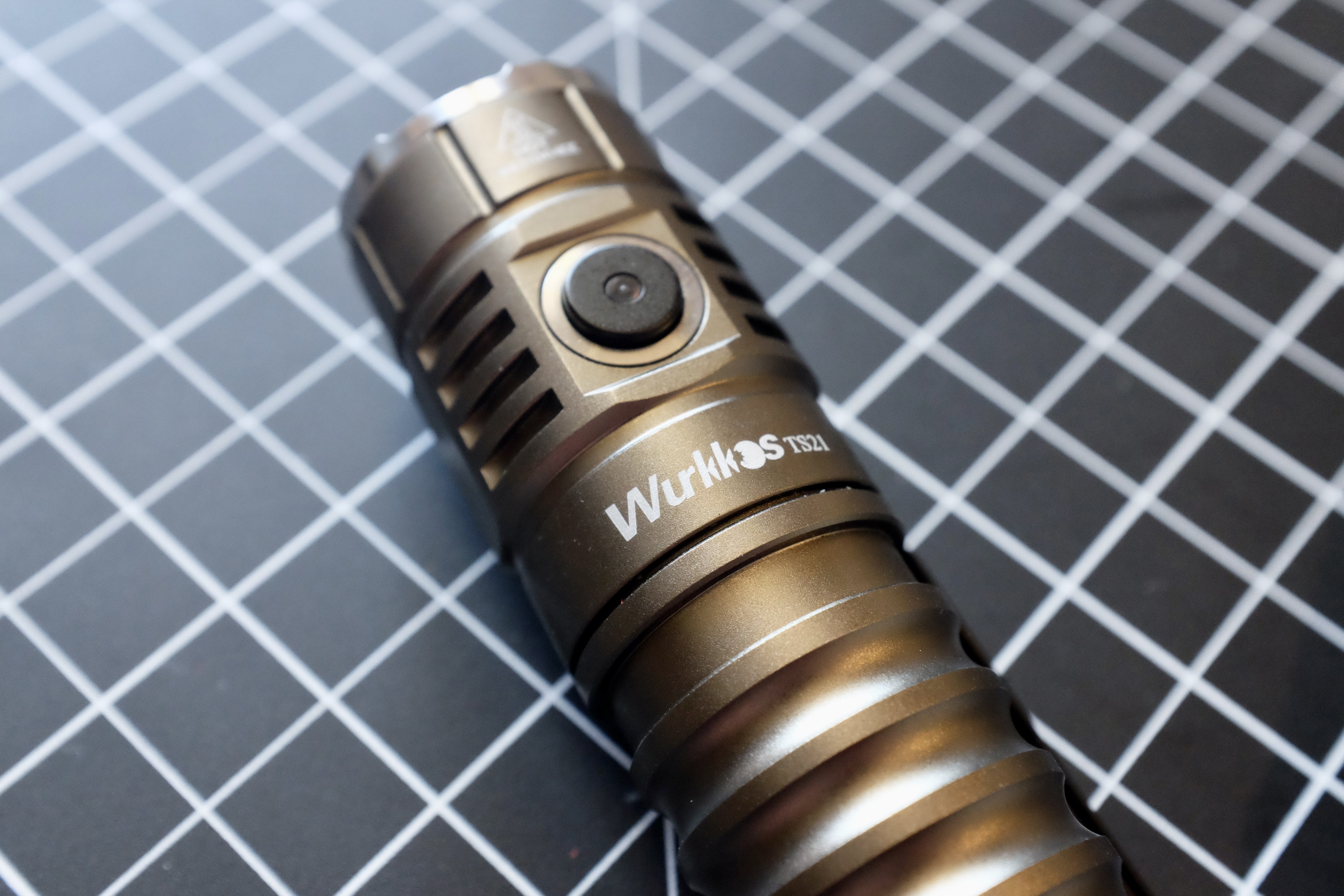 This is the category for people who want something good, for a good price, and maybe a little fun. I have two very different options for you:
Wurkkos TS21 with SST20 4000k: this light surprised me. It's barely larger than comparable 18650 lights, but does it with a 21700 battery. Which means the runtime is fantastic, and the output is too. It runs a complex firmware called Anduril (2 no less) but can be kept in simple mode which it is in by default. The switch has a LED on it, it can recharge with USB-C, or even be used as a power bank. This is a really nice light, and is very well done. It's also not at all expensive making the entire package my top pick for people who don't know much about flashlights but want something awesome. It will be awesome in simple mode, with room for fun and expansion in advanced mode — all with an excellent and high CRI LED. My review.
Rovyvon A8XU: flip it all the way around and you have this tiny little light I love. It's really sweet with micro-usb recharging and tons of output in a tiny package. This is a simple light to use and own, and will blow away most people with how bright it can be. While also holding a great charge and being small enough to keep on you at all times. Simple and easy to use, with solid LED offerings and added fun with the AUX LED options. My review.
Buy one, or both, they are fantastic lights which will work well for non-flashlight people, with a little nod to having something better than most would pick up.
General Flashlights For Everything
Confidence level: Solid.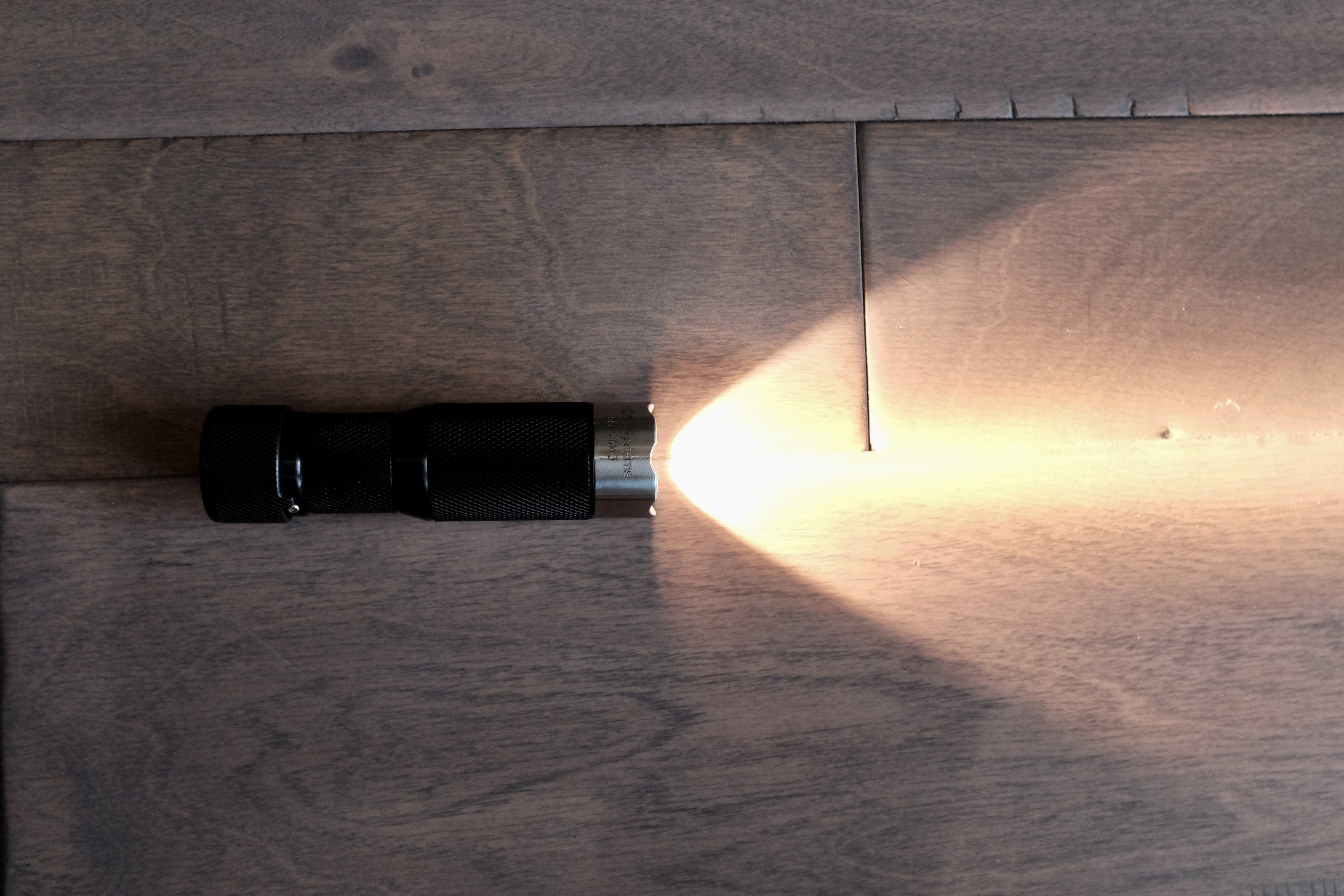 I describe these as the first lights you should buy, because you can carry them everyday, you can hike with them, you can use them to work on projects, or have them for emergencies — they work well across all of those areas.
HDS EDC Rotary Custom: I already talked about this above, but this light is amazing. It's first on this list by a significant margin. My review.
JetBeam RRT01 Raptor (modded recommended): This light is also fantastic and has some real selling points that set it apart from the HDS. The UI sounds similar since they are both rotary, but the JetBeam has two differences: its a little clunky compared to the HDS, and it can get significantly lower in output than the HDS. I recommend having someone modify the light with a custom LED to get a nicer quality of light, but it's not strictly necessary. Even modded, brand new, you are looking at around $100 — which is really great. But the biggest reason this is second on the list: it feels like it takes every battery possible. This will run off an AA or an 18650 — but it's best running off an 18350. I love this light, and if your budget doesn't allow for the HDS, get this and don't fret at all. I could see someone arguing this should be the best light, they would of course be wrong, but I could see the argument. My review.
Emisar D4V2: if you want a little more fun in your life, this is the light for you. There is seemingly an endless array of LED options (and you can mix for a custom tint or swapping setup) and this light is crazy good without all those options. It's not first because it is a little harder to carry in your pocket (and slightly dangerous if you don't lock it out properly). When you order I recommend adding the pocket clip and the 18350 tube. That means you can run an 18350 battery or an 18650 in the light, which is very nice. I'd suggest you go with the 219bs myself, but the e21a, SST20s, and LH351Ds are also great options. This is a better pick if you want a wider beam pattern for working on things, specific LEDs, easy availability — whereas the other two are better if lower outputs are more useful for you. This is also the least durable of the bunch — which isn't to say it's not durable, but HDS is insane with setting the durability scale. My review.
Headlamps
Confidence level: High.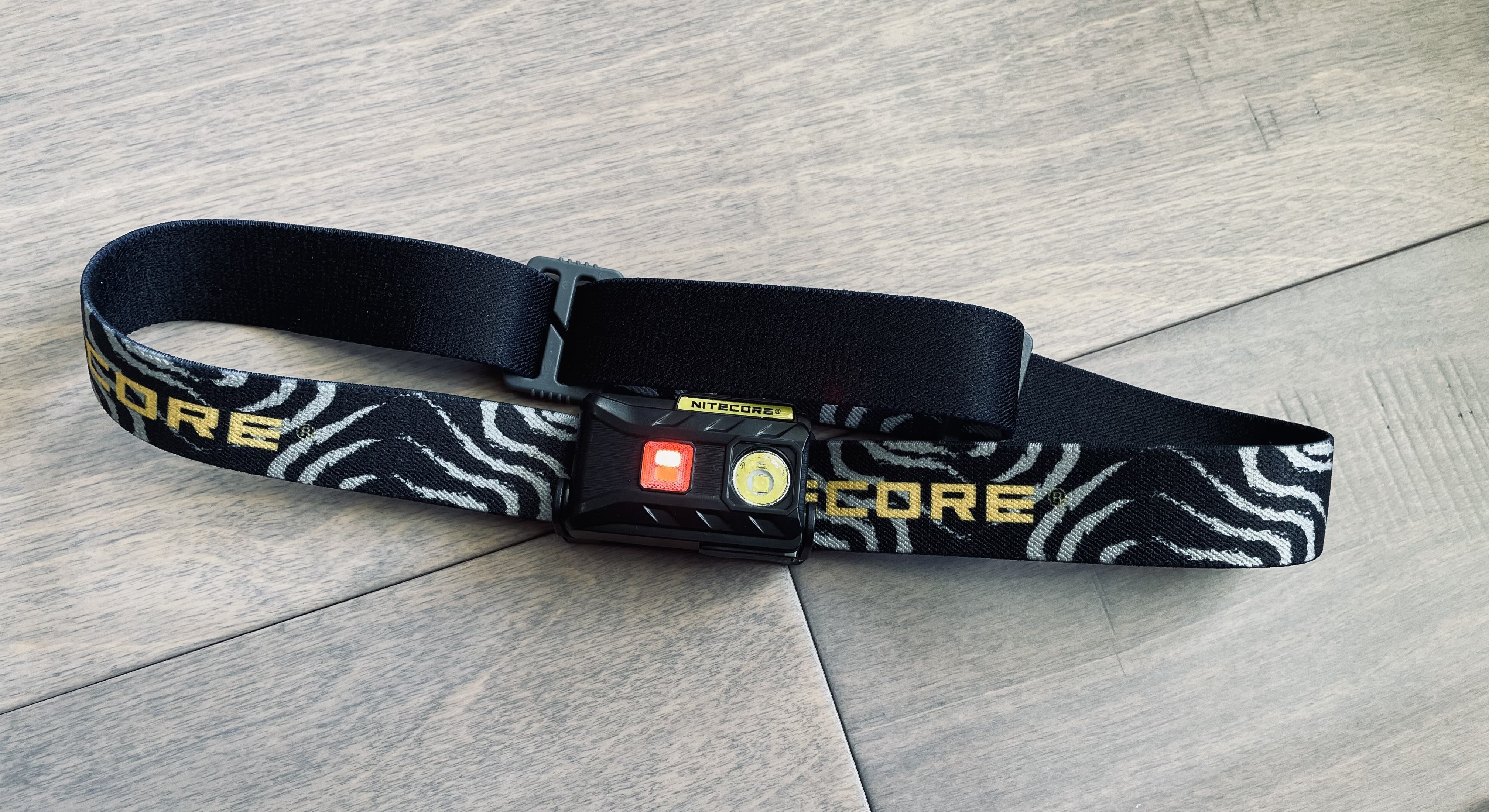 Look, we all feel dumb wearing a headlamp, so at least make it a good one, because there's no getting around them at times. This list has no 90°/right angle lights because those are different — these are dedicated headlamps and if you are going to wear one, wear one specifically designed for the purpose. Right angle lights are compromises and no thanks, you can email me all you want on this but in the end this is my list and I am firmly against right angle lights worn on your head.
Nitecore NU25: In a world of OK-ish headlamps this one blows past the rest. I had a lot of worry over the integrated battery and not being able to swap on the fly, but time and time again this one has proven itself to be effective and great. It has a really easy to use switch setup with a nicely focused white light for walking, and a broader red light for seeing closer in, or going pee at night while camping. Add to that a flood light which is high CRI — it makes doing up close tasks awesome. This light is a complete package. The run time is fantastic and the integrated battery means the water resistance is solid, while the entire package is featherweight. All around an amazing headlamp, and hands down the best I have used. My review.
Petzl Zipka: this one gets major points for being a retractable headband design. So while you give up a little overall comfort with the headband, what you gain is a compact light that is really easy to store. It has white and red lights and both are solid. It takes three AAA and leaves a little to be desired when it comes to weather sealing — still it's the second on the list because of how great it makes for a backup light. If you are someone who knows it's good to have a headlamp, but only wants to use one as a last resort — this is that pick. It stores easily and doesn't get tangled with anything else. Mine stays in my day hike kit for this very reason. My review.
Black Diamond Equipment Spot Lite 200: this was my previous top pick before testing more. The Spot Lite has excellent weather resistance and is very comfortable to wear — I own three. It takes two AAAs so it is lighter than the Zipka. However it's not better than the NU25 unless interchangeable batteries is a must, and it wears about the same. The downside is that the Zipka can do everything this one can, while only beginning to be uncomfortable if you are going to wear it for hours at a time. The upside is that this light can often be had on deep discounts since it is updated every year — just buy the previous year model. My review.
Emergency Lights
Confidence level: Ongoing.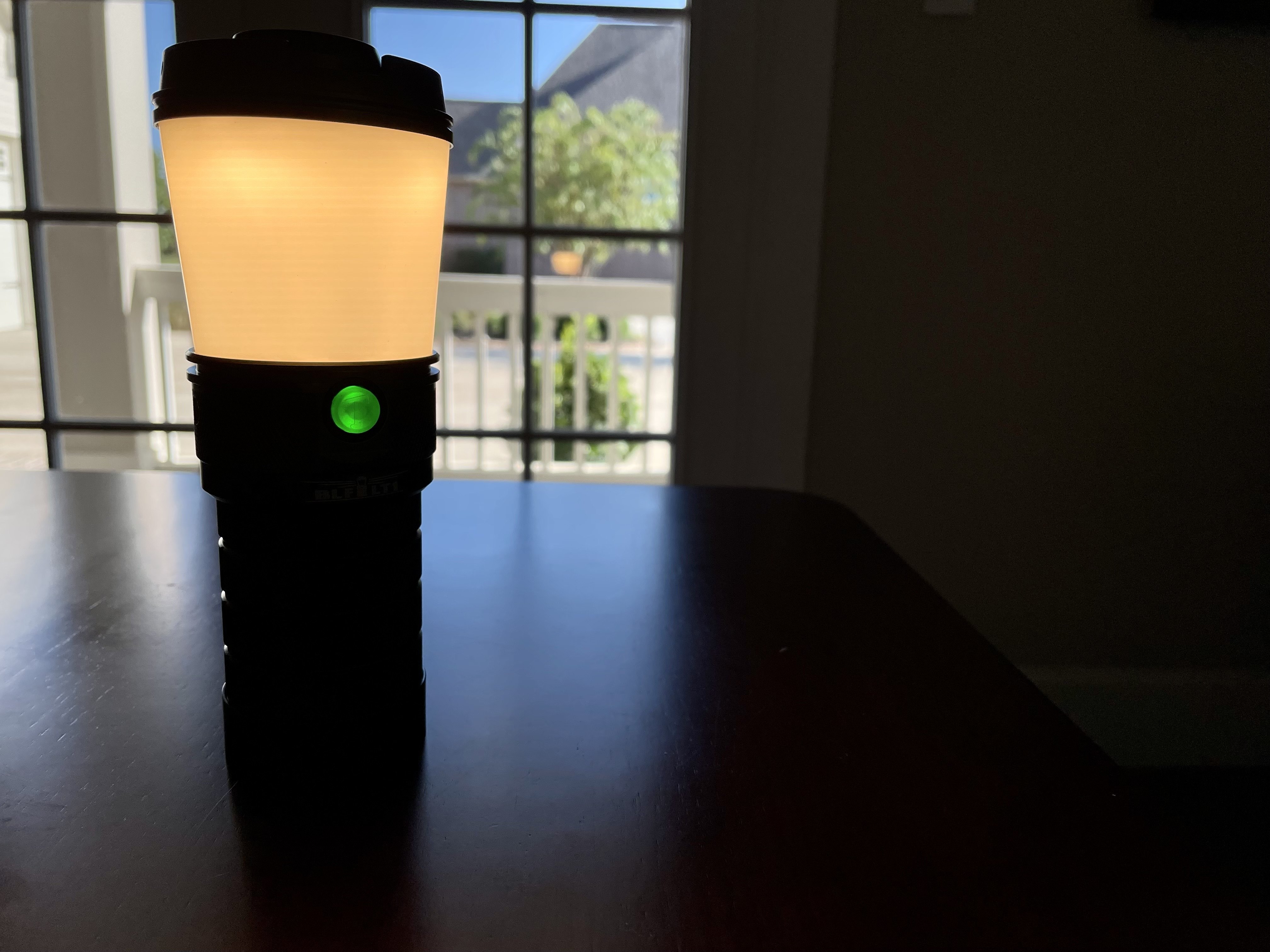 I define this category as the lights that will help you when the power is out, not for the zombie apocalypse, but for sitting around in your living room wondering when the power will come back on, and if you should wait so you can cook what you should want, or just eat all the Doritos now.
Sofirn BLF LT1: if a lantern is not at the top of your list for an emergency light, then I suspect you might not have had many power outages. The LT1 is the absolute best one you can get. It gets very bright, or can be run very dim. It can tint-ramp which is a fancy way of saying it can move from warm to cool color light temperatures based on your needs. It also has a very good run time off the four 18650s which means you can have a backup set of batteries to keep going, which is good because it can also be used as a power bank if you need it. And of course you can charge it without a fancy charger using USB-C. There's so much to like that it's crazy to consider this costs under $100 with batteries. Almost every person living in the US is facing more power grid instability — this is the light you should have in your home. Oh, yeah, it's high CRI too so you won't look sickly sitting around it eating your Doritos.
HDS Rotary: see the many times I talked about this light above, it's the second one here because it is hard to break, and can run at very low outputs to prolong the battery life. And is 100% reliable. My review.
SureFire E1B-MV Backup: if we are talking emergency lights, we need to include a SureFire, this one is my favorite. The MV means that the light floods the room, which is where it is designed to be used. If you want something more traditional, this is the light. There are better and longer running options, but for a light that you can carry, which is not absurdly expensive, with fairly good run times and a great (and useful) beam pattern for inside the house use — this is tops. Toss a battery in it, leave it in a drawer, it'll be there ready to go when you need it. That's a good emergency light. My review.
Small Pocket Flashlights
Confidence level: High.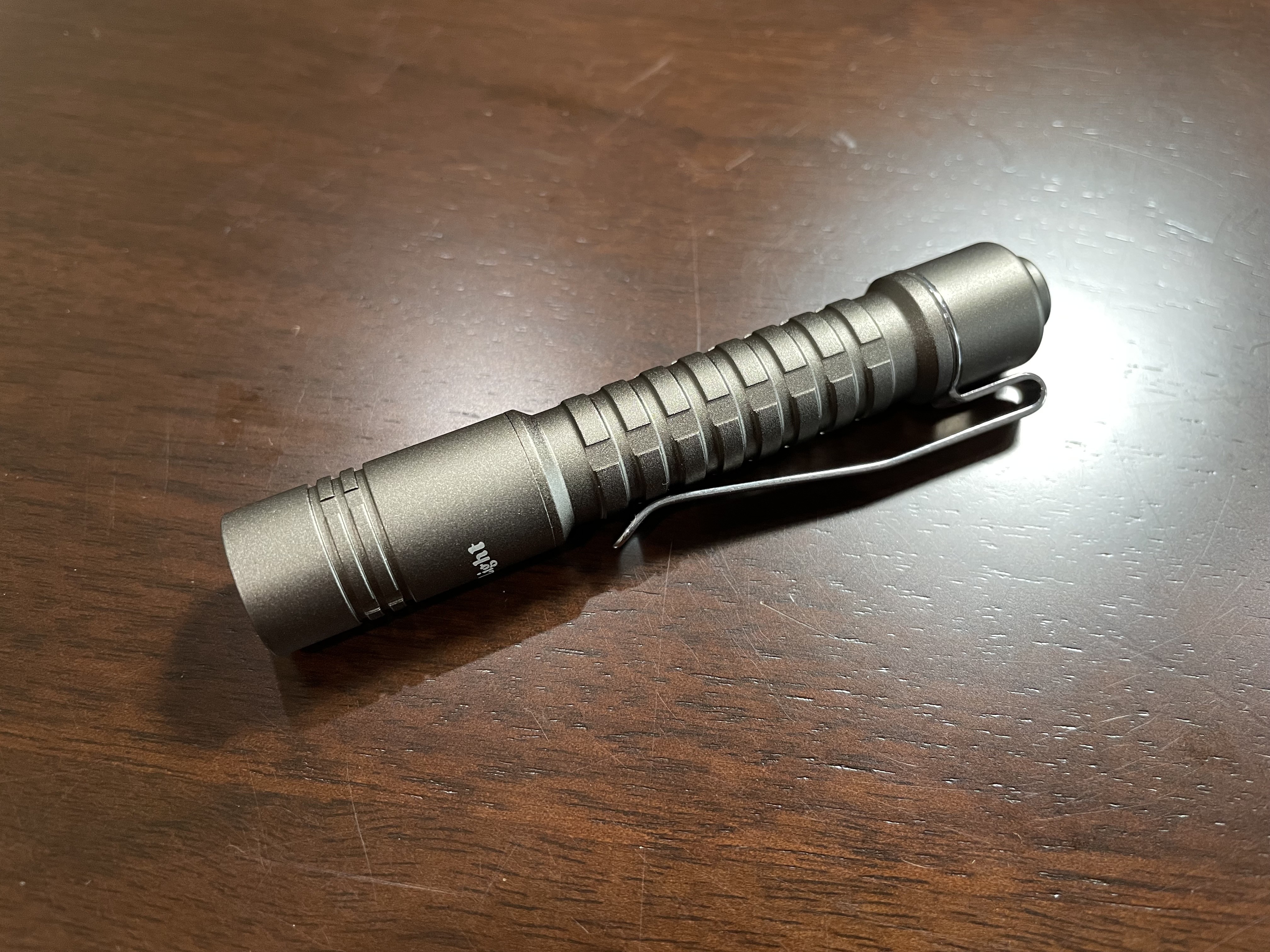 This category is for the AA/AAA sized lights, the ones most people find pretty easy to fit in their pockets. You might think people are crazy for carrying the larger lights, and at the start of this year I would have agreed, but no more. That said, there are some stellar small lights, these are the tops so far:
Reylight Pineapple Mini Aluminum: I am specifying aluminum on this one, because when you get a thinner light like this, you want to save weight too. The aluminum is a newer model, but it's simply fantastic. A great moonlight mode, tritium slot in the tail switch. Oh yeah, tail switch, on a AAA sized light (runs off AAA or 10440). This light is killer and even has a solid pocket clip. This is a more recent addition for me, but it gets a ton of use when I know I am going to be outdoors in the sun, as this makes for a nice low profile backup that weighs next to nothing. And the price is also great. Oh, and the LED? 219b 4500k — fantastic that's not only a high CRI LED, but it's also an amazing LED on it's own. My review.
Lumintop FWAA: Specifically, I like the model with the SST-20 4000k LEDs in it, but these also can be modified to get something like say a 219b SW30 in them. I have both, they are great. I slightly prefer the Aluminum model over the Titanium as it's a little lighter, but the Ti looks better and feels better. Either way, this light is silly good. You get three LEDs, Anduril for the UI and a nice little tail switch to control it all. It runs from a 14500 (AA sized) battery with loads of power output and runtime. All for about $50, it is a hell of a deal for a fantastic light. The only reason not to get this light is because it is decently thick in diameter, so if you need something more discrete this isn't the light. But it's pretty much the best 14500 light I have found and it might be the smallest package you could expect for this battery. It's easily one of my favorite lights, easy to carry, and very low penalty for going down in size for the light output and quality. My review.
Prometheus Beta QRv2 w/ Pocket Clip: This almost was off the list until I paid to add the pocket clip to it, then it jumped back on. If you are not a light person, but you could see the utility in having one, and want to keep it small. This is the light, but you need the pocket clip with it. It's absolutely tiny, and even though the output pales in comparison to the other two, the light quality is very high as is the beam pattern. And the pocket clip itself is best in class, and really well executed. This is one of those lights that finds its way traveling with me as a discrete backup. I am not often drawn to grabbing it, but I never regret it when I do use it. It's a little over priced, but since when has that stopped me before?
Note on the SureFire Titan Plus: I've been recommending this light for years, and I still have mine. It was a toss up about which took third on this list, but the Titan dropped off because the pocket clip and weight of the light is much worse than the Beta's. That said, this is still (I am pretty sure) the highest output light you can buy that also runs off a standard AAA battery. And because of that, I do still use it quite a bit.
Outdoor / Hiking Handheld Lights
Confidence level: Ongoing.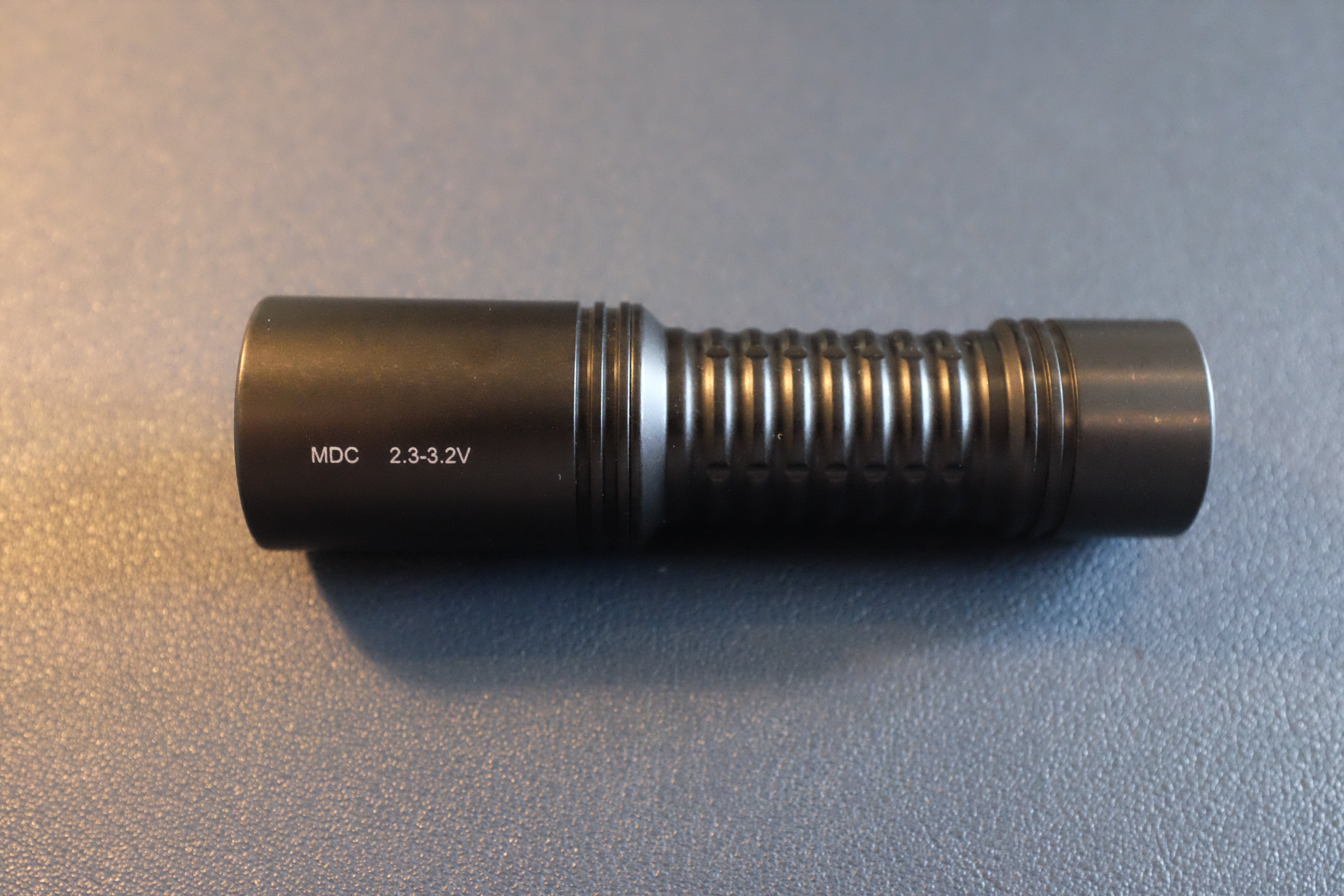 I first want to start by saying that this is not a list of lights for hiking at night — that's the headlamp list. This is a list of lights that are in addition to something like that, and well suited to being outdoors.
Malkoff MDC HA 1CR123: I really love this light, but it is hard to recommend in the other lists because of the lack of a really low output mode, but that doesn't matter as much when you are outdoors. You'll want to grab this in the 'neutral' color temp which nets you the SST20 4000k LED (95 CRI) — a great option. This light runs off a single CR123 battery (primary only) and has three modes. It has a little bit of a silly UI on it, but it is easy enough to get used to. The build quality on it is outstanding, as is the feel and pocket clip. The entire package is wonderful to hold, use, and carry. But one of the main reasons it jumps so far up this list, is because of how light it is for the output. Which makes it a great light for being outdoors with as you won't pay a huge weight penalty for it, while still getting massive utility out of the light. It doesn't have silly huge lumen outputs so it's not likely to get too hot on you, or burn through the battery too fast. On the medium mode you should get somewhere around 20 hours of run time, and CR123s are easy to pack a few extra of. This is very ideally suited to the outdoors as it is fully potted and unlikely to be phased by the bumps and harsh life of the outdoors. My review.
HDS Rotary: how many more lists does this need to be on before you buy one? Second place because it weighs a ton by comparison to the MDC. My review.
Emisar D4SV2: yes, this is a larger and heavier light, but with that comes two important changes from the lighter D4V2. The first is longer battery life because of the larger cell (call it 3400mAh to 5000mAh). For many you won't need a second battery with you with this kind of battery life. Second the Aux lights are better positioned to be of use for you for not only finding your light in the dark but as additional light sources for ambient lighting needs. You'll want the stainless steel bezel for added durability and lighted switch. The other thing to note about this light over the D4V2 is that the larger diameter of the barrel makes it much more comfortable to hold over longer periods of time as well as to operate with gloves on, and it is more stable when tail standing the light on less than even surfaces. You can still get the channel switching or tint ramping setup to make use of two different LEDs. SST20 Deep Red and OSRAM W1 or LH351D and OSRAM W1 would be ideal setups for the outdoors, depending on your style/need. So if you are the type that is going to mostly use a headlamp when you are camping, but want a flashlight to have some fun with while camping — this is the one. Third place here though because it is a beast of a light.
Pens
Confidence level: Solid.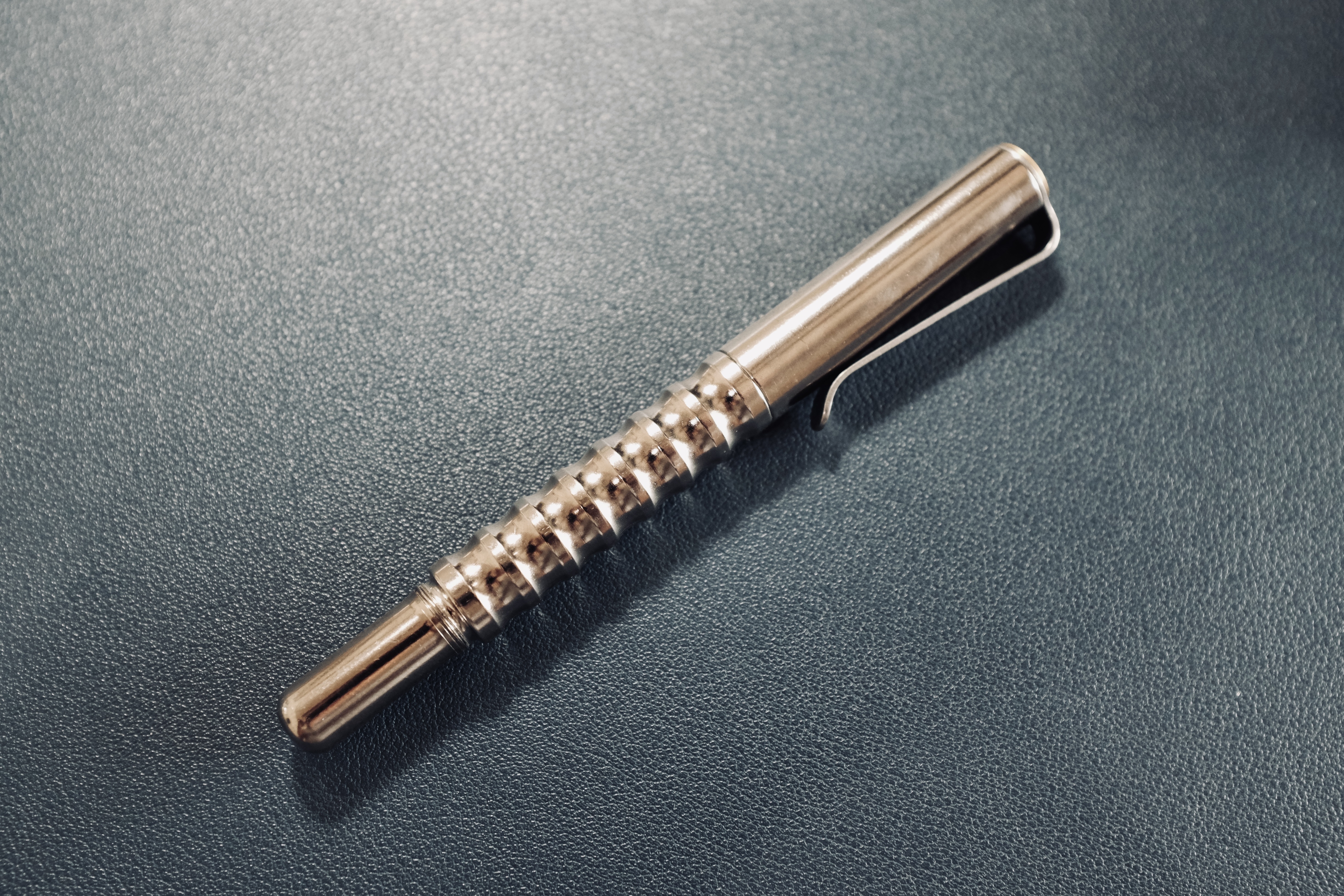 Alright, so let me caveat this by saying that I am left handed, and I need a pen to be something that takes a rollerball, and something that I can easily carry in my pocket. That's the criteria. I hate fountain pens, the world has discovered rollerballs, catch up.
Prometheus Alpha Executive Pen: I have wanted this pen forever and I finally grabbed one. I could not be happier with this. It is utter perfection for me. The pocket clip: amazing. It takes Montblanc Rollerball refills: amazing. But overall this pen is a pleasure to both write with, play with, and carry in your pocket. Before this pen, I never met a pen I actually liked to keep in my pocket, but this one I love to keep in my pocket. That's a testament to the pocket clip for sure, but also to how much I like writing with it. It lacks some of the refinement of my Montblanc or Delta pens, but it makes up for that with a great clip and a durable design. It feels great in the hand and it should be telling that I have no need for another, but I want more. My review.
Montblanc Meisterstück Gold-Coated Rollerball : this the one you see everywhere, yeah it's a great pen. The price is insane on this, I bought mine back in the '90s' and it wasn't this pricey. Anyways, I guess that means it lasts quite some time as mine still is excellent. Slim, light, and iconic. It would be top on the list, but it's not at all something you can carry in your pocket and it doesn't speak to me as much as the Alpha. However if pocket carry is not a requirement for you, this is the one to get. Fantastic.
Tactile Turn Short Bolt Action Ti: this is a great feeling pen. It does work ok in the pocket, but the bolt action at times worries me a touch for accidental deployment when I remove the pen from my pocket (it has happened, but I think not an issue for righties). This pen is one that my usage has dropped off since getting the Alpha, but there's one area where this pen excels: when you fidget more than you write. When I am thinking through something, this is a pen I love to have in my hand. It feels great, is well made, and is all around a great pen. The machining on the barrel is very nice, so if you want a 'high grip' pen, this one gets my vote. My review.
Keyboard
Confidence level: High.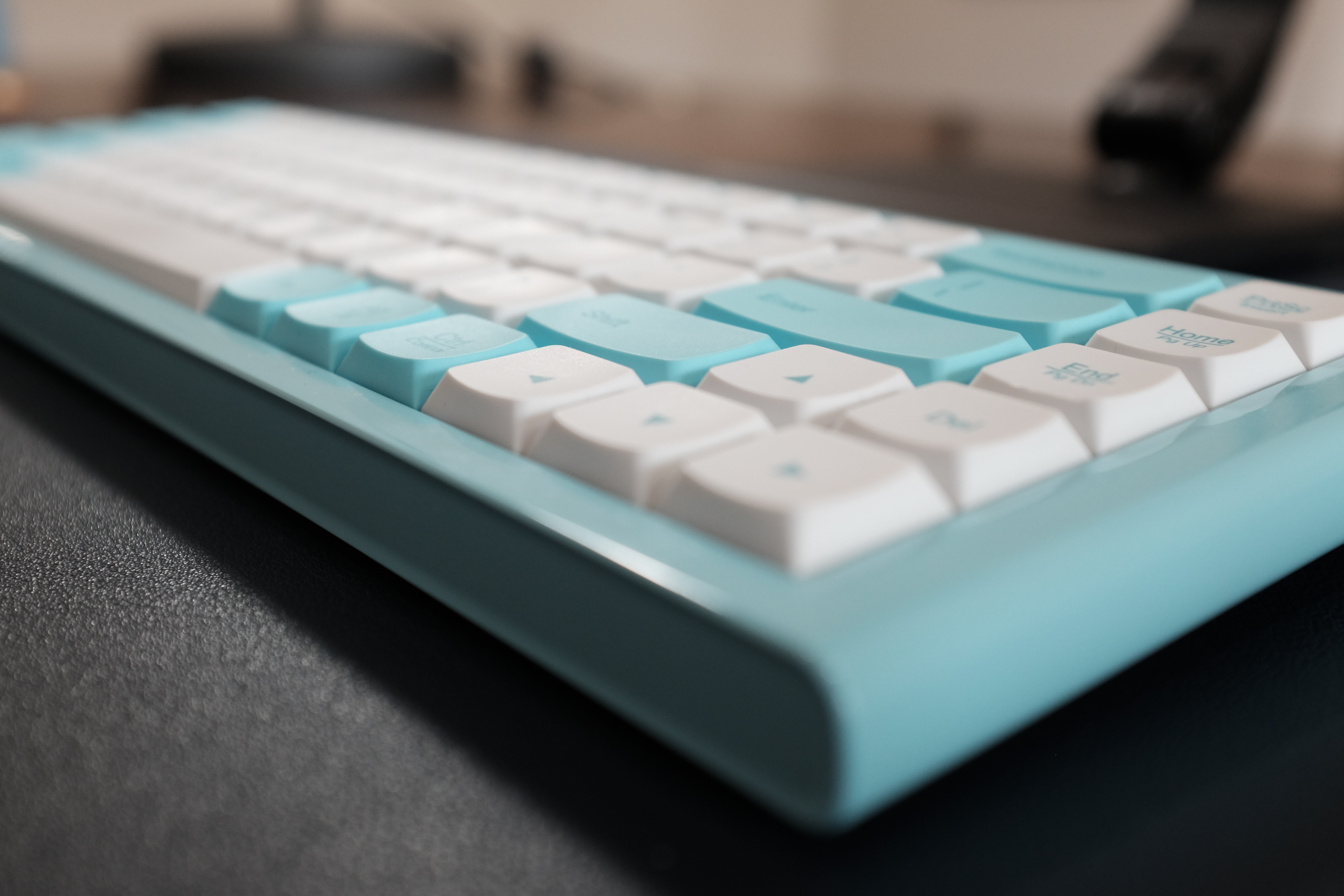 The main change here is my move towards easier to live with keyboards, and the RK68B is just stupid good so whatever it could be the only thing on the list and I would be satisfied.
MORGRIE RK68B: of the two primary keyboards I use, this is the most often used keyboard. I keep one at the office and one at home and I think it is near perfect. I do wish I could change the keycaps, but I think the design as is looks stellar, and I appreciate the lack of fuss that exists with these switch stems being more rare. It's thinner, but not thin. It's heavy, and the BLTE is perfection. Quick to swap between devices, and the battery lasts a very long time. And more than that, when the battery dies, plug it into power and a few seconds later you can keep going while using it wirelessly. It's like a keyboard designed by not only people who care, but who also use the product. I have both the all white and the light blue, and the blue looks better to my eye. This is so far in front of all other external keyboards that nothing else matters. Well except the next one… My review.
Apple Magic Keyboard for iPad Pro: Because while the RK68B is small, it's too heavy and clunky to use on the go. Which is fine, because Apple's Magic Keyboard is utter perfection for iPad users. Mine is well worn at this point and one of the best purchases I have made in a while from a usage perspective. This list is two keyboards long, because all you need are these two. It's that simple. If your iPad works with this keyboard, you're doing yourself a disservice not having one — I work a lot of the week off just this setup because it fits my life better, not because I prefer it. But it's gotten to the point where I don't feel like I am hindered by using the Magic Keyboard over my more proper setup.
Apps
Confidence level: High.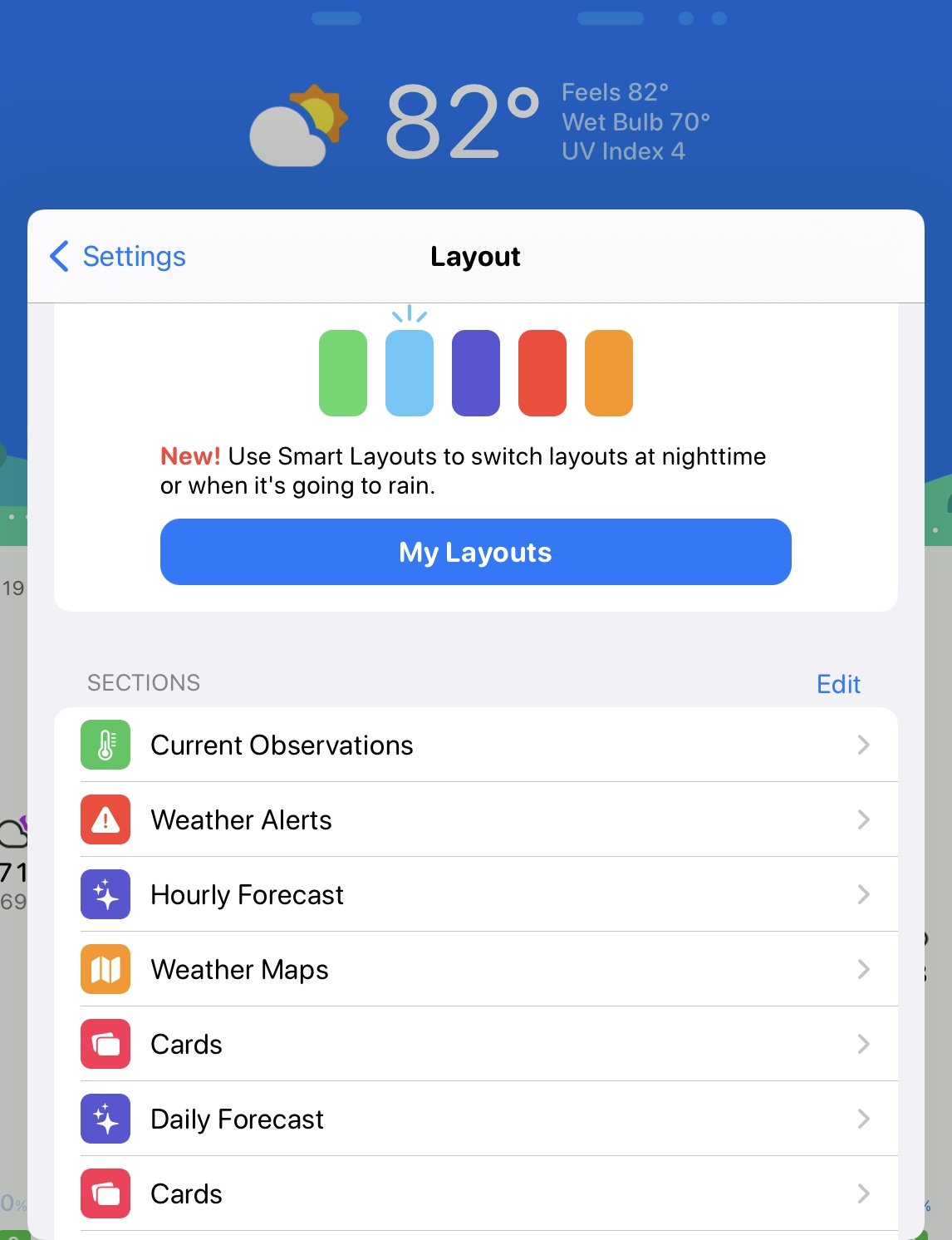 So yeah, Apps, I feel like Apps are getting stale. There's good apps out there, but I can't recall the last time an app wowed me. And everytime I use something 'hot' and 'new' it turns out just to be some gimmicky bullshit that is not valuable at all, built on top the same tired ideas. Except these three apps, these are three fantastic apps:
CARROT Weather: people at my office are fucking spent on hearing me talk about how much I love this app. But let's just focus on what makes it great: full customization with ease. This is a 'what you see is what you get' tool to build your perfect weather app. And it's not just templates, you can adjust the data points, the spacing, the looks, the sizing and all of that. The alerts are highly customizable too. That alone was enough to net it the top spot, but then they added the ability to have your layout completely change based on time of day, or whether or not it is raining. I mean come on, this is perfection. It slaughters every other app I have seen. Old review.
Apple Notes: I long made fun of this app, but something clicked the last year with this app and it is silly good. Top features: scanning of paper notes, rich web links for easy finding and recognition of what you are looking for, excellent support for sharing with others, it's fast as hell, and you can lock notes on a note by note basis. The app is not perfect, but the amount of stuff baked into it, while it still stays as fast as it is, is nothing short of impressive. If you really embrace this app, your life is better. Not like a lot better, it's just a notes app, but it is a pretty fucking good notes app.
Ulysses: I continue to use this app as my writing and thinking space. If I need to get words out of my head, this is where they go. Ulysses is beyond the 'big innovation' phase, but they are still in the 'iterate to perfection' phase and they keep nailing it. Every update I find myself seeing something and thinking "oh, yeah, that's nice". How many text editing/writing apps can you say that about? One, and it's called Ulysses.
Things To Make You Feel Like a Kid Again
Confidence level: High.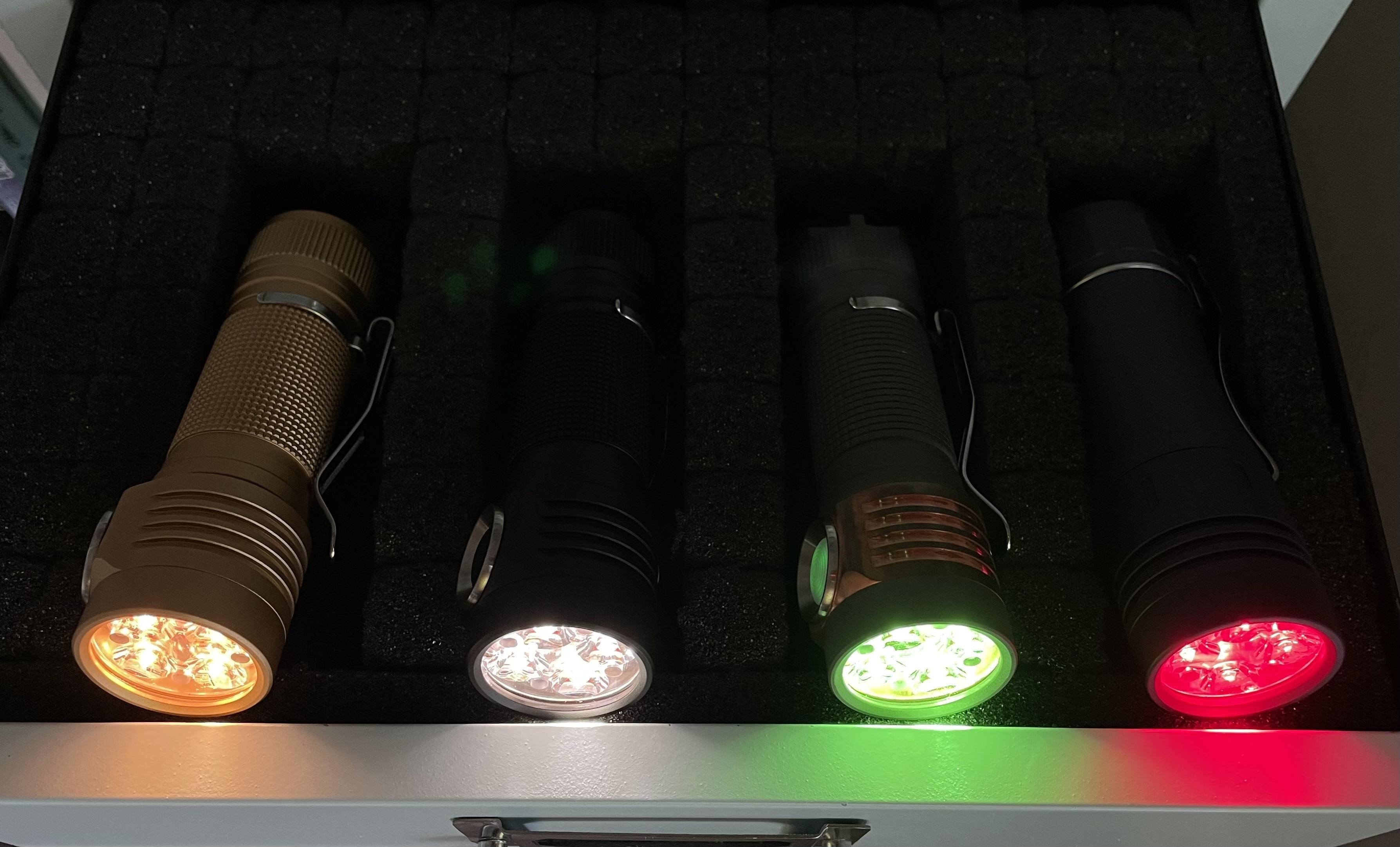 Do you like feeling like a kid sometimes? I don't mean getting yelled at for something shortsighted you did, I mean playing with something and getting that uncontrollable smile at the corners of your mouth, and finding yourself looking around to tell anyone about the joy this thing brings you. Yeah, I feel ya.
Emisar D4V2: this flashlight is silly good. You remember being a kid and getting your first flashlight of any kind — the world that flashlight unlocked for you? That's what the D4V2 is to me. I have more than one, we don't need to get into that. And the reason being: the LED options, the fit and finish, Anduril — it all comes together in such a perfect package that it's pure joy to play with. I get that same feeling each time I start messing about with it, a little smile and wanting to tell everyone how much fun it is. Any of the LEDs are fun, but the colored LEDs are pretty dope and can really bring out the joy. Deep Red, Green, Blue — fun all around. And this is under $100 fun, so there you go. My review.
G-SHOCK MIP Display Watch: there's a few models that do this display now and they are amazing. I like the GBD-200 because it gives you MIP, Bluetooth, Activity Tracking, Vibration, and the classic square GSHOCK look. I know it might sound silly that this is something to make you feel like a kid again, but it does, they do, and they are awesome watches. A lot of very serious watch collectors have a collection of GSHOCK watches as well, because they are one of those items which bring joy easily to you. Also look at the GA2100 lineup, some of the colors there are pure fun, pure joy, get them and be a kid every time you put it on.
Swiss Army Super Tinker: This could be any Swiss Army knife, but the Super Tinker gets my vote as it is classic looking, and great. This is also really inexpensive while being very useful. There's something about a Swiss Army knife which keeps it competing for pocket time even when compared against $350+ Sebenza's. They are a classic, and they are super fun. Man, I love a good Swiss Army Knife. They make you feel like you can solve any problem, what a great feeling. My review.
Emergency Gear Found in 2021
Confidence level: Solid.

I've been all over the 'being prepared' spectrum in my life. In Washington I was worried about devastating earthquakes. When I moved to Houston I focused on Hurricanes. But this year taught all Texans that winter storms can be somewhat worse, worse because there was no escaping from it, just sheltering. To that end, here's a few items I have added to the house which I really think work well for emergencies:
Honorable Mentions
Confidence level: High.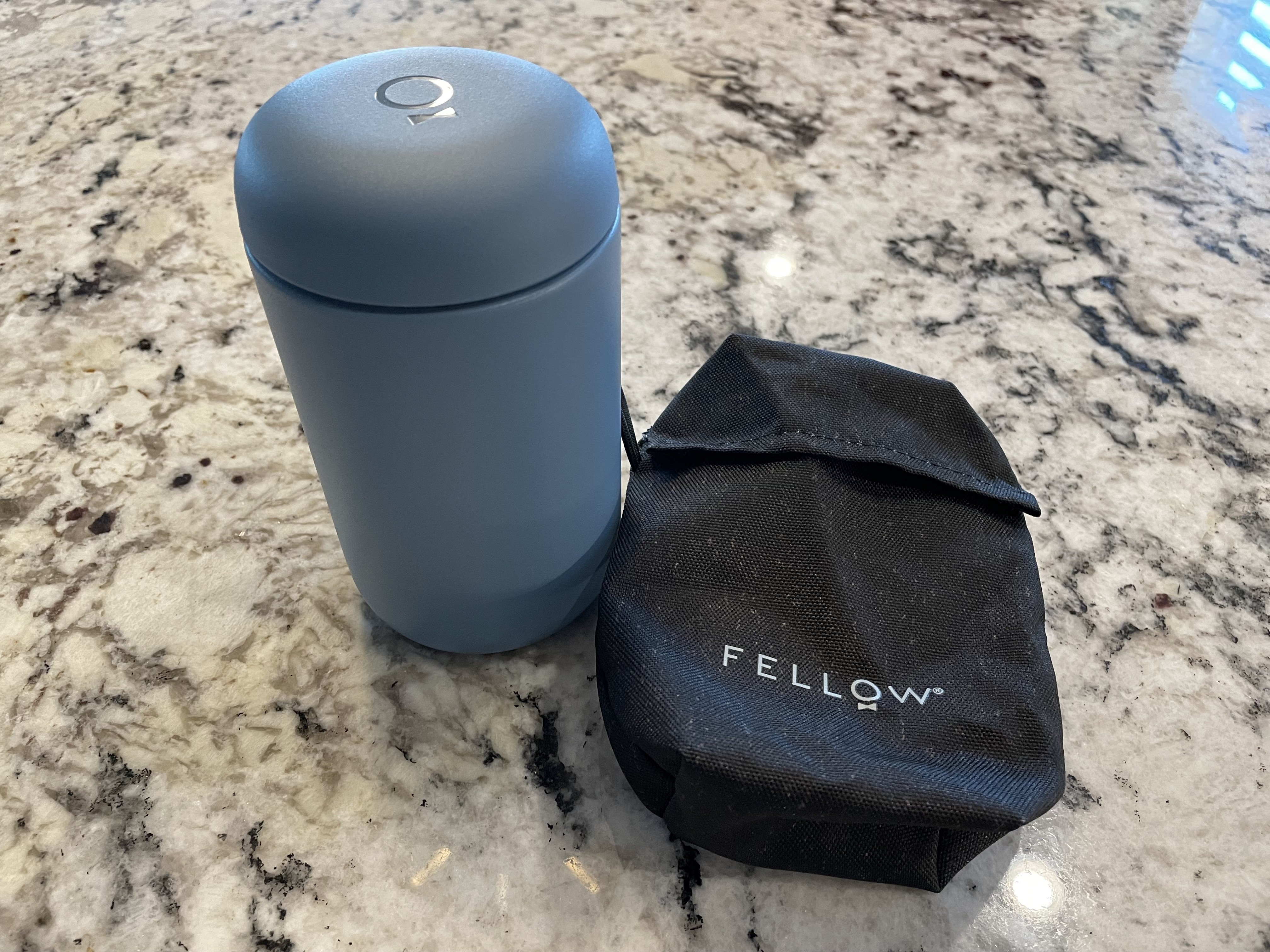 A few items which didn't have a spot on other lists, but are worth highlighting for how awesome they are:
Worst Tested in 2021
Confidence level: High.

I've been trying not to review things that suck in general, because that's really annoying for me, and who wants to read that? So I tend to only review shitty stuff when it's popular enough that I feel a counter point is need, and others I just quietly ignore after deciding they suck.
Here's the three standout shitty things this year:
Triple Aught Design Litespeed Fastpack: there's very few bags out there which I was looking forward to as much as this one. I snagged it for a good price and I love the way it looks. Through and through a badass movie worthy looking backpack. But holy shit it sucks. I think I felt it sucked less right after I tested it because it can't suck that bad, but in my memory now, looking back at: yikes. The straps are bad. That alone is enough, but there's a comical amount of weird kitchen sink design syndrome on that bag looking back at it. Still, looks cool as hell and to many people, that's all that matters.
Boker Plus USB OTF Automatic Knife: I hate this knife. I wanted to test out an OTF Automatic and so I snagged this. The entire thing is just not good. Really really not good. Do not buy this.
Green Skittles: I don't know when this change actually happened but they fucked with the flavor of the green Skittle and it's complete bullshit and we should be calling them out for that. It is changing/ed back, but I demand resignations over this bullshit.
Nike DriFit Polo: I needed some team spirit gear for the office, so I grabbed a Nike DriFit polo thinking it would be nice. It was like $65 or something and it sucks. It feels light and nice. But the cut is weird, the fabric doesn't even remain wrinkle free — which what's the point of wearing synthetics if it can't resist wrinkles? And the collar is shit. Man I hate that shirt. Probably not a new thing in 2021, but it was to me, and it needed to be said.
Ok, I'll limit myself there. And no, don't email me asking for a yearly worst list, that feels like too much negativity for even me.